The Ultimate Tasting Gifts for Spirit Connoisseurs
The 12 Days of Ginmas
The 12 Rums of Christmas
The 12 Scotch Whiskies of Christmas

Drinks By The Dram's 12 Days of Christmas gift sets offer the perfect gift solution for spirit-lovers and gin, rum or whisky connoisseurs this year. Behind twelve doors, each tasting set includes twelve carefully selected wax-sealed 30ml drams* of premium spirit, supplying a unique drop of festive cheer for each of the Twelve Days of Christmas.

There are some very exciting tipples to be discovered behind these doors, including some rare spirits, award-winning expressions and world renowned classics.

12 Scotch Whiskies Of Christmas
Whisky aficionados will appreciate this very special collection of exceptional Scotch whiskies, from classic malts to smoky, peaty tipples. The twelve drams feature:
• Balvenie DoubleWood 12 Year Old
• Cardhu Gold Reserve
• Dalwhinnie Winter's Gold
• Glenfiddich 15 Year Old Solera
• Glengoyne 10 Year Old
• Islay #1 - Batch 3 - 10 Year Old - That Boutique-y Whisky Company
• Johnnie Walker Black Label 12 Year Old
• Lagavulin 16 Year Old
• Loch Lomond Single Grain
• Monkey Shoulder Blended Malt Scotch Whisky
• Rock Oyster
• Talisker 10 Year Old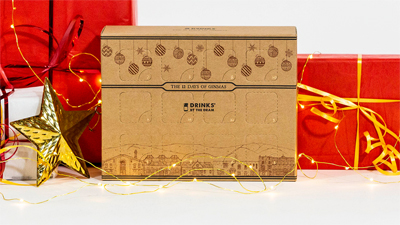 The 12 Days Of Ginmas
Gin has never been more popular, so this is a sure-fire winner to keep gin devotees happy at Christmas. With interesting botanicals, incredible flavours and unique concepts, the twelve drams feature:
• 1897 Quinine Gin
• Anno Kent Dry Gin
• Bathtub Gin
• Bathtub Gin, Sloe Gin
• Cherry Gin - That Boutique-y Gin Company
• Dorothy Parker - American Gin
• FEW Breakfast Gin
• Moonshot Gin - That Boutique-y Gin Company
• Napue Gin
• Peaky Blinder Spiced Dry Gin
• Spit-Roasted Pineapple Gin - That Boutique-y Gin Company
• Tanqueray Flor de Sevilla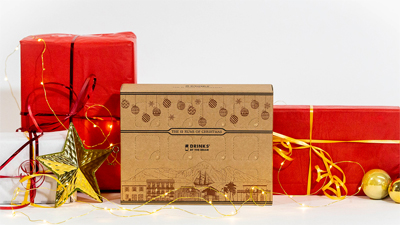 The 12 Rums Of Christmas
Rum fans will love this specially-curated collection, dedicated to the world's oldest spirit. The drams bring together rums from around the world, from Mauritius to the Caribbean with a range of styles from VSOP to Anejo. The twelve drams feature:
• Diplomático Planas
• Diplomático Reserva Exclusiva
• Doorly's 12 Year Old
• Doorly's 3 Year Old
• Labourdonnais, Mauritius - Traditional Column Rum, Single Distillery

Batch 1 - 5 Year Old
• Mezan Jamaica XO Rum
• R L Seale's 10 Year Old
• Reizinho, Madeira Portugal - Pot Still Rum Batch 1 - 3 Year Old
• Ron Pampero Añejo Especial
• Ron Zacapa Centenario Sistema Solera 23
• Trois Rivieres VSOP
• Wood's 100 Old Navy Rum

Whatever your tipple, Drinks By The Dram guarantee to keep the spirit of Christmas flowing this festive season.

Drinks By The Dram gift sets retail at $99.45 each and are available now at Dan Murphy's, Vintage Cellars, Cellabrations, Red Bottle and online at https://www.boozebud.com.

*A 'dram' is the Scottish name given to a small drink of spirits – often refered to locally as "a wee dram".