Interview with Dr Kate Jameson, Youth Lab Medical Director
Youth Lab was founded in 2017 by Jon Ogden and Dr Kate Jameson. The clinic is a doctor led medical aesthetics clinic offering a wide range of non-surgical cosmetic treatments and advanced dermal therapies aimed to repair, rejuvenate, enhance and protect the skin. The purpose of Youth Lab can be summed up simply to build long lasting client relationships while enhancing their aesthetic confidence.

Question: Can you tell us about Youth Lab?

Dr Kate Jameson: Youth Lab was developed to meet the growing demand in the Western Australian market for high quality, doctor driven cosmetic treatments in a contemporary and inviting setting.

Youth Lab as a brand is centered around delivering the latest in cosmetic medicine, in a stunning environment, with the goal of helping evoke confidence in all patients who come through our doors.

We are medical led and have a team of Cosmetic Physicians, Registered Nurses and Dermal Therapists who work together in a multidisciplinary team to deliver the optimal outcomes to our clients.


Question: What treatments and services does Youth Lab offer?

Dr Kate Jameson: The treatments delivered at Youth Lab are wide ranging, utilising the training and skills of our entire medical and dermal team.

We offer a full range of cosmetic injectables such as anti-wrinkle injections, dermal fillers, collagen stimulators, fat dissolving injections and mesotherapy. Our medical team also performs thread lifts and other non-surgical procedures such as mole and vein removal.

Our skin and dermal services include results driven Hydrafacials, medical skin needling, medical peels, depigmentation programs such as dermamelan and acne programs. I'm very proud of the skin treatments we offer at Youth Lab as helping clear up severe acne, removing sun damage or reducing rosacea can have such a positive impact on a person's daily life.

We also utilise some of the latest laser and energy technology available to the Australian market with our popular Halo laser, Broad Band Light (BBL) and Radiofrequency skin tightening.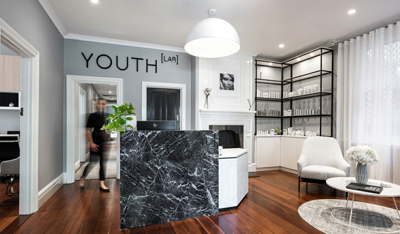 Question: Which of these are the most popular?

Dr Kate Jameson: Primarily as this is my area of expertise, our most popular service would be cosmetic injectables such as anti-wrinkle injections and dermal fillers.

Dermal fillers is my favourite treatment to perform as it gives me the ability to completely transform a face, enhance someone's natural beauty and work with my patients to achieve greater aesthetic confidence.

The Hydrafacial is also very popular amongst our clients for skin and is often a go-to initial treatment for our clients as it is suitable for all skin types. By starting out with Hydrafacials it can work to reprogram the skin and prepare the skin for more intense treatments.

Hydrafacials are a multi-step process involving a deep cleanse, exfoliation, extractions and then infusion of a cocktail of antioxidants and hyaluronic acid. Hydrafacials are loved by our entire team, myself included and are the perfect treatment for a special occasion. The end result is soft, subtle and hydrated skin.


Question: What inspired your passion for non-surgical cosmetic treatments?

Dr Kate Jameson: I started to become interested in cosmetic medicine when I was a hospital junior doctor and did an introductory course in wrinkle relaxers.

I initially wanted to pursue a surgical career but was drawn to the aesthetics world. The industry was still very new and there was no formal training program or obvious career path but I continued to do my own research and study; and completed a diploma in dermal science while I also specialised as a GP. My interest in the skin and non-invasive treatments grew and I then moved away from surgery as a career option.

My passion was truly ignited once I started working as a GP and saw the impact skin concerns had on my patients, from acne, rosacea, sun damage and skin cancer. I saw the skin as a link to internal confidence and cosmetic medicine allowed me to pursue and investigate this interest further.

Cosmetic medicine allows me to pursue my business goals too, of which would not be possible in many other medical specialities, so for me it has been a perfect fit.


Question: What advice do you have for clients who wish to continue and improve the benefits of their treatment, outside of the clinic?

Dr Kate Jameson: Having treatments done in the clinic is exceptionally important as it allows the skin to be treated in a professional manner using the best modalities available. However what happens to the skin in between appointments is more important.

If a client invests in having a course of treatments such as BBL to combat pigmentation and sun damage, and then goes home and sits in the sun and does not wear a broad spectrum SPF every day then the results of the treatments will be reversed and damage will continue to occur.

I like the analogy of weight loss. If you invest in a personal trainer every week and then go home to eat junk food every night and expect to still lose weight then you are not being realistic. The same goes for the skin.

To see continued benefits of their treatments and to ensure optimal skin health long term then using correct prescribed home care (as recommended by your therapist) is so important.

At home skincare using active, evidence based ingredients as well as daily SPF is the foundation of healthy skin. We advise against department stores and beauty brands as these often contain inferior ingredients, yet they do have great marketing campaigns. At Youth Lab we will recommend a product regime that fits with your lifestyle, budget and goals. It is then up to the client to stick with the plan and commit to their skin!


Question: How do you ensure you're always looking after your skin?

Dr Kate Jameson: I am a typical skin care nerd and will trial and test every new product that comes through our doors. I never had perfect skin and it wasn't until I started in this industry that I made my skin a priority.

I use science backed products every day, both morning and night. Although my regime and product choice changes regularly the basics always stay the same.

I use a cleanser twice a day (double cleanse at night), followed by an antioxidant toner. I always use a Vitamin C serum in the morning and a Vitamin B (niacinamide) and Retinol at night time. I also use a broad spectrum SPF 50+ every single day. These are the non negotiables and I then tailor the rest of my products to treat certain things such as my pigmentation, skin tightening, and hydration. I also try to limit sun exposure and live a healthy lifestyle which we know can impact the skin long term.

Finally I have regular, monthly treatments in the clinic (definitely a perk of owning a cosmetic clinic). These vary but include Hydrafacials, BBL for my pigmentation, medical peels and a 6 monthly Halo laser for a deep resurfacing and to stimulate collagen. My treatments are focused on maintenance and prevention of extrinsic ageing changes on my skin.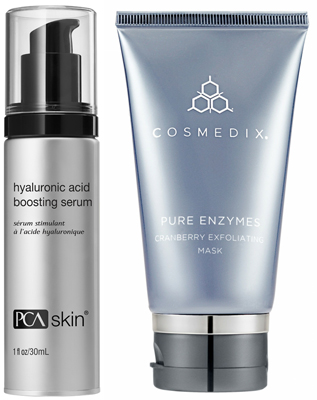 Question: What's a typical day like, for you, at Youth Lab?

Dr Kate Jameson: I am still very much clinical in my role as Medical Director at Youth Lab, meaning most of my days are spent with my patients, performing consultations and treatments.

A typical day has me arrive in the clinic between 9 and 10am where I start seeing patients straight away.

I generally work a 4 hour morning clinic performing treatments such as anti-wrinkle injections, dermal fillers, laser and skin consultations. During my lunch break I use this time to review all of my emails and action any pressing tasks for the clinic such as finance matters.

I often touch base with my dermal and medical teams to review the days progress and any difficult cases which may need my input.

Afternoons are usually much like my morning session but on some days I will perform training sessions with the team or do non-clinical work such as protocol development, treatment development, PR and media work as well as more business development.

I try not to work past 5pm in the clinic and often do much of my administration work first thing in the morning before I arrive in clinic.


Question: What are your two favourite skin care products?

Dr Kate Jameson: PCA Hyaluronic Acid Boosting Serum
PCA Skin Hyaluronic Acid Boosting Serum is designed to boost your skin's hyaluronic acid levels in three unique ways - plumping the surface skin, boosting deeper skin, and improving your skin's hyaluronic acid production for longer lasting improvement.
RRP $196

Cosmedix Pure Enzymes Mask
Cosmedix Pure Enzymes Exfoliating Mask is a refreshing yet powerful Cranberry Enzyme and Lactic Acid mask. It exfoliates and softens the skin, and is perfect for sun damaged or hyperpigmented skin; dry, scaly skin; normal to problem skin, and post-peel.
RRP $89


Interview by Brooke Hunter