Dove Visible Beauty: Moisturise in three ways for betterlooking skin in just three days*
Moisturised skin is beautiful skin. The skin's protective barrier, the stratumcorneum, can become dry, rough and dull from everyday life. Unlike anyother moisturiser, NEW Dove Visible Beauty has a unique breakthroughformula with a patented Multi-Layer Complex that nourishes every layer ofthe skin's protective barrier, delivering visible improvement of skin texture injust three days*.
Dove Visible Beauty is the first body lotion and hand cream in Australia touse this breakthrough formula to moisturise the three layers of the skin'sprotective barrier - the surface, the core and deep down where beautifulskin begins. The Multi-Layer Complex contains three powerful, fast actingmoisturisers that immediately absorb into skin to provide more effectivemoisturisation at each layer than Glycerin alone. The result? Deep downnourishment and exceptional care, so skin looks and feels silky smooth.
Why is moisture essential at all layers of the skin's protective barrier?


The amount of water in the outermost layer of the skin** plays a key role in maintaining suppleness, health and the appearance of skin. The barrier is made up of three descriptive layers that each play a unique role:
The surface
is directly exposed to the environment and tends to quickly lose moisture. Dove Visible Beauty contains Glycerol Quat a novel humectant that is designed to stay on the surface of skin in order to prevent dryness by holding moisture in.
The core
skin is in a transitional phase as deeper down cells grow upwards to replace the surface layer. Dove Visible Beauty helps keep skin functioning properly by helping mature skin cells remain hydrated all the way to the surface.
Deep down
is where the new skin cells are maturing and transforming into the protective surface layer of skin. Dove Visible Beauty contains Hydroxyethyl Urea which is designed to help hydrate these deeper down cells, enabling the natural processes of skin to function optimally.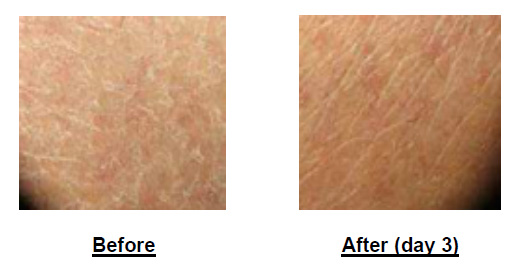 Ruth Muller, Research & Development - Dove, said: "The Multi-Layer Complex is based on a scientific model that spreads moisturisers all the way through the stratum corneum, increasing moisture levels throughout the skin's driest layers.
"The unique combination of moisturisers are so powerful and effective, they have been scientifically proven to have a visible effect on skin texture within the first three days of use."
The new range is available from supermarkets and pharmacies nationwide.
Stockist Info: 1800 061 027 or visit
www.mydove.com.au