An unputdownable feminist revenge thriller from a bold new voice in the genre.

INTRODUCING A THRILLING NEW VOICE IN CRIME FICTION

'Fast paced, gripping and topical, without ever losing its heart, Daughters of Eve will have you questioning notions of justice and retribution, and just how far you would go to protect the ones you love.' - Jacqueline Bublitz, author of Before You Knew My Name

'Highly original...I was hooked from start to finish.' - Sara Foster, author of The Hush

When a high-profile murder lands literally at her feet, Detective Emilia Hart sees a chance to expand her caseload beyond the endless succession of domestic violence matters she is forced to investigate. But this is no simple investigation.

Another body turns up, then another. Then more - a lot more. All men, all shot, with a similar MO. It's not until a manifesto taking credit for the crimes is published by a group calling themselves Daughters of Eve that Hart confirms a link between the victims: all of them had been perpetrators themselves. All had offended against women or children. Few had been charged with those crimes - and none convicted.

As panic sets in and chaos rules the streets, the police draw ever closer to the Daughters of Eve, but the serial killer continues to elude them. Again, Hart sees something that everyone else has missed. And what that is, she cannot believe.

A stunning debut that will take you to the edge and dare you to look down.

'Fast paced, gripping and topical, without ever losing its heart, Daughters of Eve will have you questioning notions of justice and retribution, and just how far you would go to protect the ones you love.' - Jacqueline Bublitz, author of Before You Knew My Name

About the author
Nina D. Campbell studied theatre and literature at university before stumbling into the world of work in the midst of the recession that we had to have. She cobbled together a respectable career as a professional writer, working across the community and public sectors, before a midlife health challenge changed her priorities. Nina now writes fiction full-time, with a focus on stories about strong women. Together with her partner and their spirited Jack Russell Terrier, she lives in South Australia, close to world class wine regions, sparkling beaches and other tempting delights.

Daughters of Eve
by Nina D. Campbell
Allen & Unwin
RRP: $32.99


Interview with Nina D. Campbell
Question: What originally inspired the idea of Daughters of Eve?

Nina D. Campbell: I'd been wanting to try writing crime (fiction – honestly, just fiction) and 2017 delivered the nudge I'd needed. #metoo. It wasn't the Hollywood stories that touched me the most, it was what I read on social media. Friends and friends of friends sharing stories they'd carried alone for so long they'd turned into shame. It was visceral, the collective sigh we released when we realised it wasn't just us. But that relief soon turned to horror at the number of us who had experienced harassment, abuse and rape.

It wasn't as much of a surprise to me. As a women's officer at uni in the 1990s, I'd read the statistics and women had shared their stories of campus harassment, abuse and rape with me in that role. But even with that knowledge, something shifted for me as women stood collectively beneath the banner of #metoo. I needed to process it and the place I do that best is on the page.

I remember sitting down with a simple question. What would happen if women were killing men in the numbers that men are consistently killing women?


Question: Are the characters based on anyone you know, in real life?

Nina D. Campbell: When I write, the characters climb out of my subconscious and onto the page fully formed. It's usually only in retrospect that I recognise aspects of people I know. In Daughters of Eve, most of the characters are composites, with traits drawn from a variety of people, but Emilia is special.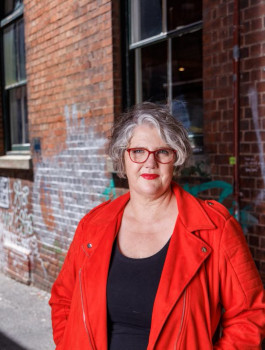 I didn't realise it at first. I thought she was mostly drawn from myself and a dear friend that I met at uni. Then when the book was published and I read it from cover to cover as a book, I realised how much of Emilia is modelled on my Mum.

She was a collector of lost souls, a woman of extraordinary empathy and strength, who stood up for the vulnerable and never turned anyone away. And she was tough. Only five-foot-four, but I once saw her stare down a six-foot-tall man picking a fight at a party and he blinked first. I see so much of her in Emilia that it's like the best part of her is still with me.


Question: How much of your inspiration comes from real life and real people?

Nina D. Campbell: Sadly, too much of Daughters of Eve is based in fact, in stories I've read in the papers and heard on television infused with the emotions I've felt as friends shared their personal accounts. I took great pains not to step too far into the darkness of domestic and sexual violence as I wanted this to be an empowering and energising read. I was striving to highlight how strong women are, how despite the number of us carrying the scars of domestic and sexual violence, we live vibrant, amazing lives.

We have careers, build businesses, excel in sports and the arts, we raise children and contribute our communities in a thousand different ways. That was my real inspiration. To marvel at what women achieve when so many of us carry complex, unresolved trauma and in the face of ongoing systemic discrimination and disadvantage.


Question: Is there a message you hope readers take from Daughters of Eve?

Nina D. Campbell: Rather than a message, I wanted to give readers a book that might spark deeper discussions around domestic and sexual violence. As a community, so much of our debate is based on the 24/7 news cycle with it's fast hits of outrage layered one over the other until we feel overwhelmed and disempowered.

I wrote Daughters of Eve in the hope it might contribute to changing the conversation and putting pressure on governments to increase the resources available to protect women and children from domestic and sexual violence.


Question: What research did you do, prior to writing Daughters of Eve?

Nina D. Campbell: So much of the research for the book comes from living my life. Listening to women talk about their experiences, reading the papers, watching the news and feeling the body blow every time another life was taken or another story of abuse was shared. As a feminist, I've read widely on the subject, fiction and non-fiction.

But to breathe life into this story, I also did a lot of googling. To be honest, I'm surprised I didn't get a knock on the door at some point, because my search history includes some very odd questions. "What rifle and ammunition would you need to be able to shoot a moving target over a distance of several hundred metres" and "What happens when someone gets shot in a public place".


Question: What is the best thing about creating a character like Detective Emilia Hart?

Nina D. Campbell: I love the way it feels to have her voice in my head, she just cuts to the core of every situation with humour and clarity. But I think the best thing about having put her on the page is that I get to talk about her with other people now. She's not just my 'invisible friend' – she's got her own circle of friends and I can talk about her in public without appearing too strange.


Question: What advice do you have for aspiring writers or artists?

Nina D. Campbell: I think the best advice I ever got was to find my tribe. To find and connect with other writers, with people who love words and stories and choose to dedicate time to writing. I was lucky enough to connect with an old school friend who writes as Beverley Oakley and her friend who writes as Lexi Greene. They are my critique partners and together, we support each other through the highs and lows of a writer's life as well as providing feedback on each other's work.

I've also joined a number of online writing communities including Writer's Flow with Anjanette Fennell, my agent and writing coach, and Fearless Prose with Sandy Vaile. Both offer the opportunity to connect with other writers, to ask questions and share your experience of writing. I'm also a member of Sisters in Crime, which has a facebook page which includes a great community of crime writers.

Your state's Writers Centre can help you find the right writing community for you.


Question: What or who inspired your love of reading/writing?

Nina D. Campbell: My mum. I'm dyslexic, but I was one of the first people to learn to read in primary school. That was because I spent so many afternoons snuggled on my Mum's lap while she read to me. Not kid's books, adult novels, usually science fiction. She'd run her finger under the funny black squiggles on the page and I'd watch in wonder. I was desperate to decipher the code and gain access to this magical land of stories for myself.

Once I had the key, she encouraged me to write. It had been her dream from childhood, but having two kids twelve years apart, she didn't get back to the page before cancer took her from us far too early.

I still have the first kids book I wrote with her help, complete with my own childish illustrations. A few weeks back I found a couple of her short stories, tucked away in a old suitcase. These scrappy pages now number amongst my most prized possessions.


Question: What's next, for you?

Nina D. Campbell: I have just started writing the first draft of a follow up for Daughters of Eve. It feels fabulous to have Emilia's voice back in my head and to feel the story slipping off my fingers onto the page! I can't tell you much, but it's already a bit of a nail biter!


Interview by Gwen van Montfort