House of Arras Brut Elite:
The House of Arras Brut Elite is a unique sparkling wine from Australia's most awarded sparkling house. Made predominantly from a single vintage, the wine's exceptional complexity and consistent style is achieved through a portion of multi-vintage blending. The Cuvée Number, displayed on the label, identifies the predominant vintage and batch number.
The Brut Elite boasts a generous amount of red fruit flavours, fine minerality and a complex texture. The three varieties
combine to offer a seamless palate of sophistication and poise. Secondary flavours of truffle and brioche overlay the lychee-like fruit, further building complexity and persistence. A firm natural acidity provides the backbone for the longevity and vibrancy of this elegant wine.
*Available at major and select independent retailer nationwide or online at https://www.houseofarras.com.au/ RRP $65.00
Swanning Around Rosé:
As for the rosé of choice, look no further than the Swanning Around range. Swanning Around's delicious Prosecco Rosé and Rosé are vibrantly juicy with bright acidity and delicate cherry red notes. The Swanning Around Prosecco Rosé will elevate any Mother's Day occasion, perfect for barbecues, picnic, or even more formal dinner parties.
Bursting with berry flavours and citrusy notes, the Swanning Around Rosé is light and dry, and pairs perfectly with a cheeseboard or something spicy!
For a little extra kick, simply cut up a fresh jalapeño and add a few slices to a chilled glass of rosé. The Swanning Around pairs beautifully with the kick from the jalapeño and is sure to impress.
*Available at major and select independent retailer nationwide or online at https://www.liquorland.com.au/brands/swanning-around RRP $16.00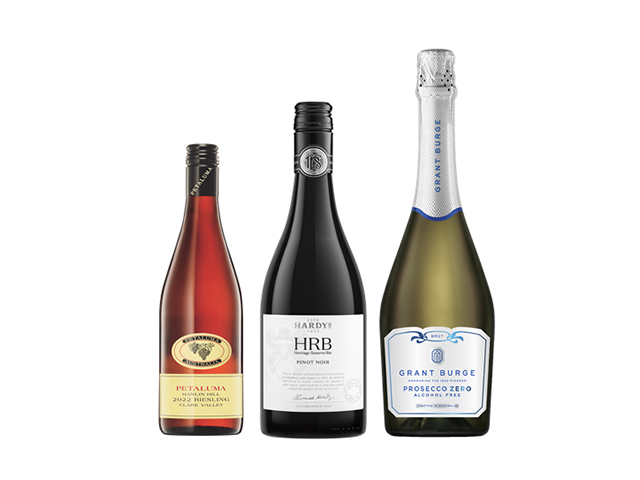 Petaluma Hanlin Hill Riesling:
Treat Mum with a beautifully balanced glass of Petaluma Riesling. Planted in 1968, the Hanlin Hill vineyard is a unique site that follows the natural contours of the Clare Valley landscape. The slate geology, sandy loam soils and Mediterranean climate are perfect for producing the highest quality Rieslings characterised with a backbone of high natural acidity and the intense lime flavours distinctive of Petaluma Riesling.
The aromas flow perfectly from the nose to the palate. This wine shows richness and concentration of fruit with sweet fruits, blood orange, green apple layered with floral notes of jasmine and citrus blossom. Vibrant and balanced natural acidity gives the wine a great long finish.
*Available at major and select independent retailer nationwide or online at https://petaluma.com.au/ RRP $35.00
Hardys HRB Pinot Noir:
Normally a multi-regional wine, the 2019 Hardys HRB Pinot Noir is instead sourced from two vineyards in the Yarra Valley to make the blend.
The HRB Pinot Noir is a medium density red with a bright crimson colour. Rich in flavours of dark cherry, mushroom, forest floor and wood smoke. Winning the trophy for best Pinot Noir at the 2020 Perth Royal Show, the bright and seamless drop flaunts its effortless core of dark fruit, beautiful savoury notes, stunning oak and a sensational velvety mouthfeel.
*Available at major and select independent retailer nationwide or online at https://hardyswines.com/ RRP $35.00
Grant Burge Prosecco Zero:
The story of Grant Burge is one of the past, the present, and the future. Planting their roots in the Barossa Valley in 1865, the Burges began as a family of devoted vignerons. For five generations, they spent their days toiling on the land, understanding the soil, and from it, growing grapes that would become premium wines of today.
Fresh and lively with characters of crunchy pear, lemongrass, and light honey. The Grant Burge Prosecco Zero is dry, in balance and has a lively natural effervescence. Light straw in colour with a fresh green edge with fine bubbles, each pour has a bouquet of lifted characters of fresh pear, white flowers, and pistachio.
The Grant Burge Prosecco Zero has the aroma of primary fruits including white peach, pear and acacia honey with flowers. To the palate, lively fresh fruit flavours of white peach, pistachio and nectarine finishing with the flavour of slightly sweet honeysuckle.
*Available at major and select independent retailer nationwide or online at https://grantburgewines.com.au/ RRP $24.99