Crystal McGrath is a musician, activist, podcast host, and inspirational influencer. Her latest single About a Boy released on June 11, 2021. In About a Boy, Crystal McGrath blends a pop drum beat with a traditional country backing band to create a sound that is wholly her own. Like a chocolate-vanilla swirl ice cream cone, the song blends two very different musical flavors into something that any music fan will enjoy. About a Boy tells the story of a confident girl who still longs for the connection from a relationship and finds herself distracted with the memories of her past. Her style blends two very different musical flavors into something that any music fan will enjoy.

Crystal has performed all over the world. She has toured the U.S., Canada, Mexico, the U.K., and Australia. Supporting Canadian country legends such as George Canyon and Aaron Pritchett, McGrath has proven that her stage presence is just as powerful as her songwriting. Her last release "Game On" produced by Spencer Cheyne, was released to radio in September 2020. The first week of the release "Game On" hit the Sirius XM CBC Country Top 40, was added to rotation on Australia Commercial Country radio networks, and the video was added to rotations on the Australian MTV/CMT network.

Crystal is an advocate for women's empowerment and wants women to feel that they can go after any goal that they hope to achieve. To promote this message, Crystal founded "Live With Love" an online platform with the mission of helping women live their best life through movement and mindset.

Crystal has partnered with thoughtful.co by Indigo to bring her movement, message, and music coaching as a part of their digital experience offerings.

She has a passion for connecting with people and creating an outlet for their stories to be shared. This is evident through her podcast Crushing Chaos where she interviews women pushing through the resistance in their personal and professional lives. Crystal also can be seen regularly hosting her video podcast The Artists Behind the Music. In each episode, Crystal interviews her musical guest through inviting conversation around how they overcame obstacles to continue on their musical journey, followed by a performance by the guest.

In November 2019, Crystal was invited to participate in Canada's Music Incubator's Artist Entrepreneur West professional development program at the National Music Centre, where she spent five weeks developing her business.

Crystal lives by the words of poet John Greenleaf Whittier's poem Don't Quit "And you never can tell just how close you are, It may be near when it seems so far; So stick to the fight when you're hardest hit, It's when things seem worst that you must not quit."

Treat yourself to an inspiring musical performance by Crystal McGrath next time she comes to a location near you.


Interview with Crystal McGrath
Question: How would you describe your music?

Crystal McGrath: Country Pop. A blend between Carrie Underwood, Marren Morris, and Christina Aguilera.


Question: Can you tell us about "About a Boy."?

Crystal McGrath: This one really stood out to me to record for a few reasons. I loved how the start of this song really paints the picture of a confident girl, and then leads into a quieter moment watching a girly film and really makes you feel that moment when even though you're cool with being "alone" seeing romantic moments makes one long for that natural human connection. The song is so relatable to really any girl that has moved on from a relationship but still misses pieces from it.

I also love how the song clearly states "WHY DOES IT ALWAYS HAVE TO BE ABOUT A BOY" and a huge part of what I stand for is female empowerment! We are in a time where being a female and stepping into the role of power is more and more common, I feel like this song in a way represents that emotion for me, posing the question why? and really reminding ourselves/listeners that women are equally valid and can play on the same field! Ask any girl-- they have had some moment in their life where their world revolved around a boy.

There's humour in it to me, as much as we are independent and confident we are all still human, and honouring the human emotions getting real with a feeling is something super important to me!


Question: How does it feel to support country legends such as George Canyon and Aaron Pritchett?

Crystal McGrath: It is always an amazing experience to share stages with artists that have been doing this longer than I have. There is always so much to learn and be inspired by at all stages of the industry!


Question: Is there a particular message you hope listeners take from your music?

Crystal McGrath: It is my goal to connect and inspire individuals to live their best life as the best version of themselves, I aspire through my music to share that message with audiences and listeners so they can walk away feeling inspired to go do amazing things!


Question: Do you prefer performing live or recording?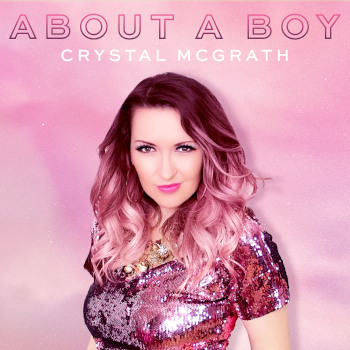 Crystal McGrath: I love performing live because of the connection with the audience! Recording is fun too because it allows you to really dig into the weak points and find ways to improve which in turn makes a better live show!


Question: Can we expect any upcoming shows?

Crystal McGrath: Yes!!! Live music is starting to come back and I can't wait to share my new songs with audiences in a live setting!


Question: If you could have anyone, in the world, attend a show, who would it be?

Crystal McGrath: Dolly Parton


Question: What motivates you most when writing music?

Crystal McGrath: Life experiences! Sometimes they are my own and sometimes they are stories I have observed that others have experienced. At the end of the day, a song is about an emotion and a feeling listeners can connect with.


Question: Which music/artists are you currently listening to?

Crystal McGrath: Carly Pearce, Tenille Arts, Kelsea Ballerini, and I'm also a huge fan of house music so you can usually find me listening to a house playlist on Spotify especially when I'm working!


Question: What or who was your inspiration to go into the music industry?

Crystal McGrath: When I was a kid I would go camping with my dad and his friends, they would sing and play the guitars around the campfire all night and I was determined to learn how to do that so I could entertain and make people feel good all over the world on a larger scale! I'd say being around that environment really connected me to the impact music has on us!


Question: If you could collaborate with another artist, who would it be?

Crystal McGrath: Dolly Parton


Question: What has been your favourite part of becoming a music artist?

Crystal McGrath: Connection! I love connecting with like-minded people, artists, songwriters, and all the amazing audiences that listen to my music!


Question: What's a typical day like?

Crystal McGrath: A typical day:
● Check email
● Update to-do lists for my team
● Spin class on peloton
● Check my emails
● Teach a barre or HIIT class on my platform
● Breakfast
● Check in with my team to make sure everyone has a game plan for the day!
● Work on the back end music side of things!
● Lunch
● Work on my agency
● Teach Music
● Rehearse my music
● Dinner
● Walk for a daily dose of fresh air!


Question: What's next, for you?

Crystal McGrath: Right now I am so excited to be finishing up my next EP to be released later this year!!


Question: Can you share your socials? (links please)

Crystal McGrath: Instagram
Facebook
TikTok
Twitter
Website


Interview by Gwen van Montfort