Cosentino The Magic, The Mystery, The Madness Interview
A year in the making, the TV special showcases Cosentino's high-adrenalin mix of all new spectacular stage illusions, death-defying escapes and the most dangerous stunts he has ever attempted, many of which will be recreated during his national tour.

Cosentino is becoming a regular fixture on the small screen as a cast member in this season of -Dancing with the Stars'. Rehearsals for both his stage show and DWTS have made for a very hectic schedule but if anyone can handle pressure, it's The Grand Illusionist, Cosentino.

This will be Cosentino's first national tour since his hugely successful 2012 Distortions Tour when he performed to more than 60,000 people across 18 sold-out shows. Fans can expect to witness Cosentino's uniquely original and innovative performances brought to life, packed with mind-blowing illusions and death defying stunts.

The Magic, The Mystery, The Madness - Australian Tour 2013

Jupiters Theatre, Gold Coast: November 1st and 2nd
Riverside Theatre, Perth: November 9th (1:30 matinee and night show)
The Star, Sydney: November 16th and 17th (1:30 matinee on Sunday)
Palais Theatre, Melbourne: November 22nd and 23rd
Entertainment Centre, Adelaide: November 30th.

For complete tour and ticket information, visit: www.cosentino.com.au and www. ivenation.com.au



Interview with Cosentino
Question: What should audiences expect from the The Magic, The Mystery, The Madness - Australian Tour?

Cosentino: The Magic, The Mystery, The Madness - Australian Tour has grand stage illusions, death defying escapes and even slide of hand street magic which is done by projection screen; it's the best of Cosentino all wrapped into a 90 minute show.


Question: Can you talk about how you've spent the last year preparing for this tour?

Cosentino: I have, it has taken that long to put together this whole show with the costumes, sets and dances. The show is travelling with two semi-trailers worth of gear; it's a big undertaking to get this show around the country.


Question: What inspired you to join Dancing with the Stars?

Cosentino: Wow! I was asked to join Dancing with the Stars and I thought it would be a lot of fun, which it is. It's a different experience that I hoped would reach a different audience who may not tune into my TV shows, which it has; Dancing with the Stars has reached people who maybe wouldn't really know what I do, it has been important for me to broaden my demographic.

It's all good fun! It's a challenge but it seems like a lot of fun and that's what it has been, so far although it's only getting harder.


Question: Have you surprised yourself with how well you can dance and captivate the audience and judging panel?

Cosentino: Yes! Every week is different, some weeks are harder than others and every dance is different. People don't really understand how difficult it is to learn a dance, in a week, and then go out on stage and actually perform it, in front of a live audience and on live television. I am surprised at how well I am coping with the pressure and putting on a show when I'm ill-prepared, which is how I feel. I'd never go out on my stage show, until I've done months of practice, not a week!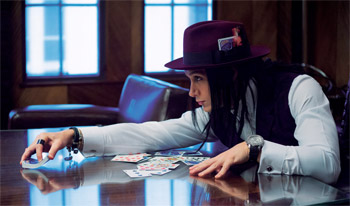 Question: What do you think you'll have to do, to impress Todd on the Dancing with the Stars judging panel?

Cosentino: I am not sure! I am a little confused by it all as I'm a beginner dancer and we get a little manuscript that tells us what each dance entails and I read that manuscript and I've learnt the Paso Doble is meant to be aggressive and the Cha Cha is supposed to be this… I am no expert in no way whatsoever and I have only really been doing what I've been taught and the choreography I've been given, beyond that I'm just trying to get the steps right. I don't know what else Todd will want, from me but I am going to keep doing what I've been told.


Question: How difficult is it practicing and performing on Dancing with the Stars whilst touring The Magic, The Mystery, The Madness - Australian Tour?

Cosentino: I am hitting about three days a week of training for Dancing with the Stars which means I do not have any time to waste, my phone is turned off, there are no computers when I'm in the dance studio. I have to work solidly which is really hard because you've got to learn all the new skills and then put them into a routine, remember it and make it look good. It's not a matter of just knowing the steps, you have to perform the routine, as well; there is a big difference between knowing steps and performing. It's really, really tough all in such a short period of time, it's very stressful!


Question: In saying that, it doesn't seem like you've been thrown much with your experiences on Dancing with the Stars. How difficult was it to change partners?

Cosentino: Yes, week two was a tough week on Dancing with the Stars; we had a really good first week but Sriani did me a huge favour stepping in, she was awesome and really carried me through which kept me in the competition, till this point. I was thrown in the second week as you're so reliant and dependant on your partner looking after you but she was really good and therefore I was calmer, she really looked after me.


Question: What makes you more nervous dancing or performing stage illusions and death-defying escapes?

Cosentino: Dancing With The Stars, for sure! Dancing is completely out of my comfort zone and I don't really know what I'm doing and I've had very little preparation as well as being judged.

In my world I'd prefer knives being thrown at my head because I know my skill level and I know what's required of me, I know exactly what to do as I'm in control when I'm doing my stage show. The audience comes onto my stage and is there to see me whereas dancing isn't about that, it's completely different as I'm doing someone else's steps and dance and because I don't know the history, I'm not entrenched in it. With my craft, I know everything about it, it's my life.

If I had two years to prepare for dancing I may be much more confident (laughs).


Question: What originally inspired you to practice magic?

Cosentino: I started when I was 12 years old; I stumbled across a magic book and I liked it as it had posters of magicians such as Harry Houdini, Howard Thurston and at the back of the book it had tricks, I learnt the tricks. I showed my father the tricks, I'd learnt including the coin behind the ear trick and he asked 'How did you do that?" as a 12 year old kid, that was powerful stuff, especially to do something that your father can't and that made me feel special. Magic made me feel good about myself and it worked as a confidence booster because I wasn't really good at anything else, magic gave me a skill that no one else had and because I was so bad at everything else (laughs) I was finally able to latch onto something that I was good at.


Question: You visit schools teaching magic; do you hope to inspire kids to take the same career path, as you?

Cosentino: Yes! People often see me on the television and they assume that is how it always was and I want to explain to people that I was very shy. If you watch my shows closely and my dancing, you can see there is still a bit of shyness to me, I am quite reserved but when I'm doing a show, I'm putting on a show! I explain to kids that I wasn't always a showman and it's important to build up your confidence to feel good about yourself. Whatever these kids want to do, whatever helps them build their self-esteem, I think is really important and these kids are not nurtured 100% and I felt like that as a kid and I am sensitive to that pain.


Interview by Brooke Hunter