Coby Grant Interview
Coby Grant is an Australian singer/songwriter who has just returned from a world tour where she visited 25 cities in Europe and 35 cities in North America!
With influences like Carole King, The Eagles, Eric Clapton and Joni Mitchell, and a sound compared to Regina Spektor, Colbie Caillat, and Ingrid Michaelson, this Australian native has something different, something extra, something special - an uncanny ability to connect with her audience through her charming and earnest lyrics about life, love and everything in between, breezy acoustic simplicity, beautiful melodies, sweet voice and infectious grin.
After promoting her latest EP, Fanfare For Love, to sold out houses in Perth, Melbourne, and Sydney, Coby is suddenly seeing an influx of international fans. This is in part due to the placement of her single, "A Song About Me," in a multi-national Scandinavian television commercial for Coca Cola's water brand, Bon Aqua. Coby's success as a touring artist can be attributed to not only her undying work ethic, (the independent artist has single-handedly booked the sold-out shows mentioned above), but to her significant studio credits as well. She has worked with Grammy Award-winner Vlado Meller, early Norah Jones producer and blues guitar legend Peter Malick, and Grammy-winner Anthony J. Resta. Both Malick and Resta produced tracks for her first EP release, Coby Grant Is In Full Colour.
To hear and see more, head to
www.cobygrant.com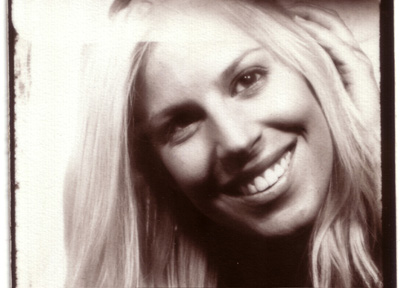 Interview with Coby Grant
Question:
How did it feel to hear your song played all over the airwaves?
Coby Grant
: Amazing! Exciting! I just shrieked and turned it up and called my mum haha. I don't think I will ever get sick of hearing my songs on the radio, I'm just so happy to be getting my music out there.
Question:
Did you have any pre-conceived ideas about the music industry?
Coby Grant
: When I first moved from West Australia over to Melbourne on the east coast, I was young and naive and had absolutely no idea about the industry. I truly believed that moving to a bigger city would equal signing a recording contract. I learned the hard way that nothing comes easy! I started to get myself out there as an independent artist and had to learn to run a business, book shows, promote and market myself and still be creative- performing, writing and recording. It is a hard slog but I absolutely love what I do so it is worth it.
Question:
Do you write your own songs? What's your inspiration?
Coby Grant
: Yes I do write my own songs! I love to write! I write from my own experience so life, love, people I meet, adventures I have- those are my inspirations.
Question:
What music/artists do you listen to when you are not playing your own?
Coby Grant
: Hahaha well I never play my own CD's at home. But I do love listening to a huge selection of music! Some of my favourite artists are Carole King, Eric Clapton, Jewel, The Eagles, CCR, Bob Dylan, Beyonce, Eminem, Coldplay, U2, Sting, John Mayer, India Arie, Ben Abraham, Tom Tuena, Joni Mitchell, KT Tunstall, Damien Rice, Ray Lamontagne. Wow I could go on and on and on.
Question:
What's next? Tour/Album/Single?
Coby Grant
: I am touring around Australia at the moment, promoting my latest release, "Coby Grant- Live At The Toff" a double disc CD/DVD with bonus behind the scenes footage form my recording adventures in the USA. After my Aussie tour, I will be heading back over to Europe and touring there after a successful tour at the end of last year.
Question:
Was there a moment you contemplated throwing in the towel?
Coby Grant
: There are MANY moments that I do! There are always aspects of any vocation that are discouraging. I have sacrificed a lot of time, money and relationships for my music. I have had to develop a tough skin because I hear "no you can't" all the time. But I know in my heart that I am meant to be sharing my music and even if I just help one person, bring one person joy, it is enough to keep me going on my path. It is the most uncanny thing, whenever I have a moment of doubt, I ALWAYS receive some beautiful email or message from a fan who has been inspired by my music. It's an incredible blessing to be following my dream and although I have my moments, most of the time I am just grateful!
Question:
Do you prefer performing live or recording?
Coby Grant
: Performing live 100%. That is what I do all the work for, that is the prize. Being there, performing for people, spreading love and happiness through the power of music. It's like when I am performing I am the best version of myself that I will ever be. Everything is going to be ok, I feel so full of happiness I might burst. So definitely performing live!
Question:
What/who was your inspiration to go into the music industry?
Coby Grant
: It was no one artist in particular, or event in particular. No moment in time or big revelation. I just knew, from when I wrote my very first song, that this is what I wanted to do.
Question:
What is the biggest challenge you have faced along the way to your musical success?
Coby Grant
: Financial stress. I have plenty of it! I hate the way that money kind of determines when and how I can do things when it comes to my music but unfortunately it does. I can only afford to record EP's as a full album would be too expensive. I wish I had more money to spend on publicity, touring, marketing, design, instruments, recording, everything really, but I have to prioritise and work extra jobs if need be. When this is no longer a challenge for me I will be one happy lady!
Question:
What's a typical day like?
Coby Grant
: When I am not touring? Early start to practice bikram yoga, update websites including new shows, tours, news, downloads, etc, answer the never-ending emails, do a photoshoot or interview, plan the next bunch of shows and rehearsals, write new songs and drink tea!
When I am touring? Early start to pack my bags and leave one hotel, catch a taxi/ train/ plane/ bus to the next town/ city/ country and the next hotel. Arrive, unpack, shower then into soundcheck at the venue. Then hair, makeup, photos. Sometimes I have interviews, appearances, meet and greets, red bull. Then it's SHOWTIME! My favourite bit! After the show I stick around and try and talk to every single person who waits to see me and get a CD signed. Then back to the hotel and into bed ready to do it all over the next day!
Question:
What has been your favourite part of becoming a music artist?
Coby Grant
: Travelling the world, meeting so many wonderful people, growing stronger through hardship, learning about myself and the world. There isn't one thing! But, like I said before, sharing my music is the most amazing gift of all and I am so thankful to be able to do what I am doing.
Question:
If you could collaborate with another artist, who would it be?
Coby Grant
: Hmmmm…that is so hard! Eminem maybe- I really love him. Beyonce so I could dance. The Eagles because it doesn't get any better. I can't choose one!
Question:
Are you single? What do you look for in a partner?
Coby Grant
: I look for someone who is driven, passionate, ambitious. I respect people who are working towards a dream and not giving up I guess because I know how hard that can be sometimes and I need someone who understands that as well. I also tend to love blue eyes and a beautiful smile. A sense of humour and intelligent conversation are far more important than how someone looks though- I need to be intellectually challenged by my partner. I'm a tough nut to crack haha and I know I can be frustrating because my time is so limited and sometimes the people I love most get to see the tired, grumpy version of me. I'm actually married….to my music hahaha.
Question:
Do you have a website fans can visit?
Coby Grant
: Of course! Many! They are:
www.cobygrant.com
www.myspace.com/cobygrant
www.facebook.com/cobygrant
www.twitter.com/cobygrant
www.youtube.com/cobygrant01
Question:
Can you tell us 5 things required for a happy healthy & enjoyable life?
Coby Grant
: -BALANCE (I struggle with this all the time)
-LOVE
-BIG BELLY LAUGHS (with friends and your mum)
-FOOD (I love the organic kind and then also skittles haha)
-REGULAR SLEEP (failing miserably)
Question:
What message would you like to say to your fans?
Coby Grant
: Thank you thank you thank you a million times over. I can only do what I do because of my wonderful, loyal, amazing, inspirational fans. They keep me going…it is ME who needs to thank THEM. The people who have followed me from the beginning and who are still supporting me as a growing independent artist will not be forgotten. Never give up on your dreams because if you truly believe in it and work hard enough for it you will get there.
Interview by Brooke Hunter
Buy Now from Fishpond
Buy now at BigPond Music