Naturally without the Hippie Vibe
Two mums who've suffered through hormonal health challenges are teaching Australian families why they need to get back to basics through living more 'naturally' in an affordable and easy way with the launch of podcast, 'The Natural Life Academy'.

Mum of two boys under five, with a third on the way, Claire Cameron is a Brisbane wellness and food blogger with a loyal following of thousands of mums.

She's partnered with primary school teacher and former client, Kylie Ryan – who has a wealth of knowledge in teaching kids and their families to live more naturally.

With the widespread roll out of Schools Strike for Climate, Claire says this is a simple way to get households doing their bit for the environment.

"As a mum of two hectic but adorable boys, with a third on the way – I get how busy and hard it can seem to live a sustainable life," Claire said.

"But we know, making small and simple changes over time, in the long run, actually saves you time, trips to the doctors and money – with loads of feel good vibes for what we're doing for our families and the environment."

Claire, who lived through fertility and mental health challenges has been on the path to alternative, natural solutions to overcome these issues – through buying and creating products at home and simple lifestyle changes.

Kylie, a Melbourne-based primary school teacher, whose son suffered from eczema and herself challenges with post-partum acne, has been on an ongoing path to finding alternative solutions – having failed to get success with conventional offerings.

Having taken one of Claire's cooking courses previously, Kylie and Claire hit off and decided there was an urgent need to help families know about ways to live more simply and naturally – and shift the perception it's too expensive, too hard, or only for 'hippies'.

"One of the biggest missions we're on is to teach people the household products you don't actually need – and can be doing you and the environment harm," Claire said.

"One small simple tip with huge impact is replacing your laundry detergent for soap berries – a completely natural way to get the same outcome, without the toxic chemicals – with zero waste.

"At 16 cents a load, it's a very inexpensive, easy and healthy way to wash. And you can even get your kids involved – getting them to pop the berries in the bag and straight into the washing machine!"

The Natural Life Academy Podcast launched last week at number 14 in Alternative Health in Australia.

The two give simple steps in a real, down-to-earth manner, to living a more natural life for better health and a happier planet.

Episodes cover everything from five quick wins to kick off natural living, to taboo topics such as contraception and how to manage periods naturally - from menstrual cups to period undies, they don't hold back.

The two hope to demystify and bring to light the hidden chemicals in our lives and the effect they're having on our physical and mental health (and that of our families) while sharing simple steps to reducing them.

"No topic is off-limits. We want to cover everything from food, allergies, gut health, cleaning, contraception, health, exercise, a healthy home, kids play and much more," Claire said.

"And it's an open door – we want everyone to chime in with questions or challenges they're having with making the switch to a more natural life. We'll give our years of experience – and bring in the experts – to help us all make simple, easy changes to live a healthy, more natural way of life.


Interview with Claire Cameron
Question: Can you tell us about your desire to get Australians to live more 'naturally' – without the 'hippie vibe'?

Claire Cameron: My desire to help Aussies live more naturally started when I had trouble falling pregnant with our first child and started learning about hidden toxins in our food and everyday products that were harming my fertility. After making a lot of changes over the last five years (and now naturally pregnant with my third child), I want to share with others how to live a healthier life and show them how easy it is and what a difference it can make.


Question: How can we begin to live more naturally, today?

Claire Cameron: The first thing we can do is start to get educated on what's really in the food we eat and the products we use. Where do they come from? Do we really need them all? What are the chemical ingredients doing to our health? Then we can look at simple swaps to start making to reduce these toxins.


Question: Can you tell us about The Natural Life Academy podcast?

Claire Cameron: The Natural Life Academy is a conversation between two mums sharing simple steps to help you life a more natural life for better health and a happier planet. We want to make natural, healthy living simple and achievable for everyone.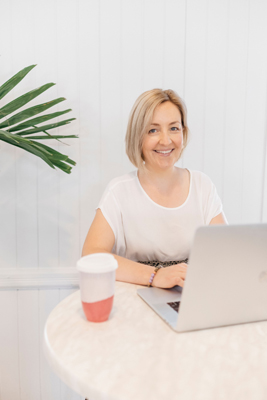 Question: When did you first find your passion for wellness and food?

Claire Cameron: I've always loved food but wasn't quite into the health side of it until our fertility struggles. I became even more passionate about healthy eating when our first child started solids and after experiencing severe anxiety after the birth of our second. I have seen firsthand, the positive impact that a good, nutritious and varied diet can have on our health both physical and mental and do my best to feed us all well.


Question: What small changes did you make to manager your hormonal health?

Claire Cameron: I wish I could say that it was small changes but they all added up to very big changes if I compare my hormonal health now to seven years ago. I would say that changing to organic food (especially meat and dairy) made a big difference as well as avoiding artificial fragrance which can reap havoc on our endocrine systems. Also, really learning about my cycle and what happens when and what my body needs at each stage has made a big difference.


Question: Can you share your favourite natural alternatives for the home?

Claire Cameron: One of the easiest, most effective and least expensive natural alternatives that I love is using soap berries in the washing machine instead of washing detergent. They have the same cleaning power without the harmful chemicals like artificial fragrance, they're not damaging to the earth (completely biodegradable) and they are really inexpensive.


Question: What five ingredients could you not live without?

Claire Cameron: This is a tough question and I'd probably have to say peanut butter as number one (does that count as an ingredient) followed by raw cacao (I'm a chocolate addict), frozen bananas, eggs and honey.


Question: Can you share with us one of your favourite recipes?

Claire Cameron: I am completely addicted to my Raw Peanut Butter and Peppermint Chocolate.

Prep 2 Min
Cook 5 Min
Serves - About A Block

Ingredients
1/2 cup cacao butter
2 tbsp crunchy peanut butter
2 tbsp raw cacao
honey (about a tsp but you need to taste it and sweeten to your liking)
1/2 cup puffed brown rice
1 drop peppermint essential oil (make sure it's 100% pure - I use dōTERRA

Method
Line a 20x20cm baking tin with baking paper (or a silicone liner).
Place the cacao butter, peanut butter and honey in a small saucepan and stir over low heat until melted.
Add the cacao and mix it through.
Take off the heat and stir through the essential oil and puffed rice.
Pour into the tin and refrigerate.
Once solid, break into shards and pop in an airtight container back in the fridge.

Notes
You can use anything in place of the peanut butter and puffed rice - chopped dried fruit, nuts, seeds... whatever floats your boat, this is just for you!

See the full recipe here.


Question: What's a typical day like, for you?

Claire Cameron: I'm not sure there is a typical day with two busy boys (4 and 5 years old) but I always start my day with at least 20 minutes of exercise - even if I'm just stretching - followed by a cup of ceremonial cacao and a two pages of journaling. Then we all get ready for the day and head off to school (and kinder).

Our morning routine always includes 'garden check' where the boys and I inspect our little fruit and veggie garden by the side of our house. We're not exactly green thumbs but it's really important to me for the boys to have a real understanding of where food comes from. We'll plant random seeds, inspect the insects and talk about what their job is in the little garden and pick whatever might be ready for us to eat.

If I have my 4yo home with me then there's nearly always a play or park date, we might do some baking or play a game or do some crafts then catch up on chores before school pick up.

On a work day, I'll head home after drop off and a typical day is filled with content creation - recipes, videos, Facebook lives, and social media posts - for my blog, The Natural Life Academy Podcast or for our soon to be opened membership. There's also sampling oils and supporting my essential oils customers and students inside our Low Tox Home online program.

At the moment, my work days also include studying for my Nutrition and Health Coach Qualification.

After school it's usually a bit of a crazy time of afternoon tea, play, homework then onto dinner, clean up and packing lunchboxes then getting ready to do it all again. As much as I try not to, there's usually a bit more work after the kids are in bed.


Question: What's next, for you?

Claire Cameron: With baby number three due to arrive in February, I'm doing my best to prepare for the year ahead so I can still support our students and keep the information and inspiration coming. We're also excited to soon be opening up The Natural Life Academy membership for those who really want to commit to living a more natural life and would like support along with simple, easy steps to get there.


Interview by Brooke Hunter