15 City Suburbs Set For Property Price Growth
New research by one of the nation's most successful forecasters has unearthed 15 capital-city suburbs with excellent growth potential.

LocationScore.com.au has crunched the numbers and picked the top three suburbs for rising relative demand in Sydney, Melbourne, Brisbane, Perth and Adelaide – and higher real estate prices can be expected to follow.

LocationScore.com.au Director of Research Jeremy Sheppard said these are the suburbs that investors should have on their short-list.

"We've had great results in the past with over 80 per cent of our top picks outperforming the overall Australian property market growth rate," Mr Sheppard said. By identifying options in each major capital, the company has revealed a list of Australia's most promising suburbs so investors can begin their searches and get in early.

Mr Sheppard said among the country's best prospects are Baxter in Melbourne, Ferny Hills in Brisbane and Birkenhead in Adelaide, all of which have a median house price below $550,000.

"Just over half the suburbs on our list are priced below $550,000, which is very priceaccessible for most capital-city buyers."

Of all the capital cities studied, Melbourne was the clear winner with its suburbs filling out the top three spots across the 15 locations.

But there was a dark horse in the running, too, Mr Sheppard said.

"One of the more interesting outcomes from our research is that Adelaide locations are seeing some of the strongest results in our demand vs. supply study – its suburbs came in just behind Melbourne.

"Combined with its relative affordability, Adelaide is a city that could yield excellent outcomes for savvy investors."

The study also shows that despite negative news about Sydney, there are still pockets set to continue their growth.

The full list of 15 locations, both city-by-city and as an overall rank, are listed below.

The analysis

LocationScore is an index that gives every Australian suburb a score out of 100 based on analysis of eight key indicators, which measure demand vs. supply, including Days on Market, Vacancy Rates, Vendor Discount, Rental Yields, Auction Clearance Rates, Percentage of Stock on the Market, Percentages of Renters to Owner-Occupiers and Online Search Interest.

"The trick is to track all the factors that drive the demand/supply curve in a suburb," Mr Sheppard said.

Each suburb's score out of 100 reveals its strength as an investment prospect, with a score above 62 considered Good, or above 77 considered Excellent.

"Rocketing demand relative to supply is an excellent gateway indication of a suburb's potential for real estate price growth," Mr Sheppard said.

"By unearthing hot demand-growth zones, investors can narrow down the search area when looking for their next investment."

LocationScore's previous predictions have achieved excellent outcomes with 80 per cent of their top scoring suburbs outperforming the average Australian housing market growth rate.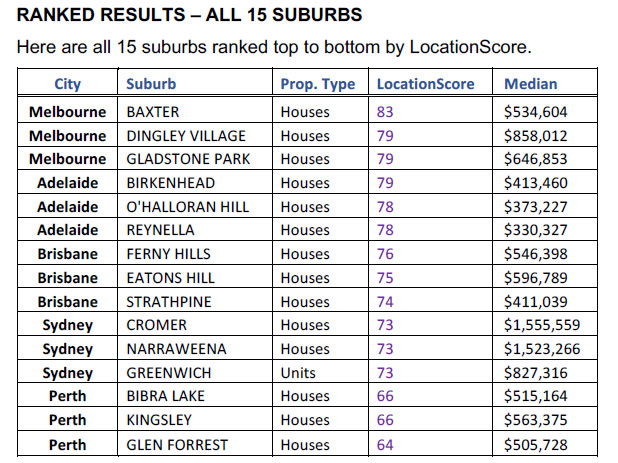 City-by-city picks

SYDNEY
Sydney's market is coming down off an extraordinarily hot run but that doesn't mean there aren't still opportunities for property buyers to profit, according to Mr Sheppard "Sydney housing always garners demand – and our analysis shows there are still plenty of locations where buyer numbers are rising while supply tightens," Mr Sheppard said.

Cromer sits just 16 kilometres north of the Sydney CBD. While it's $1.55 million median house price might seem steep, the analysis shows there's still room to grow. "With frontage to Narabeen Lakes and easy access to popular beaches such as Dee Why, this suburb provides a highly attractive lifestyle with comprehensive services and facilities," he said.

"We are seeing more and more buyers looking at property in Cromer online, and vendors are hardly needing to discount their asking prices in order to sell. "It certainly bodes well for house prices in the near future."

Continuing the love affair with the Northern Beaches, and Narraweena just south of Cromer took out second spot in the demand stakes.

"Narraweena is similarly priced to Cromer and enjoys many of the same appealing elements," he said.

"Research shows the vacancy rate for rentals is around one per cent and vendors don't have to drop their asking price much to achieve a sale in Narraweena. "Its appearance as second on the Sydney list shows this region is regarded as 'the place to be' by Sydney buyers."

If units are to your liking and you prefer a more affordable price point, perhaps harbour front Greenwich will fit the bill.

"Fronting Lane Cove and sitting a miniscule four kilometres from the CBD, buyers are paying attention to Greenwich units at their median price of around $830,000. "Our analysis shows sellers are hardly having to lower their prices and there is limited stock available – so there appears to be more potential gains ahead for units here.

"Prices are being driven upward according to our research so expect good capital growth in the immediate future."

MELBOURNE
Melbourne's residential market has also been touted as coming off the boil in 2018, but that sort of macro commentary ignores the very real demand that continues for some suburbs.

In fact, Melbourne suburbs filled out the top three spots across all 15 hot locations. Baxter housing had the strongest demand vs supply in the list with limited vendor discounting, an auction clearance rate over 80 per cent and strong online search interest of more than 220 views per listing.

"Baxter houses are obviously an eagerly sought-after commodity," Mr Sheppard said.

"It's a small suburb with limited stock and median house price of $534,000, making it a great choice for investors looking to narrow their research.

"Best of all it has lifestyle, with easy access to the Port Phillip Bay foreshore and excellent facilities in adjacent suburbs."

The similarly located Dingley Village was also among the best prospects across all capitals.

"Dingley Village housing has a very tight vacancy rate of 0.38 per cent – well below the national average of 1.72 per cent," he said.

"It also has limited available stock and great online search numbers. While the median price of $858,000 might be above the mark for some buyers, there's no doubt demand vs supply is tightening."

Gladstone Park also fared well in the analysis.

"The suburb is positioned 15 kilometres north of the CBD and within a short jog of Tullamarine Airport," he said.

"Research shows great demand with an auction clearance rate of over 90 per cent, limited vendor price discounting, and high online search interest.

"Gladstone Park housing is priced under $650,000, which many buyers would consider very accessible in the Melbourne market. "The future bodes well for housing here."

BRISBANE
Brisbane's middle and outer-ring northern suburbs seem to be enjoying the lion's share of strong demand vs. supply, according to the LocationScore analysis. "Ferny Hills is offering an excellent option for those looking to short-list locations for their next Brisbane purchase," Mr Sheppard said.

"Housing has a median price of just $546,000 – with good quality family houses on decent-sized suburban blocks surrounded by desirable shopping and lifestyle facilities as well as easy access to the train station at Ferny Grove.

"With online search interest of almost 200 hits per listing, sellers don't have long to wait before they receive a healthy offer in Ferny Hills, so prices are being driven upward."

A little further out sits second place getter, Eatons Hill.

"Eatons Hill is a mix of newer contemporary detached homes on 700-plus square metre sites, along with acreage style, rural-residential holdings," he said.

"There are certainly some high-quality homes in this location, but you'll also find accessibly priced older stock as well – and our numbers show demand for family dwellings in Eatons Hill is strong."

The research showed Eatons Hill had limited vendor discounting, a 0.98 per cent vacancy rate and over 100 online views per listing.

Strathpine sits in the Moreton Bay Shire just beyond the Brisbane City border. Home quality and housing styles are mixed, but with a major shopping centre, retail strip and train station, families are finding its affordable property tempting.

"There's always good demand from tenants in Strathpine as well. It has easy access to the Bruce Highway which also connects to the Gateway Arterial, so it's highly accessible.

"The development of the new university in nearby Petrie may also help drive tenant demand and boost yields.

"Our research shows vendors are getting close to their asking price – a sure sign demand for Strathpine housing is strengthening."

PERTH
After a few years of post-mining hangover, Perth is starting to enjoy some good news lately with many observers believing the market has bottomed.

"Now seems to be a great time to start investigating Perth, particularly if the recent pick-up in confidence is any indication," Mr Sheppard said.

"I you're looking for options to buy-in, our research shows Bibra Lake should be on your list," he said.

"Positioned 18 kilometres south of the CBD, it provides housing with a median just over $500,000, all within a short drive to popular Fremantle.

"The research shows sellers are in no panic and buyers are making decent offers. "This is a healthy market for investors because demand is ahead of supply but not alarmingly."

Kingsley held Perth's number two spot with housing priced around $560,000. "Kingsley is just 16 kilometres north of the CBD and sits on the train line, so the commute is very manageable.

"Our research shows buyers are rarely able to get away with low-ball offers and sellers are usually getting close to their asking prices."

Glenn Forest housing, at a median of just over $500,000 was also a podium finish when it came to rising relative demand.

"For buyers wanting a 'greenchange', Glenn Forest would be the go, but start your hunt now as the research shows demand is rising compared to supply.

"There has been a rise in online search numbers and listing are not sitting too long on the market."

ADELAIDE
Adelaide's time to shine might not be too far off based on the LocationScore results. The city's suburbs came in hot on the heels of Melbourne's, and with its housing among some of the most affordable in the country, it's no wonder buyers are taking interest.

Sitting on the banks of the Port Adelaide River just 13 kilometres north west of the CBD, Birkenhead is enjoying rising interest from purchasers.

"Online search interest is strong, stock numbers are tight, there's little price discounting and vacancy rates are low," Mr Sheppard said.

"Our research shows Birkenhead to be well worth a deep dive for investors, but they'll need to move fast – there's is strong demand and probably not enough stock available to give them time to be choosey."

O'Halloran Hill was another standout for Adelaide with houses selling for around $370,000.

"Our research shows rental yields are strong and online search interest is high, so investors are certainly on the hunt in O'Halloran Hill," he said.

"Located well south of the CBD and just inland from Hallett Cove, the suburb is also a short trip to the waterfront as well as convenience facilities."

Just south of O'Halloran Hill sits Reynella, which has housing priced at a very affordable $330,000.

Its position in the rankings shows suburbs in Adelaide's far-southern corridor continue to attract interest.

"Average rental yield is strong at 5.2 per cent, the vacancy rate is just 0.3 per cent and vendor discounting is limited.

"Our research shows that Reynella is a strengthening market, so buyers will need to move quickly on their due diligence."