Ghost Stories Andy Nyman
Cast: Andy Nyman, Martin Freeman, Paul Whitehous
Directors: Jeremy Dyson, Andy Nyman
Genre: Drama, Horror
Running Time: 98 minutes

Synopsis: Professor Philip Goodman (Andy Nyman) is a renowned sceptic of all things supernatural. His idol, psychologist Charles Cameron, who had mysteriously disappeared, reveals to Goodman that he has been in hiding since realising his own arrogance in trying to rationalise the spirit world. Accusing Goodman of the same disrespect he gives him three case histories to solve: a night watchman haunted on the job; a troubled man confronted whilst broken down in a forest; and a city trader (Martin Freeman) disturbed by strange goings on as he awaits the birth of his first child. Each baffling, horrifying case supports the existence of unseen forces, taking a toll on Goodman and everything he has ever believed .


About The Production
It remains one of the scariest stage shows the world has ever seen. Launched at the Liverpool Playhouse in February 2010 and transferred to the Lyric Hammersmith in London, the critically acclaimed Ghost Stories became a West End smash at the Duke of York's Theatre and later the Arts Theatre, running for a record breaking 26 months. As well as the London productions, it has now been seen in Toronto, Shanghai, Lima, Sydney & Moscow. With more international productions in the works, Ghost Stories the play has already been seen by more than half a million people worldwide.

Co-written and co-directed by self-confessed horror film fanatics Andy Nyman and Jeremy Dyson, Ghost Stories tells the terrifying tale of supernatural skeptic Professor Philip Goodman investigating three case histories of baffling hauntings. Using every dramatic trick in the book to amaze, astound and jangle the nerves, Ghost Stories brought immersive theatre back into vogue with a screaming bang and attracted an untapped audience who had never experienced such fearful fun or suspenseful sensations in that thrilling environment before.

"Jeremy and I have been best friends since we were 15 years old", explains Andy Nyman, who was recently seen in the Liam Neeson thriller The Commuter and the original stage Professor Goodman. "We bonded over our love of all things horror and always thought it would be wonderful to do something along those lines on stage. I was working in the West End with director Sean Holmes and kept walking past 'The Woman in Black' and thought how insane that was the only scary play in town. Madness!"

He continues, "So I got this idea for a stage shocker that was basically 'The Vagina Monologues' with ghost stories - three men on stools telling scary tales. Literally a month later Sean was made artistic director of the Lyric, Hammersmith, and he phoned me on his first day in office asking what was happening with that ghost story project I'd vaguely discussed with him. After a quick brainstorming session with Jeremy the night before, we both left Sean's office the next day with the play commissioned and premiere dates in the diary".

'The League of Gentlemen's' master of the macabre and 'Tracy Ullman's Show' writer Jeremy Dyson adds, "One of our big driving creative forces was the theme park ride, because that's the purest form of theatre there is, like the 'Haunted Mansion' in Disneyland. It's that experience we were after, one that takes you back to the intense delights of childhood when we first fell into this stuff, because it's so immersive. That was the feeling we wanted to recreate. We felt we could fuse that kind of experience with accessible storytelling to give audiences that full-on joyful experience".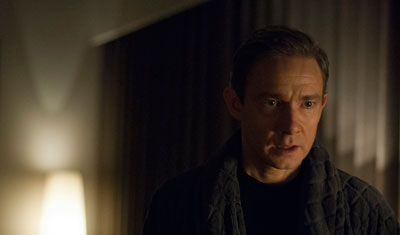 He carries on, "Among our plot influences were the 1960/70s Amicus anthologies like Dr. Terror's House Of Horrors and From Beyond The Grave, and the classic Ealing portmanteau movie Dead Of Night. What set the latter apart is that the best story is the terrific linking one and that idea was one of the biggest inspirations for Ghost Stories along with the implied terrors of Val Lewton's films, Dario Argento's atmosphere and hosts of references to the broad horror spectrum we remembered really scaring us. We also dug deep into our own personal demons, the things we were most ashamed in our pasts".

Because of its extraordinary global success, it wasn't long before talk of a Ghost Stories film became a reality. Jeremy Dyson reveals, "We had a major studio approach us early on, but we wouldn't have been able to make it in exactly the way we wanted had we taken that offer. They simply wanted the package concept without any real involvement from us. It was also far too early. Andy and I needed to distance ourselves from the play creatively, do other things separately, so we could approach a film version with fresh eyes".

Andy Nyman explains, "We wanted to write a screenplay in our own time and pace in order to do it proper justice. The show took the language of film and put it on stage. Reverse engineering that process and letting go of certain theatrical conceits to ensure the movie transfer worked equally well cinematically was of paramount importance. The play was a celebration of our love for the golden age of homegrown horror that informed our lives. Its absolute British DNA was central to its success and we wanted to plug more into that tone and ambiance. So we looked around for a British production company with vision and style and Warp Films topped the list".

The dynamic duo sent their eventual spec script to Warp Films producer Robin Gutch who recalls, "A few of us saw the show and had a great night out. I'd met Jeremy at Film4 where I once worked, when I commissioned his short movie The Cicerones – and he had script edited for Warp in the past. The screenplay development focused on a richer character arc for Professor Goodman to make the movie a different creature altogether while remaining basically true to the original concept.

Any concerns we had about Andy and Jeremy co-directing completely fell away when we could see how they intuitively worked together. Their passion, energy, intelligence and determination were infectious. Ghost Stories fitted the Warp criteria and philosophy perfectly. It was a creatively authored, individual piece with a vision, scale and in-built commerciality, and while clearly a genre film, one with a unique voice behind it".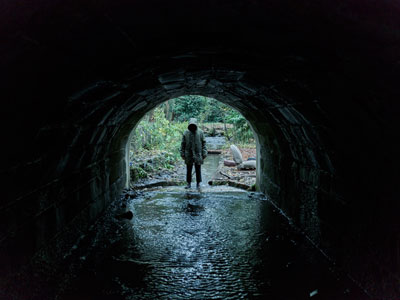 After an initial period of further script development, Robin Gutch teamed up with co-producer Claire Jones (Sightseers, Kill List) and approaches began to bring on key crew including Ole Bratt Birkeland (Cinematographer) and the Yorkshire based Grant Montgomery (Production Designer) and Richard Knight (Location Scout). Claire Jones adds, "Securing such experienced and gifted collaborators like Grant and Ole testifies to how cinematic the script was, and we got really lucky when Richard quickly found astounding locations for Mike Priddle's house and an old abandoned mill basement for Tony Matthew's story which became critical for building the schedule around. Although Andy Nyman didn't write the Professor Goodman part for him to play on stage, his and Dyson's original pitch to Sean Holmes was a virtual one-man version run through of the entire show. From that moment on there was no one else in the running. Co-directing the film meant I could always look to Jeremy for guidance when I had to step out in front of the camera. We were never scared about arguing as we ultimately had a shared vision and nothing is more important than our friendship".

Jeremy Dyson adds, "If there were occasional disagreements we always dealt with them positively, giving each other the space to make our respective points. Our baseline was to be united and that was very important to both of us because we weren't prepared to let anything get in the way and disrupt things for our talented cast and crew collaborators. Looking back I don't think we had one real falling out, making the movie was truly a joy from start to finish".

Martin Freeman plays the role of Mike Priddle, the successful businessman awaiting the birth of his first child. Andy Nyman remembers, "I'd worked with Martin on 'The Eichmann Show' and when we were thinking of actors to play Priddle we knew he was the perfect choice. His intriguing ability to go from light comedy to weighty emotion is incredible and that's what we wanted for this difficult part. Trouble was Martin's now a massive global superstar, but he's a great supporter of British independent film and the anthology structure meant we could find a two-week period that would fit with his busy schedule".

"I was diving between The Hobbit and 'Sherlock' commitments so I didn't see the play", remarks Martin Freeman. "But friends had and said it was terrific so I was familiar with the title when I got sent the script. I'm not really a horror person and certainly not conversant with the genre vocabulary in the way Andy and Jeremy are, but the script was an interesting, fun read and it offered me the opportunity to react to practical special effects rather than the usual nothing on a green screen. While I do enjoy the weird unreality of the latter, the chance to indulge myself in theatrical simplicity with such devastating results was unmissable".

He maintains, "Mike is a status symbol county gentleman. He's rattling around this big luxury house but his life is empty and his marriage loveless. He's belligerent one moment, self-opinionated the next, and his fall into horrifying darkness is a steep trajectory that's wonderful to play. I relied on Andy and Jeremy's sphere of knowledge to make the strange things happen. I've worked with codirectors before and never had any problems. Their mutual respect was extraordinary and they created an atmosphere that was constantly amusing while always upholding an underlying serious intent. This is exactly the kind of entertainment I know I'd be delighted to see and I'd be jealous had I not been a part of it!"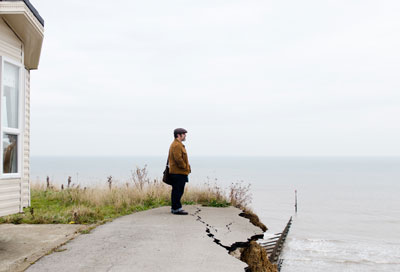 Paul Whitehouse plays the role of the haunted night watchman Tony Matthews. "It took us ages to cast Tony", recollects Andy Nyman. "No one seemed to fit exactly what we wanted. Then we took a leaf out of the Amicus anthology handbook, which cast contemporary A-Listers in supporting roles with great success. No actors that were suggested seemed right, but Jeremy and I kept pushing ourselves to think outside the box. We suddenly thought of Paul Whitehouse and it was a light bulb moment. Not only is he a sensational actor but he can also crack you up while breaking your heart".

Paul Whitehouse, star of 'The Life of Rock with Brian Pern' and 'The Fast Show', was intrigued by the Ghost Stories script for two reasons. He outlines: "My grandmother was obsessed by the spirit world and visited a medium on a weekly basis when I was growing up. And I had a really scary incident happen to me when I used to go night fishing in Wales – a sheep coughing in the middle of the night is truly something frightening! So I knew where Tony was coming from scoffing about the paranormal as well as understanding what comprised the manifestation of his guilt. Tony is someone whose life has taken a wrong turn, a Mr. Everyman who's resigned to a succession of dead end jobs.

The solitude of being a night watchman, in the creepy depository, is his escape from the world and his aggressive jokiness is his armor. For me personally the dead have never bothered anyone – it's the living you have to worry about!"

Alex Lawther essays the role of Simon Rifkind, the troubled 20-year-old whose car breaks down in the middle of a dark forest at night. "Alex was in our original casting sessions", says Jeremy Dyson. "He was perfect for Simon because he's an open book emotionally, clearly has a wise head on his shoulders, is a lovely person in real life and is an incredible talent to boot; the perfect package for our monstrous episode".

"I was so delighted to be cast as the conflicted Simon", explains Lawther, star of The Imitation Game and Goodbye Christopher Robin. "Ghost Stories was the first play I saw in London when I arrived in town as a fresh-faced 14-year old drama student. It was genuinely scary and marked the first time I realised the theatre could give you that visceral experience as well as being Shakespearetype highbrow entertainment. The play meant quite a lot to me personally so acting Simon is a total delight".

He continues, "Simon's story is based on filial guilt, which I suspect is something of a universal feeling. Although familiar with the play I was surprised all over again by the script because the film world gives it an additional strength as much as the different twists and turns do. It's my first time with a supernatural story and I found it very freeing to play, albeit in a nightmarish, heightened reality way. It was great seeing how far Andy and Jeremy could push the genre in both horrific and humorous terms. That fine balance was an exciting one to tread, and with the suspension of disbelief and all the prosthetics involved, a genuinely challenging one".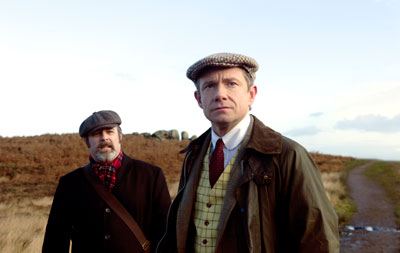 Ghost Stories was shot on location in Yorkshire, and in one instance, practically in Jeremy Dyson's own back garden. He laughs, "That was payback for Andy literally living next door to the Lyric Hammersmith when we opened there! The filming went so smoothly it was a dream come true. You know why? We always loved the fact those 1970s devil movies got priests to bless their sets. So Andy asked a Rabbi he knows to do the same on ours. It was the most special, loveliest thing and the crew adored it. But you know what, it worked, we were so fortunate with the weather and everything went according to plan. Robin Gutch says he's going to do it on every film from now on!"

"The play Ghost Stories was designed to be as theatrical as possible with its own special secrets", says Andy Nyman. "Ghost Stories the film is designed to be as cinematic as possible. And within the thrill-ride of a horror film it was our intention to shine a light on those unspeakable, but more human things we are all frightened by."

Jeremy Dyson adds, "We're living in a golden age for supernatural horror movies and we'd like to think that Ghost Stories is part of that terror new wave. It evokes a classic sensibility while aiming to be unique in terms of approach and atmosphere. Our hope is that audiences will be scared rigid, will jump out of their seats and will ultimately be moved by something more thoughtful being channeled into the much beloved genre".

Andy and Jeremy both unite with one final thought – "We hope that audiences keep the secrets of the film. Like the play, we love the idea of giving an audience that rare thing, a spoiler free adventure that they know nothing about".