Catherine Hardwicke Miss You Already DVD Interview
Cast: Drew Barrymore, Toni Collette, Dominic Cooper, Paddy Considine
Director: Catherine Hardwicke
Genre: Drama
Rated: M
Running Time: 112 minutes

Jess (Barrymore) and Milly (Collette) are life-long best friends who have shared everything since childhood. Now, Milly has a high-flying job, a rock-star husband and two gorgeous children. Jess has dedicated herself to environmental work, and lives with her boyfriend in a bohemian houseboat on the London canals. The best friends are as close as ever. But their relationship is put to the test when Milly discovers she has breast cancer, while Jess faces motherhood for the first time.

Miss You Already
RRP: $29.99


Miss You Already is out now on Digital HD, DVD & Blu-Ray: http://www.eonehub.com.au/film/miss-you-already/



Interview with Catherine Hardwicke
Question: What made you want to make Miss You Already?

Catherine Hardwicke: For me, it was that so many people are affected by cancer and I have some friends and family members who have gone through tough situations like this which is why I was really touched by reading Miss You Already. Most people are not brave enough to explore these issues and show audiences that others are going through tough times too yet they can laugh and cry about it. I thought Miss You Already would be a real challenge.


Question: Personally I found Miss You Already very emotional (probably as I related it to my own life experiences). Is it true you removed all mentions of characters crying, in the script?

Catherine Hardwicke: I did because I wanted the characters to be as tough as they can be through the situation. I am from a Texas-farm family and we don't complain, we just get through it which makes me think we are somehow related to Australians, as you guys are pretty bad-arse too.

If the characters cried you may not have felt as much emotion; audiences want to see a strong character. The actress's performances were so powerful especially when you see them fighting yet not moaning too much about it which is a little nuance that I tried.


Question: Can you talk us through the casting process?

Catherine Hardwicke: Yes, Toni Collette read the script before I read it and she was already a big fan and when I heard she was interested, I immediately was excited. Toni Collette is so good, of course Muriel's Wedding started the excitement surrounding Toni Collette as she's brave, funny and she dives so deeply into a character that you know she's going to live and breathe the part. Toni Collette has another actress, shaving her head, for real, on camera – she's bold, she went for it! Toni Collette wanted to experience and feel the character – I love her.

I have loved Drew Barrymore, as we all probably have, from the first time we saw her in ET. Even in ET Drew Barrymore improvised a lot of her character's lines and she is still that same super strong creative spirit that she has always been. Some of the funniest lines, those neat little add-on's featured in Miss You Already, are improved by Drew Barrymore and Toni Collette, themselves.
Drew Barrymore is so compassionate and has such a big, creative heart – I love that!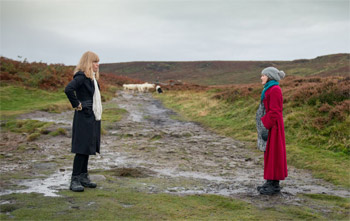 Question: Can you explain Toni Collette's change of character (she was originally cast as Jess)?

Catherine Hardwicke: Yes, at first Toni Collette was interested in the character of Jess which was a little bit before my time on the project. Pretty soon into me coming onto the project we thought Toni Collette would be great as Milly because, as you know, Toni Collette is such a chameleon (from cute to super professional) and lately we hadn't seen her as a sexy-wild-child (a hot mess) which is why we both thought it would be a lot of fun for her to see her dive into Milly. Cameron Diaz plays the sexy-wild-child in In Her Shoes and Toni Collette played the more stable sister and we reversed that for Miss You Already.


Question: Why is it important for you, as a director, to put yourself in a characters shoes (such as Milly)?

Catherine Hardwicke: Yes, unfortunately I've had friends who have lately had to go through the appointments; I was spending a lot of time with one friend in particular and was going through her experiences with her, similar to the story. Then also, I spent a lot of time with my Dad as he was going through chemotherapy. I did go, myself, right before I went to London to work on the movie, to have my breast-cancer examination and went through the fear that everybody does of holding your breath waiting for the results. I talked to all the technicians, nurses and the doctors about the project of Miss You Already to get the different reactions from patients and how people deal with a diagnosis.

I met with many doctors, oncologists, survivors, friends and caretakers when in London on set. Miss You Already was a very rich research experience.


Question: Due to your friends and families cancer experiences did you find it difficult to film certain aspects of Miss You Already?

Catherine Hardwicke: I did find it difficult and one of my friends has recently passed away; prior to that I showed her Miss You Already (I didn't know if she wanted to see it, as she was almost living the story pretty precisely but she said she wanted to see it) and she was very supportive and proud that I had filmed it. It was a very tough film as we all bring our personal experiences from those that we love and of course we wanted to honour those experiences and share the stories respectfully.

Part of that was why I wanted to share the story with a sense of humour; my friend, my father and others had a hilarious sense of humour right down to the wire and that's one reason I really enjoyed the script because it was funny and that's the way you get through these tough situations – by finding or improving your sense of humour.

It's almost a fantasy that you'd have someone that you love that much who would be there for you, the whole experience is very beautiful.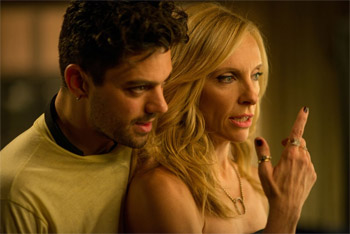 Question: What's next, for you?

Catherine Hardwicke: I have written a pretty interesting and funny script based on a true story of a pretty bad-arse song-writing woman.

I am about to fly to Toronto as I'm working on a coming-of-age series pilot titled I Witness about two teenaged boys who are figuring out their sexuality; it's a character-driven piece including a young adopted-foster son and in the middle of them struggling with their own identity they are eye-witnesses to a murder and they have to learn to deal with that as well as the pressures of their own individual situation.

And, I am working on a re-write for a Fox 2000 script with Wyck Godfrey (Twilight) which is a beautiful project based on the book, Love Letters to the Dead.

Hopefully one of my projects will happen shortly after I Witness. Although you'll never know what will happen in this business; all the projects you think are going to happen, may not happen! It's always an interesting ride.

Miss You Already
RRP: $29.99

Miss You Already is out now on Digital HD, DVD & Blu-Ray: http://www.eonehub.com.au/film/miss-you-already/

Interview by Brooke Hunter