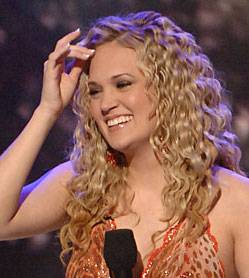 Carrie Underwood vs Bo Bice
The American Idol winner for Season 4 is Carrie Underwood. From Checotah, Oklahoma to Hollywood, Carrie Underwood at age 21 is well on her way. Joining chart topping American Idols Kelly Clarkson, Ruben Studdard and Fantasia Barrino, her new CD 'Inside your heaven' is sure to top the charts.
With over 100,000 contents in Season 4 American Idol, Carrie Underwood stood out from the very beginning. Setting a new record, over 5 million people voted for the Carrie Underwood and Bo Bice showdown, with Carrie coming out on top. Randy Jackson, was amazed that Carrie "hadn't already been discovered", while Simon Cowell although razed about being in love with himself said "America got it right".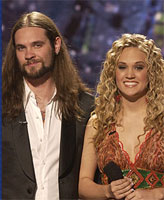 We will definitely be seeing more of Carrie Underwood, but don't count Bo Bice out just yet, he may have come 2nd in American Idol, but it's very clear that he is still a winner and we will be seeing a lot more of him, question is as a soloist or in a band?
For more on American Idol's winner, the finalists, pictures, interviews, plus the lowdown on the judges and contestents visit:
www.idolonfox.com