Bryan McClure Strings Interview
In the tradition of Stranger Things, the spookfest rolls out on the small screen – in this case YouTube, beginning Monday August 15. https://www.youtube.com/c/StringsSeries

The series, said to be a mix of Teen Wolf and Saw, features such seasoned names as Taylor Hay, Paul Stevans, Bryan McClure, Saige Ryan, Joey Luthman, and famed Viner, Nik Keswani. The lead actors bring with them a combined social media following into the millions, and are led through the series by director, Stephen David Brooks, who cut his horror teeth aside the famed writer, Stephen King.

Strings finds the characters drugged, hooded, and bound in a room with no apparent way out. What at first glimpse seems to be a random group of teens, the characters soon learn their link is much more than originally thought and someone has a score to settle… at any cost. They must work together to solve the room's challenges if they have any hope of escape. But is escape even possible? No one will know until the series' final, nail-biting episode.

A mix of tension, suspense, and blood, the series keeps viewers on the edge of their seats as they try to anticipate the next turn of events. And the faces keep viewers coming back, including seventeen-year-old theme song composer and singer, Ty Desharnais, who once appeared on X-Factor.

Desharnais's music video, Beneath the Strings, has already been released in anticipation of the series' pilot episode launch and can be seen on the project's channel at www.stringsseries.com. In all, ten episodes will be released, beginning on August 15, 2016 and wrapping up on September 15, 2016.

The series, whose target audience is twelve to twenty-one year olds, hopes to fill a niche that is currently missing with current YouTube series offerings. 'Many teens and tweens of today are watching online and using social media rather than turning to traditional television series for their viewing interests. We hope to fill the gap that currently exists between the television offerings and paid services and open source online viewing with a quality show that will appeal to our target group," says Grace Lho, president of the show's parent corporation, Trajan Productions, LLC. 'This audience deserves something they can really sink their teeth into and enjoy."

www.stringsseries.com
Instagram: @stringsseries
Twitter: @stringsseries
Facebook: facebook.com/StringsSeries



Interview with Bryan McClure
Question: What can you tell us about Strings?

Bryan McClure: Strings is a fun horror/thriller that's said to be a mix between Saw & Teen Wolf. It follows a group of teens that wake up in a room with bags on their heads and tied up, not knowing how they got there. They must solve a series of clues within a short amount of time if they ever hope to get out...alive.


Question: What do you enjoy about acting for the horror-thriller genre?

Bryan McClure: For me, I guess I'd say the intensity of it. It's very high stakes and gives you a lot to play with as a result.


Question: What inspired you to audition for Strings?

Bryan McClure: The audition notification from my talent reps safely arriving in my inbox.


Question: How would you describe your character Rikers Smith?

Bryan McClure: Rikers is very street smart. In this story, I come from a background where I had to learn to think and react quickly if I wanted to survive. As a result, I'm always a step ahead of the others. But I've also learned to fend for myself so I don't always play well with others.


Question: What did you find challenging about Strings?

Bryan McClure: The darn flashlight Jax and I carry. We'd often discuss who was holding it and in what particular hand at specific places. It got tricky because we filmed many of the scenes out of order because we were already set up in a specific room.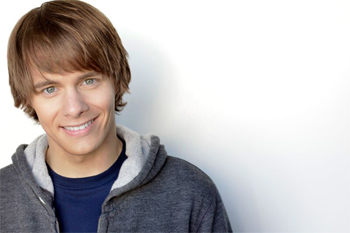 Question: What was a day like, on set of Strings?

Bryan McClure: A day on set: Actress Saige Ryan and I carpooled to set and we were either cracking jokes or blasting some tunes on the ride in, so we were always in a good mode before anyone else had even had their coffee. So when we arrived, we'd get in to hair & make-up and wardrobe while the director and the crew got the set ready with lights and any kind of props that were needed. Then the sound dudes would get our mics put on us. We'd head to set and the cameras would start rolling. Then our fearless director would yell the magic word that opens up the whole new world we play in, "action". Then we play.


Question: What originally attracted you to the acting industry?

Bryan McClure: Well, I felt that God brought it into my life. I never planned on being on actor. I wanted to be a pro basketball player, but it really just found me. And I found I had a love for it. It really is an amazing experience when you're on set getting to "work".


Question: What advice do you have for young actors?

Bryan McClure: Make sure you're getting in classes. I heard Steve Martin say recently when asked for advice, "Be so good they can't ignore you." And that really comes from practicing and exercising your craft. Peter Dinklage said in an interview, take ever opportunity to act you can. A short film, a small play, a live event. Just get out there and act. And I'll add to keep doing it. Don't give up. It can often be a very hard journey, but if you're doing it because you love it, then keep doing it for that reason.


Question: How do you feel when you see yourself on the screen?

Bryan McClure: Well, it depends. Sometimes I'm really able to watch myself objectively and see if I thought what I was doing worked or didn't work. Sometimes, if it was a really emotional scene, I might find myself going through those same emotions again. Then there's some times when I watch and think I looked ridiculous and will kind of look around if I'm with other people hoping they don't see what I'm seeing.


Question: What's next, for you?

Bryan McClure: I have a few projects in various stages of development. With our "Space Command" series, we've filmed the first episode and part of the second one. We need to finish that and then film the later episodes of the first season. There is talks about there being more seasons of "Strings", which I'm hoping for. I've also got a two-part western feature that I'm the lead in called "The Clinch Mountain Tracker" which we're in the fundraising phase, and there's also our fan film "Superman vs. Doomsday" film that's in the very early stages of pre-production. I also just wrapped on a beautiful film called "Moon Shine Still" with Nick Blood of "Agents of SHIELD", Lydia Wilson from "Star Trek Beyond" and Madeline Brewer from season 1 of "Orange is the New Black".


Interview by Brooke Hunter