How to Fight Winter Blues - Expert Tips
Did you know that, in the winter months, 1 in 4 Aussies reported that they experience increased irritability and that 1 in 3 Aussies feel an overall dip in their mood?


Interview with Brooke Benson Campbell
Brooke Benson Campbell (BHSc) is a Clinical Nutritionist and Naturopath, speaker, writer and presenter with a passion for all things health, beauty and wellbeing. A self-proclaimed human test subject, she is constantly trialling the newest products, seeking the latest discoveries and reading the current clinical studies, in order to share her findings with the public through private practice, social media and industry education. Her mission: to inspire others to use the tools of nutrition and self-care to cleanse, energise and glow from within.

Question: How would you describe Winter blues?

Brooke Benson Campbell: The Winter Blues are incredibly common and leave many of us feeling a little gloomy, fatigued and in need of hibernation, but it doesn't alter our daily life too much. They can have us yearning for sunshine and long days, and craving the warmth of summer weather, when we have huge amounts of natural energy and enthusiasm.


Question: How does Winter blues differ from Seasonal Affective Disorder (SAD)?

Brooke Benson Campbell: Seasonal Affective Disorder (S.A.D) - unlike the Winter Blues - is a clinically diagnosed type of recurring major depression with a seasonal pattern that begins during Autumn and ends with the warmth of Spring.

There are a few factors that contribute to S.A.D. Those that suffer from the disorder have difficulty regulating the neurotransmitter serotonin, a chemical compound that is believed to be responsible for balancing mood. This difficulty in regulation is caused by a protein that assists with serotonin transport, called SERT. Higher SERT levels lead to lower serotonin activity. In the summer, SERT levels are kept low due to the summer sunlight, however, in winter, those with S.A.D have higher SERT levels, causing a dip in serotonin levels, which contributes to lower mood.

People with S.A.D may also have difficulty with overproduction of melatonin, the hormone that regulates our sleep. The combination of low serotonin and increased melatonin production causes changes to the body's internal clock, the 'circadian rhythm'. These chemical changes cause mood changes, lack of motivation and depressive symptomology.


Question: How can we fight these Winter blues, easily?

Brooke Benson Campbell: To fight the Winter Blues, try the following:

Make your environment brighter: Act like a lizard and search for the sun. Just 30 minutes per day is proven to fight the Winter Blues, so open blinds and curtains, trim back tree branches, and sit close to windows to absorb as much light as possible. Boost your vitamin D with a lunchtime walk in the sunshine and if the forecast is sunshine, rug up, and read or reply to emails in whatever small spot of momentary warmth you can find.

Exercise: A 2005 study from Harvard University found that exercising for 30 minutes a day, 5 times a week (or 60 minutes a day 3 times a week) improved symptoms of mild to moderate depression. So get moving to beat the blues!

Partake in self-care: Look after yourself. Soak in a warm bubble-bath, curl up with a good book, or treat yourself to a massage in the comfort of your own home with Blys.

Massage has been shown to provide benefits such as reduced anxiety and improved sleep, while regular massage sessions work to increase serotonin (the neurotransmitter in charge of mood and motivation) and reduce depression. Massage therapy also assists in the regulation of circadian rhythms, so if you're suffering from stress or insomnia, an evening massage may just be the trick to a deeper sleep.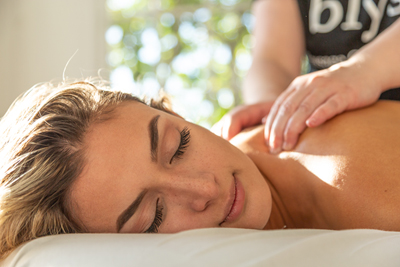 Question: What do you love most about Blys?

Brooke Benson Campbell: As mentioned above, there are quite a few benefits to regular massage therapy, which include reduced anxiety and better sleep. However, many may find that their busy schedules come to affect how often they receive self-care services. Blys' on-demand, at-home wellness service is a total game-changer - especially during the months where we feel a little more sluggish.

Blys is available in the comfort of your own home and from 8am-11pm, meaning that there is no excuse for a little self-care and relaxation!



Interview with Ilter Dumduz, Blys Founder
Question: Can you tell us about Blys?

Ilter Dumduz: Founded in 2016, Blys is Australia's fast-growing on-demand wellness app, complete with more than 750 therapists nationally, the app receives thousands of bookings a month from Aussies looking to integrate wellness more regularly in their day-to-day routines.


Question: What does self-care mean to you?

Ilter Dumduz: I believe self-care is taking time to look after your overall well being. Between work and family, it is not uncommon to forget to take a step back and look after ourselves for at least a few minutes every day. To keep our wheels turning, and performing at our full potential in all aspects in life, it is vital to take time for ourselves, both mentally and physically; to find a balance amongst the chaos of day-to-day life.


Question: How do you practice wellness daily?

Ilter Dumduz: On the busiest of days, I try to take steps towards ensuring I can wind down and have a restful sleep at the end of the day. Shutting off from social media and emails for an hour or so, practising mindfulness meditation, and a massage before bed are habits I try to incorporate into my daily routine.


Question: Has this become a routine for you?

Ilter Dumduz: 'Routine' can be a tough word, but I make a conscious effort in spending at least a few minutes on mindfulness every day. It's all about balance.


Question: How do self-care practices impact our productivity and happiness, all year round?

Ilter Dumduz: As Brooke mentioned, we can feel a noticeable dip in our mood and the desire to stay in bed as the days become shorter and the weather becomes colder. However, ensuring regular self-care practises, especially in winter, allow for a more restful sleep and a balanced mood.

Massage is known to be particularly beneficial when taking strides towards lowering anxiety and increasing mood. In fact, according to the Global Wellness Institute, one single, 45-minute massage significantly decreases in the primary stress hormone cortisol.


Question: What's next for you?

Ilter Dumduz: There are quite a few exciting plans in the pipeline for Blys. We've already begun our shift to becoming an all-around wellness platform, and that will really take off in the coming years. Our main mission is to bring a wider range of wellness services to a greater population, for maximum convenience.


Interview by Brooke Hunter