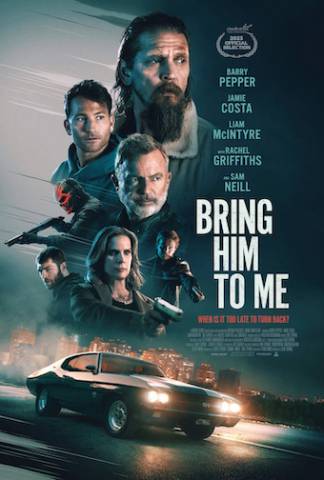 Rialto Distribution has released the first-look trailer for BRING HIM TO ME, the hotly anticipated new Australian crime thriller from director Luke Sparke, (Occupation Rainfall, Devil Beneath), which is slated to screen in cinemas nationally from November 2.
Featuring a dynamic international cast including Barry Pepper (Saving Private Ryan, The Green Mile, Maze Runner), Sam Neill (Jurassic Park, Peaky Blinders, The Piano), Rachel Griffiths (Hilary & Jackie, Six Feet Under, Brothers and Sisters) and Liam McIntyre (Spartacus: Vengeance and Spartacus: War of the Damned, The Flash), BRING HIM TO ME also marks the feature debut of rising star Jamie Costa, who shot to viral fame in 2021 with his remarkable portrayal of Robin Williams in a proof-of-concept short film for a proposed biopic, as well as his Star Wars fan film Kenobi.
In a haunting twist on the mob genre, BRING HIM TO ME delves into a brutal underworld to tell the story of a getaway driver under orders from a crime boss, who finds himself at war with his conscience as he drives a young and unsuspecting passenger to an uncertain fate.
The November 2 Australian release of BRING HIM TO ME will mark the film's world premiere with Myriad Pictures handling sales for North America and other territories with the exclusion of ANZ.