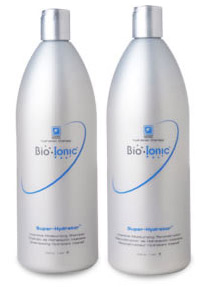 Bio Ionic Hair Care Intensive Moisturizing Shampoo 1Ltr
Bring Fried & Dried hair back to life with this rejuvenating haircare system for hair thats been colored, permanently straightened or feeling weak, brittle or dehydrated.

Bio Ionic Super Hydrator Shampoo!

* Floods thirsty hair with a balanced mix of protein and moisture.
* Gently cleanses hair from roots to ends.
* Ideal for strengthening all hair types.
* Supercharged Natural Ion Complex accelerates water deep in to the hair for maximum hydration.
* Rich intensive formula bathes hair in rejuvenation.
* Essential strengthening proteins help rebuild and reconstruct hair.
* Essential botanicals balance and care for the hair.
* Moisturizing humectants hydrate and nourish.
* Helps eliminate frizzies.
+
Bio Ionic Super Hydrator Treatment / Conditioner 1Ltr
Intensive Moisturizing Reconstructor
Bring Fried & Dried hair back to life with this rejuvenating haircare system for hair thats been colored, permanently straightened or feeling weak, brittle or dehydrated.

* Rebuilds extremely dry, damaged hair with a generous dose of maximum-strength proteins and moisturizing humectants.
* Revives hair from roots to ends.
* Ideal for strengthening all hair types.
* Doesnt weigh hair down.
* Supercharged Natural Ion Complex accelerates water deep in to the hair for maximum hydration.
* Rich intensive formula bathes hair in rejuvenation.
* Essential strengthening proteins help rebuild and reconstruct hair.
* Essential botanicals balance and care for the hair.
* Moisturizing humectants hydrate and nourish.
* Helps eliminate frizzies

Bio Ionic have replaced this pack with the new Bio Ionic Agrave Hydrating 1lt Shampoo & Conditioner