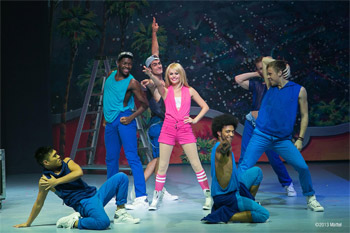 Barbie Live! The Musical
EMS Entertainment and Life Like Touring are thrilled to announce the world-class creative minds and vibrant talent behind blockbuster show Barbie Live! The Musical, set to complete a limited, one-off Australian tour in April.

Tickets are on sale now from Ticketmaster (Melbourne, Sydney and Perth) and Ticketek (Brisbane). Barbie fans – it's time to get your sparkle on!

Director and choreographer Kobi Rozenfeld is one of the world's most renowned, innovative choreographers who has worked with Beyoncé, Macy Gray and Britney Spears, and was a judge on international TV show So You Think You Can Dance.

'We are thrilled to be bringing Barbie Live! The Musical to Australia! It has been amazing to work on such an inspiring story and to have our fresh cast bring so much talent and energy – every dance and song is larger than life!" says Kobi Rozenfeld.

Bursting onto the Hollywood sound stage of her new movie, Barbie encourages her costar Teresa to believe in herself, communicating the importance of overcoming fear and the power of friendship. Barbie Live! transports audiences to inspirational scenes from Swan Lake, The Princess and the Popstar, and Mariposa & Fairy Princess based on the hit Mattel movies of the same name.

Complete with Mattel movies' popular sing-along songs, Barbie Live! also features new music from acclaimed Broadway composer and music director Robbie Roth (Flashdance, Billboard charts).

Fresh-faced talent Chelsea Bernier plays Barbie not only in the musical but is the official Barbie at the mega Barbie's Dreamhouse Experience installation in the USA. With Randy Dierkes as Ken and an entire cast of 19 highly skilled dancers and singers, Barbie Live! features high voltage urban dance routines, uplifting pop songs and universal themes for all ages.

The brightly coloured, fast paced show is performed against an impressive range of elaborate sets designed by the multi-award winning Stanley A. Meyer (Elton John & Tim Rice's Aida, Disney's The Beauty and the Beast).

A production that took 1000 litres of pink paint and 2 gazillion pieces of glitter to create also features Barbie undergoing more costume changes than a runway fashion show! The entire 90-minute production includes 230 flamboyant costumes designed by Aviad Arik Herman (Miss Universe).

The creative team also includes: Obie Award winning multi-disciplinary theatre artist Diane Rodriguez (The Book), award winning lighting designers Jesse Blevins and Peter Morse (lighting designers for New Kids on the Block, Lenny Kravitz, Barbara Streisand, Michael Jackson and many more); sound design by Kai Harada.

In late 2013, Barbie Live! The Musical played to roaring acclaim in packed theatres throughout Asia. This April, the 15 tonne show will arrive on Australian shores for one time only: with tour dates in Melbourne, Brisbane, Sydney and Perth this is the only chance to see Barbie Live! The Musical in Australia! The production will continue its international tour after Australia.

Barbie fans in other cities are encouraged to contact premium ticketing partner Showbiz who have teamed up with Mantra Hotels to offer exclusive Stay-and-See packages. Find out more at Showbiz.com.au

Barbie Live! The Musical - Australian Tour Dates and Tickets
Saturday 5th to Monday 7th April Palais Theatre, Melbourne Ticketmaster 136 100
Friday 11th and Saturday 12th April Brisbane Convention Exhibition Centre Ticketek 132 849
Thursday 17th to Saturday 19th April Theatre Royal, Sydney Ticketmaster 136 100
Friday 25th and Saturday 26th April Challenge Stadium, Perth Ticketmaster 136 100

Keep up to date with the latest hot pink gossip: https://www.facebook.com/barbieliveaustralia

Review: Get your sparkle on with Barbie and this dazzling show as Barbie Teresa to believe in herself using some of her popular movies to remind her. Great entertainment for girls young and old.