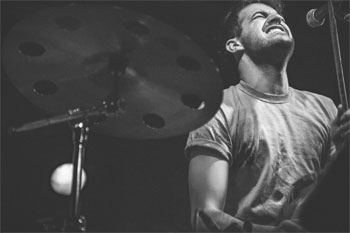 SXSW 2018 Showcase
Sydney-based Bad Pony are one of Australia's most explosive, premiere live acts. Their addiction to the road has seen them complete three national tours since 2015 and their unbridled work ethic saw them round up 2016 inking a publishing deal with Perfect Pitch Publishing, a booking deal with 123 Agency and a showcase at world-renown Music Matters in Singapore.

After launching into 2017 with a showcase at Canadian Music Week, a successful run of Sofar Sounds shows across Los Angeles, Philadelphia and New York City and a welcome-home national tour, the band are rounding off a huge year with the announcement of their showcase at SXSW, 2018 in Austin, Texas and a run of shows down the Australian East Coast.

Their SXSW showcase will see them join Aussie comrades Gang of Youths, Castlecomer, Stella Donnelly, Fatai, Ruby Fields, Dean Lewis, Jess Ribeiro, Stonefield & Totally Mild.

'Words don't really do justice to how excited we are," tells vocalist Jarred Young of the announcement. 'It's such a huge opportunity and huge line-up and we're so keen to get over to America again to try and establish ourselves further over there."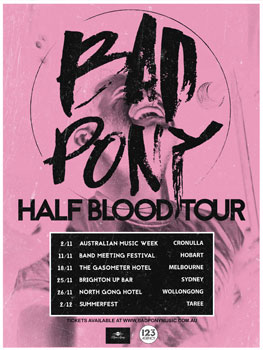 'We've had the last four months off touring which is definitely a first for us. It's the longest stretch of time we've had off the road and it's been pretty energizing - we've actually had time to write and rehearse some new tunes and have been obsessively recording as well. We're really excited to see how the new material will go down live on this run of shows. It's a bit darker and heavier and definitely lets us get a bit wild live."

In addition to the SXSW announcement comes the reveal of the band joining Sydney-based music agency, ArowAgency.

'We have a new management team that we're heading over with as well, it all feels like a really good and solid family and we all can't wait to be there."

The band are no strangers to hard work and have released four self-produced singles all with national radio success since 2015, including their fierce single -Deficiency', which premiered in Rolling Stone Australia and received Triple J airplay as well as over 300 radio adds across the US and a #7 radio chart debut in Dallas.

Bad Pony aren't your average live band. Their ferociously powerful performance will have you busting moves you didn't know you had and will leave you on your knees begging for more! Make sure you catch them at one of the dates below and wish them luck with a cheers before they head off to win American hearts.