ASH KENNEDY POPS ONTO THE SCENE WITH SOULFUL DEBUT 'POINT OF VIEW' - 15TH MAY 2020
"I woke up with you this morning I didn't expect to" Ash Kennedy's debut was always bound to invite her listener into her transparent, personal bubble. "Point of View" is the perfect mesh of classy & flirty following the story of friends becoming more? Maybe.

In "Point of View", Ash Kennedy narrates her boozy, spirit of the moment decision to take things further with a lifelong friend. Her sobering reflection takes us on a playful, flirtatious journey through her internal battles in deciding if they should pretend it never happened, or take the chance on love. So relatable it hurts; 'POV' reminds the audience of those friendships that always had more 'feels' "bubbling up hoping one day to break the surface" . Ash's flawlessly crafted melody, and cherry sweet, warm vocal, allow the perfect canvas for the lyrics which are woven carefully to tell the story with utmost truth and clarity.

With production by Melbourne Duo, multi-instrumentalist Rob Amoruso (Universal Music & Mushroom Publishing) and Ben Oldland (JAYDEAN, Julian Steel), Ash's Soulful, Jazzy-style writing is held true, creating a timeless and nostalgic feeling, while also adding unique and modern electronic Pop/RnB production that both producers are known for in the Melbourne & International music world.

"'POV' was born on the floor of my bedroom with my guitar. I am influenced by H.E.R, Lianne La Havas & Tori Kelly, who use delicious combinations of electronic & live instruments. This song is an ode to all the guys I've liked and never told them. POV was a prediction of what was to come, as it came to life after I wrote it. Oops!"

Mastered by UK based engineer Andy Miles at Stardelta Mastering (Amy Winehouse, Sam Smith), 'Point of View' has the right 'pop' and flawless vocal production to grab mainstream 'Pop' fans and the deep bass, and sensual electric guitar to seduce RnB fans.

While this is her first official debut, Ash Kennedy is highly respected and known in the Melbourne music scene for her effortless, soulful, masterful vocals and bright, bubbly energy. Performing alongside talented Melbournian acts such as JAYDEAN (Kaiit, Ruel), ALLIPHA, SKYE, Thando, and Taylor Piggot, Ash also appeared on the cover of Beat Magazine during MMW with Sunshine & DFC as a feature vocalist.

Sure to be a warm, soulful night, Ash's long awaited plans to hold a single launch late May 2020, were shot down due to Covid-19. Ash will be releasing a Music Video and Live Acoustic Version to keep audiences entertained, paired with live stream performances, before she returns to the live music scene with her 2nd release & double launch once the Covid mayhem is over.

Expect to see 'Ash Kennedy' featured on two more tracks this year, including 2 tracks on Zac Robertson's debut album, and a duet feature with the soulful Will Clift.


Interview with Ash Kennedy
Question: How does it feel to release your first single?

Ash Kennedy : Super surreal! I have watched all of my friends release music & I never thought I'd have the right song to finally introduce myself to the world officially. It feels amazing.


Question: Can you tell us about Point Of View?

Ash Kennedy : 'Point Of View' was born on the floor of my bedroom jamming with my guitar. It kinda fell out of me - it was the easiest song I've ever written and I knew very quickly it was "the one". It's a song dedicated to all the guys I have liked and never told.


Question: What inspired Point Of View?

Ash Kennedy : After a nasty breakup I was expecting to write a sad song. I was wondering why I couldn't just have one of those 'Dawson's Creek', or 'One Tree Hill' relationships where you fall for your best friend. So I wrote a story about an imaginary situation where I drunkenly got with a friend & the song talks about the crazy change of perspective one decision can have, and maybe all the signs you missed along the way. This was a precursor for what was to come in my life (oops) - only unlike the song, we realised we were better as friends.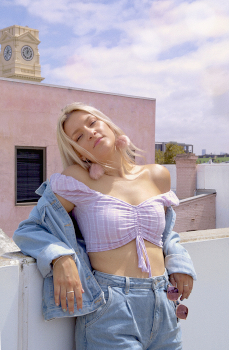 Question: Is there a particular message you hope listeners take from your music?

Ash Kennedy : I just want people to get cosy, get flirty, take in all the love and make the most of their limited time on Earth by spending it with people that make you feel alive.


Question: How would you describe your music?

Ash Kennedy : I want my music to feel youthful, warm and cuddly. But I'd say my music is kind of raw and real, or I at least hope people see that it is.


Question: What should we expect from you in the future?

Ash Kennedy : More RnB flavoured Pop music to tickle your fancy, and hopefully some awesome live shows when COVID Isolation is over. Also some collabs.


Question: Which music/artists are you currently listening to?

Ash Kennedy : I have been listening to 'Eloise''s EP "This Thing Called Living", it is so buttery! And loads of LoFi/Jazz; Bruno Major - "Easily".


Question: What or who was your inspiration to go into the music industry?

Ash Kennedy : I don't know if I ever actually expected to enter the "music industry" as a solo artist, I just kept doing what I loved and ended up here. But I am inspired by my unbelievably talented and hard working muso friends and every song that makes it onto my "Jam Sammich" playlist on Spotify.


Question: If you could collaborate with another artist, who would it be?

Ash Kennedy : So many people came to mind, but I guess it would have to be Kevin Garett, a duet of some kind would be unbelievable. I just love his phrasing and melodic choices.


Question: What's a typical day like?

Ash Kennedy : At the moment, a typical day in iso - I am trying to get good at meditating, trying to stay fit and not eat too unhealthy (UberEats and left over Choccies from Easter) and collaborating with other out-of-work musicians online (we are all bored and flowing with inspo).


Question: What has been your favourite part of becoming a music artist?

Ash Kennedy : Having an end product that I am proud of and knowing I have done it all on my own. It has proven true the age old saying that anything is possible so long you put your mind to it.


Question: What's next, for you?

Ash Kennedy : I am planning a second single and maybe an EP. But I'm focused on keeping the creative juices flowing and writing with anyone who will write with me… Hit me up on the socials!


Question: Can you share your socials? (links please)

Ash Kennedy : @ashkennedyk on everything! The "k" is silent… or you can tell me what it should stand for.
Facebook


Interview by Gwen van Montfort