Are People Who Dance Happier?
People who get up and dance or who go out to see live music are happier than those who don't, a new survey shows.

But the notion of the angst-ridden songwriter is also confirmed in the latest Australian Unity Wellbeing Index survey, which reveals that those who create or compose music have lower general life satisfaction than others.

The survey of more than 900 Australians finds personal wellbeing scores were significantly higher for people who reported that they danced and attended musical events compared to those who didn't engage with music in those forms, though only if they do so in the company of others. People who danced alone reported similar levels of happiness to those who didn't dance at all.

'We engage with music in all sorts of ways – we listen, we sing, we play instruments, but in terms of our subjective wellbeing, greater happiness was only associated with those who danced and attended musical concerts,'' report author Dr Melissa Weinberg from Deakin University's Australian Centre on Quality of Life says.

'This difference emerged most clearly in two of the key elements that contribute to our subjective wellbeing – those of personal relationships and community connectedness.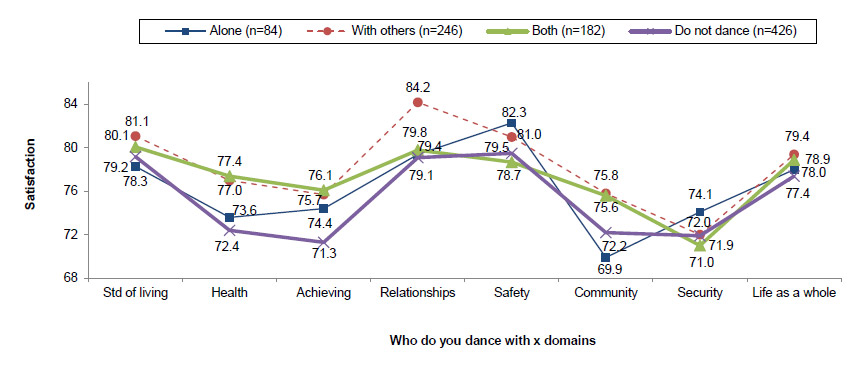 'This finding speaks to the social component of engaging with music. There were no differences in wellbeing between those who danced alone and those who didn't dance at all. It was only when people danced with others that their wellbeing was higher. Music is a great medium for people to connect,'' Dr Weinberg says.

For those who create or compose music, the average life satisfaction score of 73.3 is significantly lower than for those who don't (78.6).

'There's a widely held assumption that good moods are associated with creativity, but this doesn't appear to be the case when it comes to writing or composing music."

'The link between subjective wellbeing and musical engagement is largely to do with how we use music to regulate our mood and express our emotions," Dr Weinberg says. 'Mood regulation is at the heart of our subjective wellbeing."

'We can all think of a song that makes us feel happy, or sad. Our brain is very good at attaching emotional content to sounds and experiences,'' she says.

The Australian Unity Wellbeing Index regularly surveys people to evaluate their satisfaction with life across a range of issues – standard of living, health, achievement in life, personal relationships, safety, community connection and future security–which provides a measure of wellbeing, or happiness.

The full report can be viewed at australianunity.com.au/about-us/Wellbeing