A Heartfelt Track
Apollo Jackson exploded onto Australian television screens in 2017 as a contestant on The Bachelorette with Sophie Monk.

There he won the hearts of Australia when he placed second runner up and became one of the nation's most notable television and media personalities.

Already a world-class magician who has performed at some of the biggest venues in Australia and Las Vegas, Apollo is also a talented multi-instrumentalist, vocalist and DJ who has had had a lifelong passion for music.

Apollo has now unveils his debut single With You. A heartfelt track, With You is a magical culmination of uplifting pop chords, alluring vocal hooks and enchanting melodies. Watch the video here.

"The last few years of my life have been pretty crazy and one thing that's always kept me grounded has been my music. So over the last few years I've been writing and making a lot of music and I haven't shared it with anyone until now. I'm super excited to release my first single With You. I wrote this from a pretty inspired headspace. I've been through a really dark time and it's just about seeing life in a different way."

June 9th Ministry of Sound Club, Sydney
June 10th Dog & Duck, Adelaide
June 22nd Discovery, Darwin
*with more shows to be announced

https://www.facebook.com/apollojacksonofficial/
https://www.instagram.com/apollojacksonofficial/
Pre-order With You now: https://apollojackson.lnk.to/WithYou



Interview with Apollo Jackson
Question: What inspired you to begin releasing music?

Apollo Jackson: I started writing at a really young age, it was kind of a release for me and as I got older I used to hand out CDs with my originals on them back when I was singing at pubs and venues. I just love the process of creating something and sharing it with other people.


Question: How would you describe With You?

Apollo Jackson: With You was a song I wrote when I was just in a super positive mood, I'd had months of feeling quite down and this song just came from an inspired place, I tried to keep the lyrics and melody super simple. This song wasn't about getting super deep it was about sharing a feeling and I think that comes through the chorus quite strong.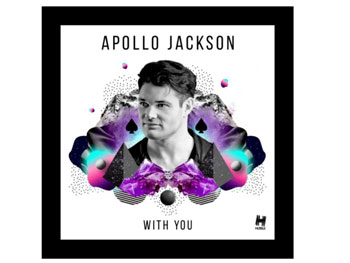 Question: What can we expect from the upcoming shows?

Apollo Jackson: Anyone who's made it to any of my previous shows or has seen me on stage knows things get crazy, ever since I was young there was always this overwhelming fun and energetic feeling I got performing in front of people and it's only gotten stronger as I've gotten older. Everything I do performance wise is always about making sure the audience in front of me has as much fun as possible.


Question: If you could have anyone, in the world, attend your show, who would it be?

Apollo Jackson: As cheesy as it sounds, my family, they've been with me thick and thin through the hard times and all the behind the scenes madness that has led to everything right now. Plus they're the most fun/craziest people on the planet... I love them so much.


Question: Do you prefer performing live or recording?

Apollo Jackson: I love creating and recording, but nothing in this world for me comes close to the feeling of performing in front of a live audience.


Question: What motivates you most when writing music?

Apollo Jackson: It's usually a life experience, emotion or even after meeting someone who has an inspiring story. On the flipside sometimes, it's just creating a story in your head and putting yourself emotionally into the characters shoes and writing from there.


Question: Which music/artists are you currently listening to?

Apollo Jackson: I listen to such a wide range of artists, at the moment Shawn Mendes, P Malone and Khalid are bringing out some wicked music, The Chainsmokers and Calvin Harris have some great stuff in the kitchen, but I listen to a lot of local artists too, The Preatures are amazing.


Question: What or who was your inspiration to go into the music industry?

Apollo Jackson: When I was three all I would listen to is Michael Jackson, I'd spend hours copying his dance movies and stage moves, loved Prince, then had a solid foundation of 80's rock growing up bands like Motley Crue, Guns N Roses, Metallica, Kiss, Iron Maiden really shaped my childhood so when I got my first guitar around 7/8 that's what I wanted to play.


Question: If you could collaborate with another artist, who would it be?

Apollo Jackson: At the moment, I'm loving Dua Lipa's style she would be awesome to work with.


Question: What did you learn about yourself whilst on The Bachelorette and Bachelor in Paradise?

Apollo Jackson: Just to own what makes you unique, rather than being a way you think you should be. Just be you that's when you get the most respect and acceptance.


Interview by Brooke Hunter