Anthony Callea The Songs of George Michael Interview
After an amazing sold out show in Melbourne, Anthony Callea announces that he will be touring nationally, performing Ladies & Gentlemen, The Songs of George Michael this September/October, with tickets on sale now.

Anthony Callea, one of Australia's most dynamic vocalists, will swoon crowds with a catalogue of George Michael classics from September 19th for the first time travelling to Perth, then onto Adelaide, Brisbane, Sydney before an encore and by popular demand performance on October 4th in his home town, Melbourne.

2014 marks 30 years since George Michael released his first solo single and will also see the release of Anthony Callea's fifth album, which will be packaged as a double disc DVD/CD for release on the 1st August, 2014. The DVD/CD is a 17 track live recording that celebrates George Michael's exciting catalogue of endless and classic hits. Recorded and filmed live with a 9 piece band at The Palms at Crown in Melbourne, this DVD/CD certainly showcases Callea's personal stamp on the music of the legendary artist. The live concert DVD/CD also features special guest performances from Casey Donovan, Tim Campbell and John Foreman.

Anthony states, "like many of us, the music of George Michael has influenced me from a young age. As a singer, his vocal ability is undoubtedly one of a kind. The fact that his catalogue is full of classic hits that will live on forever, makes it even more exciting to hit stages around the country to pay tribute to these iconic songs and to one of the finest male vocalists of our time".

2014 also marks the 10-year anniversary since Anthony took the Idol stage, making him a household name. Being 30 years on from George Michael's first solo single, defining him as one of the greatest pop-stars of all time, from Faith to Freedom and Outside to Amazing, it's time to get nostalgic with a live concert experience that will celebrate many career highlights.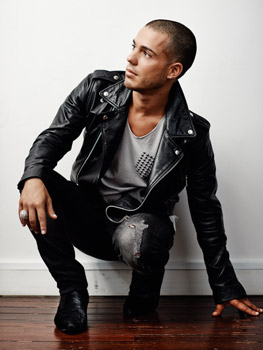 Anthony Callea is undoubtedly one of Australia's finest singers and one that is constantly in demand in the live arena. The ARIA award winner is known for his powerful, consistent and passionate voice, with his debut single The Prayer becoming Australia's the highest selling single of all time, positioning itself at number one on ARIA charts for five weeks. He has toured with international superstars such as Celine Dion, Whitney Houston, Mariah Carey, Diana Ross, Westlife, and was hand picked to perform for both Luciano Pavarotti and Her Majesty Queen Elizabeth II. Last year saw him release the ARIA Top 20 album THIRTY & the much-anticipated Top 40 album, This Is Christmas.

www.anthonycallea.com

Ladies & Gentlemen, The Songs Of George Michael Tour Dates

Friday September 19th: PERTH Astor Theatre. 08 9370 5888 www.showticketing.com.au
Saturday September 20th: ADELAIDE Her Majesty's 131 246 www.bass.net.au
Saturday September 27th: BRISBANE Convention Centre 13 28 49 www.ticketek.com.au
Friday October 3rd: SYDNEY Enmore Theatre 13 28 49 www.ticketek.com.au
Saturday October 4th: MELBOURNE The Palms At Crown 13 28 49 www.ticketek.com.au

DVD/CD - 'Ladies & Gentlemen, The Songs of George Michael"

1. Amazing
2. Father Figure
3. Patience
4. Fastlove
5. I Can't Make You Love Me
6. Jesus To A Child
7. Kissing A Fool (Featuring John Foreman)
8. I Knew You Were Waiting For Me (Duet Featuring Casey Donovan)
9. Freedom
10. Too Funky
11. One More Try
12. Faith (Duet Featuring Tim Campbell)
13. Somebody To Love (Tim Campbell)
14. As (Duet Featuring Susie Ahern)
15. Careless Whisper
16. I'm Your Man
17. Wake Me Up Before You Gogo



Interview with Anthony Callea
Question: What can you tell us about The Songs of George Michael tour?

Anthony Callea: It's been 30 years since George Michael released his first single and as a 31 year old, his music has been basically part of my entire life. This concert is about celebrating the music of and artist that has inspired me musically and has played a part in so many of our lives. Performing this concert for the first time in May to a sold out crowd in Melbourne made me realise that I needed to take this exciting show around the country.


Question: Why inspired you put together this notion of performing George Michael's songs?

Anthony Callea: As a fellow male vocalist, he has been a musical influence to me and he is faultless. This concert is not at all about emulating or trying to copy George Michaels sound or delivery but celebrating and paying homage to these beautifully crafted songs that will love on for generations to come


Question: Can you tell us some of the songs that will feature on the tour?

Anthony Callea: It was incredibly hard to put this show together as he has hit after hit after hit but we do perform songs such as One More Try, Faith and Jesus To A Child right through to Amazing…however, I don't want to give too much away!


Question: Will we have a WHAM! feature?

Anthony Callea: You'll have to wait and see…


Question: Do you put your own spin on these classics?

Anthony Callea: With honesty, respect and maturity. At the end of the day, I'm a singer and love my craft. These songs are the ultimate challenge for a singer and love to push myself and at the same time put the Callea stamp on these amazing songs!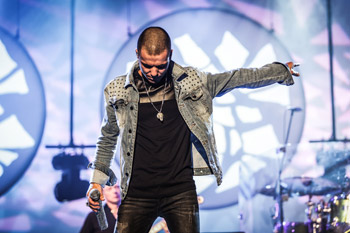 Question: Which is your favourite George Michael song to perform and why?

Anthony Callea: At the moment it's One More Try. It's such a challenging sing and for some reason, these types of songs are the ones I love to tackle… Let's just say I don't like to make it easy for myself.


Question: Is it safe to say George Michael may have been an inspiration for your own music career?

Anthony Callea: Totally, his musicality and vocal ability has been something I was drawn to from a young age


Question: Do you prefer performing live or recording?

Anthony Callea: Live, definitely LIVE!


Question: What is the biggest challenge you have faced along the way to your musical success?

Anthony Callea: Early on in my career I felt like I had to please everyone and didn't want to disappoint. I slowly learnt that no matter how hard you try, it's impossible to please everyone and you somewhat need to change your headspace and please yourself and do what you think is right for you.


Question: If you could collaborate with another artist, who would it be?

Anthony Callea: There's too many to choose from and to be honest, constantly changes. However, I am always drawn to old school singers because back in the day it was harder to get away with not 'singing" and there were no bells and whistles, therefore collaborating with artists that have genuine talent and vocal chops like the George Michael's of the world would be ultimate.


Interview by Brooke Hunter