How Strong Can You Get In 21 Days?
ActionAid Australia's annual Strong Women Challenge is calling on all Australians to sign up to the 21-day strength building challenge from 4 – 25 November 2019 and raise vital funds to support women's fight for equality and justice around the world. Health and fitness expert Ali Cavill – who is a Master Trainer, nutrition coach, holistic health expert, motivational speaker and owner of Fit Fantastic – is an Ambassador for the 2019 Strong Women Challenge. Here she tells us all about ActionAid Australia and the Strong Women Challenge.
https://strongwomenchallenge.org.au


Interview with Ali Cavil, Master Trainer
Can you tell us about ActionAid Australia? ActionAid is a global movement of people fighting for women's rights, social justice and an end to poverty for women around the world. ActionAid Australia's programs support women to understand their rights and develop leadership skills, empowering them to advocate for change in their communities. Globally, women make up 70% of people living in poverty and they face injustices on a daily basis. When emergencies strike, women are among the most affected. ActionAid Australia works to protect women's rights in emergencies and empower women around the world. You can find out more about ActionAid's work at https://actionaid.org.au.


Question: What is the Strong Women Challenge?

Ali Cavil: The Strong Women Challenge is a unique fundraising campaign where participants commit to increasing their own strength over a 21-day period (4-25 November 2019) to symbolically increase the strength and resilience of women in low-income countries like Vanuatu, Cambodia and Kenya. Participants are supported and encouraged along the way with workout videos, healthy recipes, mindfulness tips and a great online community. By signing up for the Strong Women Challenge, you're standing up for women's rights and supporting women's struggle for equality and justice on a global scale, all while building your own strength and fitness. The Strong Women Challenge is strong, fearless and powered by people, and we're encouraging all Australians to get involved!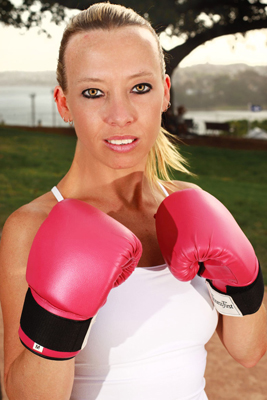 Question: How can participants raise funds for ActionAid Australia through the Strong Women Challenge?

Ali Cavil: The goal of the Strong Women Challenge is for participants to make a public commitment to increasing their strength over the 21 days and ask their friends and family to sponsor them to achieve their goals. Once you sign up for the Strong Women Challenge you'll receive access to some great resources to help you to encourage people within your network to sponsor your efforts. We've tried to make it as easy as possible and everything is done online.


Question: What do you hope to achieve from the Strong Women Challenge?

Ali Cavil: One of my passions is to share my love of health and fitness with others. The Strong Women Challenge gives everyone access to some of my favourite exercises and workouts, and the funds raised will help support ActionAid Australia's programmes that support and empower women around the world.


Question: How much can our bodies actually change in 21 days?

Ali Cavil: With the right combination of good nutrition and regular, moderate exercise, it's entirely possible to tone your body and improve your fitness levels in 21 days! The Strong Women Challenge is designed to deliver a stronger, fitter you in just three weeks.


Question: What are the best types of exercise for strength?

Ali Cavil: Squats and lunges are very effective leg exercises as they recruit all of the major muscle groups to perform the move – they are also one of the best functional exercises for promoting mobility, balance and tone. Add in some weights and you've got a great strength-training combination. I also love push ups as they use your body weight as resistance, working your upper body and core at the same time.


Question: Can you share your top exercises for maximum impact in a short time period?

Ali Cavil: Interval training – that is, workouts that alternate periods of high-intensity exercise with low-intensity recovery periods – increases fitness and burns more calories over a short period of time than steady-state cardio. My favourite exercises for interval training include mountain climbers, plyometric lunges, star jumps, burpees and sprints.


Question: What's a typical day like for you?

Ali Cavil: I lead a very busy and varied life that I love! I'm up early to instruct a morning gym class, then I head off to business meetings or fit in some office hours (I'm also an experienced HR professional). In the afternoon I'll usually have some articles to finish writing for various media outlets, or a might have a private training session with a client. I finish up my working day by covering off all the admin for my business, Fit Fantastic, then it's home for a healthy and delicious meal and into bed for an early night!

To sign up for the Strong Women Challenge and get access to Ali's workout videos, plus a great collection of healthy recipes and mindfulness tips, go to https://strongwomenchallenge.org.au. The challenge kicks off on 4th November 2019 and goes until 25th November. #strongwomenchallenge


Interview by Brooke Hunter