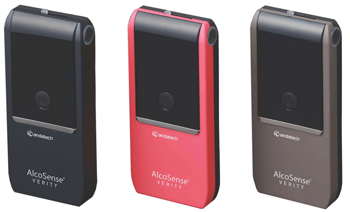 Keep Mum safe so she can still be a Mummy taxi service!
Losing their licence would cause havoc in the household, so a perfect gift to yourself is an AlcoSense personal breathalyser.

Being a little bit over will no longer cut it with the Police, particularly in Victoria where the new drink driving laws will see anyone caught driving at 0.05 or more:

• Losing their licence
• Paying a fine
• Completing a compulsory drink driver behaviour change program; and
• Having an alcohol interlock installed in any vehicle they drive (once re-licensed) for at least six months.

An AlcoSense Verity personal breath tester from Andatech will provide accurate blood alcohol level readings via fuel cell sensor technology within seconds.

The Verity has a retractable mouthpiece, is simple to use, compact and affordable.

With an RRP of $269, there are six different colours in the range. A pink Verity costs the same and Andatech donates $100 to the National Breast Cancer Foundation.

All AlcoSense breathalysers from Andatech are eligible for a lifetime warranty covered under the AlcoSense guarantee, which provides peace of mind that the device will keep providing accurate results time after time.
Review: What an eye opener! So now I have a better appreciation of what it feels like to be .05
Highly recommend this as a preventative to being a risk behind the wheel, keep it in your car!

Andatech is a 100% Australian owned company that designs, supplies, supports and services safety products including high quality alcohol and drug testing equipment. The company has the widest range of Australian Standard-certified breathalysers in Australia, which are designed for personal use, workplaces, hospitality venues (wall mounted) and as car interlock devices. Drug testing kits cover saliva and urine testing of up to 9 drug groups, providing error-free results. Andatech also has a distribution channel offering consumer safety products and air quality products include dehumidifiers, air purifiers and humidifiers.