Yolande Brown Patyegarang Interview
Celebrating its 25th anniversary in 2014, Australia's multi-award winning dance theatre company Bangarra Dance Theatre tells the story of Patyegarang, the inspirational journey of a potent Indigenous spirit alive in Australia's past and present.

Tickets for the world premiere season of Patyegarang at the Sydney Opera House (June 13 to July 5), and the Arts Centre Melbourne (August 28 to September 6), will go on sale at 10am on Tuesday 25 February 2014. Tickets are on sale now for limited seasons at Canberra Theatre Centre; State Theatre of WA, Perth; and Queensland Performing Arts Centre, Brisbane.

Patyegarang marks the first time that Bangarra has told a specific Sydney story. Expressed in the beauty of Artistic Director Stephen Page's distinctive choreography and based on historical events and documents, Patyegarang celebrates Bangarra's unique ability to tell stories through the prism of our contemporary experiences, enriched by our shared history.

This powerful and historically important new work acquaints us with Patyegarang, a young Aboriginal woman of intense and enduring courage, and an inspiration today for the respect of Aboriginal knowledge and language.

As the colonial fleet arrived on Eora country in the late 18th Century, Patyegarang befriended Lieutenant William Dawes, gifting him her language in an extraordinary display of trust and friendship, which now inspires our imaginations about -first contact'.

Staying apart from the early Sydney settlement in a place called Tar-ra (now Dawes Point), Dawes, an astronomer, mathematician and linguist, faithfully recorded his encounters with Patyegarang in his notebooks. Rediscovered in 1972, these notebooks are transcripts of this remarkable cultural exchange. Patyegarang's words are a window into a rich, complex and utterly different view of her world, its values and its sacred meanings.

Bangarra liberates Patyegarang from the library shelves, putting spirit into her heart, as a striking visionary and educator.

This deeply moving production is told through the acclaimed creativity of Stephen Page's choreography and David Page's soundscape, in a powerful and meaningful dance theatre experience. Artistic Director Stephen Page says of the new work, '-Patyegarang is a story that has been lingering in my mind for a long time. This young Aboriginal girl was from the Eora nation, the custodians of the land on which Bangarra has created and performed dance theatre works since 1989. In the year of the company's 25th anniversary, Bangarra honours the Eora, through Patyegarang's story, celebrating the significance of this place and its first peoples. Through discussions with local communities, and thanks to an ever-inspiring team of designers, story tellers and dancers, this story gives us an opportunity to reflect on our future as a new nation."

The role of Patyegarang will be played by Bangarra dancer Jasmin Sheppard who joined the company in 2007 and has performed in eleven Bangarra productions internationally and nationally. Sheppard's first choreographic work Macq debuted as part of Bangarra's Dance Clan 3 in November 2013. South Australian born physical performer Thomas Greenfield will join Bangarra as a guest artist, performing the role of Lieutenant William Dawes. Greenfield's performance with the company marks the fourth time in Bangarra's history that a non-Indigenous dancer has performed with the company.

Celebrating its 25th anniversary in 2014, Bangarra Dance Theatre is Australia's premier national Indigenous performing arts company. Under the brilliant and inspirational artistic direction of Stephen Page, Bangarra has strived to maintain the cultural integrity and spirit of Aboriginal and Torres Strait Islander tradition, combining it with contemporary expressions of stories, dance and music. Bangarra creates dynamic, moving theatrical experiences and delivers these experiences to audiences across Australia and around the world.

Patyegarang
Artistic Director: Stephen Page
Choreography: Stephen Page
Music: David Page
Set Design: Jacob Nash
Costume Design: Jennifer Irwin
Lighting Design: Nick Schlieper
Dramaturgy: Alana Valentine
Show duration: 75 minutes
www.bangarra.com.au

Sydney Opera House, June 13th to July 5th 2014. www.sydneyoperahouse.com
Canberra Theatre Centre, July 17th to 19th 2014. www.canberratheatrecentre.com.au
State Theatre Centre of Western Australia, July 30th to August 2nd 2014. http://premier.ticketek.com.au
Queensland Performing Arts Centre (QPAC), August 15th to 23rd. qpac.com.au
Arts Centre Melbourne, August 28th to September 6th 2014. www.artscentremelbourne.com.au



Interview with Yolande Brown
Yolande Brown is a descendant of the Bidjara Clan of the Kunja Nation, Central Queensland, with French and Celtic ancestry. Reconnecting with her traditional homeland and people, sharing dance workshops with her community and digging her feet into Bidjara earth has been an inspirational and grounding journey for Yolande.

She believes people can achieve what they set their hearts on. A keen scholar, Yolande received the Australian Students' Prize of Excellence – a scholarship awarded to the top 500 Australian high school graduates. She completed a C.Mus.A (AMEB) in piano performance and a BA (Dance) at the Queensland University of Technology (QUT) and has been a guest lecturer and choreographer at QUT, receiving their 2005 Outstanding Alumni Award for the Creative Industries.

Yolande joined Bangarra in 1999. Her pivotal career highlights include dancing 'on country' and forging friendships with the Pitjantjajara and Yirrkala people, as well as performing in Rites (a collaboration with the Australian Ballet - New York and Paris) and Corroboree (BAM Festival - New York). Contributing her interpretations to the role of Lady Jane Franklin in Bangarra's Mathinna was a special experience, as was creating Imprint, her own choreographic work for Dance Clan 3, part of the inaugural Corroboree Sydney in 2013.

In 2007, Yolande collaborated with TaikOz, Meryl Tankard and Regis Lansac and dancers in the sold out production of Sydney Festival's Kaidan. Yolande has appeared nationally in the musical The Lion, The Witch and The Wardrobe (2002-04) directed by Nadia Tass, a highly acclaimed production that enabled her to further explore her acting and singing talents in the principal role of Susan Pevensie. Yolande regularly contributes vocals and piano arrangements to Bangarra's soundtracks as well as tracks for film and theatre. In 2006 Yolande produced an EP of her original songs, of which River was a finalist in the 2008 Queensland Song Awards.

In 2010, Yolande was honoured to receive the Deadly Award for Best Dancer and has received nominations for Best Female Dancer in the Greenroom Awards (2008) and the Dance Australia's Critics' Choice Awards as Most Outstanding Dancer (2004) and Dancer to Watch (2007).

In 2012 Yolande performed in Stephen Page's Warumuk – in the dark night in collaboration with the Australian Ballet and toured nationally with Bangarra in Frances Rings' Terrain. That same year Yolande was Associate Director and Choreographer for I Am Eora for the Sydney Festival.

Yolande toured internationally and nationally with Bangarra in 2013 performing in Spirit, Blak and Kinship. In 2014 Yolande looks forward to performing Bangarra's Kinship at Holland Dance Festival, and is inspired and excited about the creation of Bangarra's new work this year Patyegarang.


Question: How would you describe the production Patyegarang?

Yolande Brown: Patyegarang is a beautiful story about human connection - the ability to form friendships and learn culture, without common language, to find a common understanding. It's a story told through dance of how, with patience and a desire to learn, we can rise above what our cultural tenets impose to respect life in its different forms... and when this does not happen, life can indeed be ugly.


Question: Can you talk about the role you play in Patyegarang?

Yolande Brown: My role facilitates the unfolding of the story... I get to play different characters which can be a lot of fun. I get to work with some interesting costumes, which bring their own challenges to the choreography and with each section of the show I can explore different qualities of movement and performance attitudes.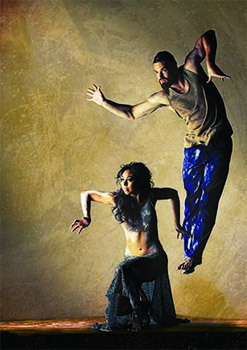 Question: Can you talk us through the preparation that goes into a show such as Patyegarang?

Yolande Brown: The development of a new work involves many stages. The primary conceptual development involve discussions and brain storming with all the creatives and cultural consultants in how to bring the story to life. How the set designs guide the story, how costumes can enhance the story, what lighting effects can be considered etc. A lot of these questions are explored before the choreographer steps foot into the studio with the dancers. Once the core of the piece is structured, the dancers are tasked and help bring the choreographers vision to life. I always enjoy the creative process - this is one of my favourite times of the year. We usually have 5 to 10 weeks to structure the choreography.


Question: What do you enjoy most about travelling with Bangarra Dance Theatre for Patyegarang?

Yolande Brown: I think that opening people's eyes to this special story is something the Bangarra team can be proud of. Also, as the show travels the county, it continues to grow and change. My performance will develop greatly from the start to the end of the national season and it always leaves me a little sad to close the door on a production to move on to another one. I feel like I've really taken the show to a special place by our final closing night show.


Question: How does it feel to be participating in the 25th anniversary show for Bangarra Dance Theatre?

Yolande Brown: It was amazing participating in the company's 20 year anniversary. To still be working with the company during its 25th anniversary has me feeling very proud of the work we have created over the many years and proud of all the people who have contributed to the company's successes. I think it is very fitting to be creating and presenting a Sydney story which pays homage to our home base on our 25th anniversary.


Question: What is it like working with Stephen Page?

Yolande Brown: It's fun working with a boss with a great sense of humour... even when the pressure is on we can have a good yarn and a laugh while working hard all the while. After working with Stephen for so many years I sometimes feel as though he thinks I can read his mind... it can feel quite disappointing when we realise I haven't quite developed this skill, ha ha ha... but often I get close to it!


Interview by Brooke Hunter
Images: Greg Barrett and Jessica Bialek