Just how bad can one day get?
Cast: Jacob Tremblay, Will Forte, Keith L. Williams, Lil Rel Howery, Josh Caras, Brady Noon, Molly Gordon, Midori Francis
Director: Gene Stupnitsky
Genre: Comedy
Rated: MA15+
Running Time: 90 minutes

Synopsis: Just how bad can one day get? The creative minds behind Superbad, Pineapple Express and Sausage Party take on sixth grade hard in the outrageous comedy, Good Boys. After being invited to his first kissing party, 12-year-old Max (Room's Jacob Tremblay) is panicking because he doesn't know how to kiss. Eager for some pointers, Max and his best friends Thor (Brady Noon, HBO's Boardwalk Empire) and Lucas (Keith L. Williams, Fox's The Last Man On Earth) decide to use Max's dad's drone - which Max is forbidden to touch - to spy (they think) on a teenage couple making out next door. But when things go ridiculously wrong, the drone is destroyed. Desperate to replace it before Max's dad (Will Forte, The Last Man on Earth) gets home, the boys skip school and set off on an odyssey of epically bad decisions involving some accidentally stolen drugs, frat-house paintball, and running from both the cops and terrifying teenage girls (Life of the Party's Molly Gordon and Ocean's Eight's Midori Francis).

Good Boys
Release Date: September 19th, 2019


About The Production
The Backstory

So Crazy It Might Work
Good Boys Is Hatched

Although longtime creative partners Lee Eisenberg and Gene Stupnitsky met while filming Harold Ramis' Bedazzled, they admit that it feels as if they've known one another since they were kids. In 2000, Eisenberg had been plodding away as a pay-your-dues production assistant, while Stupnitsky served as the director's intern. The instant friends bonded over their shared wicked sense of humor and a mutual love of the turn of a phrase; soon, they'd become roommates and, five years later, professional screenwriters. The duo has gone on to collaborate for more than a decade, ranging from their first writing gig on NBC's The Office to a feature debut, the 2011 blockbuster Bad Teacher, starring Cameron Diaz, Jason Segel and Justin Timberlake. As Stupnitsky says: "Ours was an overnight success story."

Since the beginning of their writing partnership, they worked in tandem on every word and decision. "There's never been a division of labor," Stupnitsky says. "We do everything together. It's not like Lee works on structure, and I work on character. We put in the time to make the other person laugh and to solve the problem in front of us." He continues, "There's also a lot of procrastination…as well as discussions about what to eat for lunch."

Eisenberg says that, by design, their approach to comedy is equal parts striving for commercial and "putting our own spin on it." Their Diaz-led film is emblematic of the work. "There hadn't been a lot of strong female characters in R-rated comedies up to Bad Teacher. We felt like there were a lot of hilarious women not being cast in those roles. Same with this film, we felt like we could find kids in this age group to say outrageous things…and that could make people lean forward a bit."

When considering the comedy that would propel them from writing team to a filmmaking team, the duo knew they wanted to mine the period of pre-adolescence. "We're attracted to stories about these years and have believed in Good Boys for a long time," says Stupnitsky. "There's no close second; it's just the most awkward age. We both have close anecdotes about being 12, 13 years old and just trying to make it through our world. That awkwardness lends itself so well to comedy." Ultimately, mixing innocence with debauchery made them laugh, and they felt that audiences would respond to humor that was equal parts naïvely unintentional and wildly inappropriate. "Especially because these kids are doing things they don't understand."

The writing partners were keen to explore their protagonists' transitions from little kids to brand-new adolescents, shot through the lens of an R-rated comedy. While it was crucial for the comedy to be fearless and unblinking, Stupnitsky and Eisenberg wanted to ensure the story stayed centered on the heartfelt friendship of its three main characters, who refer to themselves as the "Beanbag Boys."

For inspiration, the storytellers discussed Stand by Me, Ferris Bueller's Day Off, The Hangover and a live-action South Park. "The premise of a comedic coming-of-age story with kids and swearing always seemed like a funny idea," Eisenberg says. "We felt that the younger the kids, the funnier it would be." Stupnitsky adds: "The idea of an R-rated movie starring children just made us laugh."

Stupnitsky's earliest memory of the birth of Good Boys is sitting in his unfinished living room in L.A. discussing a scene with Eisenberg: one where the boys would use a drone to spy on neighboring girls. This sequence, which ultimately became the catalyst for the Beanbag Boys' adventures, differs from Stupnitsky's tribulations at that age. "We were way too afraid of girls to spy on them," he says. "But in a movie, you can portray these types of situations with fictional characters and try to figure out what it would be like."

They were also intrigued by the idea of the trio having to go a very short distance in their saga, yet having it appear as an insurmountable obstacle. "When you're an adult, you don't think twice about a short trip," Eisenberg says. "When you're young and journey far away from home without your parents' permission, it feels like forever. I remember walking into town when I was a kid, and it was about 2.5 miles. It felt like the scariest thing I'd ever done."

The team brought their spec script to Nathan Kahane and Brady Fujikawa at Good Universe, who loved the balance between shocking and poignant. The company then took the project to James Weaver, Evan Goldberg and Seth Rogen's Point Grey Pictures. "Nathan and Brady were excited about the script," executive producer Josh Fagen says. "We read it and thought it was hilarious. We ultimately decided it was just crazy enough to work, which is the sweet spot for our films."

From casting and dailies, to developing the script, Rogen and Goldberg were involved throughout production. When the project ended up at Universal, it came together quickly, going into production in less than a year. "From the moment we heard the concept, we were already committed to Point Grey making Good Boys," says Rogen. "It allowed for a lot of nuanced comedy." Goldberg was inspired from the moment he read the script. "Good Boys reminded me of a modern version of Stand by Me, which is one of my favorite films," Goldberg says.

Point Grey appreciated that the script was filled with a wide range of comedic sensibilities set against a backdrop of wild set pieces. "It dug deeper beyond the laughs to find an emotional core within these friendships," Fagen says. "Kids at that age are maturing but are still very immature at the same time"their bodies are changing, starting at new schools and figuring out who they are. They are also very filthy in certain ways, but earnest, good-natured and good-hearted in others. That contrast was appealing to Gene and Lee."

"Kids that age are very dirty," Eisenberg says. "The parents that we talked to who read the script thought it sounded a lot like the way their kids were talking to each other." Also, at that age, everything seems heightened, from the prospects of getting grounded to not being able to kiss a girl you like. "Everything feels so immediate. Boys are very hormonal, and that's something we ultimately tried to tackle."

Tweens are also prone to inflating information they have gleaned from a parent or overheard from their peers. "They may have half the information about something, but they say it as if they have all the information," Eisenberg says. Worse, kids believe each other, which only exacerbates the cycle of misinformation. "We were very interested in kids sharing information to try to understand the larger world," Stupnitsky says. "Kids hear things; they pick them up and repeat them. Sometimes, they'll hear something older kids say and repeat it, but mess it up so it didn't quite make sense."

By design, though, nothing the boys do is ever malicious or cruel. "We wanted there to be a sweetness in the boys," Eisenberg says. "They're on the cusp of becoming self-conscious at this age. We like the fact that they're not bad kids or vandals. They're sweet and well-intentioned."

The real-life friendship between Eisenberg and Stupnitsky, meanwhile, shaped the entire filmmaking process. Every decision was a joint one. "We were always right next to each other, doing everything together," Stupnitsky says. According to Eisenberg, if it's not broke…. "We've been working together for more than 15 years," he says, "and that's the way we've always done it. If there was a props meeting, then both of us would walk over to the props department. There wasn't a time that Gene was off casting the movie, and I was looking at wardrobe." He laughs, "Well, Gene would come back and ask, 'WAIT, we cast that kid?'"

Stupnitsky returns: "That's not always true. Once, I told Lee: 'Why'd you pick the rhinestone denim number? It's not going to work with her outfit."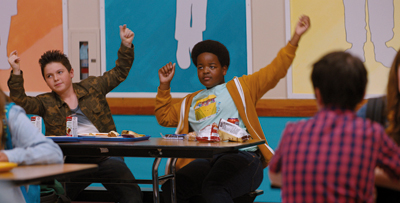 The Kids Are Alright
Searching for the Beanbag Boys

To find the trio of young actors to play the leads in Good Boys, Gene Stupnitsky and Lee Eisenberg turned to casting guru Rich Delia"who'd cast Point Grey's The Disaster Artist"for his expertise. "We'd work with Rich again in a heartbeat," says Stupnitsky. "Between It and Shazam!, he'd already seen every kid in North America. He was just invaluable."

The humor in the film rests on the contrast between the innocence of the three boys and the outrageous things that happen to them, so the golden rule during the search for the Beanbag Boys was to find young performers who were unabashedly earnest. "We've tried to get a lot of comedy from that quality," says Stupnitsky, "and that's not something you see with a lot of movies. These kids believe so wholeheartedly, and they have such a firm belief system."

The boys, in other words, needed to be good boys. "The kids are tiny fundamentalists; they all see the world in black and white," says Eisenberg. "It was important to have actors genuinely portraying these children who see the world as right and wrong. 'This is good. This is bad.' As you get older, nuance enters the picture.

Someone used to say, 'Maturity breaks ambiguity.' By the end, that's what they're starting to latch onto."

After the principal kids were hired, it was apparent to all they'd made the ideal choice. "Working with these three young boys was a pleasure because they were too young to be jaded," Evan Goldberg and Seth Rogen explain. "It was refreshing."

As a side benefit, the trio went from playing pals to actually becoming pals over the course of filming. "Working with Jacob, Keith and Brady was acting like part producer and part camp counselor," says producer James Weaver. "It was incredibly entertaining to watch them go from three kids who didn't know each other, playing friends, to three kids who are actual friends in a movie we're all really psyched about."

Eisenberg notes that with all these kids running around, the set was a very different set from other movie sets. "All the boys cared about was what was for lunch and if we'd be wrapped in time before the hotel pool closed at 9 p.m." Eisenberg says. "They'd say, 'By the time we get done, that should give us an hour for swimming…'"

Nothing would have moved forward, casting or otherwise, without the deep involvement of the families. "Their parents were awesome," says Stupnitsky. "They helped production so much. It could have so easily gone the other way, but they were so amazing."

On set, laughter was both the goal and a constant challenge. Between the visual gags and humorous lines, it wasn't easy for cast or crew to keep a straight face. The three young stars had their tricks to keep from laughing: Jacob Tremblay bit his tongue and took deep breaths; Keith L. Williams bit his bottom lip, and Brady Noon bit his cheek. Between takes, the boys would socialize, watch TV shows, play games, sing and fly toy drones.

So how did the creative team manage? "As filmmakers, we were just terrified that we wouldn't get the shots we needed," Eisenberg says. "It was a sense of relief when we got what we were looking for, even though we were sometimes cracking up."

Occasionally, the kids would grab the mic from first assistant director Daniel Miller and take turns "directing."

"I liked to watch How I Met Your Mother and YouTube videos in between takes because it helped me clear my mind," Brady Noon says. Keith L. Williams and Noon even worked on their own pet project"a script they wrote in hopes that it would make it to the blooper reel of the DVD.

The kids also got to learn new and exciting words, but things weren't exactly free-range off set. Their parents set strict rules about using profanity when the cameras weren't rolling. "I learned at least 11 new curse words while making the film," Noon says. "My mom laid down the rules about cursing before we started shooting. What was said on set had to stay on set." Williams adds: "I don't curse like Lucas does in real life. I told my mom that it was only during the movie and that I would pray after my cursing scenes." On their time off the kids had sleepovers, went swimming, hiking and played their favorite game: Fortnite.

In many ways, the kids are real-life Beanbag Boys. Or, as Williams describes their cinematic counterparts: "Max, Thor and Lucas are best friends and have always known each other. They tell each other everything."

Not that the kids would ever dream of ditching school like their on-screen counterparts, but if they did, Noon has a solid plan: "If I skipped school for a day, I'd play Fortnite, relax, go surfing and watch How I Met Your Mother."

Despite some eye-popping moments and lines, there is a great deal of innocence beneath the veneer. After all, Good Boys is set in a world where taking five sips of beer is considered record-breaking, and even a single sip is enough to feel a bit drunk.

As the boys are maturing and starting to take interest in sex, there's a serious lack of expertise. A sex toy to the kids appears to be just nunchucks, beads meant to be used in the bedroom are a necklace given to a crush. In order to learn to kiss, they think they can gather intel from spying on girls next door. The pre-teens of Good Boys think they understand the world of adults, but constantly misinterpret it through their own lens, which wasn't dissimilar to the actors themselves. "Although there are some inappropriate things that are said and happen in the film, the boys didn't really know what a lot of the things were," Molly Gordon says. "It was relieving."

Working with kids certainly had its challenges, particularly because it meant much tighter hours...and occasionally shorter attention spans. "The boys were incredibly malleable in a way that adult actors simply aren't," executive producer Josh Fagen says. "They were happy to try lines in different ways and they question it. They also brought a lot to their characters and made them even funnier. They understood that Gene and Lee have a lot of experience and that if they played with the lines with them, the movie would come out looking great. Not every adult actor has that same thought process."

Eisenberg adds, "The boys are lovely, and they aren't jaded. They were very funny, sometimes intentionally, sometimes not. We threw a lot at them and they made it their own. It was fun to watch them develop their own comedic styles."

If you were to ask any of the boys what their favorite part of working on the movie was, they would be quick to answer that it was the chance to zing through alternative lines. Luckily, the cast excelled at improvisation. "There's no such thing as a bad idea in improv," Noon says. "You can pretty much say whatever you want and make it funny. Jacob, Keith and I picked up the alternative lines pretty quickly and they always made us laugh."

For Stupnitsky and Eisenberg, the rule is "the best joke wins." Their alts were essential for ensuring that they were ready for anything in postproduction. "We tried to give ourselves as many options to have in editorial," Eisenberg says. "If one version doesn't seem raunchy enough, we had another raunchy joke on standby. It was about discovering things as we went and having the opportunity to come together to try to come up with something better. The goal was to amass as much material as possible because there are always alternative and fun ways to tell a story.

"That way, if we had to cut for time, we made sure that this scene covers a piece of plot so that this other scene could potentially be cut or trimmed down," he continues. "You're protecting yourself. There were also just jokes we wanted to make sure we had, so those were written ahead of time. We had two on-set writers, John Phillips and Beth Stelling, who were there for the entirety of production. Along with Gene and me, they were constantly throwing out jokes that the kids could try."

For the ringleader of the Beanbag Boys, moments to flex improv acting chops were the most memorable. "Improv was probably one of my favorite things we did on set," Tremblay says. "I liked it when the filmmakers would throw alternative lines at us. It was hard to keep in the laughter sometimes."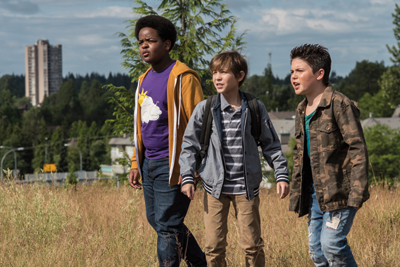 The Characters

Max
Jacob Tremblay

As Max serves as the narrative anchor, it was crucial to the filmmakers to cast this role first. "We liked having Max at the center, as he grounds everything in the story"where he is pulling away from his friends while not realizing he's trying to pull them along with him," Gene Stupnitsky says. "He's interested in girls before the other guys and is a true romantic. He's talking about love before they are.

"Kids at that age all grow up at different rates," Stupnitsky continues. "We talked about how sixth grade is the beginning of the time that you're starting to find yourself. Up until that point, you're friends with the kids in your neighborhood, or your parents are friends with their parents. It's all about proximity. This is starting to be the age where someone is starting to get into karate, musical theater or basketball. You'll still be friends with the kids in your neighborhood, but things are changing."

The partners turned to seasoned young performer Jacob Tremblay, who has worked on blockbusters from Wonder and The Predator to Room, the drama that earned Brie Larson an Academy Award®. "We talked about Jacob for a long time because we thought he was a great actor," Lee Eisenberg says. "We liked the idea of having an earnest, sweet-looking kid saying some raunchy things." Adds Stupnitsky: "In the beginning, Jacob was the only modern child actor we really knew about. Luckily, he and his parents were interested."

The filmmakers set up a Skype session with Tremblay. "It was a very funny call," executive producer Josh Fagen says. "Jacob talked about how he had always wanted to work with kids, which everyone got a kick out of. We recorded the session, and when we went back and watched it, we thought, 'Oh, this is magic.'"

Eisenberg admits that the experience was an odd one indeed. "We've never Skyped with anyone and their parents before," he says. "We kept bracing for his parents to say, 'We want to talk to you afterwards.' We didn't know if we'd hear, 'How dare you?' But they were taken by the script and thought it'd be a good opportunity for Jacob. He was excited because he hadn't worked with a lot of kids, even though he's 12."

Adds Stupnitsky: "We couldn't understand why his parents wouldn't yell at us, because we would yell at us." But it turned out that choosing Tremblay was fortunate for two reasons: "We also scouted 15 middle schools and ended up choosing the one Jacob went to in real life," Stupnitsky says.

For Tremblay, the chance to work with his peers was thrilling. "I was excited to be in a movie with other kids," Tremblay says. "I was in a movie called Wonder, which had a lot of other kids, but I was always busy with my prosthetics. This was fun because I was able to hang out with the other kids."

When it came to the more colorful dialogue of Good Boys, Tremblay's family gave him an exemption for his part-time job. "I got a free pass to say a lot of bad words in this movie," he says. "I've sworn in movies before, but this was next-level. There were a lot of new words to learn." Luckily, he had an expert close at hand: producer Seth Rogen. "Seth told me a quote when we began filming that I thought was funny, and I wrote it down on my script," Tremblay says. "He said, 'There's money in profanity.'"

Having Eisenberg and Stupnitsky as creative mentors meant a great deal to Tremblay. "Lee and Gene were fun to work with because they would create alternative lines for us on the spot," he says. "They're both very funny, so it was awesome to learn from them." Just because he and his co-stars were filming didn't mean they wouldn't be receiving an education. "Brady, Keith and I are all interested in screenplay writing. While we were on set, Lee gave us some tips about how to develop a story into a screenplay. It was basically a free scriptwriting class."

Lucas
Keith L. Williams

The moral compass of the film, Lucas is the most innocent of the Beanbag Boys. "Morality is always at play with Lucas," says Gene Stupnitsky. "His parents are going through a divorce, and he's questioning everything. With this divorce, and a fear that he's losing his friends, his life has been turned upside down. He's got a lot on his mind. That's a scary place to be when you're 11 years old."

He's the furthest thing from a rebel. "He's the sweetest of the three boys: the least likely to drink a beer or kiss a girl," Lee Eisenberg says. "It's going to take him a little while before those things get on his radar. He's a rule follower, and the rules are changing. This makes Lucas have a hard time figuring out how to go through the world that way."

For the role of the role-playing-game-obsessed Lucas, the filmmakers were immediately charmed by Keith L. Williams, who had recently starred alongside Will Forte in The Last Man on Earth. "That kid is a dynamo," says Stupnitsky. "We just got so lucky with him. He knocked it out of the park. You never knew what you'd get from him. He was always surprising us, making funny, odd choices. Sometimes he'd scream a line that wasn't intended to be, and we thought, 'Well, we can't use that.' Then, during editing, it killed us, and we'd keep it in."

The filmmakers were totally charmed by him. "Keith is so lovable," Josh Fagen says. "We felt that it would be valuable to have an anchor like him, whom the audience would fully root for. The fact that he is also hilarious was icing on the cake."

It helped that the performer had training under his belt. "I took an improv class before I got the role of Lucas," Williams says. "This movie was definitely the most improv I've ever done, and I feel more confident about improv now."

To ensure the fit was right, the filmmakers had Williams read with Jacob Tremblay. Like Tremblay, Williams welcomed the chance to work with actors his own age. "My favorite part about the role was that I got to work with other kids," Williams says. "When we weren't on set, Jacob, Brady and I would play games, swim and watch movies. Jacob also showed us around Vancouver. I didn't tell my friends back home what the movie was about when I was filming. I wanted them to be surprised so I just told them, 'I'm filming something in Canada.'"

His fellow cast members saw a lot of echoes of Williams in his character. "Keith is similar to his character because he's a loving guy," Tremblay says. "Everyone likes him because he's so friendly and fun to spend time with."

Williams agrees that he shares similarities with Lucas. "Lucas is a very safe and responsible person," Williams says. "He's very sweet, but he has a bad side, too. I like his bad side better. Lucas isn't interested in being one of the cool kids like Max and Thor are, but he doesn't tell them that. I'm like Lucas in real life because I'm mature for my age. I would have told Max and Thor, 'We're not flying the drone,' and to 'Just look up how to kiss.' One of my favorite things that Lucas says is, 'I'm not kissing anyone until I'm in love.'"

Thor
Brady Noon

When it came to the final member of the Beanbag Boys, their creators imagined Thor as akin to the character of "Mouth" from The Goonies. "We always liked the idea of having a blowhard, this mouth who was a know-it-all," says Lee Eisenberg. "The one who instructed the group the most, but who, when push came to shove, was the most scared. This was the hardest role to cast. It wasn't just about finding one kid for each role, but how they'd interact as a group. We did a lot of bringing kids back in to see interactions. We saw hundreds for this role and thought, 'Maybe we need to look at this in a different way…' Once Brady Noon came on, based on his delivery of the lines, he convinced us we were brilliant writers."

The young star of Boardwalk Empire sent in a video audition; the filmmakers were immediately drawn to him. "We cast Brady the day of the table read but didn't see him until a month before shooting began," says Eisenberg. "His first audition was a Skype one with his mom, who was reading off camera. He's clearly not allowed to swear at home"none of the kids are"and he was trying to feel out what he was allowed to say in front of her, and how far he could take it and swear. We'd give him notes like, 'On that line, make sure you're hitting the "fuck," hard.' That's a very weird conversation to have with his mom, who is a schoolteacher at Brady's school, in the room."

Gene Stupnitsky appreciates how seriously Noon took not only his audition, but the entirety of production. "Brady had to do a lot of the heavy lifting comedically," he says. "He is so impressive as a comic actor. He knew just where the jokes were and is very natural. We were blown away by him."

Although Thor tries to be cool, he doesn't quite fit in. "He's always being judged and is afraid of what people will say about him," says Noon. "He's an outgoing kid with a passion for music and singing. I'm not allowed to do half of the things that Thor does in this film, including swearing, going to the mall alone or standing on tables."

Proving that Noon was even more of the perfect choice for the role, he already had some experience with entertainment. "I have a background in dancing, singing and school plays," he says. "I think everyone was surprised when they heard me sing. Lee went around afterward saying, 'Hey, you want to hear Brady sing?'" To be clear, though, it was Noon's comedic chops that earned him the role. "Brady's quite a good singer, but even if he couldn't sing, we were going to dub him," Eisenberg says. "He's just so funny."

Noon was particularly excited for the table read. "When I opened the door at the final table read, I saw Seth Rogen and my jaw dropped," Noon says. "I called him 'Mr. Rogen.' It was awesome to be in a movie he produced." Similar to Jacob Tremblay, Noon was excited for the opportunity to work with other young actors. "It was great working with kids my age because I was able to relate to them," Noon says. "Most of the other work I've done has been with adults who didn't understand the sort of things that kids do."

Scene Stealers
Good Boys' Supporting Characters

It's impossible for three good boys to behave so outlandishly without the help of concerned parents, coked-out drama teachers, suspicious neighbors and life-lesson-deserving frat guys. Lee Eisenberg and Gene Stupnitsky ensured that their ensemble would contain some of the most seasoned character actors working today, as well as fascinating up-and-comers who threaten to scene steal even the funniest of the Beanbag Boys' sequences.

Signature to any Eisenberg and Stupnitsky creation is imagining backstories for supporting characters. "A lot of things that make us laugh is the background of characters you get a taste of, but ones who aren't necessarily in the foreground," says Eisenberg. "This family that watches This Is Us together and has taco Tuesdays: Why are they getting a divorce? Or Atticus [Chance Hurstfield, TV's A Million Little Things], the bully kid: His dad has two DUIs and cheated on his taxes, while his mom plagiarized a book. Whether it's a spin-off about Atticus or what Lucas' dad's new place looks like now that he's a single father, it's the tiny little details that make us laugh and excite us…and hopefully the audience as well."

Hannah
Molly Gordon

The first of the boys' two archnemeses, teenage Hannah is portrayed by Molly Gordon, who shot to attention in the Melissa McCarthy comedy Life of the Party and TV's Animal Kingdom. "Hannah is dating a weird older guy named Benji," Gordon says. "She's been neglecting her best friend, Lily, played by Midori Francis, but Hannah comes to her senses and breaks up with her boyfriend. She decides to make it up to Lily by taking her to a concert to do molly together. In addition to the boys, Hannah and Lily are also going through big changes in their lives. They're becoming older and their friendship is moving in a different direction."

Through unlikely events, Hannah and Lily find themselves, suddenly and unexpectedly, dealing with the Beanbag Boys. "Hannah lives next door to Max," Gordon says. "When Max and his friends are invited to a party, they decide to spy on Hannah and Lily with their drone to try to learn how to kiss. Coming off the frustration from her relationship, Hannah decides to teach the boys two good lessons: to treat women with respect and that spying is never okay. So, she decides to take their drone away from them."

Off camera, though, Gordon discovered that she had learned a lesson from her younger co-stars. "On my past projects, I've been the youngest person on set," Gordon says. "It was interesting working with the three boys because they weren't self-conscious to try new and different things. It was a very open environment, and they actually gave me the confidence to try new things, too."

Gene Stupnitsky says Gordon infused the production with her wicked sense of humor. "Molly asked Lee and me, 'Did you guys just cast me because my name is Molly?'" Stupnitsky says. "She also lovingly referred to Jacob as 'an 87-year-old man.'" The filmmaker relished just how much the actresses embraced her character's inner villain. "We always loved the idea that the antagonists chasing the boys were 16-year-old high-school girls, who also intrigued them," he says. "This isn't Tom Cruise in Collateral. There is this push-pull dynamic with Max, Brady and Thor."

Lily
Midori Francis

Hannah's best friend Lily, played by Midori Francis (Ocean's Eight), doesn't suffer fools, especially not tween boys who have inadvertently jacked up her weekend. "It was so fun to work with Molly and Midori because they were hilarious," Stupnitsky says. "Hannah and Lily are in their own movie and have their own thing going on. These boys have just gotten in the way. Hannah and Lily aren't bad or trying to ruin anyone's day. They're just trying to get to their concert, and these boys basically rob them."

Francis loved Lily's strength and determination. "Lily's very bold," Francis says. "She does what she wants to do and says what she wants to say." Narratively, the Hannah-Lily relationship is going through the same sort of growing pains that the boys' relationships are. "It's ultimately about the friendships we have during childhood and how they evolve," Francis says.

All of Gordon and Francis' scenes are together, so Francis knew it was important that the two actors connect. "I did chemistry reads with a few different actresses who were going out for the role of Hannah," Francis says. "None of them ended up getting cast, but when Molly came to set the first day, we immediately had great chemistry. Hannah and Lily are the obstacle that gets in the way of the three boys throughout the movie, but they have a lot of fun doing it."

Francis becomes quite the Terminator when she's on a mission to get their MDMA back from Max, Thor and Lucas. With the help of stunt double IRMA LEONG, the actor sprints like an Olympian and even breaks out some parkour in her pursuit of the boys, much to the boys' terror. Just as much fun for Francis was the verbal comedy, and the improv-allowed vibe that the filmmakers created on set. "I always went to set with my lines ready," Francis says, "but the best part was that Lee and Gene were always game to mix it up and play around once we got to set."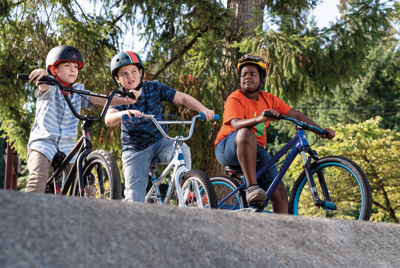 Max's Dad
Will Forte

When it came to casting the role of Max's dad"who insists that his son not touch his workplace drone"the creative duo called the man who was at the top of their wish list: Will Forte. "I've been friends with Will for 10 years, and I just love MacGruber," says Lee Eisenberg. "We needed someone who is hilarious, but who can simultaneously feel grounded and a little menacing. Will is so quick. We were throwing a lot of lines at him, but he came up with so much on his own. He had different performances from take to take; he's very funny at playing angry."

Gene Stupnitsky agrees with Eisenberg that MacGruber is a cult classic. "It's one of the funniest movies of all time," says Stupnitsky. "I will laugh alone watching it at home. Will is brilliant, and it cracks me up."

Jacob Tremblay got to witness the full force of Forte's versatility and comedic power. "Will is so funny," the young actor says. "It was so hard to keep a straight face when we filmed the scene where Will screams at Max. I had to bite the inside of my cheek."

Fun fact: Three of the Good Boys' team share one show on their resumes, but it wasn't until they got to set that they realized the connection. "Keith Williams and I both worked with Will on The Last Man on Earth," Tremblay says. "I thought that was a cool connection that we both had to him."

Lucas' Mom and Dad
Retta and Lil Rel Howery

Lucas' parents, who share with their son that they are beginning the process of a divorce, are portrayed by comedy powerhouses Retta and Lil Rel Howery. Although the actors appear in cameo, their scenes are some of the most memorable. "How good are they?" says Gene Stupnitsky. "We only had Retta and Lil Rel for one day, but we squeezed all the juice out of them. They bring such a different energy. Remember, everyone in this film is in their own movie. They're going through a divorce and have their own back story. They're separating but still have a son to raise; they're just doing their best."

From Parks and Recreation and Girlfriends' Guide to Divorce to her current role on Good Girls, Retta can convey volumes with a single look, and she was impressed by Keith L. Williams, who plays her son. "Keith was a sweetheart"kind of the perfect child," Retta says. "I don't know if that's because his dad was on set, but that's my story and I'm sticking with it." And working with Howery was a treat. "It was my first time working with Rel, and he didn't disappoint," she says. "I love his stand-up, and now I love his improvisational skills as well."

Whether diverting attention with scenes as comic-relief Rod in Get Out, his arc on HBO's Insecure or as a pivotal character in Bird Box, Howery has, in the past several years, proven himself quite the multidimensional player. "Working with Retta and Keith was so much fun," Howery says. "Keith is a future TV and movie star who has so much energy that translates well on screen. I've wanted to work with Retta for some time now, and she is so funny. Can't wait for everyone to see us all on screen together."

Benji
Josh Caras

The Beanbag Boys' curiosity in high-school senior Molly is sparked when they see her kiss her cocky and wildly irritating boyfriend Benji, played by The Highwaymen's Josh Caras. While Molly wises up and ditches the college-age jerk, the boys eventually discover that he is their last resort in securing the contraband they need to get a replacement drone back in Max's house before his dad gets home. As they head to Benji's frat with an ill-advised plan, they discover themselves in a nest of asinine college guys.

Benji represents everything the kids do not want to become when they grow up. While, initially, he appears to only have eyes for Molly, the boys realize that he lives in suspended adolescence, caring only about himself and impressing his brothers at the house. Armed with a paintball gun and the hormonal fire of new adolescence, Max and his brothers-in-arms accidentally, and hilariously, take Benji and his boys down to size.

Claude
Stephen Merchant

At one point in the film, the boys, in an effort to generate enough money to buy a new drone, attempt to sell a valuable Ascension gaming card on line. But with the potential buyer now arriving at the house, they worry that he might also be a pedophile, so they take the doll Thor found in his parents' hiding place"it's actually a sex doll, but they don't know that"and prop it up in an adjoining room. The plan is to pretend that the doll is Thor's mother. Into this walks the buyer, played by writer/producer/director/ actor Stephen Merchant. The filmmakers had worked with Merchant since their time on The Office, and they knew there was no other actor who could bring more life to this awkward character"a man who, it turns out, is also an expert on vintage sex dolls and ultimately becomes more interested in the doll than in the Ascension card he came to the house to buy.

"We wrote the part for Stephen," Gene Stupnitsky says. "He's one of the funniest people on the planet and a good friend of ours. Stephen around children is just insanely funny. The physicality alone? He towers over them. He's an adult amplified. There's that much more physical distance between them"from the way he looks down at them. His character is also so passionate about getting the card. He's weirdly on their level with what they care about."

Merchant and the filmmakers decided to wring every bit of comedic potential out of the bizarre scenario. "I had a conversation with Stephen when he came in for his fitting," says Lee Eisenberg. "It was so funny to do as deep a dive with character motivation that you would for one in a lead role"especially a guy who the kids think is a pedophile, and who is buying a used sex doll from a bunch of 12-year-olds."

The kids also got to enjoy working side by side with veteran improvisers like Merchant, whose character gets in over his head when he tries to make a business arrangement with the boys. "It was hard to keep a straight face when we filmed the scene with Stephen because he ad-libbed a lot," Keith L. Williams says. "I loved his accent."

Jacob Tremblay agrees with his on-screen bestie. "Stephen was really good at keeping a straight face," Tremblay says. "I don't know how he did it, but he did."

Merchant appreciates the odd assortment of thespian badges he achieved as a performer on Good Boys. "There were a lot of firsts for me working on this movie," Merchant says. "My first time acting opposite three teenage boys, first time acting with a goatee, first time carrying a lifelike sex doll. That sex doll was unbelievably heavy. I actually hurt my back lifting her. Sex perverts must have great upper body strength. Who knew?"

Aches and pains aside, he lauds the professionalism of the film's young leads. "I thought Jacob, Brady and Keith were all terrific," Merchant says. "What's great about working with kids is that they don't have the actor-y urge to question everything. A kid is not saying 'What's my motivation?' Lee and Gene don't have to spend 30 minutes discussing with Jacob why his character is wearing a gimp mask; he just puts it on and does the scene. You can't say that for most other SAG Award nominees."

As for being part of Eisenberg and Stupnitsky's foray into feature filmmaking, Merchant is proud of them…to a point. "I've loved working with Lee and Gene since their days writing on The Office," he says. "Even after the script is finished, they are always striving to make something funnier, looking for an extra gag or bit of business. I just hope this movie isn't so successful that I can't get them on the phone anymore."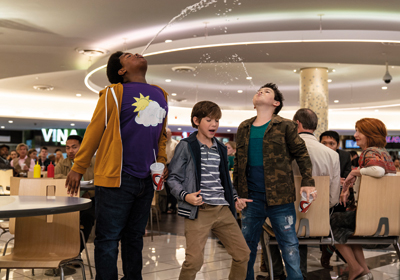 One-Scene Wonders
Casting the Cameo Roles

Lee Eisenberg and Gene Stupnitsky topped off the cast with collection of whip-smart comedic performers in cameo roles. "That was the goal," Eisenberg says. "We didn't have a ton of adult roles, so we tried to populate the film with the funniest people that we had worked with"people who wouldn't necessarily be able to work on the film for a few weeks but who could come in for a day or a day and a half. Even if they were in one scene, we knew they'd knock it out of the park."

These included Mariessa Portelance as Max's mom, Michaela Watkins as the drone salesperson at the mall, Matt Ellis as well-intentioned drama teacher Mr. K., and Sam Richardson as weary convenience store patron Officer Sacks. "People were excited to be part of Good Boys because the script was just that funny," executive producer Josh Fagen says. "We were lucky to find great people for the smaller roles."

This, though, added its own level of stress. For some of the cameos, the actors' presence on set was very much down to the wire. "I'm obsessed with Sam Richardson from Veep," Lee Eisenberg says. "He was someone we were taking forever to cast, and we were down to our last day of shooting. We were getting nervous but, at the last minute, we got him."

With all the cameos, it created an often-hilarious juxtaposition between the exceedingly well-prepared boy actors and the improvisational adults. "The kids knew their lines so well," says Eisenberg. "They'd have a 10-sentence monologue that was drilled into them like homework, a memory exercise. With some of our adult actors, every single take was different. For example, with Sam Richardson, we'd say, 'When you walk in, complain about your day being long for whatever reason.' Each time, he gave a completely different take that was fully formed and hilarious." In true Stupnitsky and Eisenberg fashion, even the one-scene characters got a full backstory. In Richardson's scene as Officer Sacks, for example, he makes a brief call to his life partner to express his disinterest in ever having children. We know nothing about the woman on the other end of the phone, but the filmmakers and Richardson did. "She's a detective, and he's a beat cop," says Stupnitsky. "There's a power imbalance in their relationship."

The Locations

Welcome to the Great White North
Shooting in Vancouver, British Columbia

Shot throughout summer 2018 in and around Vancouver, British Columbia, the production of Good Boys coincided with the young cast's summer break from school. Point Grey has long lensed there, and the execs found the city and its people to be extraordinarily welcoming to their productions. "Vancouver is one of our favorite places to shoot films," says producer James Weaver. "The crews are top-notch and incredibly hardworking, as well as just nice people to be around."

While the temperatures are usually quite predictable in the summer months, the coastal climate can turn on a dime. "Ninety percent of the time when we were there the weather was perfect," says Gene Stupnitsky. "At the end of September, it just changed to winter quickly. Vancouver can be a million different places, and they make it so easy to shoot there."

When it came to Max, Thor and Lucas' middle school, it also turned out to be Jacob Tremblay's. "We scouted a ton of schools, but Jacob's had the best availability," says production designer Jeremy Stanbridge. "When we first got it, we had no idea. It was a fluke, but it didn't deter us from shooting there."

That was more than fine with Tremblay. "It was the first time I'd ever shot at my own school, so I was excited to go back after summer and tell my friends about it," he says.

The Production Design

Shiny, Happy Childhood
Designing the Look of Good Boys

To bring their vision for Good Boys to life, Gene Stupnitsky and Lee Eisenberg turned to production designer Jeremy Stanbridge, who came to the project through the recommendation of co-producer Daniel Clarke. Clarke had worked with the Point Grey team and knew that the craftsman was the perfect artist for the job. Throughout the shoot, the guys raved about his work. "We were switching things up on Jeremy all the time," says Stupnitsky, "and he always had fantastic ideas. He worked very quickly and is so talented."

While Stanbridge has served as an art director for almost two decades"serving in that capacity on massive films from Star Trek Beyond and Tomorrowland to his work on the Fifty Shades trilogy"Good Boys represents his first big-studio feature as a production designer.

Discussing his inspiration, Stanbridge echoes the screenwriters: "When I read the script, Stand by Me came to mind. It morphed into a different shape over production, but that informed my look book. The main push for the design of the show was to keep it poppy, with bright primary/tertiary colors and elementary shapes like circles and squares"especially within the schools and the boys' bedrooms. We wanted to keep it innocent, in a way, which juxtaposed against the oddity of the kids saying such adult things. It was important for them to exist in a space that reflected their age"and age they should be in"which made what they said even funnier…whether it was vulgar or misunderstood."

Alongside a team of longtime collaborators, the production designer got to work selecting locations in and around Vancouver, British Columbia, and building sets, when necessary. It was important to the production designer that the comedy's settings felt genuine. "Most all of the sets were practical," he says. "There were portions of interiors built, but most were practical and split exterior and interiors, based on size and ability to shoot all over Vancouver. We did most of our neighborhood exteriors in the area by the University of British Columbia, which are green and lush, with nice big trees in an established neighborhood that almost felt like Leave It to Beaver. Interiors of those houses were done further away from that area."

Stanbridge and his team then worked to adapt those locations to suit the film's needs. "Art director Sean Goojha and I have worked together on a few projects, including Tomorrowland," Stanbridge says. "He's a fantastic graphic designer, very conscientious and super-talented. I've worked with my construction and paint team many times and set decorator Victoria Pearson"whom I share a synergetic collaborative mind with"who came with me from Colony."

His primary-colored "poppy" look and feel extended to props design and locations. "We made the drone a lot brighter than most are, and all the locations had patterns and bright colors added," says Stanbridge. "The houses had their own character but still maintain a classic feel." One surprise that shifted his direction was a script rework in which the drone rips through one of the boys' homes. "We had no idea when we picked the practical location for Max's house that we'd have to fly a drone inside and destroy that building. We ended up building pieces later for inserts, but one version was shot in a practical house."

That said, tearing up a home was the least of Stanbridge's challenges. For the largest set component of the show, the designer had to mastermind and bring to life the story's giant highway sequence in which the Beanbag Boys race for their lives across a six-lane highway. "We wanted to do this practically, so we ended up building 300 feet of highway at a rarely used section of Pitt Meadows Airport in British Columbia for the boys to run across the six lanes"then visually extended it [through the brilliant work of VFX producer Raoul Yorke Bolognini's team]."

The designer admits that, as interesting as it would be to build an actual section of a highway, he didn't want to spend the shoot's entire budget on one set piece. "The way we created it was the most practical thing to do," he says. "There was no way we could shut down a six-lane highway to shoot during the day. Even if we could"just the way that all the barricades are linked together for all the highway K-rails"there would be no way to turn around, do car resets and more in a reasonable amount of time."

One of Stanbridge's favorite sequences of the production was creating and shooting Rock of Ages at the boys' school. "I really liked where we ended with the musical montage on stage," he says. "We wanted it to feel like it wasn't beyond the kids' ability. It didn't have any feel of 'way-too-professional.' We kept it low-fi with cardboard and sponged-on bricks to keep it in their world. That was the impetus of most of the builds"to keep them something a kid would understand and do."

While cinematographer Jonathan Furmanski would end up shooting Stanbridge's sets from the 11-to-12-year-old perspective, the production designer wasn't as beholden to that perspective. "There were generally more than one of the three kids in every scene," he says. "What that meant for us was having spaces that were large enough so that the boys could be together at any given time. We generally didn't make materials higher or lower. They just existed in their world as is. There were no visual jokes for the set design, based on their height."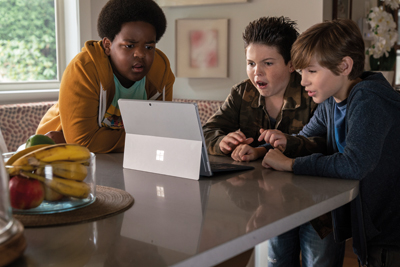 The Props

Nunchucks, Drones and Peaches the Sex Doll
A Boys' Guide to Inappropriate Toys

When it came to explaining to the tween stars what sex dolls and adult toys were, the easy way out for anyone on set became "Um…ask your mom."

While the filmmakers had nothing but support from the families of the kids starring in Good Boys, inevitably, awkward conversations about set props would come up. "The parents read the script, so they knew what they were signing up for," says Gene Stupnitsky. "We'd throw out alts, but the kids didn't know what they were saying. One time, in a scene with the sex doll, they asked us: 'Why does the doll have a vagina?' I was frozen, but Stephen Merchant, bless his heart, jumped in with 'Doctors use it in medical school to practice.' They seemed to be okay with that explanation."

Lee Eisenberg says that their go-to solution was to deflect and move on. "Generally speaking, we didn't engage with them on those questions," he says. "So, if they asked us about what a line meant or what a prop was, we'd say, 'Go ask your mom or dad.' That allowed them to have those awkward conversations." Unsurprisingly, the trio of boys all had a little bit of (mis)information to share. "They'd huddle and trade notes about 'What is this?'" Eisenberg says. "We just wanted them to say the words. The less they knew, the better."

When the screenwriters were crafting the story, they found the best humor came from a place of form following function. "The joke was always 'these are weapons,'" Eisenberg says. "Anything that could be thought of as a weapon and be a sex toy was in. A mask is scary, so 'you can't see our faces.' Nunchucks? Of course. There are only so many sex toys you can use as a weapon. I hope no one ever looks up our Google search from those weeks of trying to figure out how sex toys could be used as weapons."

When asked if these props were Amazon deliveries or from multiple research trips to the adult book store, Stupnitsky replies, dryly, "They're from our personal collection."

Once they agreed upon scenes they wanted to shoot, Stupnitsky and Eisenberg had to work with their heads of department to see what was feasible. "You have an image, then need to make sure you want it on camera," says Eisenberg. "For example, with the ball gag that Lucas puts in his mouth when they're popping his shoulder back in"the imagine I had was from Pulp Fiction. While that ball gag is black, you can't dye something like that to put in someone's mouth. You get into all these weird conversations you never dreamed about when you are writing the script."

Turns out that shooting Good Boys was a fairy tale in a completely different way. "In prepping the movie, the propmaster would come in and say, 'Okay, we have three different anal beads," says Stupnitsky. It was like Goldilocks: 'These are too big, these are too small. These will show just right on camera.' You give notes for shorter, longer, etc., and they give you options. You have to talk to your DP to make sure it reads well on camera and that the colors are right"this one is shiny, this one is matte…"

For all of this, the filmmakers turned to propmaster J Drover, who most recently served in that function on Robert Zemeckis' Project Blue Book for the History Channel. "This is the first time I've worked with J, and he has an awesome prop-building team," Jeremy Stanbridge says. "They allowed us to highly detail out hand props, which were important in this show"especially with the drone. We redesigned the drone because it would be doing damage." Turns out there were more than a few little kids on set. "Destroying our own sets was fun."

For his part, Drover totally related to the premise of the film. "We've all been or known 11-year-olds with trucker mouths," he says, "and this is very reminiscent of my growing up." Beginning with preproduction, Drover and his team were dealing with a fascinating array of sex toys, luxury lifelike dolls and high-end drones. "We had an endorsement from Pipedream, which is one of the biggest adult-toy designers and manufacturers," Drover says. "They signed on early on to help us out, and they were very flexible. We asked them to send a package of items, and that's what we got in front of Gene and Lee. We'd swing things around and discuss the logistics of whether they'd work like weapons or not."

Drover admits that, at the start of his career, he never imagined one day he'd be hand-making anal beads. "We made a set of our own using metal dowels and craft beads," he says. "We had that molded and cast in soft rubber, so the actors could swing them around and not hurt themselves. Another time, we modified a double dong to have it be stiff enough to go through door handles at the corner store. The special-effects guys were heating up a rod on the side of their truck. Anything to get the shot!"

Turns out that molding and casting multiple anal-bead sets and dildos was only the beginning. Next up: firing several $5,000 sex dolls"ones the crew nicknamed Peaches"out of a van, in preparation for a scene in which a sex doll flies out of a car window. They needed to see exactly how it would look, and which ones would survive the fall. "We had three dolls from Pipedream, and they're a lot of logistical work," Drover says. "They are also quite delicate. You couldn't drop them on the ground because the skin absorbs anything and everything." Plus, as actor Stephen Merchant later discovered, "they're quite heavy and hard to move," Drover says. "I can't imagine using one for extracurricular purposes."

One of the sex dolls is used for "beauty shots" in Thor's house, when Merchant's character is ready to buy Lucas' Ascension card, but instead goes to purchase Peaches "for the carpool lane." The other two were similarly used for purposes for which they were not originally, ahem, designed.

"We spent a lot of time getting the sex doll ready, and Peaches certainly was a heavy one," says additional photography prop master Ben Krakowsky. "I learned a lot, including that they come with a USB vagina warmer."

Under the supervision of special effects coordinator Paul Benjamin, the team modified two of the dolls. By lightening Peaches' shell for her aerial trip during the boys' highway jump, the SFX crew could fire her out of an air cannon from the van. (The boy actors, by the way, thought these dolls were CPR dolls.)

One of Peaches' co-stars was wholly not a fan. "The CPR doll was kind of creepy," Jacob Tremblay says. "When it was run over by a car, the eyes popped out, which was scary. I'm already scared of dolls, so that was extra creepy."

Moving along to other high-flying props, Drover's team worked closely with their SFX counterparts on the drones, modifying when needed, to make them do what they were never designed to"like trashing a house or cutting flowers. "We used an industrial designer named Noah Li-Leger"who helped with 3D printing, laser-cutting and remodeling the sensors, GPS, etc., of these drones," says Drover. "They're the Apple of drones, so it was a triumph to make sure they flew properly."

In sum, the production had a fleet of these drones, eight models, with extra shells, propellers and loaders. "We gutted a couple and inserted new motors, so we could put in our own remote controls," says the prop master. "This equaled a mixture of actual drone flying, as well as a drone on a stick with remote control in the house to get all the shots we needed. VFX got a copy of the drone to scan, and we'd make sure [on-set VFX supervisor] Ralph Maiers was happy with his visuals and had what he needed to go do his magic."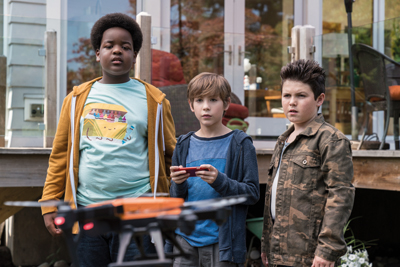 Fake Guitars, Baby-Oil Bottles and Paintball

In addition to all the sex toys and dolls, the film features an epic musical number with Brady Noon's Thor performing Rock of Ages on the middle-school stage. The scene required a whole different category of props. "We called that sequence the 'Pantomime of the Pixie Sticks,' says J Drover. "From all the fake guitars to the hairspray, bandana and microphones, our team would come in, fire it up and see how it all went."

For another scene, a take-no-prisoners frat-house paintball fight, Drover wanted to give Gene Stupnitsky and Lee Eisenberg endless tools to employ. "We swapped out movie slime in baby-oil bottles," says Drover. "Every time you see a guy hit in the face, that's an air-blown paintball. We had lots of breakaways, like the ping-pong table and towering beer-bong pyramids. It was a lot like setting up dominoes. You spend so much time setting them up. A couple action-packed seconds later? You knock it all down."

The Stunts

Dodging Cars, Flipping Bikes and Studying The Matrix
Boys Will Be Boys

Responsible for the film's many stunts was Good Boys stunt coordinator Maja Aro, who shares in those duties with her husband and business partner Jeffrey Aro. A busy Vancouver-based team, Maja just wrapped season four of TV's High Castle and Jeff season two of Netflix's Lost in Space. "It was a blast to make this movie," Maja Aro says. "From the beginning, it was special. The cast was so young, it made for a fun, light environment. It was awesome that, for our summer project, we got to take young boys out and ride bikes with them. It might sound simple, but all the boys had to be super comfortable doing that while delivering dialogue. That's very similar to driving cars and recalling lines; it's a different challenge entirely."

The creators were fortunate to have such like-minded stunt coordinators. "We've always looked at this as an adventure film," says Gene Stupnitsky. "We designed it like The Hangover with children. We knew there would be car accidents, shoot-outs, chase scenes and more. That is in the DNA of the movie. Of course, when you're doing that with kids, it takes a lot of planning. You also only get them for a few hours a day and cannot go over."

To the production leads, it felt as if there wasn't an idea their stunt crew couldn't execute. "The stunt people had a trampoline in their living room," says Lee Eisenberg. "The team would send us three-minute clips of someone falling into a life-sized Jenga set or being flipped across the room after being shot by a paintball gun. We'd say, 'Oh, can they fall through a table instead of being knocked over by a chair?' or 'Can they bump into a wall or fall down stairs?' and the next day they'd do it. Maja, Jeff and their crew would walk through the set to make sure it was safe and were so collaborative throughout shooting."

Just as it was for the production designer, the freeway sequence proved the most challenging scenes for the Aros. The VFX team and stunts worked together to make sure it was a seamless inter-department fix. "It looks just like the boys are jamming across the highway," says Maja Aro. "But we had so many moving parts; some vehicles were moving at high speed, others at slow ones. We'd ask: 'When do we use the kids, and when do we use their doubles?' We did all the comp shots with the kids and some lock-offs with the boys running across the road. Then, we'd have a number of amazing drivers slide cars right into their marks. We also layered in a bunch of practical stunts to make sure it was happening beautifully."

The stunt coordinator served double duty on set, portraying one of the drivers who "politely" tells the boys to "get the fuck off" the freeway. "Gene and Lee had a bunch of ladies audition, but they weren't loving them," says Maja Aro. "The guys said, 'Why don't you do it?' That made the boys' day, because we'd become so comfortable over the project. They thought it was so funny that I was the one swearing at them."

Shot at the Pitt Meadows municipal airport about 30 minutes outside Vancouver, the section of road production designer Jeremy Stanbridge designed in an airport parking lot had to look like a highway with busy traffic. To ensure that it could work safely for stunts, the film crew built a race oval. "The traffic starts as a slow crawl, then it picks up and goes fast," says Maja Aro. "We had our team driving on the back side of the set in a loop, then through set on a section of highway."

Peaches, the sex doll, also makes an appearance in the scene, and comes to an untimely end when she's catapulted out of a car driven by Stephen Merchant's character. "Stephen's piece of that scene is on green screen, and on the practical set we used his stunt double," says Maja Aro. "We launched Peaches out of the car window and had a pickup run over her head. We did it all in little pieces to get everything to time out. The two lead cars slide up, and the stunt double did a close run in across that. Then we also layered a comp shot with the actual boys in the scene"with no cars"to make it look like they're right there."

Safely off the "highway," there were many more perils in store for the characters on their epic day of skipped school. For Lucas, played by Keith L. Williams, the most numbing would be when his bike is hurled into the air and he flips into a parked van. "The scene was R&D'd a lot, as the thing Lucas hits changed several times," says Maja Aro. "We kept working with Gene and Lee on what would be funniest. At one point, we had Keith's stunt double [Maya Macatumpag] launching off wires from the bike, but that looked too slow. At another, we had him hit a shopping cart with a homeless person. This ended up being another sequence where we closely worked with VFX."

Williams' stunt double ended up slamming the bike into a bench. Then, she would run and jump off multiple higher decks before hitting the side of the van. "The scene was put together in pieces," says Maja Aro. "There was half-inch foam padding on the side of the van that the paint department made look like metal. Maya was wearing body pads as well, and it's all about how she hit at the last minute. She's almost turning and hitting the van with the side of her back…instead of with her shoulder."

In the scene, this incident dislocates Lucas' shoulder, which the other boys then must pop back into place. Not soon afterward, the boys get into a brawl with Hannah's ex Benji at his frat house. In that scene, Lucas flips a drunk college guy onto a beer-pong table. "We knew we could flip it over and that would make a huge, funny mess," Maja Aro says. "Almost all of the guys in this scene are stunt people."

Aro and her husband loved working with the three lead lads. "When you work that closely with kids, you tend to become their buddies or, in my case, their aunty," she says. "They're usually concerned with when they eat and what they get to play with. With this content, they had a lot of questions for Jeff and me. Brady wants to be a stuntman. He wanted to do a lot of his own stunts, and Rock of Ages is all him. We worked with costumes to put knee and elbow pads in what he wore."

Williams and Noon weren't the only Good Boys who got to play on set. Jacob Tremblay told the Aros, and filmmakers Stupnitsky and Eisenberg, that he studied The Matrix to get ready for the paintball showdown at the fraternity. "Jeff and I have a training center at our house, and we had the boys up one day," Aro says. "We have a ton of Nerf guns, and we let the kids go to town with them. Jacob took his paintball training very, very seriously."

Despite all the fun, safety, and the safety of the boys in particular, was always everyone's top priority. "I'm working with Jeff and Maja on another project now," says production designer Jeremy Stanbridge. "Jeff was on Colony and Lost in Space as well, so we have a good understanding of making things look as real as possible, while safe at the same time. The look will never trump safety, and they understand that. They give a lot of leeway with fabrics and textures. I'd come up with ideas, and they'd make it work."

The Cinematography

Lensing a Young World
A Tween Point of View

When it came to the cinematography of Good Boys, the rule book for your typical comedy was immediately thrown out the window. From the beginning, the filmmakers and cinematographer Jonathan Furmanski discussed establishing a more cinematic feel with a real sense of spectacle. While many sequences are laced with humor, there's also a sense of adventure and excitement to the scenes, such as the highway-crossing scene, plaza chase or frat-house fight.

To establish this look, Furmanski used an anamorphic lens for the wide-screen format, which had a grand feeling and was able to get all boys into the frame. It also established a touch of that throwback feeling to the '80s and its embedded sense of nostalgia.

The Good Boys' creators were honored to have the DP on their side. "Jonathan was a blessing for us to have as first-time directors," says Gene Stupnitsky. "He was so patient and very even-keeled, a great partner to have." Adds Lee Eisenberg: "On a set like this, you need patience. He was so collaborative and brought so many ideas to the table."

Some of the reference points that the filmmakers used were Stand by Me and The Goonies, as well as other '80s coming-of-age stories. "Whether whimsical adventure stories or straight-up comedies, we wanted to have an element of that so those are the movies we first talked about," Furmanski says. "As the movie developed a bit more and we dug deeper, we talked about movies like It, The Girl with the Dragon Tattoo and surprisingly, Attack the Block. We wanted the movie to have one foot in throwback and another firmly in 2019. It's a modern movie, but we wanted it to feel like it has some roots in those '70s, '80s teen comedy or adventure stories."

It was important for Furmanski to ensure that the world created on camera would be colorful, bright and as seen through the eyes of a sixth-grader. "Everything seemed a bit more vibrant and exciting," he says. "I tried to shoot at their eye level. If there were tall people in the room, we tried to make it look a little ominous and looming. We tried to portray everything from their experience."

The idea was not to take an adult point of view and put it on the kids, nor was it to make the kids seem older than they are. "The language is a lot more adult-oriented than you find in your typical 12-year-olds' film," Furmanski says. "That was part of the joy of it. It's silly that the kids talk the way that they do and about the things that they do. As it often happens, they don't always know what things really mean. There's this moment of innocence before they actually deliver this R-rated material."

Not only was there a limit on the number of hours that the children could be on set, the technical requirements of acting in a movie must be managed in a unique way. "In large part, the boys were learning while shooting," Furmanski says. "They learned how to hit their marks properly, to avoid looking at the lens and to open up to the lens so we could see their facial expressions and body language."

The cinematographer worked on ensuring that the blocking was kept as simple as possible, so that the actors could concentrate on their lines and performances rather than hitting several marks in a take. He tried to give them freedom and space and made sure he was always there when the jokes hit. "Everything needed to be built around the idea that the jokes play as strongly as possible on screen, but then after that we let the scenes tell us where they wanted to go a little bit more," Furmanski says.

In order to avoid risking the kids becoming disengaged in the process, it was crucial for production to keep it fun for them. "We were basically 150 aunts and uncles running around trying to keep them entertained, amused and engaged," Furmanski says. "That way, when they stepped on their marks, their energy was up and they were free to perform the way they needed to."

One of the most epic setups is a sequence with the boys crossing a highway"a scene that required stunts and a combination of practical and special effects. "We spent a lot of time talking about it, and it paid off," Furmanski says. "It felt like a real moment for the kids, not only because of the physical action, but it almost felt like a figurative threshold that they were crossing over from being adolescents into being young adults. The scene really has a lot of weight."

Most of the scenes take place in bright, sunny exteriors, except for one: the frat house. It embodies a more grown-up sense of place for the kids"a darker, moodier and hazy atmosphere that's shrouded in mystery for the boys. "It's the least familiar environment for the kids in the entire film, so we really got to play with light and shadow and kept things a bit more down and gritty," Furmanski says.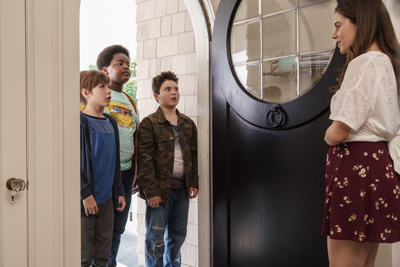 The Choreography

Dancing Tweens
Animatronic Bears and Inappropriate Musicals

When the boys weren't working on stunts, they could be found with the movement team of Paul Becker, who has choreographed for the Jonas Brothers during concerts worldwide, as well as for Deadpool 2, Disney's Descendants and the hit series Riverdale. "Gene and Lee were looking for a choreographer who had worked with children," says Becker. "I met with the guys, and we hit it off instantly. I've done a number of films with kids, and my comedic instincts are similar to the guys'. It felt like a perfect fit."

Becker explains his process of planning edits well before principal photography begins. "I build the choreography for a scene with a skeleton crew of a few dancers who represent each character and we pre-shoot everything; that makes it easier for the directors to translate," he says. "Otherwise, if it's just a wide shot of people dancing, they won't know where the focus is. I try to give them my eye and my focus right away. For Gene and Lee, I would pre-shoot and edit a sequence, and we'd use that pre-vis for our shot list."

Once he has broken down the script and figured out what the relationships are among the characters, Becker plays the song key to the scene and reads it aloud before moving on to choreography. "I build it before the cast even arrives, so they can step into their spot," he says. "Of course, when the actors arrive, they bring their own flavor to it, so I don't want to have it completely created."

Becker and cinematographer Jonathan Furmanski worked hand in hand to nail the best way to lens the sequences. "The guys brought me on because of my strengths," Becker says, "and they were humble about what they knew. They wanted guidance to help the musical numbers work, and I'm glad I could help them."

Even though the trio of Good Boys"and much of the supporting kid cast"had performed in front of the camera, Becker took seriously his job to bring out their inner dancers and singers. During rehearsals he did "Mr. K-style exercises to get it out of them," he says. "For example, I had them do the crazy dance just to loosen them up."

One of the most poignant scenes in the film was purposely designed to make it feel like Becker and his crew were never there. Lucas' parents' break-up story is intercut with Lucas crying during the choir class' upbeat rendition of Katrina and the Waves' "Walking on Sunshine." Becker adds, "Most people will watch that scene and not know there's choreography. That's how I know I did my job correctly; most choreography should look unchoreographed."

The filmmakers had labored to find the perfect song for that scene. "We always knew it'd be a cut from Lucas finding out his parents are getting divorced to being tight on his face while he's singing," says Lee Eisenberg. "We loved the idea of everyone in his class singing and doing a lame dance, then you have a kid who is crying and continuing to dance through it. That was always our first choice."

When it came to Thor's Rock of Ages extravaganza, Becker laughs that he had to condense the entire musical into two minutes of story beats. "The scene was one of the most politically incorrect and uncomfortable scenes I've staged in my entire life," he says. "Gene and Lee were talking through me to the kids, so I had to relate all information. We follow the story of our rock star, Thor, as he rises to fame, crumbles down and rises back up"all with inappropriate things children shouldn't be doing."

The filmmakers loved the idea of it. "We got excited by the idea of Rock of Ages," says Eisenberg. "We love the era, and the teacher, Mr. K, who has infused it with his own life story."

When the kids were on set, it was often playtime. "Brady has this charisma, crassness and likability that reminds me of the bad kid in school you just can't hate," Becker says, "That's the element of Rock of Ages that I love. In the studio, we had to tell these kids to do curious things. There's this gray area and fine line between being a teacher and choreographer. Their parents are there, but here I am telling them to swear or flip the middle finger as they're walking and dancing away. The kids were so open. We had to tame them a little bit."

Like his cohorts, Becker appreciates Good Boys' juxtaposition of deep heart and shocking filth. "Gene and Lee gave me an outline and said, 'Go and play,'" he says. "It was a blast, and I left no stone unturned. There's a moment where Brady as Thor arrives in Hollywood and is greeted by a prostitute. Lee and Gene had me tell the dancer to lead Brady into the bathroom with a donut, close the stall as he puts the powder on his lips. Then, they wanted Brady to exit the bathroom as if he's high on powdered donut, crashing to his downfall onto the floor."

Similar to the production designer's mindset that the musical should look as if it were created by middle schoolers, Becker took pride in "making everything 10 percent worse," he says. "The beauty of this scene is that it's supposed to be bad. I had the duty of choreographing something that was supposed to look not polished…yet be polished for film. That was quite a challenge."

Brady Noon not only lent his stunt abilities to Thor's epic Rock of Ages performance, but his vocal ones as well. "The performance took one session to get fully down," Noon says. "We had a 3D model of what it would look like, so I had an idea of what it would be and how to flip the table. I broke three plastic tables and two wooden tables during rehearsal. I picked up the routine quickly and thought it was so fun. I'd never had a choreographer before, so I learned a lot of moves to show off to my friends."

For a different scene inside a pizza restaurant, Becker choreographed a creepy animatronic band. (Let's face it, what middle-school ditch day would be complete without one?) "One of our favorite days to choreograph was when we had three animatronic characters playing musical instruments," Becker says. "The boys are on the dance floor before Lucas vomits inside a ball-pen. There is a bear on a piano, a kangaroo playing the drums and a gorilla at the tambourine. That's all humans; we got the actors to perform as robots."

The Music

A Fun Roller-Coaster Ride
Good Boys' Good Time Music

Brought aboard to curate the musical selections for Good Boys was music supervisor Michelle Silverman, who recently brought the soundtrack of the blockbuster Aquaman to life. With a fascinating resume of work on films as diverse as From Dusk Till Dawn and Happy Gilmore to Kill Bill: Vol. 1 and Never Been Kissed"not to mention smash TV series including AMC's Sons of Anarchy to YouTube's Cobra Kai" Silverman was attracted to work on what she calls Lee Eisenberg and Gene Stupnitsky's "big music-driven project."

A musician herself, Silverman feels that periods in her own life were "set to my own soundtrack," and wanted to infuse the film with that feeling. "The movies that influenced me growing up were everything from Grease, Fame and all of John Hughes' films," she says. "If it was music-driven, a movie left such an impression on me. Lee, Gene and I started talking about music ideas and how music should have its own identity in film. With Good Boys, we wanted it to feel like a fun roller-coaster ride."

Silverman also has a child who is the same age as the boys in this comedy. "The story resonated with me and where my daughter was at," she says. "They're going through the same type of journey." She and the filmmakers dove into the process with gusto. "The guys had a bunch of ideas, as did I," she says. "We'd email back and forth until everyone said, 'This is the one.' It was a very collaborative process among Lee, Gene, Good Universe, Point Grey and me."

Capturing the emotional impact of music was key. She focused on songs that make you feel like you're going on a wild ride that you didn't know you were signing up for. "It's a comedy, so we wanted to keep it light and with energy," she says. "I started putting together ideas with that tone, and I put my songs in a Dropbox link for Lee and Gene to listen to while they were shooting. I'd send selections over to our musical editor, Rick Ziegler, and he'd try them to picture. The guys loved that process of trying out different songs with different scenes."

A student of Danny Bramson, the storied music supervisor of Almost Famous and Singles, Silverman believes that there should be no rest until a scene has the perfect song. With the on-cameras of "Walking on Sunshine" and "I Want to Know What Love Is," she wanted the music to match "the big moments in the show."

"For 'Walking on Sunshine,' Gene and Lee wanted to find a song a middle-school choir would actually sing…and have that set against a sad moment for Lucas," Silverman says. "They were looking for the right song that goes against the grain of 'everything is great,' when it's really not."

Silverman went very '80s with certain choices but chose to go across the decades as well. "We even have 'Can't Get Enough of Your Love' in there, so the film transcends time," she says. "Kids have YouTube and Spotify and understand so much more about music than I did at that age. On my daughter's playlist is everything from bands like All Time Low to Elton John."

The creative process was always collaborative, and never push/pull. "The guys loved 'Oblivion,' so they wanted to keep that one," Silverman says, "but they went through so much music. They would listen to hundreds of songs per scene, and they were very specific about what they needed. 'Race with the Devil' is set to such a great scene in the fraternity house when the Beanbag Boys are in the Nerf/paintball war. Another song that resonates with me is Asia's 'Heat of the Moment' when the kids are playing Spin the Bottle. I love that song, and what a special moment in the film it is."

When it came to the rock ballad in the film's third act, it took quite some time to pick just the right tunes. Fortunately, the story's creators loved "I Want to Know What Love Is." Says Silverman: "It was a three-step process, one that began with asking what musical makes sense for the kids to sing and dance to. Once we chose Rock of Ages, we had to narrow down from all the artists in that musical. After we selected the band, we focused on Gene and Lee's favorite Foreigner song. I feel lucky to work with them; they're so talented."

The collaboration with Good Boys' composer Lyle Workman happened through their shared music editor, Rick Ziegler. "I'd go back and forth through Rick, as he was dealing with both of us," she says. "We'd share notes that way, and it was fabulous."

Silverman was also duly impressed with the boys' vocal talents. "The three boys are outstanding," she says. "I was blown away by their singing, and that what you're hearing are Jacob, Lucas and Brady's voices. Our music production team [executive music producers Stefanie Fink and Alana Da Fonseca] went in the studio and recorded them, and we were all so impressed by their voices. They got the boys to the place they needed to be, which was fantastic."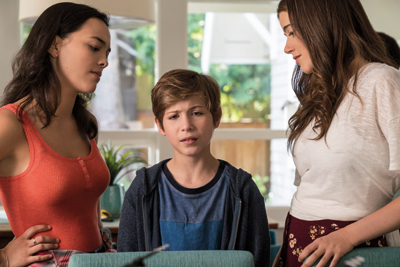 The Costumes

Quite the Fashion Maven
Film Costumes

The costumes are extensions of the tween's personalities, and because Good Boys is primarily set in one day, finding the right outfit for each character was key. "They're wearing the same clothes for the majority of the film," Gene Stupnitsky says. "We threw a lot of ideas at our costume designer, Carla Hetland, and she was always game."

Hetland, who currently serves in the same capacity on Project Blue Book, the blockbuster History Channel series about the father of ufology, has also worked with Point Grey on The Interview and 50/50. She was thrilled to return to the fold and appreciates the heart of what Gene Stupnitsky and Lee Eisenberg created. "They're all such great guys and so much fun," Hetland says. That warmth extended to the trio of stars on set. "I'd watch the monitor and get such a kick out of those kids," Hetland says.

The costume designer aimed to ensure that each piece was maximized on screen. "When you have a story where most of it takes place in one day, you have to make sure that costumes chosen for each character are spot-on, and everyone is happy with the clothes because the cast, crew and the audience will be looking at them for a good length of time," Hetland says. "It can be challenging to get that iconic look. Imagine that you're at a Halloween party, and you saw someone in a Brady, Thor or Max costume. You'd want to instantly know who they are."

When the designer"who shares that this comedy is the biggest production she's ever done with a principally young cast"approached her look-book for the Beanbag Boys, she felt it was crucial to have their clothes match their personalities. "For each one of the kids, we wanted to have a unique style," Hetland says. It was important to give all of them a distinct appearance that felt grounded, without pointing at the joke too much. "For example, Lucas is wearing a lot of colorful T-shirts with rainbows and animals," Eisenberg says. "It's as if he's dressed like a third-grader."

To express Lucas' naivete, Hetland gave him a Garanimals-inspired sense of style. "Lucas is the innocent one of the bunch and very close to his parents, so we wanted him to be more childlike and colorful," Hetland says. "We outfitted him with all kinds of kid-like designs, from ice-cream cones to dinosaurs hugging."

Through the process, the filmmakers discovered that Keith L. Williams, who plays Lucas, took a particular interest in the subject. "Keith is a real fashion maven," Stupnitsky says. "He loves clothes and talking about them. We asked him what he was going to wear to the film's premiere, and he's already figured it out. He said, 'I'm going to wear something perfect.'"

When it came to Thor's rock-'n'-roll clothes, Brady Noon was certainly on board with dressing like a tween badass. "As we landed on what Brady's personality was like, he went from nerd to a bit of a rebel," Hetland says. "We wanted to give him an edgy look, where he's trying to be cool." That was reflected in Thor's epic Rock of Ages number. "We had lots of reference material, so we tried to make it feel unique," Hetland says. "The film's story has such an '80s vibe, so we had tons of fun putting together Brady's look for the show, as well as the costumes for his back-up performers in the musical."

Likewise, Jacob Tremblay as Max was quite the sixth-grade fashionista, but in a more subdued manner. "Max's look was more straightforward, as he's the one growing up the fastest," Hetland says. "Whereas the others are trying very hard, Max has his signature jacket and hoodie but isn't as colorful as the other kids in his school."

Since Molly and Lily are having their own adventure, older teens in Good Boys have their signature style as well. "We wanted to have a number of cool looks for the high-school and college kids," Hetland says. "We'd start by figuring out their interests, personalities, parents they have and the types of music that they listen to"all that came into play." She drew much inspiration from production designer Jeremy Stanbridge's choices. "For example, for the set of a well-to-do family, their house would have modern, clean lines," Hetland says. "Likewise, a middle-class family in our film might have a cozy home with lots of prints. I looked at what Jeremy was doing, and his designs allowed me to inform what the kids were wearing."

Naturally, it wouldn't be just one outfit worn throughout production. The costume designer's team needed many, many iterations of the clothes. "We had to have multiple versions of the boys' outfits," Hetland says. "Not just for stunts, but because they're kids who love to eat ice cream and everything else. We would try to give them a different shirt to wear when they were eating, but we weren't always successful at keeping them clean. I'd say that 25 percent of the time they got away from us."


Good Boys
Release Date: September 19th, 2019