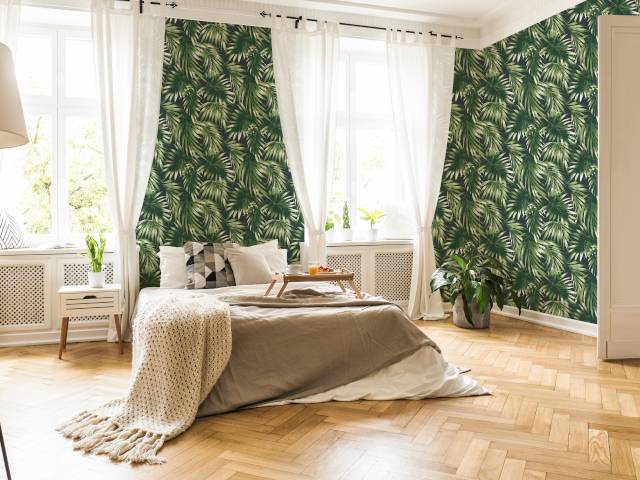 Give your inner Sanctuary a flavour of the Dramatic
Superfresco Easy releases its dazzling new range of wallpapers for Winter 2021

Australian's experience of home has been changed profoundly, the way we live in it, the way we use it and in the way we decorate. No longer is home simply where the heart is but it serves us in many more ways. The interior design trends of 2021 work to reflect these needs, and with walls providing the perfect blank canvas to express our unique tastes and personalities wallpaper remains a key trend for 2021. With the launch of its stunning 2021 range of wallpapers, Superfresco Easy provides an exquisite collection of designs to capture the imagination and assist in creating your ideal sanctuary indoors.

"A well-chosen design can make a dramatic difference to a living space while offering a comfortable sanctuary to enjoy," says Paula Taylor, Trends and Design expert at Superfresco Easy.

Whether it's a home-office, bedroom or living area that requires a shift in its aesthetic direction, Superfresco Easy's timeless, elegant collection will allow you to create a natural haven of tranquillity in any room. Ranging from muted to maximalist the new range for 2021 is all about personal expression. Natural neutrals feature alongside confident colours and there's a wallpaper for everyone to make their homes truly unique. This year the continued desire to connect with our surrounds is seen in finishes that mimic organic materials such as stone, timber and hessian, while on the other end of the spectrum, bold patterns and colours are creating vibrant spaces with reference to days gone by.

"Mood uplifting design choices that both calm and engage us is an important factor" says Paula, "Relaxing at home will never go out of style, making interiors that reduce stress, calm and soothe is a big trend this year."

The must have colours range from greys and soft pinks that are contrasted with stark whites and metallic accents, through to deep blues and forest greens. These are brought to life through large opulent botanicals, immersive textural raw materials, bold check and stylish geometry. Superfresco Easy identifies five themes throughout its 2021 range:

Material Wealth
Designs that capture the textural finishes of raw materials such as metal and hessian satisfy an increasing desire for organic finishes in the home. An opportunity that can transform a room into a modern contemporary space and which also pays homage to the great outdoors. Textural wallpaper which can completely reinvent a space can be seen in Superfresco Easy's Hessian, Heritage Texture and Molten styles.

Art Deco
A style that enjoys a constant renaissance, the timeless allure of art deco features across the range. Sleek and streamlined geometry delight in rich deep blues and black to softer neutrals and greys. Make your space a statement of sophisticated style with Superfresco Easy's Deco, Albany and Prestige Geo designs.

Fantastic Florals
Emulating the outdoors through your wallpaper choice is a perfect way to harness this trend and provide a sense of calm to your home space. Bold floral patterns and opulent leafy greens feature, allowing you to transform your space into an indoor oasis. For a more delicate uptake of the trend, blossoms and roses in bloom will allow you to create a fresh and elegant atmosphere in your home. Try Superfresco Easy's stunning Summer Garden, Isabelle and Elegant Leaves designs.

More is More
Maximalism is an increasingly popular design trend which shows no signs of slowing down as people seek to express their personal tastes through bold and exuberant colour and texture. Offering a sense of personal freedom in your wallpaper choice you can opt to splash a loud personal stamp on an accent wall or go all out and decorate the entire space. Superfresco Easy's range incorporates several larger-than-life designs with dramatic appeal, from botanicals to stylised prints featuring bronze, chocolate and midnight colours, see Superfresco Easy's Diamond, Japan and Elegant Leaves styles for inspiration.

Check it out
With its rich history tartan is a style that continues to reinvent itself. With an eyecatching yet subtle appeal, check and tartan feature across the range in rich and comforting deep blues and greens through to neutrals for a more subtle uptake of this historical trend.

The Superfresco Easy 'Paste the Wall' technology allows quick application of wallpaper, which can be peeled off by hand without damaging the wall underneath. It opens up the possibility to make high impact, personal changes to your space more often.

Superfresco Easy is available across Australia at Bunnings Warehouse and Independent Hardware Group stores, with prices starting at RRP $60 per roll. For more information and further products visit the Superfresco Each brand page at Bunnings online.