Funding Boost to Empower Young People with Mitochondrial Disease
The Mito Foundation receives $25,000 from the Coca-Cola Australia Foundation to empower those living with mitochondrial disease to manage their treatment

Young people diagnosed with mitochondrial disease (mito) will be given the tools to manage their own treatment through a new program by the Mito Foundation, thanks to support from the Coca-Cola Australia Foundation.

The Mito Foundation will receive the grant to support its self-management and self-advocacy program for young mito sufferers, after a nomination from Toni Catton, Head of Service Delivery People and Culture at Coca-Cola Amatil, Sydney.

The Mito Foundation is one of 31 charities to receive funding as part of the Coca-Cola Australia Foundation's 2019 Employee Connected Grants program, sharing in more than $700,000 this year.

Ms Catton said: "My daughter was diagnosed with mitochondrial disease when she was only three years old. It impacts every aspect of her life as she is unable to walk or talk, is losing her hearing and takes over 10 medications each day. Philanthropic funding such as this can have a real and life-changing impact on the people affected and their families. I'm so proud to be able to give back to the Mito Foundation as they have been an invaluable support for our family."

Mitochondrial disease occurs when the mitochondria in the body's cells do not produce enough energy for the body to function properly. It is a debilitating, often terminal disease which causes organ dysfunction or failure. There are no cures and few effective treatments.

The Mito Foundation's mission is to support the mito community whilst seeking a cure.

Sean Murray CEO of the Mito Foundation said, "Mito patients often experience a fragmented health system, with medical professionals working in isolation. As mito involves multiple organs and symptoms, often patients require numerous specialists. Our self-management education pilot program will equip young patients with the tools needed to take their care management into their own hands, empowering them to cope with the physical, social and psychological challenges of mito."

Malcolm Hudson, Chair of the Coca-Cola Australia Foundation, said: "We're delighted that the Employee Connected Grants enable our employees at Coca-Cola Australia and Coca-Cola Amatil to celebrate the charities that have a meaningful impact on their local communities. "Not only does the Foundation's work enable our employees to deepen their involvement in the community, it allows us to support initiatives that help build a more sustainable future for Australia."

The Coca-Cola Australia Foundation Employee Connected Grant program supports charitable initiatives that help create a brighter, more sustainable future for Australians today and for generations to come. The 2019 grants will support a wide range of initiatives this year. These include art therapy programs and funding for at-risk adolescents as well as support for LGBTQI youth and young people living with mental illnesses.

To learn more about the Coca-Cola Australia Foundation and its grants, visit: https://www.coca-colacompany.com/au/responsible-business/coca-cola-australiafoundation.html
To learn more about the Mito Foundation visit the website https://www.mito.org.au/


Interview with Toni Catton, The Mito Foundation - CCAF
Question: What is Mitochondrial Disease?

Toni Catton: Mitochondria are the power houses of the cell providing the body with over 90% of the energy it needs to sustain life. Mitochondria take in sugars and proteins from the food we eat and produce energy called ATP that our bodies use to function properly.

Mitochondrial disease (mito) is a debilitating and potentially fatal disease that reduces the ability of the mitochondria to produce energy. When the mitochondria are not working properly, cells begin to die until eventually whole organ systems fail and the individual's life itself is compromised.

Mitochondrial disease is a progressive, life-limiting condition. There are no effective therapies for mitochondrial disease, treatment is supportive and there is no cure.

Reference: The Mito Foundation


Question: Can you tell us about your experience with Mitochondrial Disease?

Toni Catton: We had never heard of mitochondrial disease until we started investigating why our daughter, Alana, was experiencing issues as a baby. It took a while to work out what was going on, which was a really difficult time. It then took another 18months and a range of invasive tests to confirm her diagnosis. While it was a relief to have a name for what was going on, the information available to us about her condition was very scary. We have seen our daughter work hard to learn new skills to build her independence and communication, and these skills have deteriorated as her condition progresses which is heartbreaking. With each new or changing symptom we continue to look for new ways to support our daughter to be as strong as she possibly can, and to enjoy every moment.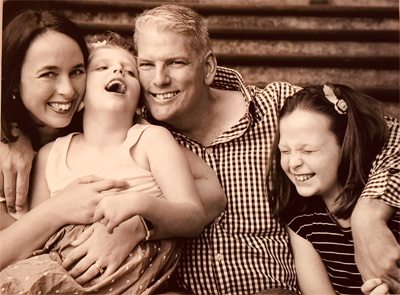 Question: How does Mitochondrial Disease affect Alana on a daily basis?

Toni Catton: Alana's condition has impacted her significantly. She has very poor muscle tone which means she has not developed the strength or coordination to be able to sit, walk or talk. She is losing her hearing and is fed by a tube directly to her stomach. Her muscle issues impact her movement and also her gut significantly, often causing discomfort. Alana requires full care to be able to participate in the things she loves doing – going to school, swimming and music.


Question: What signs and symptoms pointed to the Mitochondrial Disease diagnoses?

Toni Catton: Alana was born full term, unexpectedly small weighing just 2.175kg and was placed in the special care unit where she stayed for 6 nights. During that time, she struggled to feed well but passed all of her newborn screening tests.

Alana grew very slowly and in her first year and struggled to put on weight, tolerate solid foods or meet key developmental milestones such as rolling or sitting. She was a happy baby but it was becoming clear that this was something we needed to look into. After several tests, a metabolic issue was flagged.

Alana was now nearly 18months old and this was the first time we had ever heard the term mitochondrial disease. This triggered a series of invasive tests including MRI, lumbar puncture, muscle/liver/skin biopsies which all reinforced the likelihood of mito.

Just before her 3rd birthday Alana started to have bouts of distress, vomiting up every meal and at times suffering from tremors all over her body. We took Alana to emergency twice in one week demanding an EEG or any kind of help. When we finally got (another) EEG, we were relieved to confirm that she wasn't experiencing seizures but that the risk remained high.

The genetic confirmation came just after Alana's 3rd birthday, following Alana's participation in a whole genome sequencing research programme. It took nearly 12 months to get the results, but we now know that in many cases it can be much longer.


Question: What's the main message you'd hope to spread regarding the Coca-Cola Australia Foundation Employee Connected Grant programme?

Toni Catton: It was a very difficult time during our diagnostic journey and the support we received from both Coca-Cola Amatil and the Mito Foundation was invaluable. Being able to provide funding to the Mito Foundation through the Coca-Cola Australia Foundation (CCAF) Employee Connected Grant programme was a real privilege. The CCAF is such a great initiative and really reinforces bringing the whole person to work. I am so proud to work for Amatil, something I have done for over 18 years, and thrilled to be able to contribute to Mito Foundation and fund an important patient program.


Question: How can Australians support the Mito Foundation?

Toni Catton: The primary objective of the Mito Foundation is to support the mitochondrial disease (mito) community whilst seeking a cure. Fundraising and building awareness are key to achieving this. Australians can donate directly to the Mito Foundation by visiting www.mito.org.au or participate in one of our Bloody Long Walk events held across the country each year. By walking 35km you will help raise important awareness of mito, iand by seeking sponsorship from your community, you'll raise funds which will go directly to enable research and patient support programmes. If you are not up for the walk, join up as a volunteer to help at the checkpoints along the way. The atmosphere at the events is incredible and you'll see lots of families impacted by mito which helps bring home why you're taking part.


Question: What inspired you to take a sabbatical from your high-powered job to dedicate your time to the Mito Foundation?

Toni Catton: Since my first interaction, I have been so impressed with the work of the Mito Foundation. The small, dedicated team provides great patient support programmes, drives change amongst the medical community and funds truly cutting-edge research programs. This gives me great hope for the future generations of mito sufferers. When Alana was diagnosed I was determined to do two things – raise awareness of mito and raise funds to enable the Mito Foundation to continuing making such a great impact for families like mine. I have fundraised successfully for 4 years and while I continue to participate in Bloody Long Walks and other fundraisers, it is hard to sustain. In talking with the Mito Foundation team, we agreed that my experience both from my corporate jobs and as a parent of a child with mito could add unique value to their work. I have worked for Amatil for 18 years in HR roles, and the opportunity to contribute to the Mito Foundation and mito community in a different way, and also learn a great deal, motivated me to take this sabbatical.


Interview by Brooke Hunter
Photo: Welsh Photography