THEIA makes a strident return with sassy new single 'Kitty Kat'
Australasian alt-pop artist Theia returns with an almighty bang with the release of her new single 'Kitty Kat'.

The Christchurch-born singer and songwriter will also be performing at this year's Sydney Mardi Gras at the sold out Heaps Gay party on Saturday, February 29.

Blending bright and glossy futuristic alt-pop, with crisp hard-hitting 808s, 'Kitty Kat' is a powerful, yet playful, ode to 'pussy power'.

It is the first single from Theia's new project – THE 99% ANGEL MIXTAPE – which will be rolled out in the coming weeks.

The mixtape, which was written and recorded in Sydney with producer Liam Quinn, is in keeping with Theia's reputation for pairing clever and socially conscious lyrics with bold, in-your-face production. Inspired by youth and optimism, as well as the tumultuous journey of being a young up-and-comer in the music industry, this is Theia at her fiercest.

Theia has been making waves since she first emerged in 2015 with the exquisite R'n'B-infused 'Silver Second' co-written and produced with Alex Hope (Troye Sivan, Selena Gomez). She followed it up in 2016 with her breakout hit 'Roam', co-written and produced by Josh Fountain (Benee, Leisure). Her debut EP earned Theia three nominations at the 2017 NZ Music Awards and a nod for 'Breakthrough Artist' at the 2017 George FM Awards. She returned in 2019 with her second EP NOT YOUR PRINCESS, which received international critical acclaim.

The release of 'Kitty Kat' follows a busy summer of live performances for Theia, including sets at some of New Zealand's biggest festivals including Rhythm & Vines, Bay Dreams and Soundsplash.

She also opened for Swedish pop artist LEON in Brisbane and Auckland late last year and supported Australian sensation Tones And I at her only NZ headline show in January 2020.


Interview with THEIA
Question: Can you tell us about your new track, Kitty Kat?

THEIA: Kitty Kat is a bright, glossy, futuristic alt-pop track. It's powerful but also playful. In a nutshell it's an empowering pussy power anthem!


Question: What inspired the song?

THEIA: It's inspired by my journey in music and the ups and downs that come with being in such an unforgiving, but also wonderful, industry. As a femxle-identifying artist, there is a lot of scrutiny and judgement – everyone has an opinion - and it can be overwhelming. This is my way of processing that. It's a reminder of just how strong I really am.


Question: How would you describe your music?

THEIA: My music is edgy, bold, alt-pop. I like to play with light and dark and quite often I'll have lyrics, which tackle a confrontational topic, set against a playful soundscape of weird and wonderful sounds. It's fun but there's usually an underlying message, which has more of a serious side to it.


Question: What was it like opening for Sia?

THEIA: Well, Sia is a legend so it was a huge honour to open for her. The show was in a massive stadium, so I was pretty nervous performing to a crowd that big, but I had so much fun. Not to mention opening alongside Charli XCX and MØ! It was such a great opportunity and I'm really grateful to have had such amazing things come my way.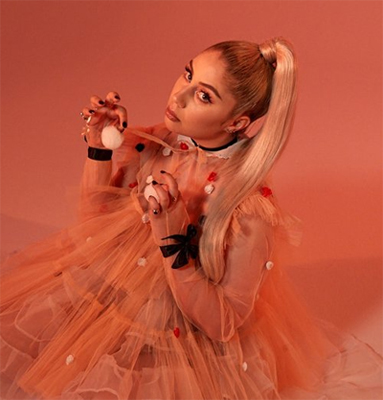 Question: Do you prefer performing live or recording?

THEIA: If you'd have asked me this two years ago, I would've probably said recording. But with this new body of work that I'm about to release, I've been having so much fun playing live. The songs are so high energy and it's been such a buzz seeing people react to them for the first time. So right now, I'm totally in love with performing. I still love studio though and always will because that's how I make my songs in the first place.


Question: Which is your favourite song to perform live and why?

THEIA: Woah, that's a tough question. I think it'd have to be one of my new songs - Frat Boyz. It totally goes off live and the energy from the audience always gives me the biggest high. But actually, all the songs from my new mixtape are fun to perform. They're songs that lend themselves to clubs and festivals.


Question: What should we expect from your show during Mardi Gras?

THEIA: It's fun, high-energy and loud! I'll be playing the new songs and a few of my older ones, like Not Your Princess and Candy. I also perform with a DJ, rather than a band, so expect to dance!


Question: If you could have anyone, in the world, attend a show, who would it be?

THEIA: Amy Winehouse. She's always been my number 1.


Question: Can you tell us about THE 99% ANGEL MIXTAPE?

THEIA: The 99% Angel is a mixtape made up of four songs. The songs will be released, one at a time. over the space of two months. Each stands alone as their own song, but they also fit perfectly together – lyrically and sonically - as a body of work. The final song will be 99% Angel (from which the project takes its name) and the songs will be packaged as a mixtape. I feel like this is the 'most me' music I've ever made.


Question: What motivates you most when writing music?

THEIA: I get motivation and inspiration from all sorts of places. But with the 99% Angel mixtape, I worked with the same producer – Liam Quinn, who is Sydney based. I loved how Quinn totally got me. I feel like we've really pushed a few boundaries on these songs. They are full of honesty and are unapologetic, with a theme of empowerment running throughout. I feel like the messages contained in these songs are so very important.


Question: Which music/artists are you currently listening to?

THEIA: Brooke Candy, Charli XCX, Rico Nasty.


Question: What or who was your inspiration to go into the music industry?

THEIA: I just had this strong desire to write music and once I found out a way to get myself into the studio and start recording it, it was like opening the flood gates. I just knew it was something that I wanted and needed to do.


Question: If you could collaborate with another artist, who would it be?

THEIA: I have a long wish list, which includes a bunch of different artists – some well-known and some not so well known. I'd love to work with Peaches, Bjork, Rihanna, Slayyyter, Charli XCX, Oh Boy, Queendaddy.


Question: Can you share your socials?

THEIA: @theiaofficialxo


Interview by Brooke Hunter