An Unexpected Journey
Cast: Keira Knightley, Mackenzie Foy, Eugenio Derbez, Matthew Macfadyen, Richard E. Grant, Sergei Polunin, Jayden Fowora-Knight, Omid Djalili, Jack Whitehall, Meera Syal, Ellie Bamber, Misty Copeland, Helen Mirren, Morgan Freeman.
Director: Lasse Hallström
Genre: Fantasy, Adventure
Rated: PG
Running Time: 99 minutes

Synopsis: All Clara (Mackenzie Foy) wants is a key – a one-of-a-kind key that will unlock a box that holds a priceless gift from her late mother. A golden thread, presented to her at godfather Drosselmeyer's (Morgan Freeman) annual holiday party, leads her to the coveted key"which promptly disappears into a strange and mysterious parallel world. It's there that Clara encounters a soldier named Phillip (Jayden Fowora-Knight), a gang of mice and the regents who preside over three Realms: Land of Snowflakes, Land of Flowers and Land of Sweets. Clara and Phillip must brave the ominous Fourth Realm, home to the tyrant Mother Ginger (Helen Mirren), to retrieve Clara's key and hopefully return harmony to the unstable world. Starring Keira Knightley as the Sugar Plum Fairy and featuring a special performance by Misty Copeland, Disney's new holiday feature film "The Nutcracker and the Four Realms" is directed by Lasse Hallström and inspired by E.T.A. Hoffmann's classic tale

The Nutcracker and the Four Realms
Release Date: November 22nd, 2018


About The Production
"I love you because you're so different. You see the world in a unique way. When you realise that's your greatest strength, you can change the world, my girl."
~ Marie to Clara, "The Nutcracker and the Four Realms" (flashback)

Disney's "The Nutcracker and the Four Realms" Takes Clara"and Audiences"on an Unforgettable Adventure

There is majesty. There is magic. There are mice. And the Sugar Plum Fairy is most definitely delicious. But this is not the Nutcracker you know.

"The Nutcracker" has long conjured images of holiday décor, a wooden toy soldier, dancing flowers and a little girl being terrorized by furry mice. Penned in 1816, E.T.A. Hoffmann's original story, "The Nutcracker and the Mouse King," has inspired imaginations worldwide, resulting in spectacular stage adaptations that have charmed audiences for generations"and now an epic big-screen adventure. "The story has changed a lot throughout the course of history," says Lasse Hallström, one of the directors of "The Nutcracker and the Four Realms," Disney's upcoming feature-film adaptation. "Alexandre Dumas' version was less scary, and later became a ballet featuring music by Pyotr Ilyich Tchaikovsky"the music has always been so fascinating to me. The ballet is unique with each staging, evolving within the minds of those creating it. And we've done the same thing. We're adding to the story."

Disney's "The Nutcracker and the Four Realms" introduces Clara, an intelligent 14-year-old with a penchant for science. According to screenwriter Ashleigh Powell, Clara isn't really comfortable in her skin. "She's kind of a fish out of water," says Powell. "She doesn't fit into the normal stereotypes of a Victorian girl"she's not interested in fancy dresses and the like. She's more of a tomboy. She likes creating and building and figuring out how things work. In that respect, she's very similar to her godfather, Drosselmeyer, so they're kindred spirits."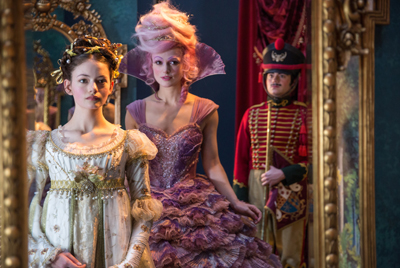 But Clara struggles with the recent passing of her mother. "It's the first Christmas that her family is spending without Marie," says Powell. "And her mother has left behind Christmas presents for Clara and her siblings, which sets everything into motion."

Clara receives an egg-shaped music box with a note that reads, "Everything you need is inside." But the box is locked and, surprisingly, there is no key. Clara is disappointed and confused, but determined to unlock the music box and the secrets it holds. Her confusion persists until a golden thread, presented to her at Drosselmeyer's annual holiday party, leads her to the coveted key"which promptly disappears into a strange and mysterious parallel world. It's there that Clara encounters a soldier named Phillip, a gang of mice and the regents who preside over three realms: Land of Snowflakes, Land of Flowers and Land of Sweets. She is welcomed with open arms by these regents, particularly Sugar Plum Fairy, who confides that she was once very close with Marie.

But this strange new world is not whole. It is scarred with past conflict"one regent is in exile, her realm forgotten and crawling with mice who serve as her soldiers. Clara and Phillip must brave this ominous Fourth Realm, home to the regent-turned-tyrant Mother Ginger, to retrieve Clara's key and hopefully return harmony to the unstable world.

"'The Nutcracker and the Four Realms' is the best kind of Christmas story," says director Joe Johnston. "It's exciting, dramatic, heartwarming and life-affirming. With a positive message of a family's love giving them the strength to overcome loss, and the theme of embracing your own courage and resourcefulness, it's a great family film for the holiday season."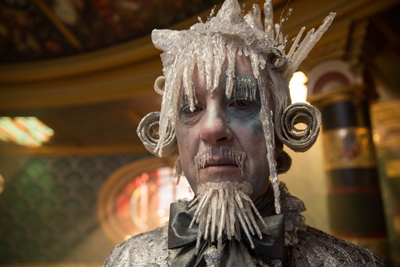 "There's real heart to the story," says producer Mark Gordon. "In our story, Clara is really struggling with the loss of her mother. Her journey through the grief leads her to this very magical world that challenges her at every turn. She really has to pull herself together to save the land and to solve the mystery her mother left for her.

"As the father of three young girls, I am very excited to be able to bring this story to the screen," Gordon adds.

Keira Knightley stars as the Sugar Plum Fairy and Mackenzie Foy portrays Clara in the coming-of-age tale. Helen Mirren brings much-feared Mother Ginger to life, and Morgan Freeman stars as Clara's eccentric godfather, Drosselmeyer. Eugenio Derbez and Richard E. Grant play Hawthorne and Shiver, the regents of the Land of Flowers and Land of Snowflakes. Jayden Fowora-Knight was cast as Phillip Hoffman, the Nutcracker soldier come-to-life. Matthew Macfadyen, Ellie Bamber and Thomas Sweet were called on to play Clara's father, Mr. Stahlbaum, sister Louise, and brother Fritz, respectively. Omid Djalili and Jack Whitehall portray palace guards Cavalier and Harlequin, and the film features a special performance by ballet greats Misty Copeland and Sergei Polunin.

Filmed in England at Pinewood Studios and various locations in and around London, "The Nutcracker and the Four Realms" is directed by Lasse Hallström and Joe Johnston, and produced by Mark Gordon and Larry Franco. Sara Smith and Lindy Goldstein are executive producers. Suggested by the short story "The Nutcracker and the Mouse King" written by E.T.A. Hoffmann, and the "Nutcracker Ballet" written by Marius Petipa, the screen story and screenplay are by Ashleigh Powell.

Friends And Foes
All-New Story Introduces New Characters; Reimagines the Rest

The filmmakers behind "The Nutcracker and the Four Realms" relished the idea of reinventing a time-honored story. According to producer Mark Gordon, the characters from the existing short story and the ballet were already so iconic, they had to dig deep to take them to new heights. "The characters in this film are very special and imaginative," says Gordon. "Clara, who is carrying a heavy emotional burden, encounters incredible personalities on her journey"each designed to help her find the answers she needs"whether they want to or not."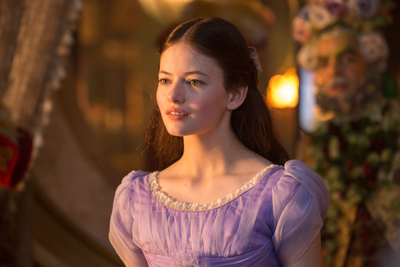 The Stahlbaum Family

Clara Stahlbaum is curious and intelligent. She's a tinkerer and a budding inventor. But her mother's recent passing has dealt a serious blow to Clara, leaving her a little lost. She escapes to the attic to perform scientific experiments and study the mechanics of whatever she's happened upon"she's simply not interested in socializing, an attitude that is straining her relationship with her father. When she receives a gift from her late mother, Clara is launched into a fantastical journey of adventure and self-discovery. Says director Lasse Hallström, "Clara learns through the course of the story that she's worthy of trusting herself and worthy of being herself."

Mackenzie Foy brings the character to life. "Clara is a very complex person," says Foy. "She has all these different emotions"she's hurting, but she doesn't want people to see that. She's also an outcast for being an intelligent young woman in a Victorian society. She doesn't yet realize what a wonderful thing that is."

"Mackenzie is a brilliant young actress," says Hallström. "She's so alive, she's technically brilliant and she has impeccable instincts."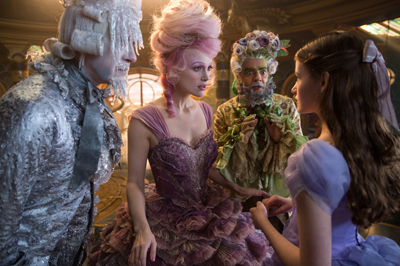 Mr. Stahlbaum is a stern and somewhat distant father who seems more concerned with keeping up public appearances than attending to his children's needs. Truthfully, he's a kind man desperately struggling with the loss of his beloved wife. Unable to properly cope, he tries to maintain the stiff-upper-lip attitude of the Victorian era and continue life as normal, but this causes friction between him and younger daughter.

Matthew Macfadyen portrays the loving, but aloof father. "The film takes place just before Christmas," says Macfadyen. "They're very sad because they've lost Marie, wife, mother and heart of the family. They're grieving and he's unsure how to navigate."

Says Hallström, "Matthew needs only to be in the emotion, he doesn't have to express it. The camera sees it. He can convey a feeling in a remarkable, realistic and subtle way."

Louise Stahlbaum is Clara's older sister and the cheerful mediator of the family. On the verge of adulthood, Louise is elegant, poised and everything a Victorian young lady is expected to be. Mother Marie clearly saw Louise's beauty"inside and out"leaving her favorite dress to her older daughter. The garment is exquisite and Louise looks just like Marie when she wears it.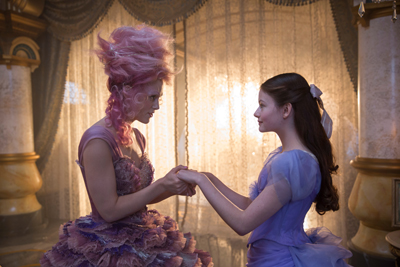 According to Ellie Bamber, as the eldest daughter, Louise is trying to fill her late mother's shoes. "I think she carries the weight of those responsibilities on her shoulders," says Bamber. "She tries to look after Fritz and Clara, but she does it in a stern way that isn't exactly well received. I think it's Louise's way of coping. She loves them both dearly, but has grown up believing that ladies should be reserved at all times."

Fritz Stahlbaum is the youngest of the Stahlbaum children. Precocious and full of energy, Fritz is a big fan of the holiday season and the toys and treats that come with it. He may be Clara's biggest fan, often assisting her with her experiments. His enthusiasm is appreciated, even if his occasional lack of manners isn't. Thomas Sweet was tapped to play Fritz.

Drosselmeyer is Clara's wise and enigmatic godfather. A wealthy world traveler, collector of curiosities and man of science, he is also shown to have a generous heart, evidenced in the elaborate gift-hunts he stages for children at his annual Christmas Ball. Drosselmeyer has a soft spot for Clara because she is the most like her mother, Marie, who Drosselmeyer raised when she was orphaned as a child. Marie entrusted Drosselmeyer to help facilitate Clara's journey to the Four Realms, a role he takes very seriously.

Filmmakers called on Morgan Freeman to portray the unconventional character. "He's a rather eccentric old dude," says Freeman. "He's done well in his life"he owns a huge mansion and wears very nice and exotic clothing. He's a genius gadgeteer and has shared his love of science with Marie and now Clara, too."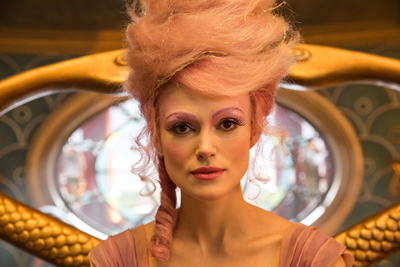 Says Hallström, "Morgan has the authority, the weight and the wonderful godly presence that suits Drosselmeyer perfectly"and he's a very cool guy. His performances are effortless."

From The Four Realms

Sugar Plum Fairy is the beloved regent of the Land of Sweets, the yummiest of the realms with its gingerbread architecture and gumdrop décor. Elegant, ethereal and naturally sweet, Sugar Plum wears a gown that sparkles like crystalized sugar. She welcomes Clara to the Four Realms with open arms, declaring her the guest of honor at an extravagant pageant. Clara's mother, Marie, was once Sugar Plum's dearest friend, so Clara is family.

"Sugar Plum is the personification of femininity," says Keira Knightley, who portrays the character. "I like to do a lot of research, so I started with the actual music of the Sugar Plum Fairy, which led to her laugh. I later found her high-pitched, girly voice that has two sides to it: pristine femininity and at the same time, quite assertive."

Says producer Mark Gordon, "Keira Knightley is magnificent. She's virtually unrecognisable in this role with pink cotton candy hair and white porcelain skin. She brings so much to the character."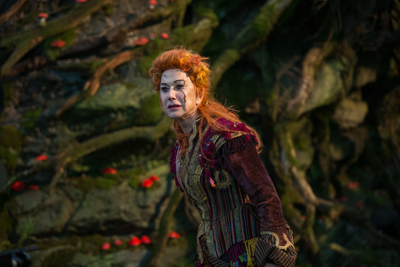 Sugar Plum is passionate about the realms and eagerly seeks a way to defend against the threat of her dark nemesis, Mother Ginger. "Sugar Plum considers Mother Ginger a traitor to the kingdom because she tried to take over the realms after Marie left," says screenwriter Ashleigh Powell.

Mother Ginger, leader of the dark and ominous Fourth Realm, is feared by all who inhabit the other realms. She once presided over the beloved Land of Amusements, a place of wisdom and entertainment, but a fierce dispute among the regents led to her banishment and her realm became a forgotten fairground with an abandoned carousel and wayward polichinelles. Mother Ginger sports fiery red hair and a face that's chipped and cracked like a broken doll, a look that surely underscores her reputation as an evil tyrant.

Helen Mirren fills Mother Ginger's shoes. "She is a very wise character"she has great insight," says Hallström. "Helen Mirren has the authority and intelligence to play a character like that. She's so smart and she's funny."

The best part about Mother Ginger, according to Mirren, is that she's a new character to the Nutcracker universe. "You can put into this character whatever you can imagine," says Mirren. "I just love the idea that she's slightly piratical. She has a wooden sword, her clothes are all tattered and torn and she's not in pristine condition like Sugar Plum. Mother Ginger is very rough and ready."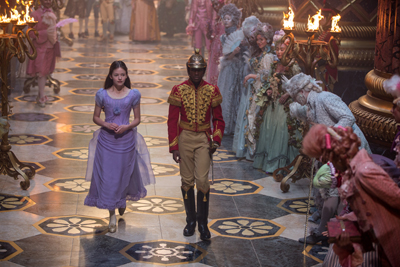 Captain Phillip Hoffman is a noble and loyal soldier. The only Nutcracker in the Four Realms, he is elite but humble, and he has dedicated his life to serving the kingdom. He guards an important outpost near the border between our world and the realms, with no one but his horse, Jingles, for company. Phillip is devoted to a fault, bearing his solitude without complaint. But when Clara arrives and faces a mission nobody could have imagined, Phillip is compelled to lend a hand. The friendship they forge comes as a huge surprise.

Jayden Fowora-Knight was called on to play the noble soldier. "Phillip is adventurous and happy-go-lucky, but he's very 'yes sir'-formal when he's around the regents," Fowora-Knight says. "To me, the Nutcracker story has always been cool, especially when I was younger, because it was all about toys coming to life. It's fun to think about toys as not just things you play with, but maybe your friends or even your enemies."

"I just love the chemistry between Clara and Phillip," says Hallström.

Hawthorne is the emotional and flamboyant regent of Land of Flowers, a fragrant and colorful realm with windmills, emerald foliage and blooms abound. Always smiling and filled with enthusiasm, Hawthorne heartily embraces celebration and pageantry. But he tends to shy away from conflict and often finds himself overshadowed by his fellow regents. He worries about the instability that threatens the realms"though he's quick to set his concerns aside when Clara arrives. In fact, Hawthorne is the first to react"bursting with unbridled excitement, much to the chagrin of the more reserved Shiver and Sugar Plum.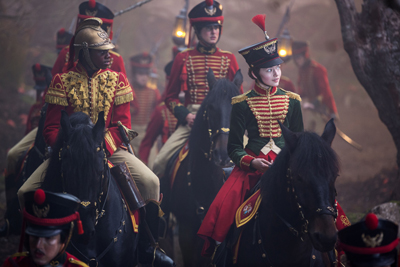 According to Eugenio Derbez, who plays Hawthorne, the look of the character leaves no mystery as to which realm he oversees. "I'm like a walking bouquet," says Derbez. "I'm covered in flowers! It took two hours in the makeup chair each day to complete the look because they had to strategically place a lot of small detailed flowers on my face.

"Hawthorne is like a ray of light"pure joy and happiness," continues Derbez. "The intricate costuming, combined with the many hours of hair and makeup, gave me the opportunity to get lost in this big flamboyant character."

Shiver is the regent of Land of Snowflakes, a stunning winter wonderland with ice castles and alpine villages set against a white-peaked mountain backdrop. Shiver is a well-mannered gentleman who's concerned with the future of the realms and nervous to a fault, Shiver wrings his hands with angst and uncertainty. He might come off as serious and unengaging"some would say cold"but Shiver is quite friendly underneath all of that frost.

Richard E. Grant was called on to portray Shiver. "I have snowflakes all over my face," says Grant. "My beard is made of icicles, I have a 19th-century wig with icicles coming out of my head, and my fingernails are very long icicles, too. Jenny Beavan's extraordinary costume design, combined with Jenny Shircore's brilliant icicle makeup and wig design, instantly conjured up a severe-looking, arctic regent, obsessed with preserving his snowy realm from being changed or destroyed by evil forces. Shiver is willing to risk everything to support and protect Clara."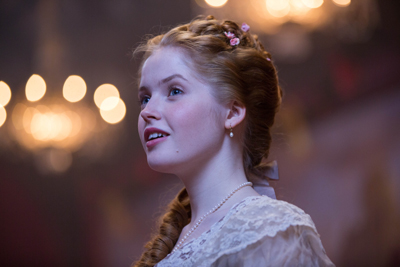 Cavalier is a comically bumbling and somewhat pompous palace guard. Working alongside friend and fellow palace guard Harlequin, Cavalier pretends to be brave but his self-importance and strict adherence to protocol mask his crippling fear of the dangers of the Fourth Realm.

Omid Djalili was cast as Cavalier. "I play a toy soldier who has magically come to life," says Djalili. "He is loyal, faithful and utterly fearless, provided there is no apparent danger. Any sign of trouble and he will loyally, faithfully and fearlessly run away as fast as his little legs will carry him."

Harlequin is a sarcastic palace guard who guards the bridge to the palace with Cavalier. Harlequin relishes every moment of authority that gives him. Not much of a fighter in reality, he uses dry humor to help get himself through tense situations.

Jack Whitehall portrays Harlequin. "Harlequin and Cavalier offer some comic relief in the film," says Whitehall. "They are like Timon and Pumbaa in the Nutcracker world."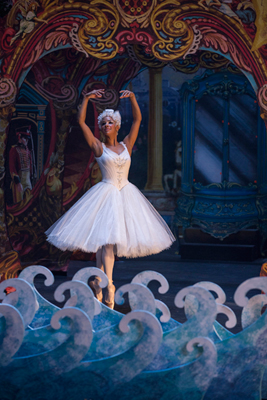 Ballerina Princess is the star of the ballet pageant performed for Clara, which tells the story of the Four Realms through dance. Expertly portrayed by American Ballet Theatre's Misty Copeland, the Ballerina Princess leaves Clara enchanted and awestruck. Says Copeland, "It's really a dream come true to be part of a story that means so much to me and is such a big part of why I started dancing."

Sweet Cavalier is one of the stars of the ballet pageant performed for Clara to recount the story of the Four Realms. Celebrated Ukrainian ballet dancer Sergei Polunin brings the character to life on the film's stage. "I've probably played every role in the ballet version"maybe 30 or 40 shows," says Polunin. "I love Disney movies and it's especially exciting to be a part of this film."

Mouserinks is a troublesome mouse with a distinctive scar who steals the key that Clara so desperately needs. Leader of an army of mice, Mouserinks is a cheeky scoundrel and devoted soldier for Mother Ginger. A frequent spy, Mouserinks is often caught in the shadows gathering intel for his commanding officer.

The Mouse King is a mysterious and monstrous presence lurking in the Fourth Realm. Made up of 60,000 mice, Mouse King is Mother Ginger's most fearsome and terrible lieutenant. Created entirely in CG, the Mouse King moves in a very cool, very specific way. Filmmakers called on Lil Buck (aka Charles Riley), master of the "jookin" style of dance, to inspire the Mouse King's movements.


The Nutcracker and the Four Realms
Release Date: November 22nd, 2018