A Terry Gilliam Film
Cast: Adam Driver, Jonathan Pryce, Stellan Skarsgård, Olga Kurylenko
Director: Terry Gilliam
Running Time: 132 minutes

Synopsis: Once upon a time, Toby was an idealistic young film student. His great achievement, a lyrical re-working of the Don Quixote story, set in a quaint old Spanish village. But that was then; these days he is a jaded, arrogant and over-sexed commercials director. Money and glamour have derailed him, and now he juggles his boss's wife Jacqui, a biblical storm and his own ego, as he tries to complete a new commercial shoot in Spain.

Until a mysterious Gypsy approaches him with an ancient copy of Toby's student film: Toby is moved and sets off to find the little village where he made his primary opus all those years ago. To Toby's horror, his little film has had a terrible effect on the sleepy village; Angelica, the young girl who was innocence personified, now works as a high-class call-girl, and the old man who played Quixote has gone completely mad, believing he really is the 'Knight of the Mournful Countenance'.

A series of accidents leads to a fire that threatens to destroy the village. The police come for Toby, but he is 'rescued' by the deluded old man, who, mistaking him for his loyal squire Sancho, leads Toby away into the countryside, on the quest for his perfect lady, Dulcinea.

On their quest, Toby comes face-to-face with demons, both real and imagined, modern and medieval. Damsels are rescued, jousts are fought, giants are slain and women have beards! Reality and fantasy blur on this bizarre road trip which leads to a phantasmagorical finale.

The Man Who Killed Don Quixote
Release Date: April 11th, 2019


Filming A Classic Tale
"I think the problem with Quixote is that once you get hooked on that character, and what he stands for, you become Quixote. You march into the madness, determined to make the world the way you imagine it is. But, of course, it isn't." -Terry Gilliam

The Man Who Killed Don Quixote has one of the longest and most tortuous development stories in filmmaking history. Yet the fact that the picture has finally been completed, almost 30 years after its origin, is a remarkable achievement, resulting from the persistence, passion The Man Who Killed Don Quixote and inspiration of director Terry Gilliam. The successful completion of the film represents Gilliam's tenth attempt at making it.

In 1989, soon after The Adventures of Baron Munchausen was released, Gilliam pitched a proposal to one of its producers, Jake Eberts. Says the director, "We were keen to do something else together, so I called Jake and said, 'I've got two names for you… one is Quixote, the other is Gilliam – and I need 20 million dollars'. And Jake said, 'Done!' It was as simple as that. So, I read the books. Several weeks later, I finished reading both books, and realised I couldn't make the film!"

Following The Fisher King (1991), Twelve Monkeys (1996) and Fear and Loathing in Las Vegas (1998) – three movies shot and set in the United States – Gilliam wanted to make a film in Europe. The new project was named The Man Who Killed Don Quixote. The director says, "Having realised I couldn't do Quixote as Cervantes wrote it, I asked myself if I could make a movie that tells a tale that captures the essence of Quixote, without relying completely on the books." And, influenced by six months he had spent trying to adapt Mark Twain's A Connecticut Yankee in King Arthur's Court, he invented a brash young commercials director – a modern advertising man, somehow thrown back into the 17th century, where Don Quixote thinks the man is Sancho Panza.

Gilliam collaborated on the script with Tony Grisoni, with whom he had worked on Fear and Loathing in Las Vegas. Grisoni recalls, "The joy of working with Terry is that it is hard play. I remember that we acted out scenes in a very natural way – we'd just go through scenes, play different roles and then we'd swap. In that way, we understood the sense of the scene, the timing and how the jokes worked. I would take the material, write and then send the results to him and then we'd meet up again. This allowed him to be free to come up with ideas, to produce something freed from the rigours of the screenplay."

The Man Who Killed Don Quixote first went into production in autumn 2000, yet the shoot lasted only six difficult days. The initial week, at Las Bardenas in Navarra, Spain, suffered a flash flood and noisy fighter jets. On day five, Jean Rochefort, the film's Don Quixote, left the shoot due to pain which left him unable to ride a horse. Then shooting stopped after day six. This hellish adventure was captured in great detail in the documentary feature film Lost in La Mancha (2002).

The film spent eight years in suspension. Gilliam and Grisoni returned to the screenplay in 2009. They made a breakthrough, substantially improving their script. The first improvement was to provide Toby with a solid backstory of having made a student film. A second development was to lose the time travel element: instead of having Toby meet an authentic 17th century Don Quixote, his adventures are with an old actor from his student film, who now believes himself to be the legendary Knight.

Says Gilliam, "Now, the project is about films and filmmaking and what films do to people who are involved in the making of them. Our ad man has been transformed into someone who had made a student film, ten years previously in a little village in Spain. When he comes back to that village, thinking it's going to be wonderful and as fabulous as when he was working there, he finds that most of the people in the village don't like him. He's destroyed lives."

Gilliam admits, "Another reason why we stayed in the modern world is that it is cheaper than having to be in the 17th century. I don't have to worry about taking telephone lines down all the time. I can have a modern road!"

The screenwriting pair have made many tweaks since 2009, and Grisoni says, "I think, on average, we rewrote the script twice a year, maybe more sometimes, depending on the possibility of the film going into production again. Whenever it looked like there was a chance, I'd get the phone call from Terry! And now I think we have a really great script."

Terry and The Cast

"Working with the actors is the most pleasurable part of making a film," says Gilliam. "I know how to do all the technical and effects stuff, and it doesn't surprise me anymore. Yet the actors always surprise me."

He was delighted that Adam Driver agreed to play Toby, the lead character. Toby is arrogant, duplicitous and unlikeable. The perfect hero. The director says, "Adam is an extraordinary actor. We had a meeting at the outset, and it was one of those immediate, instinctive reactions when I thought: this is the guy. There's a unique quality about him. Adam is a great reactor, and his timing is brilliant. He's different from most actors – there's something that isn't actorish about him. He is a genuine, interesting character. He just gave himself up totally to the role." Driver was keen to work with Gilliam. "Within the script, I could tell, right away, there were so many layers to uncover – but I also knew it was very funny. An original way to tell the story of Don Quixote. Coming at it from an angle, I thought was ingenious."

Jonathan Pryce is Javier, an old shoemaker who believes himself to be the knight Don Quixote. Is he the Knight of the Mournful Countenance, the last upholder of Chivalry and true knightly conduct – or an insane old man? The director and actor have worked together several times and are old friends. Gilliam says, "Jonathan has been waiting to play this part ever since our first collapse. He was never right, I felt. He was too young and then he was too busy. Finally, he was nearly 70 years of age and he was available! I keep thinking that every Shakespearean character he's played is in this Quixote, from King Lear to Hamlet and Shylock. And the great thing with Jonathan, he is a great comedian. He's incredibly funny. And I've never seen him have so much fun on a set." Pryce jokes, "I believe Terry's plan was really to keep delaying this film until I was old enough to play Quixote. And so it has turned out to be."

Gilliam cast Stellan Skarsgård as Toby's boss, a businessman. A dangerous man, who jealously guards his wife, Jacqui. "Stellan is another actor I've always wanted to work with," says the director. "In every film he's in, he just stands out as being real. I never feel there's any fakery with him, he's just stunning whatever the character is. I asked him to play The Boss, who is a kind of a father figure to Toby and is betrayed by him in various ways." It was the director's distinctiveness that attracted Skarsgård. "The script was very Terry, and of course I liked it. I like Terry's universes. He makes films that don't look like anybody else's. I would probably have taken the role even if I hadn't liked the script – just because I wanted to work with Terry."

Olga Kurylenko appears in the film as Jacqui, the boss's wife. Tricky, mischievous, carnal, with an eye for Toby. The actress says, "Terry gave me the script and I loved it and was delighted to be a part of the film." Gilliam was delighted with Kurylenko's performance, saying, "I've never seen her be as funny as she is. Last night we were doing a night shoot and she had me in hysterics. She's just brilliant, beyond anything I've seen of her."

Gilliam cast Portuguese actress Joana Ribeiro as Angelica, a Spanish girl who appeared in Toby's student movie, and who is now in an abusive relationship with a vodka magnate. The director says, "On my first meeting with Joana, I was convinced I had found our Angelica. She is very intelligent, Latin, beautiful and dangerous. She had the difficult task of playing Angelica as an innocent 15 year-old and an older, life-hardened woman. I think Joana will go on to be a fantastic star." Ribeiro recalls the appeal of the project, saying, "I'm a fan of Cervantes, and how he can be so funny and sad at the same time. Don Quixote is about a man who lives in his own world. People around him make fun of him and are mean to him. Yet you see that Quixote is actually the one who is really happy, because he believes in his own world. And what Terry's films have, in common with this, is the importance of imagination."

Gilliam has had his eye on Jason Watkins as Rupert for a number of years. Toby's over- attentive agent, Rupert is there to massage his back and his ego, but also gone when the going gets tough. "He looks after Toby, he's almost like a guru to him. He knows Toby is the golden goose. And Rupert is ambitious. Jason is a wonderful actor: his timing is phenomenal and he can handle a scene, even when he's just a small part of it. He has a way of keeping your attention, and he's funny as hell." Watkins says, "I'm just completely delighted to be part of this. Obviously there have been many incarnations of this film, and I was involved with the last one, which halted for a while and was then resurrected, so I stayed with it. It's an incredibly colourful script. Sometimes you don't know quite where you are, then you pick it up. And then it starts getting quite poetic, particularly towards the end and you care desperately for Quixote. So even though it's a rich, crazy mix, there is this incredible power and strength. We all love someone who tries to do the right thing and has a sense of honour."

Gilliam was thrilled to have Óscar Jaenada feature as the enigmatic Gypsy, saying, "Óscar is spectacular. I saw his performance as Cantinflas, the great Mexican comic. When I see someone being brilliant, I want them, and the fact he was happy enough to come and play with me was terrific!" Nine years after they first met at the Ibiza International Film Festival, the director called the actor, who remembers, "He called and told me he'd watched Cantinflas, and he wanted to be with me in this movie. When I read it, it blew my mind. It's an amazing script. And the gypsy is just trying to fix problems, but we don't know why he's there. He's a joker in this movie, always laughing when he has to be crying, or crying when he has to laugh."

In his role as the farmer, Sergi López felt privileged to be asked to join the project. He said, "When this project came to me, it was a very big emotion for me. I had known Terry's old project, and it is an honour for me to be here. When I read the script, I found the writing to be excellent. Terry is a very clever writer, and a very wonderful filmmaker. So it's fantastic!" The director says, "Sergi is just a great actor. He's incredibly funny and dangerous. He brought all this energy, and grabs hold of the moment. He can spin on a dime from being terrifying to being pathetic. He's perfect for the part."

Spanish actress Rossy de Palma was cast in the 2000 attempt to make the picture, and has returned for this new iteration, as the farmer's wife. The actress says, "All these years later, I could not say no. I had to be here with Terry, because I know how hard he has fought to shoot this film. He deserves all our support. This is a historic film. Nowadays we need the Quixotes. With the superpowers now, we are in the moment of monsters, yet we at least have this love, this idealism that things can change. I'm going to keep this idealism strong inside me. I'm a little bit like Quixote!" Gilliam was delighted that the actress came back to the project, saying, "Rossy de Palma is a star! The camera really loves her, she has such great presence. She was funny, quick, and whatever we needed, she performed it well. Rossy and Sergi make a wonderful couple!"

Hovik Keuchkerian plays Angelica's father Raúl, the genial owner of the village bar. A former Spanish heavyweight boxing champion, he became a stand-up comedian, writer and actor - and has received several Best Newcomer nominations, including a Goya, for his performance in Alacrán Enamorado/Scorpion In Love (2013). Gilliam says, "I needed a big strong man to be Raúl, who runs the bar and who is the father of Angelica. Hovik is big and powerful but he's incredibly sensitive, which made him a great protective father figure. Hovik's timing is exquisite in the film."

The director cast Jordi Mollá as Alexei Mishkin, a cruel Russian oligarch, who enjoys power games and manipulation - the master puppeteer. "I love Jordi Mollá", says Gilliam, "He's dangerous and, at the same time, an incredibly sweet human being and I've always wanted to work with him. Alexei is an absolute monster, and Jordi is absolutely terrifying, with intensity, and focus." Mollá recalls the enjoyable time he had with Gilliam developing his character, who assumes an unconventional outfit. "He wears a beautiful suit, but he's wearing a fantastic Western hat and a big belt with big boots. Everyone is dressed in period costumes, but I'm dressed as a cowboy!"

The Look Of The Film

The Man Who Killed Don Quixote's production design was led by Benjamín Fernández, who had the same role on the 2000 attempt to make the picture. Terry Gilliam drew visual inspiration from the artists Goya and Doré. "Goya is in this picture," says the director, "His work is extraordinary, and it is Spanish of course. Doré illustrated Quixote in the 19th century, and his images have always stuck with me. It's this battle between Doré's precise images of Quixote and his world, and the dark, phantasmagorical and disturbing world of Goya."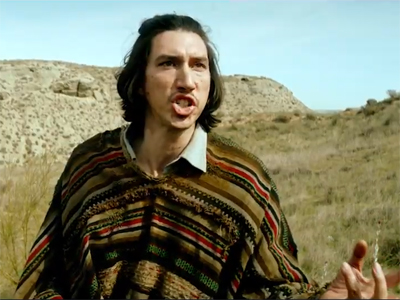 A key scene in the picture is where Toby and Angelica meet with Alexei. Gilliam wanted to establish the sense of a hunt, and initially thought of a unicorn and other colossal images of animals to decorate the walls. Then Fernández suggested inspiration from Italian Renaissance artist Uccello. Gilliam knew who could assist: artist Daniele Auber, with whom the director had previously collaborated. Auber created a full-scale digital painting based on Uccello's work, using Photoshop, which was then printed on canvas, creating the impression that it is night-time on one side of the room and daytime on the central panel.

Other notable art department coups included the statue of Cathartica and the transformation of a convent into a party venue. The giant 3-dimensional image was inspired by those built for Valencia's Las Fallas festival, constructed by local communities. They are satirical, political, religious, and incredible," explains Gilliam. "They are made from papier-mâché, and they are huge, elaborate figures. They stand for a week throughout the town and then on the last night they're all burnt. On our Cathartica's big conical skirt we hung the things that people don't want any more. They sacrifice their consumer goods on Santa Cathartica." The huge statue had to be constructed in Madrid and then divided into pieces, to be transported to Tomar and rebuilt in the convent's cloister.

Leading the set decoration team was Edou Hydallgo. The biggest challenge he faced was to create the party setting. He described the convent as a "labyrinth of beauty", and explains his concept, "We have, here in the film, a rich person with no artistic sensibility, but he has a lot of money, so can bring artists and designers from New York, Milan or Paris to create a big, big party." Gilliam has great admiration for the work Hydallgo performed, saying, "All of the fabric artworks were created by Edou and his team. They are their own invention. They are not the kind of thing I would have ever designed, I'm not capable of it, but they are breathtakingly beautiful."

Terry Gilliam's long-term collaborator and director of photography, Nicola Pecorini, also worked on the aborted Quixote shoot in 2000, and on every subsequent attempt, including this one. Pecorini says, "Terry is Quixote, and unfortunately I feel very much like Sancho. I just follow him. I'm glad I did, but if I think of it, it was completely crazy. I gave up so many jobs over the years to try to do this one!"

The pair opted to use digital cameras, which made this the first Gilliam feature film to be shot this way. The decision was made, due to the long time it would have taken to process the film. Says Pecorini, "Film is cheaper, and the problem with digital is that you have to even out everything. And the digital cameras are cumbersome. Yet, in Spain, there are no labs left. And the labs that are available, such as in France, Belgium or London, do not work overnight, or through the weekend. Therefore, if we were shooting the last day on a location, on film, on a Friday, we wouldn't know if everything was all right until Tuesday."

Yet, at the same time, in order to keep something more cinematic, Pecorini insisted on going anamorphic. He obtained Technovision lenses designed by Henryk Chroscicki and Beppe Magni. "In the mid-'70s they were made for Vittorio Storaro's needs on Apocalypse Now (1979). They are old lenses but are one of a kind. They have been used on quite a lot of great movies, and I worked with them many times, including on The Last Emperor (1987). They give Quixote an epic dimension." And Pecorini was delighted with his Spanish crew, saying, "My gaffer was a genius, and the electric crew were great. The grips were the same, and the camera team were brilliant."

Costume designer Lena Mossum became involved with The Man Who Killed Don Quixote out of a love not only for the script, but also for the director's previous work. Yet, what most fascinated Mossum, was that the picture is a mixture of a period film and a contemporary film, and it therefore allowed her to play with and combine the ancient with the modern. This is most apparent in the party scenes at the Mishkin Palace, where there is a riot of costume from many different influences. Gilliam was delighted with the result, saying "I don't know how Lena's done it, but it's beautiful and flamboyant."

Mossum is particularly pleased with the unique costume for the Knight of The Mirrors. She says, "I thought that, instead of mirrors, why don't we use compact discs?" So, the costume team went to work collecting and arranging CD fragments. "It's an explosion of different colours," enthuses Gilliam. To complete the look for the mirrored knight, he needed a helmet, which Mossum insisted on crowning with the horns of a Spanish bull.

Some eagle-eyed cinemagoers may notice a similarity between Quixote's costume in this version and the costume Jean Rochefort wore in the 2000 attempt, as seen in Lost in La Mancha. Jonathan Pryce, who inhabited the costume, reveals, "It's true. We managed to get the originals." Gilliam explains what happened: "Nicola Pecorini just happened to be on the phone to Carlo Poggioli, who had been Gabriella Pescucci's assistant when we were first making the film. Earlier that day, he had actually opened the box containing the Quixote costume, because he was thinking of using it in an opera. We called Gabriella, and she was delighted that it would finally be used in the film. With Lena doing some adjustments, it fitted Jonathan perfectly." Heading up the make-up and hair unit was Sylvie Imbert, who loved the script and wanted to work with Gilliam. She recalls, "I could see the opportunity to do lots of different things in the movie, yet I didn't know if we would have enough time to prepare! Working with Terry is an honour, because I admire him – I am happy just to work with him. It's a challenging experience, because he pushes you to the point where he can get the best of you. You do something and then he always wants more and more."

Make-up and hair were instrumental in creating the fantastic world of The Man Who Killed Don Quixote. As the director points out, "One of the most important aspect of this film was to get a good nose on Jonathan. He has a lovely little nose, but it's not the hawk-beak that Quixote must have: the prow of a boat, ploughing its way through the seas of disaster. And we've got a very good one."

Pablo Perona, of May Effects in Barcelona, created the prosthetic. He spent almost an hour each day applying it to Jonathan Pryce, to make an authentic-looking Quixote. Pryce says, "Pablo is an absolute master of the craft of the fake nose. You cannot see the join, and I am completely unaware of it when it's on. I like working with a beard, but to also have the mask of a nose to hide behind, is always a good thing for an actor."

For the party in the Mishkin palace, Imbert and her team were given a great deal of freedom. Says Gilliam, "They did all sorts of incredible, outrageous hairstyles. They were amazing. We just let Sylvie and her team get on with it, because they were coming up with really good, interesting ideas, so I just stayed out of their way, and let them play and have a good time!" Olga Kurylenko developed a rewarding relationship with Imbert, saying, "The hair and make-up team on the movie were fantastic and made me look like a different person. I've never been blonde in a movie before, and we had plenty of opportunities to play with a variation of styles throughout the film. We had many different opportunities to change it: we do special make-up for the party; there is Jacqui in her normal life; there's sad Jacqui; and there's Jacqui when she dresses up, so we developed different types of crazy make-up, since Jacqui's a very chic woman."

The Shoot and The Locations

Principal photography began on Monday 6th March 2017 and lasted for twelve weeks and three days. Apart from a handful of days shooting in the studio, cast and crew worked in remote, inaccessible locations in Spain, Portugal and the Canary Islands. The production moved around both countries, staying in most places for less than a week. Line producer Yousaf Bokhari recalls that all of the locations presented complications, saying, "All were difficult, because the film required locations that are remote. Except for our few days in a studio, everything was far away and inaccessible."

The first five days were spent around the Castillo de Oreja, a ruined castle, 25 miles south of Madrid. This one location was used for four different settings, including where Toby finds the gold coins in a mule corpse. Fortunately, extensive preparation work had been done and the first week was a success. In the second week, cast and crew visited Talamanca de Jarama, north of Madrid, to shoot the inn scenes with Rossy de Palma and Sergi López.

Cast and crew then spent a week in Almonacid de Toledo, within impressive castle ruins, to shoot the Knight of the Mirrors sequence. Little set dressing was required, apart from a beautiful tent, made by Hydallgo and his team. The castle brought back memories of Terry Gilliam's previous visit: "That was one of the first locations I saw, when I was planning to make this movie around 1990. It's a mixture of Christian and Moorish architecture, so it fits into the world we're trying to create."

Next, the production made a return visit to the Monasterio de Piedra, a location where some of the curtailed 2000 attempt was filmed. The monastery's grounds contain lakes, greenery and water features. One of its waterfalls provided the background for Toby and Angelica's first meeting in ten years.

Gallipienzo, on a hilltop in Navarra, to the north of Las Bardenas, became the production's village of Los Sueños, but on the first day of shooting there, a threatening storm loomed, bringing uncomfortable reminders of the previous, catastrophic flooding. Nicola Pecorini recounts, "We were on top of the mountain overlooking the village, and these black clouds, coming from the direction of Las Bardenas, opened. Thankfully, up on the mountain, we weren't at risk of a flash-flood. In fact, lightning struck an electric tower half a mile away and the whole village went black. I have to thank the location manager, who personally went and pushed a fuse back in."

The next location was near Villacastín on a ridge, covered completely with wind turbines. Says Gilliam, "When I was looking for locations, years ago, I remember driving on the motorway from Madrid towards Ávila and seeing these beautiful mountains. And a few years later, during another attempt to make the film, suddenly those mountains were no longer great mountains – they were hills. The giant machines had completely destroyed the scale of what we were looking at. And so, it was my idea to put an old Spanish windmill up there, amongst the modern turbines, to create the set of the commercial that Toby is directing."

Then the production spent two weeks in the Convent of Christ in Tomar, Portugal, a UNESCO World Heritage site. It is a remarkable building, a former convent that was originally founded by the Knights Templar in the 12th century. All the party scenes at Alexei's palace – both external and internal – were shot in and around the convent, although the internal scenes, filmed at night, proved to be the most technically challenging of the whole shoot.

When it came to the burning of Santa Cathartica at Tomar, Amy Gilliam found it a poignant experience, helping to ease the pain of the many years trying to get Quixote back into production. The producer says, "When we burned Santa Cathartica, it actually was such an emotional moment. We knew we were near the end of the shoot, and it was symbolic of the struggles and nightmares of the last 18 years."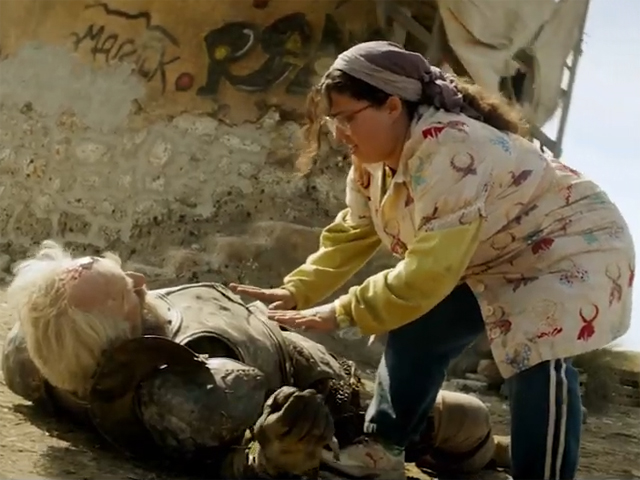 Three days were then spent at Castillo de Viñuelas, a palace to the north of Madrid. Here, the hotel scenes were filmed: the restaurant, the rooms and the corridor. Within the restaurant, Benjamín Fernández constructed a large baldacchino, under which the dancer and troupe perform.

Cast and crew then spent eight days in Fuerteventura, one of the Canary Islands, to shoot several scenes including the fight with the giants. The island was selected for its harsh, barren landscape. Says Gilliam, "Fuerteventura is very bleak, and it's all volcanic, so there are these incredible structures that look big, black and dangerous. It's almost like a strange dragon in the landscape, since the earth has been ripped apart by lava and volcanic eruptions. It's a great contrast to the Monasterio, which was green and lush. You turn a corner, and you're into a desert!"

Finally, the crew returned to Madrid for three days of stage work, including a shot where the camera pokes into the mouth of one of the giants. On Wednesday 31st May 2017, principal photography was complete and, reflecting on his collaboration with Gilliam, Adam Driver says, "Terry couldn't control his enthusiasm, nor how deeply ingrained this movie was within his body. It seemed like an exorcism, every day we were making it." Much to the Quixote veteran Nicola Pecorini's surprise, there had been very few problems during principal photography. "Everything went so bloody smoothly, and we were terribly lucky with the weather. That alone for me was a sign that God is not mad at Terry any more. And he's not mad at me!"

Animal Magic

Responsible for the horses and donkeys on set were Richard Cruz and his son. The Cruzes had six weeks to prepare the horses and make them accustomed to a film set environment. Gilliam was thrilled by the horses. "They're fantastic! Ricardo senior and Ricardo junior are brilliant." Working with horses scared Gilliam not only because of their unpredictability, but also due to the need to protect Jonathan Pryce. The actor, in his late sixties during the shoot, says, "I hadn't ridden a horse for at least ten years, and I told Terry I didn't think I could do very much riding, especially that which is demanded of Quixote." Gilliam recalls, "We were all being very careful because Jonathan was very worried. In fact, we were all worried, because we had to keep him injury-free for the whole shoot.

"In Oreja, on the day Quixote was to charge the windmill, we shot it with Jonathan's stunt double, but turning past the camera, I could see he was a stunt double. I said, 'Jonathan, do you think you could just ride a little bit, through the turn?' We'd reached the end of the day and Jonathan said, 'All right, I'll give it a go. Just that bit?' So, we started him down the hill. Jonathan goes full gallop, charging up the hill, with lance in hand, took the corner brilliantly, lowered the lance, shouted and headed towards the windmill. The whole crew stood up and applauded. Jonathan knows how to do this kind of stuff; he's a theatre actor. He waited until the last moment and just blew everybody away." Pryce confesses, "It's always a good move to tell a director you can't really do very much. Then he's pleasantly surprised and grateful when you actually do it. He did curse me for showing off!"

Post Production

During the shoot, experienced Madrid-based editor Teresa Font took the daily footage and prepared an assembly cut. Font recalls, "I was given so much good material, and my first reaction was to ask myself: how could a foreign director be so faithful to the spirit of the novel?" One key responsibility was to provide quick feedback to Terry Gilliam on how the shots worked together. This was not an easy task since, according to Font, "I had to work hard going through all the material because there are so many things going on at the same time!" Font found the project a very rewarding experience, with plenty of praise for the actors, particularly the two leads.

iting the film then passed to Lesley Walker, who had worked with Gilliam before on several pictures, and who had been due to edit The Man Who Killed Don Quixote back in 2000. Walker recalls, "At the beginning of 2017, Terry phoned me up and asked me if I would like to edit it. Without question, I said yes!" The assembly edit was used as a basis by Walker to create the first cut, which was three hours long. Says Walker, "The first cut was far too long. I think of it as a doughnut really – it had a very soft centre. So, we had to get rid of an hour, speed it up and take lines out that are not necessary. And I had been very languid with some of the countryside in the first cut, so I knew I could speed that up."

Music

Early in 2017, composer Roque Baños received a call from the Quixote team while he was in Los Angeles. Baños recalls, "The first thing Terry said was that he wanted to experiment! Terry knew that the music had to have a Spanish flavour, and he also knew that he didn't only want orchestral music. He wanted to experiment with ethnic instruments that would have existed on Spanish soil. We had a great experience using an oud – an old guitar – and also a flute that was made from the horn of a bull, which sounded like a recorder. And we had all different kinds of percussion."

It was clear to Gilliam and Baños that the score should be a representation of Quixote's feelings and delusions. The composer says, "Quixote really believes that he's a hero, and that he's been chosen to do good. So, when we see him, we have to feel what he feels. Every word that comes from his mouth, even if doesn't make sense, has to be truthful. We have to feel it that way; we have to feel he's right." The hardest scene to get right was when the party guests watch Quixote on the wooden horse. Says Baños, "I sampled whispers from the crowd, mixed with a choir. It's a weird sound that creates a confusing atmosphere. We had to mix the sample with horns, with orchestra, choir and percussion. Having to make everything fit with what is on the screen was really complicated.

"For me, the best part of all this was meeting with Terry and sharing my creativity with his. Every day we had such a great time inventing, imagining, and mixing things together. He's really enthusiastic, and I felt that way too."

Gilliam feels lucky to have been able to collaborate with Baños. The director says, "Roque's great strength is that he writes really beautiful romantic music. It's never sentimental; it's never cheap – it's just beautiful. He's just got a huge heart, and he's very smart. He's brilliant."

In The Can

Terry Gilliam reflects on the final picture, "There's much to enjoy. Jonathan has made it very funny. He squeezes out laughs on lines, and he ad-libbed a lot. Then Adam started ad-libbing and their combination is really good. It's very funny, but I wouldn't say it's a comedy, because, more than anything, it's a romantic film. The adventures are good, we keep it lively, and there's laughs all the way through it."

Gilliam is also satisfied that he has been able to encompass many personal themes and autobiographical elements. Don Quixote is a character who battles for the power of imagination against the forces of reason – a theme that has appeared in much of the director's work. Says Gilliam, "It is about dreams and the power to transform the world."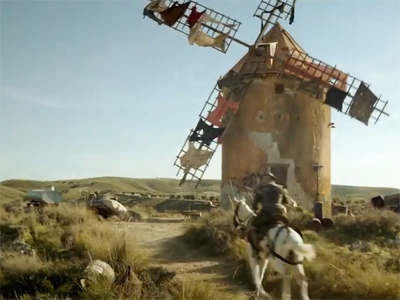 In sharp contrast to Quixote is the pernicious corruption in modern life, especially within business and the world of advertising. Gilliam says, "An advertising guy is a perfect example of what Quixote is not. Advertising people sell dreams, whereas Quixote believes them – that's the difference."

A further sub-theme that Gilliam was keen to incorporate was religion. The director explains, "Quixote talks about how wonderful Islamic Spain was in the 15th and 16th centuries. When the Moors controlled Spain, they built so much – including the Alhambra. It was the most open-minded place: Moors, Jews, and Christians were there, and everybody was working side by side. Then Ferdinand and Isabella came in, they brought in the Spanish Inquisition and the fun was over."

The beauty of Spain and its landscapes feature in this film, but also the country's character was an inspiration: the pride, the passion and the honour. Co-writer Tony Grisoni adds, "Spain, specifically Spanish Carnival, feels a natural place for Terry to tell his story. I cannot think of any of Terry's films that does not ultimately spiral into a dance of chaos. The juxtaposition of beauty and ugliness, horror beside comedy, are key elements of the carnival, and as we all know: no blood - no carnival."

The finished film also includes reflections by Gilliam on his own experiences as a filmmaker, regarding what responsibility a director actually bears. He says, "The fact that Toby does feel responsible for the results of his student film is interesting, because at least there is some decency inside a man who has become hollowed out with success. This is the autobiographical part of the film. As we filmmakers come into a community, we take it over, we excite people, we lead them down the garden path of their dreams, and then we leave. We never look back."

Yet Grisoni suggests that Toby's guilt may be misplaced. The writer says, "I'm not sure he is justified in feeling the guilt he does feel. I don't think he's thinking straight about it. Making a movie shakes up people's lives but can also enrich lives. I've had many experiences of lasting friendships and connections to communities resulting from filmmaking. Maybe the source of Toby's guilt is his self-centredness, and the fact that he sold out and failed to live up to his promise. I really like his gradual taking on the responsibility of serving Quixote. It's about Toby giving himself up to a crazy idea, something that is bigger and more extraordinary than the world he touches and sees. He's saying that there's a huge world out there that's nothing to do with me, and I'll be in second place to that world. In a way, it's a return to those earlier halcyon days of promise."

"When we saw the completed film, sitting in that dark room watching Don Quixote ride on the screen for the first time after 25 years of confinement in another dimension, it was really emotional," says Mariela Besuievsky.

Amy Gilliam is thrilled that the project has finally come to fruition and is delighted by the finished film. She says, "The Man Who Killed Don Quixote is true to Terry's vision. It contains all the passion that Terry has had for both Quixote and Spain. It wholly justifies all the false starts and the years of hard work that we have suffered to bring this project to a conclusion. This movie is full of magic and love, and I'm so happy that it will be out there for everyone to discover."

The Man Who Killed Don Quixote
Release Date: April 11th, 2019