Reviving Rock Music
Australian born and bred rockers, The Hots, are bringing the heat this winter with their new music video and self-entitled debut EP. The young rock duo and real-life married couple, comprised of singer Foxie Kelly and guitarist Ronnie Simmons, are here to bring the female-fronted rock revival the world has been waiting for. With their powerhouse vocals and 'all or nothing' attitude, this dynamic duo is ready to quite literally rock 'n' roll onto the music scene. After years of honing their craft, The Hots released their debut EP "The Hots," which was produced by Mark Opitz (AC/DC, Rose Tattoo, John Paul Young). The sultry music video laced with American muscle cars was shot in Sydney by acclaimed MTV Classic Australia Producer/Director Vashti Rosenberg (Blink 182, Good Charlotte, Nickelback). With their new music releases, The Hots are proving that hard rock is alive and here to stay.

The Aussie duo will be releasing their new music video for "Please Me" on July 4, 2019 – with a nod to the American independence holiday 'Fourth of July' and the origins of rock 'n' roll. In true American spirit, the "Please Me" music video features Easy Rider-inspired motorcycles, light pyro, and rockin' out in the rocky terrains outside of Los Angeles. The video also includes feminist undertones, with Foxie in body paint by artist Meredith Devine – whose 'Painted Ladies' art exhibit highlights female-fronted bands. Furthering their 'girl empowerment' mission, the music video was shot by two sisters who own Giraffe Studios. The Hots will additionally be performing the single at a forthcoming halftime show for the LFL (women's tackle football league) on August 24th in Ontario, CA.

Although fresh to the music scene as a duo, The Hots have spent years nourishing their rock roots with other rock royalties. Guitarist Ronnie Simmons has played with Aussie rockers Rose Tattoo and The Screaming Jets, as well as punk rock legend Richie Ramone (The Ramones). Garnering endorsements from Gibson Guitars and Marshall Amps, Ronnie has also toured the world supporting stadium acts Alice Cooper, Aerosmith, Van Halen, and Mötley Crüe. His global tours include the Richie Ramone World Tour 2016 & 2017, Lollapalooza 2016, Steel Panther 2015 (US & Canada), Mötley Crüe & Alice Cooper's "The Final Tour" 2014, Skogsröjet Festival 2013, Stone Festival 2013, etc.

Meanwhile, at just 23-years old, singer Foxie Kelly has proven to be everything a front woman should be with her fiery vocals, towering choruses and ability to stand her ground in the company of even the most esteemed rock veterans. The granddaughter of a drummer in the Irish Supreme Sounds Show Band in Wexford Ireland and cousin of the acclaimed Irish Rapper and MC, Rob Kelly, Foxie has set out to renew her family legacy of making history by putting on a progressive show and breaking the rules of classic rock music.

Together, the duo brings a much-needed breath of fresh air back into the rock 'n' roll genre with their heavy set of electrifying headbangers and classic hardcore delivery. Combined with their personal love story that led to their blissful marriage, the independent rock act have teamed up to share their love of the grunge genre while amping up their audience with metal melodies and lightning lyrics.


Interview with Foxie Kelly
Question: What inspired the track Please Me?

Foxie Kelly: "Please Me" was the first song Ronnie and I ever wrote together as The Hots and during that time we also started dating! I wanted to write a song that was tough yet honest, confessing how I felt. It's a total girl power anthem and expresses the voice of a strong female who is taking command of her life and sexuality while asking the question: Can you handle me? Well, get over here and try to please me!


Question: Can you tell us about filming the video for Please Me?

Foxie Kelly: I had dreamed of working with Body Painting Artist and Photographer, Meredith Devine, for quite some time! I love the way she captures women in a powerful and sexy way, topless on vintage motorcycles in her 'Painted Ladies' series and I wanted that to be me! We reached out to her and she agreed to make me her first Painted Lady to be captured on film. With the help of sister duo production company, 'Giraffe Studios,' we developed the story line that was inspired by the classic 1969 Motorcycle film, Easy Rider, and during one long day in the California Desert, we filmed the whole music video! It was the coolest thing I've ever done.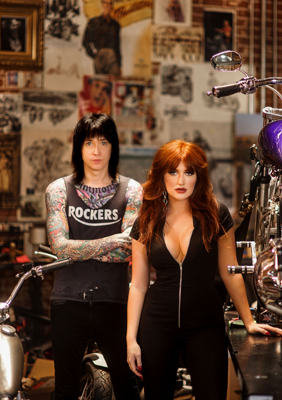 Question: Do you prefer performing live or recording?

Foxie Kelly: I love experiencing both in their own way but nothing beats performing live. We both live for being up close and personal with a crowd, covered in sweat and screaming my lungs out. Because of this, The Hots chose to record our debut EP live to analog in the studio with producer Mark Optiz, known for his work with AC/DC, INXS, Divinyls and more.


Question: Which is your favourite song to perform live and why?

Foxie Kelly: Onstage we play so hard and fast it sometimes feels like it's all one giant song!

It's hard to pick but it's actually a new song called, "Love You Until You Hate Me" - Ronnie gets to show off his guitar skills and I get to run around like crazy and work through some past issues.


Question: If you could have anyone, in the world, attend a show, who would it be?

Foxie Kelly: The late and great Chrissy Amphlett, lead singer of Divinyls. I'd want her to see that her legacy is being carried on and the work she did for women in music made a difference. We are out there every day working just as hard as the boys and she really paved the way!


Question: What is the story behind the band name?

Foxie Kelly: It comes from Ronnie and I having 'The Hots' for each other and our passion for rock 'n' roll.


Question: What motivates you most when writing music?

Foxie Kelly: I always write through personal experience. I find it hard to perform a song to a crowd when I don't believe in what I'm saying. Being honest about the good, the bad and the ugly is important as a songwriter, as well as giving yourself the space and time to let it out. I used to worry about what people would think but I'm at a stage now where I couldn't give a damn.


Question: Which music/artists are you currently listening to?

Foxie Kelly: I'm typically an old school kind of gal, spinning Joan Jett, Divinyls, AC/DC, Motorhead.... but lately I'm really digging female fronted rock bands Halestorm and Lucifer!


Question: What or who was your inspiration to go into the music industry?

Foxie Kelly: My parents; my dad was a pro rock drummer and my mum was a huge hard rock and metal fan. I grew up side of stage at shows and from a young age and learned about the highs and lows of the music industry. I'm grateful every day they believed in me. I'd give anything to get on a plane to Australia and have a road trip sing along to Primus or Def Leopard with them!


Question: If you could collaborate with another artist, who would it be?

Foxie Kelly: I'd love to collaborate with Joan Jett and Kenny Laguna from The Blackhearts! They were responsible for writing some huge hits and they completely get the female fronted rock angle. Jett is one of mine and Ronnie's rock 'n' roll idols.


Question: What's a typical day like?

Foxie Kelly: Wake up, sing a silly song to Ronnie in bed, answer emails and socials, sweat in the sauna, practice/write/play music, go to the gym or hike, put on a vinyl and catch a local gig in Hollywood.


Question: Can you share your socials?

Foxie Kelly: @thehotsofficial
@foxiekelly
@ronniesimmons


Interview by Brooke Hunter