Nick Cave and Warren Ellis join the Melbourne Symphony Orchestra this August to perform a selection of suites from their highly distinctive film scores as part of the Melbourne International Film Festival.

Conducted by Benjamin Northey, Nick Cave and Warren Ellis collaborate with the full symphonic sound of the MSO to bring music from The Proposition, The Road, Hell or High Water, The Assassination of Jesse James by the Coward Robert Ford, West of Memphis and Wind River to Hamer Hall.

Cave and Ellis' film scores are instantly recognisable for their minimal and hauntingly beautiful tones. Full of light and shade, creeping dread and inconsolable yearning, the heavily instrumental sounds inject humanity into the ghostly frontier towns, parched desert landscapes, post-apocalyptic war zones and extra-terrestrial vistas of their renowned films.

The past 15 years has seen the duo compose both indie films and Hollywood features. Their first commissioned soundtrack, the brutal outback western The Proposition (2005) directed by John Hillcoat and scripted by Cave himself, introduced the widescreen compositions that would become their signature for future films.

Big studio work beckoned in the shape of Andrew Dominik's anti-western The Assassination of Jesse James by the Coward Robert Ford (2007). The eerie score underwrote the movie's sombre mood and the lead character's impending doom.

Cave and Ellis reunited with Hillcoat for the adaptation of Cormac McCarthy's highly successful novel The Road (2009). The artfully minimal score combined with mournful piano and clanging industrial percussion, enhanced the lurking malice.

In 2012 Cave and Ellis composed a moving score for Amy Berg's documentary West of Memphis about a controversial murder case in Arkansas. Returning to the American West, Cave and Ellis collaborated with David McKenzie for his masterful heist thriller Hell or High Water (2016), the score's melancholy strains sounded as parched as the Texan visuals on screen.

Wind River (2017) was a chilling murder set on a Native American reservation in Wyoming, delivering more orchestration and vocals into their usually spartan instrumental palette. Cave and Ellis delivered drama to the film's wintry landscapes with rousing string arrangements, haunting choral chants and softly whispered cries.

''Very often a tension can happen between music and picture that is about chance and a kind of unknowingness that can be really amazing," Cave says. "Just by putting together two things that were created in isolation, music and film, suddenly something quite magical can happen."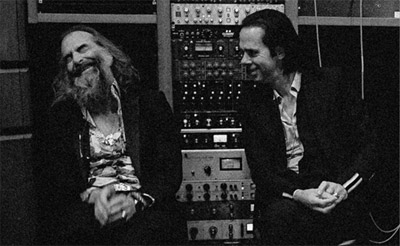 MSO Associate Conductor Benjamin Northey said: "This is a unique opportunity to celebrate the work and creativity of two outstanding composers who have made a significant and lasting contribution to Australian music. I know everybody at the MSO is deeply committed to this project and I see it as one of our most exciting and artistically meaningful collaborations to date."

Melbourne International Film Festival Artistic Director Al Cossar said: "Cave and Ellis' indelible, deeply felt compositions layer and breathe both beauty and unease through the stories of singular filmmakers such as John Hillcoat, Amy Berg and Andrew Dominik. This is a rare and special opportunity for Australian audiences to experience their work that has been created specifically for film " we're delighted to be partnering with the MSO in a celebration of the cinematic imaginations of these two incredible artists."

The Film Music of Nick Cave and Warren Ellis is proudly presented as part of the 68th Melbourne International Film Festival.

The Film Music of Nick Cave and Warren Ellis
Thursday 8 August, 7.30pm SOLD OUT
Friday 9 August, 7.30pm SOLD OUT
Saturday 10 August, 2pm JUST ANNOUNCED
Saturday 10 August,7:30pm SOLD OUT

Hamer Hall, Arts Centre Melbourne
mso.com.au | 03 9929 9600