"If you're out of the closet, you're out of the CLOSETS!" - Ardy Tibby
Director: Sue Thomson
Genre: Documentary
Rated: MA 15+
Running Time: 86 minutes



Synopsis: This engrossing documentary explores the heartbreaking and heartwarming stories of a group of older LGBTIQ+ people as they prepare to attend a Ball celebrating their gender and sexual identities.

LGBTQIA+ seniors have been pioneers in many ways, beginning the fight for equality in an era when being queer could land you in jail, lose you your job or worse. But as they have aged, some started going back into the closet in nursing homes or when accessing aged-care services, owing to feeling unsafe in these environments.

The Coming Back Out Ball Movie
Release Date: December 6th, 2018


Creative Statement
The Coming Back Out Ball Movie follows artist Tristan Meecham as he navigates homophobia and ignorance in order to stage a spectacular Ball to celebrate the sexual and gender identity of older LGBTI+ people. Tristan works to create a night that acknowledges and celebrates LGBTI+ elders who, he says, paved the way for him – a young gay man – to be out and proud.

Over the course of this documentary, nine key characters open their hearts with raw honesty, generously sharing their painful and secretive pasts, looking back fifty years or more to a world far less accepting of LGBTI+ people.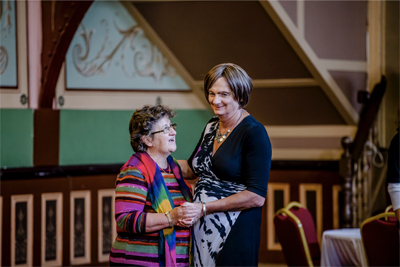 Many of our cast have experienced social isolation. The CBOB (Coming Back Out Ball) project gave them new confidence, reasons to re-connect and vital opportunities to be accepted and respected. This shift was subtle; a coming together of disparate groups, of communities whose common ground was the shared experience of isolation and discrimination. Our film listens to elderly Australians, mostly in their seventies and eighties, who are now living their authentic life, who want to speak honestly and be heard. Tristan battles through the judgements and doubts from stakeholders and even some of the LGBTI+ elders he's working with, to remain focused on creating the Ball. He is determined to take over Melbourne's largest civic space, the magnificent Melbourne Town Hall, to honour 'his elders'.

With the Ball fast approaching, a monthly Dance Club is established to help isolated LGBTI+ elders meet other members of their communities and learn some dance steps. This 'inclusive idea' was met with some initial resistance from the elders attending. Some people complained about the music, about the dances being taught and the free food supplied. Some of the elders were confused by Tristan's artistic vision and disagreed with his plans for the Ball. Always respectful of everyone's opinion, Tristan worked at getting more people to the Dance Clubs, changing the music and adding to the food options! Numbers increased slowly and steadily throughout the filmmaking process and the LGBTI+ communities are now enthusiastic supporters of the monthly dance club.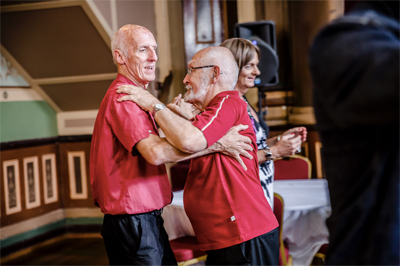 Filmically, the production and staging of the Ball offered a clear structural vehicle to tell a host of heartwarming and heart-wrenching stories about elderly LGBTI+ Australians and explore Australia's LGBTI+ history. This, all at a time when LGBTI+ Australians were under the microscope more than ever before, with the Marriage Equality Postal Vote running parallel to the creation of The Coming Back Out Ball Movie. The vote was a landmark event for our older LGBTI+. Here we were, filming a Ball that was celebrating diverse gender, sexuality and identity, while a debate about whether people should be allowed to marry the same sex was raging around Australia.

On the day of the Ball, we wondered whether cheeky Nance would attend, we worried that Judith wouldn't get out of hospital in time and we hoped that Michelle's wife would agree to accompany her to the Ball. All the wonder, emotion and chaos of the night was captured in a rich cinematic style with seven cameras filming every aspect of the event.

The Coming Back Out Ball Movie is a record of Australian history, a dark past with a rainbow coloured future, told via a group of extraordinary people.

The Coming Back Out Ball Movie
Release Date: December 6th, 2018