Enjoy summer to the full with a Thalgo Summer Survival Kit This summer, take Thalgo to the beach by investing in a limited edition Summer Survival Kit.
Stay protected while enjoying the sea and sun and get an exclusive complimentary Thalgo Beach Bag worth $80.00. Youll turn heads with your glowing skin and beach side style.
Whether youre just popping down for a quick swim or spending the day on the beach, Thalgos Summer Survival Kit will help you stay radiantly beautiful all day with moisturised, regenerated, smooth skin.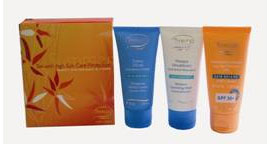 Summer Survival kit
RRP $137.00
Energising Vitality Cream to moisturise, regenerate and smooth the skin all day long Sunscreen Cream SPF 30 + to maintain youthful skin by providing very high protection against sun damage. Moisture Quenching Mask to immerse the skin in a relaxing bath of hydration- restoring moisture after sunbathing.
Purchase the Energising Vitality Cream and Moisture Quenching Mask for $137.00 and receive a full size tube of Sunscreen Cream SPF 30 + and an exclusive Thalgo Beach Bag complimentary.
Youll tan safely, achieve perfect skin radiance and be elegantly prepared for a day outdoors. Remember only 1000 beach bags are available so dont miss out.
Summer Survival Kits will be available in stores now