Taron Egerton as Robin Hood
Cast: Ben Mendelsohn, Jamie Foxx, Jamie Dornan, Taron Egerton, Eve Hewson, Björn Bengtsson, Tim Minchin
Director: Otto Bathurst
Genre: Action, Adventure
Rated: M
Running Time: 116 minutes

Synopsis: A war-hardened Crusader and a Moorish commander mount an audacious revolt against the corruption of the Church in a thrilling action-adventure from director Otto Bathurst (TV's 'Peaky Blinders'). Packed with gritty battlefield exploits, mind-blowing fight choreography and a timeless romance, Robin Hood is the never-before-seen story of how Robin Hood became the iconic legend we know today.

Robin Of Loxley (Taron Egerton) returns to England after years of fighting in the Crusades, where his skill and valour in battle have won him the admiration of even his foes, including enemy commander Little John (Jamie Foxx), who provides Robin with safe passage home. Upon his return to Nottingham, Robin discovers his estate destroyed and his neighbours impoverished, all by the command of the ruthless Sheriff Of Nottingham (Ben Mendelsohn).

Learning that his death has been falsely reported and his long time love, Marian (Eve Hewson), is involved with local politician Will Tillman (Jamie Dornan), Robin and John launch a covert personal crusade against the corrupt Sheriff and Church. Disguised in a Saracen hood and trained by John in a new style of fighting, Robin uses his lethal archery skills to intercept tax collections destined for the Sheriff's coffers, which he turns over anonymously to Marian, now a leader of a clandestine grassroots rebellion.

As Robin's activities gather quiet support from the people, he finds an unexpected ally in Friar Tuck (Tim Minchin), an influential friar who has been stripped of his duties. After they discover a larger conspiracy that threatens the stability of Europe, Robin and his men launch an attack that solidifies his status as the legendary rebel leader of an unstoppable new kind of army.

Robin Hood
Release Date: November 22nd, 2018
https://www.robinhoodmovie.com.au/
About The Production
You may think you know the timeless legend, but you've never seen Robin Hood like this.

Taking off at a breathless pace that does not let up, Robin Hood reintroduces the iconic outlaw as the dark, compelling hero of a turbulent city in desperate need of one. In the thrilling action-adventure of our times, Robin's first-ever revolt against a corrupt Kingdom erupts into gritty battles, kickass fight choreography, an irreverent friendship and timeless romance. This all-new take on Robin Hood is delivered on a grand scale befitting the rebirth of a 2018 cinematic superhero.

With Taron Egerton heading up a dynamic cast, this Robin is a thoroughly modern shadow warrior. He may have been born into privilege as Lord of Loxley, but now he returns from war a haunted veteran who has lost everything, including his one true love Marian [Eve Hewson]. With the help of an equally war-scarred Moor, once his mortal enemy, John [Jamie Foxx], Robin adopts a new alter-ego: as the hooded avenger who strikes at the powerful seeking justice for the people.

It was the chance to take on playing a legendary hero, with arrows blazing from a rapid-fire wit and bow, which exhilarated Egerton to put his all into the role. "There is nothing period or traditional about this movie and that's what drew me in, because it's not the Robin Hood we've all seen before," says Egerton. "Our wish was to go beyond that and create something that feels very contemporary. The film we made zips along at an incredible pace and is so entertaining … there's a cool buddy relationship, an element of romance and lots of death-defying action sequences."

Jamie Foxx, who portrays Robin's razor-tongued rival-turned-mentor, adds "Director, Otto Bathurst and Producer, Leonardo DiCaprio had a vision of Robin Hood that's a fresh take on the story. The action, the characters and even the costumes all have just a dope twist to them. This Robin Hood is its own animal that takes you somewhere unexpected."

For Eve Hewson, who plays Marian, the story hit on many levels. She says, "This movie is a bromance. It's a love story. It's a heist movie. There's something for everybody in this film, and our hope was to bring out everything that Robin Hood fans have been longing for, but also to attract a new generation of young people who've grown up on superhero movies and video games. We set out to make Robin Hood a more badass kind of a character for today."

The chance to reimagine the roots of Robin's rebelliousness and his quest to right the wrongs of a greedy world drew Leonardo DiCaprio and Jennifer Davisson of DiCaprio's Appian Way to come aboard as producers. "We were intrigued by the script's originality and fresh take on timeless themes, which fits very well with what we do at our company," Davisson says. "This is a complex Robin Hood. The same way that Bruce Wayne didn't seek to be a hero, but became one because Gotham City needed a Batman, Robin doesn't set out to be Robin Hood, but Nottingham needs him to be."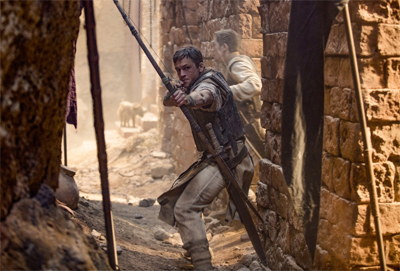 The human imagination has latched so tightly onto the myth of Robin Hood that his story has been told, retold and told all over again for some 800 years of massive changes in human society. Since the 15th Century, when Robin and his ostensibly merry band of companions first starred in a series of ballads as rebels fighting for Nottingham's oppressed, Robin has inspired a slew of writers, artists, storytellers and filmmakers, each reconfiguring the character to resonate with their times.

At the movies, Robin Hoods have been myriad: Douglas Fairbanks was a silent Robin Hood; Errol Flynn was a swashbuckling Robin; Margaret Rutherford was the first female Robin; Frank Sinatra was a gangster Robin; Sean Connery was a romantically-fueled Robin; Kevin Costner was a quick-witted Robin and John Cleese and Cary Elwes were outright comic Robins"to name just a few.

Director Otto Bathurst wanted to start anew, and remake the mold with all the furious pace and contemporary action filmmaking. Bathurst, who came to the fore with the binge-worthy, hit television gangster drama Peaky Blinders and a much talked-about episode of Black Mirror, has always love upending expectations.

"To me Robin Hood had the makings of an utterly contemporary and relevant story," Bathurst explains. "Here's a guy who seemingly has the perfect and comfortable life and goes off to war, full of ideals, beliefs and passion, but then his eyes are opened to the corruption and evil of the people who are running the world"and it breaks him. It dissolves his faith in his nation and his religion and leaves him disillusioned. We see Robin as a hero, but I wanted to see why and how he became this legend, what it is that burns inside of him and what inspires him to set out to fight with such commitment to the truth."

Bathurst has his own strong idea of why we still love the concept of Robin Hood in the here and now. "I thought a lot about Robin and who he was in my mind. You don't become a legend from simply stealing a few bags of money from rich people and giving them to poor people. I mean, that's a cool thing to do, but it's not iconic," he says. "The real reason Robin Hood has been a hero for 800 years is that he was a major thorn in the side of society, of government, of the establishment. That's why people still love him, because he's a symbol of that voice out there kicking against the status quo that we are all responsible for allowing. He's a reflection for all of us in that he isn't given special powers or born a Superhero, he is simply an everyman who is prepared to do what is needed to bring change and to sacrifice his own comfort for the bigger picture. We have all witnessed oppression, corruption and abuse in some or many forms, but few of us can truly say that we have done something about it and so a story of a man who is prepared to put his head above the parapet, prepared to fight for truth, is a story that needs to be told now more than ever and resonates powerfully with us all."

Jennifer Davisson comments, "One of the things that is really important to Leonardo and me is that the films that we're involved feel special and unique in one way or another. This movie definitely feels really current and vibrant. All the archetypal Robin Hood characters you know from the legend are there, but we get to see them through the lens of our lives today and that's what makes it special."

One word defined what Bathurst envisioned for the production: Scale. He wanted to build from scratch an entire world for Robin, and it would not be the world people might expect. He explains, "We wanted to massively redefine Nottingham as a place, to make it feel relatable to a modern audience, to make it feel relevant and important so we took the chance to create something unique. Our Nottingham is a teeming industrial capital full of global influences, a political epicenter and a very powerful stronghold of the church. Break the system here and the repercussions will ripple out."

Bathurst's "make it modern" mantra thoroughly upped the ante when it came to the film's action. Old school static bow-and-arrow combat morphed into wildly, athletic clashes that bring a new energy and pop. Says Bathurst: "We spent hours researching what close up archery warfare would have actually looked and felt like and then distilled this to create a new cinematic style of bow-and-arrow combat that's both authentic and never been seen like this before. It feels like a modern gunfight, very real, kinetic and visceral."

Ultimately it was the way the actors merged their characters and took on that furious, intricate action, infusing it with humor, personality and humanity that made it soar. Second unit/action director Simon Crane (Rogue One: A Star Wars Story, Jason Bourne) says: "Taron, Jamie, Eve and all the actors worked incredibly hard and got so into it"that's what made the action come alive. You can't help but root for these people who are so boldly impassioned about changing Nottingham."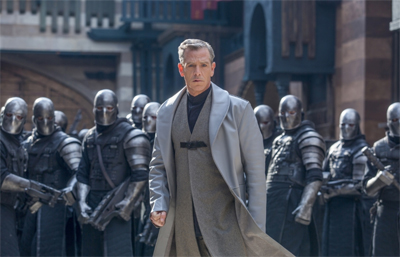 Reimagining Robin: Taron Egerton

Taron Egerton, the 28-year-old, best known to global audiences as the dashing super-spy in the hit The Kingsman movies, had already demonstrated an unusual ability to combine slick action and debonair wit with an undercurrent of rebellion.

Egerton says it was the script that made him consider Robin Hood as man wrestling with the future of his soul and discovering an inner fire and skill beyond what he ever expected, rather than a static storybook figure. "To me, Robin Hood feels very pertinent to the world right now and I found the script very moving and funny," says Egerton.

Perhaps fatefully, Egerton remembers the first time he "played" Robin Hood as a boy in his living room. "Robin Hood is one of two characters that I had a costume for as a kid" Robin Hood and Superman. I'd jump from sofa to sofa and pretend I was flying and I did that as Robin Hood, as well," he laughs. "I had the little plastic bow and the costume. I always liked him. There's an idea people have always connected with in Robin Hood: that there can be a noble renegade who acts selflessly for the good of others, which is something I connected with."

Egerton's Robin is a war veteran who returns home seeking peace and solace only to realize his fight is not over"it's just beginning. "This isn't men in tights romping through Sherwood Forest," he says. "Robin comes back from the battlefield in Syria in emotional distress and detached from his previous life, which no longer holds meaning for him. He finds a Nottingham he no longer recognizes, one full of appalling inequality and injustice. He tries to remain dispassionate in his solitude, but ultimately his conscience won't allow him to ignore what he sees going on around him."

He continues, "I like this Robin because there's such grit and a determination to him. He's a lord, but he's not a pampered lord. He doesn't surround himself with servants. He's very hands-on. He really subscribes in the beginning to the idea of fighting a noble war. It's only later that he realises the whole thing was something of a racket so that the people at the top could keep lining their pockets."

When Robin realizes what is happening in Nottingham, he is compelled into action. That's when Robin takes on the persona of The Hood, the audacious avenger who thumbs his nose at the elites by stealing the thing they will do any despicable thing for: their money. Egerton notes that by obscuring himself behind The Hood, Robin rediscovers his true self. "At first, The Hood is a just a disguise through which Robin can hide from who he is," Egerton notes. "As he merges into this avenging, dark, enigmatic force within Nottingham, he realizes The Hood is part of his own being."

Robin could not have become The Hood at all if not for the unlikely guidance of Jamie Foxx's John, the Moorish warrior whose son Robin tried to save during his time at war in the Crusades. Impressed by Robin's courage, John takes a cynical and begrudging Robin under his wing so that both might get payback, but their partnership yields more than either saw coming. The bantering, witty friendship that develops between Robin and John was Egerton's favorite element of many in the film. But John's tutelage also turns Robin into a virtual one-man-army.

Says Egerton: "What I absolutely love about the relationship with Robin and John is that we start with Robin treating John as an enemy Moor with great disdain. Yet, through their bond, Robin begins to see the error of his viewpoint. Robin starts off cocky, self-loathing and misguided and John channels all those feelings into something constructive. It's a great relationship, because it has real heart. In one sense, there's a kind of father-son thing that develops but it's also two soldiers, brothers-in-arms, realizing that they have a bigger idea to fight for. Then, it also just very fun, very witty, and gave me and Jamie the freedom to really play with these characters."

Working in tandem with Foxx to carve out their friendship was a dream realized for Egerton. "I always felt instinctively that our styles of performance might work well together," he says. "Jamie likes to improvise and play with dialogue and that is something that I quite like to do, as well. Training with him? He's in insane shape. He can crank out 20 chin-ups without even breaking a sweat. Robin's training with John cements their relationship. They're mistrustful of each other because they've been raised to hate each other's kind, but in the course of John mentoring Robin to be the fastest archer in Notthingham, they realize they have lots more in common than they think."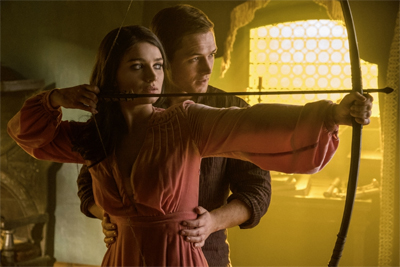 It is John who gifts Robin with a stealth fighting style the likes of which Nottingham has never encountered. "John teaches him his own style of archery: dexterous, quick and light-footed, something the Moors have mastered. It allows him to become a kind of undetectable ghost in Nottingham. What Robin does is not easy to do, as I discovered training for the role," Egerton muses.

Bathurst notes that Egerton's intensive training was key to pulling off the film's non-stop action. "We wanted the battles to feel raw and chaotic, because that's what these fights were like, and that meant Taron had to work super hard in order to become a very proficient archer, it was extraordinary how adept he became and to ultimately witness him being able to fire three arrows in two seconds," the director explains.

Athletic and game for anything, Egerton impressed the crew with how naturally he took to the physical challenges. He also had to open up his romantic side, as Robin fights for the stolen heart of his beloved Marian. "It's really great love story between Robin and Marian," Egerton says. "What was fun for me is that we go from a kind of gorgeous, youthful naiveté to a relationship that has been destroyed by war and circumstances. It is Marian who reignites Rob's passion and is the one who inspires him to keep evolving until he becomes this heroic person he was meant to be."

Playing opposite Eve Hewson as Marian was also a blast for Egerton. "Eve's the most fantastic Marian. She has a natural determination and fire to her that really works for the character and it makes for a complicated love triangle between Marian, Robin and Will."

Bathurst loved that Egerton took a character most often seen as part of the mythological past and made him feel palpably real and human instead, a warrior finding his inner grit. "Taron has such charm and wit to him that you would absolutely follow him into war. In our story, Robin is a young man and it's pretty impressive to be able to rally this amazing revolution at that age. We couldn't think of any actor you would believe taking that on more than Taron," says the director.

Adds Jennifer Davisson: "Taron brought us that perfect mix of being someone who you really believe is going to kiss the girl and you really believe is a master with the bow and arrow, but who also does everything with a little bit of a sly wink. He's a great actor and we knew he would be able to tackle the film's bigger themes and carry the whole story on his shoulders."

A Larger Than Life John

In myths of yore, John was Robin Hood's loyal lieutenant, but in this new version, he is an enemy soldier who unexpectedly becomes Robin's mentor and comrade-in-arms, completing his transformation into The Hood. This John is a Saracen fighter, an Arabic Moor fighting on the opposite side of the Crusades from Robin. When Robin tries to save John's son, John spies Robin's innate humanity. Touched by the bravery and compassion exhibited by his Crusader foe, John risks his own life by stowing away to England in order to convince Robin there remains a just cause"one Robin turns out to be uniquely suited to fight for, going beyond John's wildest expectations.

John had to be both a savvy, sharp-witted rival and an inspiration to Robin. That's why the filmmakers sought to cast Academy Award® winner Jamie Foxx in the role. A musical artist, writer and director, Foxx has shown an astonishing range as an actor, from his Oscar®-winning role as Ray Charles in Ray (Best Actor, 2004) to recent roles in Django Unchained and Baby Driver.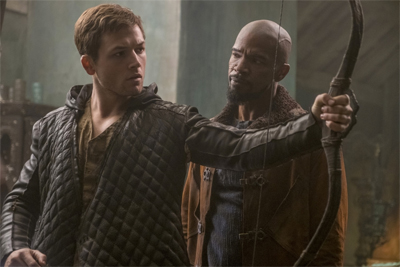 The chance to upend the legend of Robin Hood in high spirits is what drew Foxx to Robin Hood "and now he's excited to share it with audiences. "You can expect something different," he says. "It's just a great ride with a current feel. I really dig some of the modern things you see in this film: bow-and-arrows that fire at incredible speed and horse chases that are literally like car chases. The film brings you into this completely original world of Notthingham"and then it lets you loose to have fun in there!"

As for playing John, Foxx was intrigued to play a character who, as a devout Moor, is unique among screen heroes. He also saw him as having a lot in common with Robin, though neither realizes that at first, coming from completely different backgrounds and beliefs to meet for the first time as mortal enemies.

It is John, reeling with grief and anger after war, who seeks out Robin"and through him, gets his defiant spirit back. "John was a king several years before we meet him, but now he just wants to fight for the memory of his son and fight for what is right," Foxx explains. "John is a fierce competitor and he sees that same quality in Robin. When John and Robin arrive in Nottingham, Robin is believed to be dead, and John is a stranger in a strange land. Both are desperate and have lost everything. Each needs something from the other"and that evolves into a loyal friendship."

First John has to convince Robin he's not just a conspiracy theorist, and that he knows what he's doing in taking on Nottingham's elite. "Robin comes from wealth, so he can't see the lay of the land the way John can," observes Foxx. "It is John who opens Robin's eyes to the idea that things are truly not as they seem"that the real enemies they both want to go after are the fat cats and politicians who profit while soldiers die."

Foxx continues, "John get's Robin to look behind the curtain, if you will, of what's going on in this dangerous world that they live in. Robin, of course, is skeptical. But when John shows him how drunk with money the men in power are it sparks something inside Robin. Robin then surprises John with how quickly and seamlessly he transforms himself into 'The Hood.'"

The real fun began on set as Foxx and Egerton found an organic, trash-talking, fast-quipping camaraderie that they transferred to their characters"and as they dove into the non-stop battle action, each pushing the other to go further. "It was a lot of fun, man, and Taron is such a great action hero," Foxx says. "I would constantly say to him, 'this is crazy, how you get this stuff.' He's so comfortable with this kind of role and that made it even more exciting."

Egerton's devotion to the training also motivated Foxx to get fitter than ever for the role. "It was great getting in shape and training for this part. That's always an adventure," says Foxx. "I've done football movies where you had to get in shape, and musicals where you have to get in a different type of shape, so this was just fun times."

Foxx especially enjoyed the training sequences where John tutors Robin on how to shoot his bow with the furtive speed and split-second fearlessness that allows him to carry off the near-impossible as The Hood. Foxx explains, "John knows that efficiency is going to be the key to fighting the Sherriff and his men. He basically throws Robin's longbow away and says, 'hey, you need a street weapon.' And that changes everything."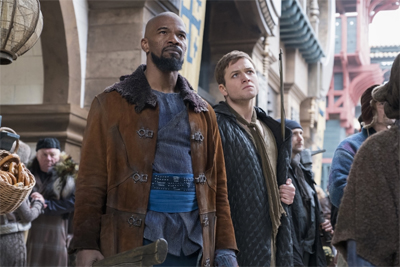 Master archers Steve Ralphs and Lars Andersen, who served as the film's archery advisors and trainers for Egerton and Foxx, had a blast working with both. "Think Rocky Balboa being trained by Apollo Creed," muses Ralphs of the dynamic between the two. "John is trying to make Robin quicker, faster and deadlier, so they both had to have those skills. Jamie and Taron were absolute naturals."

The bond was so strong between the two that Egerton is already excited to reunite with Foxx. "I loved working with Jamie. He's one of those actors who is very alive and in the moment and that is so exciting to be around," he sums up. "It's an honor and a pleasure to be in any scene with him."

Marian, Will And Friar Tuck

Almost as iconic as Robin of Loxley is Marian, his legendary love, and long lauded for her independence and strength. In this Robin Hood, Marian may be a mere commoner, but it turns out there is little common about her attitude and bravery, something Robin responds to from the first moments of their meeting.

Bathurst was committed to Marian being Robin's equal. "Marian is one of the pivotal aspects of this film that I feel most passionately about," he says. "She's a powerful and deeply committed woman, an arrow of truth. Indeed, she is the catalyst for Robin's whole journey and there is no question that without Marian there would be no Robin Hood, in that it is she who pulls him out of his selfish anger and shows him the true path. Robin has to really, really fight to get her back because our Marian is no swooning damsel! I'm thrilled that our film has such a strong female character."

"Our Marian is arguably smarter than Robin," muses Jennifer Davisson. "She is the kind of girl who brings a real sense of logic and to everything that she does and she both challenges and changes Robin. She is a natural leader who sees what needs to be done so clearly."

The filmmakers found their Marian in another rapidly rising star: Eve Hewson, the Irish actress who came to the fore in Steven Soderbergh's TV series The Knick and played Tom Hanks' daughter in Bridge of Spies. "It was the minute that we saw Eve read with Taron, and we saw that chemistry, that we said, 'OK, we're done,'" recalls Davisson.

Says Foxx of what he saw between Hewson and Egerton, "I love the way Eve as Marian really holds Taron as Robin accountable. Eve's got something incredible."

Hewson liked that this version of Marian was grounded in a reality to which she could strongly relate. "It was exciting to me because it felt like they could be young lovers in 2018 with Robin going off to war and with that kind of intensity of emotions," she says. "I also like that Marian isn't a superhero. She doesn't have any special skills or weapons, she's just fighting for her life and willing to kick, punch and take any risk for what she believes in."

The chemistry between Egerton and Hewson was natural, Hewson shares, "We got in the room and it just all worked. Often first readings can feel awkward or uncomfortable but with Taron, I instantly felt like we were completely in the scene with each other," she recalls.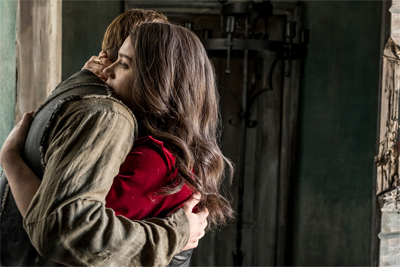 This version of Marian is also presented with a tough choice to make. When Robin goes missing in action, she marries the politically ambitious Will, only to be upended by Robin's return to Nottingham. Things only get more complicated when Marian becomes a supporter of The Hood. "I find it really romantic that the man Marian once loved is secretly leading the resistance and she doesn't even know it at first," says Hewson. "The rebel she's been waiting for is the man she thought she lost."

Playing Will, who fights for Marian's love while trying to become the community's leader, is Jamie Dornan, known for TV's Once Upon a Time and the Fifty Shade of Grey franchise. Dornan notes that Will is in a real bind once Robin returns. "Will is a good, decent man but he's threated by Robin. He sees that spark is still in Marian, and he also recognises that The Hood could take hold of the movement Will's worked so hard to organize, and make it his own. By the end of the story we see the damage that jealousy and rage does to my character."

Hewson has sympathy for Will, but says she and Dornan relished the challenge of showing the cracks in their connection.

For Dornan, the scope of Robin Hood was also a thrill. "I've never done a movie that has this kind of scale, with so many stunts and explosions and effects. It really was like nothing else I've experienced," he says. "Otto was brave and bold about everything."

They might be rivals vying for the same woman on screen but Egerton became great friends with Dornan in real life. "Jamie's a fantastic person to work with and his character arc through the film is one of my favorites," says Egerton. "It's a really great journey that his character goes on and I love where he ends up. It's very exciting and Jamie does it brilliantly."

Adds Foxx, "The ladies see Jamie and they go crazy, but he's also incredible in the role. The way he embodies the character gives it that glue. He brings you right into his world."

Rounding out the core of Robin's companions is Australian stand-up comic Tim Minchin bringing an original take on jovial Friar Tuck. Known for his distinctive music-fueled comedy, Minchin makes his feature film debut in the role"and takes the legend in a new direction, physically and otherwise. Explains Davisson: "We didn't want that classic round, bald Friar Tuck. We wanted someone with a kind of coolness to them and a subversive streak. And Tim in both his comedy and his personality just embodies that. He's the rock star of Friar Tucks. Tuck is so important to the story because he's the one character who is connected to everyone on both sides, both to the Sheriff and to Robin, and he is constantly put in very compromising positions in terms of where his loyalties lie."

Says Egerton of Minchin: "I've been a fan of Tim since my mid-teens, and he brings a really fresh take on Tuck. One, he has a lot more hair than most Tucks have. Also, he brings a really lovely tone to the film, and he brings comic relief. When the film goes to dark places, Tim's portrayal of Tuck is a really great leveler."

Minchin sees Tuck as "a man who thinks for himself, who has spent his life exploring ideas in books, but then he finds his own morality undermined by his job as the Friar, where he has to placate both the Sheriff of Nottingham and the church leaders. We find he's not completely loyal to this war-mongering, power-hungry group. What I love is that he becomes a genuine member of Robin's rebellion, and a bit of a hero, not just a comical buffoon."

Minchin notes that branching out into something different like this is not a choice he made lightly"but he couldn't resist. "I wouldn't be involved and I don't believe Otto would be involved in this Robin Hood if we didn't think there was an opportunity to tell a story in a way that is different and relevant. And at the same time it has just been an incredibly fun and rollicking adventure for me."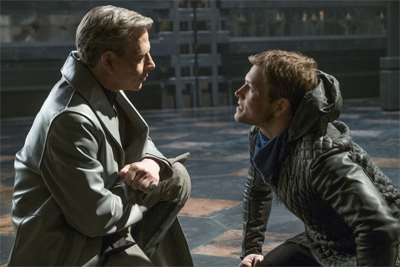 The Sheriff Of Nottingham Goes Dark

High above Nottingham sits the autocrat who rules the city with a ruthless hand, becoming The Hood's target and nemesis: the Sheriff of Nottingham. The Sheriff is a complex and daunting villain, an angry, cynical man dripping with inner darkness, hungry for limitless power and wealth, but also seeking to make others suffer as he once did as an orphan.

He shares little in common with previous incarnations. Says Davisson: "For the Sheriff, we wanted someone you might see on CNN, someone with that kind of modern TV polish, who whether you agree with them or not has a compelling way of speaking. We wanted to avoid the arch-villain and go for someone who exists in the grey areas, who could even come off as making sense, until you realise there's no truth to what he says. We knew we needed a really nuanced actor for that."

The production found an actor keen to go deep into the darkness in Ben Mendelsohn. Mendelsohn has drawn praise for a prolific range of work, spanning from his Golden Globe® and Emmy®-nominated role in Netflix's Florida family epic Bloodline to playing Bruce Wayne's corporate rival in The Dark Knight Rises, to the devious Orson Krennic in Rogue One: A Star Wars Story and King George VI in Darkest Hour. Says Egerton: "Ben's a great guy and I really enjoyed working with him. As the Sheriff, he's so morally vacuous and has such a disjointed logic…he's really scary and unhinged."

Mendelsohn says he approached the Sheriff as an "astute political animal, a master manipulator who grew up under the cruel hand of the church and the nobility, leaving him with a venomous hatred of both. He's a great and vivid character. He believes solely in power, so he's been busy building his war machine and living his depraved life without any concern for the citizens of Nottingham. His past has led him to develop an incredibly strong survival instinct. Like Robin, he sees that the people in power are full of lies and rubbish, but he decides to go all in as a scumbag to take advantage of it, whereas Robin decides to fight for the people and become a hero."

Foxx was riveted by Mendelsohn's take on the Sheriff. "Ben is the best," says Foxx. "I felt like I should be eating popcorn whenever I watched him. There are those actors who just bring something really magical and he does that here."

Stunts: Rapid-Fire Arrows, A Medieval Heist, A Furious Horse Chase

Well before production began on Robin Hood, everyone knew that the film's action choreography was going to be one of the film's toughest – yet most rewarding – challenges. The concept was always to bring graceful, acrobatic physicality, crisply constructed set pieces and gnarly stunts into the mix to make this version of Robin Hood as visually stylish as it is fun. The work began even before production did, as Taron Egerton and Jamie Foxx started training with master archers Steve Ralphs and Lars Andersen to embody sharp-shooting archers on a level never seen in film.

Andersen, an archer known for his blistering speed and amazing corner-turning feats seen on YouTube, was absolutely ecstatic to have the chance to show what might be possible by merging archery with the fast paced, envelope pushing action choreography film audiences crave in 2018. He knew that rapid-firing bow-and-arrows could add a whole new spin to how audiences think of Robin Hood.


Says Andersen, "Robin Hood is the very incarnation of archery so it was great fun to be part of this. When people think about archery they usually think about what they have seen in a Robin Hood movie. With this film, we finally had a chance to bring that archery closer to reality and hopefully people will see that archery can be extremely exciting. People are used to seeing a more static archery in films but archery can be incredibly dynamic."

Even with his high standards, Andersen was impressed with the cast's quick learning curve. "They were surprisingly good. I was worried they wouldn't be able to move fast enough to do all that we wanted but they were so good it became really fun for me," Andersen says. "The training utilised a lot of games, drills and a lot of playing so that the actors wouldn't be thinking too hard about what they're doing. When you just move really fast without stopping to think, that's when it is the best."

Andersen was especially gratified by how Egerton devoted himself to becoming as speedy and accurate an archer as he possibly could. "I wanted Taron to get to the point where it would look like archery is second nature to him, where he could as Robin just shoot an arrow from any position we wanted. And that is what happened," he says.

Meanwhile, renowned weapons designer Tim Wildgoose (World War Z, Assassin's Creed, King Arthur: Legend of the Sword) was amassing a creative arsenal of souped-up bows for the cast to handle. They include such innovative designs as a repeating crossbow that fires like automatic firearms and what Wildgoose has dubbed "an arrow-firing RPG," a shoulder-mounted device that can fire 30 arrows at once. "It takes 3 or 4 guys to hold the RPG, then one guy cranks and tensions the bow arm, then when they are ready to fire they pull a trigger rope at the back and it launches dozens of arrows in a spread over our Crusaders," he describes.

Other specially designed weapons include a large Gatling-style mechanical crossbow with a rotating magazine loaded with metal bolts, a crossbow that fires gas grenades used by the Sheriff of Nottingham for crowd control, camouflaged "sniper bows," and the "Nottingham clubs," a nasty version of a police stick wrapped in metal. The designs not only look treacherous, but Wildgoose assures, "they all work for real."

Robin starts off using a traditional English longbow (which all the Crusaders carry), but once he starts training with John, switches to a recurve bow (a bow that curves away from the archer when unstrung"providing more power and speed to the arrow). The bow he uses as The Hood is anything but traditional. "Robin's bow has nun-chucks across the wrist and knuckles and it also has sharpened tips on the bow so he can slash and stab with it in the middle of a close battle," Wildgoose explains.

Each bow was customized to the character carrying it. "Otto wanted us to heavily customise them as each soldier would have over their years in battle, adding their own graffiti, emblems, scripture and trinkets," says Wildgoose.

Wildgoose credits the archery instructors working with the cast, and especially with Egerton, with showing off all that the weapons can do. "They got Taron up to an intense speed that looks and feels a way that you won't see in other movies," says Wildgoose.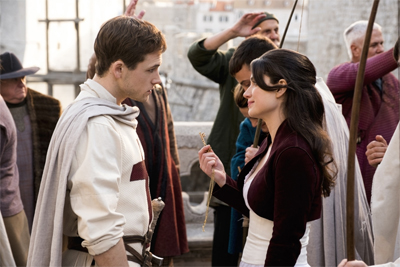 Says Egerton, "The design of the weaponry helps give the film it's high-octane, fast feel. The fighting has a rough-and-ready quality to it that feels authentic, not choreographed. I also learned a lot from Lars about how to fire lots of arrows in very close succession, which makes it really exciting and cinematic."

As production got under way, the film's ambitious set pieces were a welcomed challenge. Robin's attempt to raid the Nottingham treasury was shot with vigor and fluidity of a modern heist film, replete with epic, tight corner chases that involved horses rather than cars.

It all began with Production Designer Jean-Vincent Puzos creating the Treasury set where the battle begins. The three-level design incorporated a large wooden cylinder in the middle, which lowers to a basement cave, where a horse-and-cart routinely arrives to deliver substantial amounts of money. "We had to be really conscious of all the choreographed movement in the scene, because you have 25 people fighting in this tight space," Puzos notes. "We did a 360-degree build, so you feel movement in all directions."

The 8-minute long chase that erupts outside the Treasury required extreme coordination between the film's main and second units, the latter helmed by Simon Crane, who has directed many a memorably intricate car chase but had to rethink everything to accommodate the horses. Davisson comments, "Simon is a legend in the business. If you don't go to him on an action-adventure film you've probably made your first mistake."

Says Crane: "It was a lot of fun to try to capture all the thrills, adrenaline and near-misses of a modern car chase, but with horses and wagons. I liken it to Ben-Hur meets The Fast and The Furious. Robin and John are racing through buildings, skidding around corners, escaping flames, and it's something audiences have not seen before."

Davisson notes that throughout the film, the action required a fresh take. "What Otto and we all really wanted was for every action sequence to feel not just unique to this movie, but unique unto themselves. So we were really thinking about all the different ways a bow-and-arrow can be used, all the different ways you can see a horse chase. The hope is that you don't even realize you're watching a horse chase. You could be watching a car chase or a motorcycle chase because it's that fast, that dangerous, that urgent, that modern. We also wanted the action to have a fun vibe to it because that befits Robin's personality. Otto had a lot of very big ideas and Simon was fantastic in figuring out how to elevate those ideas to the next level. It was a great partnership between the two of them."

A Whole New Nottingham

A big part of re-imagining Robin Hood was building a world for the characters that would be visually original yet feel as alive as our own. Bathurst adored the challenge of creating his own vision of Nottingham from scratch. He saw in his head a city full of posh grandeur but also pocked by soot-choked mines and sprawling slums, reflecting the gap between haves and have-nots.

Defying any "period film" notions, Bathurst imagined a landscape influenced by vast range of architecture, from Medieval Europe to 18th century Pan Asian to 20th century Brutalism. Several key collaborators jumped aboard to help realize the scale of the film, including Director of Photography George Steel, who worked with Bathurst on Peaky Blinders; Production Designer Jean-Vincent Puzos (The Lost City of Z); and Costume Designer Julian Day (Rush).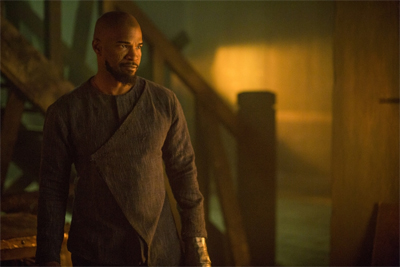 Steel had the chance to break fresh ground as the first cinematographer to use the Panavision DXL 65mm digital cinema camera, shooting at 8K resolution. Steel remarks, "Shooting in the 65mm format high-resolution with Primo 70 prime camera lenses allowed for the precise control of a considerable depth of field, which we used to really heighten the film's emotional beats." Steel also gave his all to upping the film's fast-flying combat sequences, moving across rooftops with a custom-designed, handheld rig, allowing for a Black Hawk Down-style mix of intensity and intimacy.

The production put the camera's flexibility to good use. "Our 'keep it modern' mantra extended to the camerawork," explains Steel. "We shot multiple cameras on practically every scene and kept the lighting as contemporary as possible. We used a varied palette for each timeline: Syria has a bleached modern war reportage look, the Nottingham mines are grainy while Nottingham is glossier, with lots of color. I hope it has the grit of the original The Taking of Pelham One Two Three, a primary inspiration."

Meanwhile, Puzos faced the huge task of building the new Nottingham from the ground up. "In my initial discussions with Otto we talked about Nottingham as being a melting pot of cultural influences," says Puzos. "There are Frank Lloyd Wright influences, Bugatti influences and inspiration from the 19th century Gothic Revival movement. Our only rule was that there are no rules."

Robin Hood filmed in three countries over four months, starting in the historic walled city of Dubrovnik, Croatia, host to numerous atmospheric scenes in Game of Thrones. There, the production turned an abandoned three-story granary into Loxley Manor, which during Robin's war absence is vandalized and burned, leaving a structure echoing Robin's broken state of mind.

Puzos loved that the unusually high walls of Dubrovnik allowed him to think vertically in his designs. But due to the city's UNESCO designation as a historic site, the production had to take extreme care, never drilling into any structure. Another Dubrovnik landmark, the spectacular, fortress-like, 13th century Church of St. Dominic, served as the facade of Nottingham Palace, where Robin and Marian crash a lavish costumed gala. The team had a blast creating an atmosphere where the glitterati of Nottingham society arrive in carriages, looking every bit as glam as a Paris fashion show.

Because Nottingham is horse-powered, the production also required well-trained teams of horses able to navigate sharp street turns. Horse trainer László Juhász Jnr. oversaw a stable of more than 70 horses, including a magnificent black Friesian ridden by the Sheriff of Nottingham and Robin Hood's 'Castano,' a 13-year-old Andalusian, known for their elegance, intelligence and lush manes.

In Budapest, Hungary, the film shot at Korda Studios, where Puzos and his team simulated the Syrian Desert, replete with six-foot-deep war trenches. The Crusades camp, lined with flags, tents and religious iconography, activates Robin's first realization that the soldiers are being used to fill the coffers of the rich. In keeping with the film's fresh attitude, Bathurst was committed to showing the Crusades in an updated way as well"as close-up war. He explains: "The Crusades were brutal wars, and the battles were as terribly real for the soldiers then as war is for our guys in the 21st century. So we looked at films like Black Hawk Down, The Hurt Locker and Lone Survivor. My direction to George was: what would it look like if you sent a Magnum war photographer back to the 12th Century?"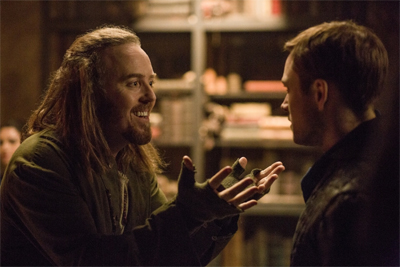 In an abandoned aluminum factory outside Budapest, Puzos and team built the target of the Crusader's assault: a ravaged Syrian city sheltering enemy Moor soldiers. "That set took my breath away," describes Davisson. "It was one of the most stunning interior sets I've seen. Forget a different period, it was a different world. The entire thing"with these large and colorful Ottoman structures, narrow alleyways and tucked-away market kiosks"was created in one giant hollowed out warehouse."

That enormous space required six weeks of pre-rigging. In addition, two expert rock climbers had to be employed to install mounts into the 150-foot-high walls and ceilings. Art director Nora Takacs, who has worked with Puzos for 10 years, oversaw the painstakingly detailed work. Says Takacs: "We did research on both current and 12th century Middle East markets to bring in minute details. It was so well-planned that you could view the set from any vantage point, from the rooftops to the mosque to the gardens, and see widely different elements and perspectives."

Also created at Korda was Nottingham Palace's interior, dressed with an opulent mix of metal art, silks, tapestries, mirrors, stained glass, ceramics, throw pillows, chandeliers, roulette boards, opium pipes and red lanterns"as if 2018 Las Vegas had merged with 12th century England. "We pulled out all stops for this room," says Puzos, "The wealth and glamour of Nottingham's elite are on full display."

Budapest was also where Puzos and team crafted the dusty catacombs that house Friar Tuck's living quarters and library, shot in an 83-year-old wine cellar. The design was inspired by the postwar German artist Anselm Kiefer. "Kiefer does lots of things incorporating raw physical materials, creating encrusted surfaces, which we emulated with Tuck's bookshelves," explains Puzos. Tim Minchin fell in love with his character's home. "I really love Tuck's catacombs," he says. "They show him as a spiritual, open-minded man who ultimately decides to act on moral judgment and not his obligations."

For Nottingham's slums, Puzos looked to Brazil's "favelas" –the anarchic shantytowns that house millions as a reference. They informed the design of both the ramshackle look and of the slums, which are formed from an enormous multi-level structure connected by rope gangways. Running more than 300 feet in curved length, the three-tiered, wood-framed set for the slums took more than 3 months to build. Says Jamie Dornan, "All the sets in this film are remarkable, but the Nottingham favela is my favorite. It's incredibly rich and textured, and it really gives you a sense of life for the common people, living so close to their dirty and squalid work sites."

Adjacent to the slums is the iron smelting plant where Robin and Will give dueling speeches to win support from the people. "The moment when Robin reveals his identity to the people is a pivotal scene because the people must decide if they're going to continue to rely on the self-serving but smooth-talking Will, to bargain for their betterment, or if they're going to take up the mantle of revolution and challenge the pillars of society that maintain the corruption," explains Bathurst. "Have they reached the point where they're ready to fight, ready to play big?"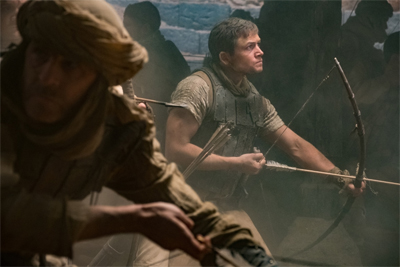 Costumes That Break The Medieval Mold

Robin Hood's costume designer, Julian Day, relished the chance to break the one thing that too often constrains film designers: all those period film rules. Instead, he developed his own gleefully rule-breaking take on Nottingham fashions, with a look he calls "modern Medieval." The look has an edge of futuristic, yet is still grounded in its own gritty reality.

Day and his team handcrafted nearly 95 percent of the wardrobe. The work started of course with a makeover for Robin and the "hood" itself. "It was always going to be about the hood," muses Day. "I looked at hundreds of different styles of hood but I couldn't find anything really exciting. Then I started investigating leather biker jackets and we came up with a look that combines a kind of Marlon Brando leather motorcycle jacket and a Samurai warrior robe." Similarly, Day did not want there to be much of the maiden in his version of Marian. "She is feisty, tough and engaged in the action, so we created beautiful but rugged clothing she could fight in."

Beyond Robin and Marian, Day had an enormous diversity of costumes to craft including: the Saracen warrior's blue uniforms, which he based on the Tuareg people of North Africa; the Nottingham miners' uniforms, modeled on 1945 RAF flying suits; the upper crust of Nottingham who favor velvet and metallic looks; the Sheriff's soldiers, who don silver helmets and black uniforms similar to those worn by Taiwan's Special Police; and the Nottingham couture costumes seen at the Palace Ball.

The piece de resistance for Day was the long leather coat worn by Ben Mendelsohn as the Sheriff. "Ben has incredible poise so I wanted to put him in a neutral grey palette that has a kind of austerity and simplicity to it and then he brings that huge personality," says Day.

Whisking audiences into a whole new world where the Robin Hood legend could be reborn was of course the bottom line for Bathurst. Every element of the final touches of the film–including the sleek modern score by Joseph Trapanese (The Greatest Showman, Straight Outta Compton, Tron: Legacy) and the dynamically-paced editing by Joe Hutshing (The Greatest Showman) and Chris Barwell (Peaky Blinders)"continued towards that aim.

Bathurst reflects: "We used every tool in the box to make this film feel as contemporary, real and connected to audiences as we could. This is not about being remotely historically accurate or being faithful to previous versions of the story, we're not looking through a gilded frame at the past in this Robin Hood. This story is now, the relevance of this story is now."


Robin Hood
Release Date: November 22nd, 2018
https://www.robinhoodmovie.com.au/