Rambo: Last Blood marks the last chapter of the legendary series.
Cast: Sylvester Stallone, Oscar Jaenada, Paz Vega, Adriana Barraza, Yvette Monreal, Sergio Peris-Mencheta, Joaquín Cosio
Director: Adrian Grunberg
Genre: Action, Adventure
Rated: R18+
Running Time: 100 minutes

Synopsis: Almost four decades after he drew first blood, Sylvester Stallone is back as one of the greatest action heroes of all time, John Rambo. Now, Rambo must confront his past and unearth his ruthless combat skills to exact revenge in a final mission. A deadly journey of vengeance, Rambo: Last Blood marks the last chapter of the legendary series.

Rambo: Last Blood
Release Date: September 19th, 2019
About The Production
Almost four decades after he drew first blood, Sylvester Stallone is back as one of the greatest cinematic action legends of all time, John Rambo. Now, Rambo must confront his past and unearth his ruthless combat skills to exact revenge in a climactic and truly personal mission. A thrilling, intense and gritty journey, Rambo: Last Blood presents audiences with the opportunity to see this iconic character and reluctant hero on the big screen for one final war.

Few characters have captured the imaginations of audiences around the world like Stallone's John Rambo. The character was introduced to moviegoers in First Blood, based on a novel by David Morrell, as an elite Special Forces veteran and war hero skilled in weaponry, hand-to-hand combat, survival tactics, and guerilla warfare – none of which could prepare him for his return to civilian life.

With the help of his former commanding officer, Rambo finds new purpose for his formidable and deadly talents – taking him back to Vietnam to rescue some of his imprisoned brothers-in-arms, in Rambo: First Blood, Part II; to Afghanistan, to come to the aid of his only friend, in Rambo III; and to Myanmar, where he unleashes his fury to help some captured missionaries and villagers, in Rambo.

After years of making his home in remote corners of the globe, Rambo made the fateful decision to return to the U.S., where we last saw him walking down a dusty path to a horse ranch, and past a rusted mailbox inscribed with his family name. John Rambo had finally come home.

Rambo: Last Blood picks up the character's epic saga, as we find Rambo settled down, and living a quiet life on his family's sprawling ranch in Arizona. Here he's found sanctuary and a sense of belonging, sharing his home with his adoptive family; Maria and her granddaughter Gabriela.

"We are taking a ten-year leap forward since we last saw Rambo," confirms Stallone. "He has long been removed from society but now seems to want to become a part of it. He's been accepted into a family he loves, and wants to take care of them."

Rambo has become a paternal figure to Gabriela, whose mother had long passed, and whose abusive father had abandoned her and never looked back. Alongside Maria, Rambo raised the young girl as his own. To him, she is the only thing that is pure and true in this world.

Now a teenager and curious about her past, Gabriela goes in search of her biological father. She wants to judge the man for herself, and nothing Rambo or Maria can say will dissuade her. Leaving the ranch defiant and full of hope, Gabriela travels to Mexico, but the reunion with her father ends in harsh rejection.

The next morning, when Gabriela doesn't return home, a primal instinct kicks in for Rambo. He sets out to find her, vowing to Maria he will not return without her. On his recon, Rambo's worst fears are realized when he witnesses Gabriela being drugged and abused by dangerous cartel members.

Fueled by guilt and vengeance, Rambo prepares for all-out war. They drew first blood. He will draw last.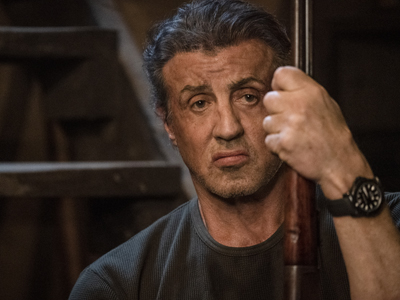 Home

Internal use only For Sylvester Stallone, returning to Rambo was an opportunity to explore some unexpected facets of the character, while retaining much of what has defined him. "Rambo had been so isolated for so many years, and now he's part of a family," he explains. "That dynamic helps you really understand how he thinks and what makes him tick. This film is quite different from the previous films; it's more personal."

"It's the first time we've seen Rambo in a family setting, and as close as he's ever felt to home in a long time," adds director Adrian Grunberg, who had previously helmed the Mel Gibson-starrer Get the Gringo. "That homelife opens up a part of Rambo that we haven't experienced before in the franchise. We wanted to depict a more human Rambo."

Bringing a newfound, if temporary, sense of humanity and homelife to Rambo are Maria and Gabriela. Acclaimed Mexican actress Adriana Barraza, who earned an Academy Award nomination for her work in Babel, calls Maria "…a strong Mexican woman. She has watched John Rambo grow older and understands he carries a lot of pain, not only in his body, but in his mind. The relationship between Maria and Rambo is really beautiful." Barraza adds that working with Stallone was a key draw. "He's an incredible partner, and when you look into his eyes you can see the character's soul."

Notes producer Kevin King Templeton, a frequent Stallone collaborator: "It was not easy to find an actor who could capture the heart of the character. Adriana is really down to earth and a gifted actor. We went after her for the role and we are thrilled she agreed to join us."

Maria's granddaughter Gabriela is portrayed by rising young star Yvette Monreal, who was recently cast in D.C. Comics, Stargirl. Monreal says her character "is like a step-daughter to Rambo, who he raised her as his own. Gabby understands his PTSD and supports him. When she decides to find her biological father, she travels to Mexico and doesn't come back. Her disappearance alarms Rambo and he sets out to find her."

Even with Gabby and Maria's support, and a successful business and a stable homelife, Rambo remains, at heart, a wounded warrior – a living example of the old saying, you can't go home again. War always finds John Rambo, even if he isn't seeking it.

"Rambo may have come to terms with himself and found home and family, but he's not settled," explains Stallone. "There's no real comfort in his life at the ranch; his body is there, but his mind isn't. He never wants to leave the ranch. He can't get past the PTSD, and everything else he cannot reign in. Rambo finds that life is its own kind of fight and despite being home, he is still at the mercy of events beyond his control."

Helping Rambo navigate the perils of being a veteran he has created a series of labyrinthian tunnels and a bunker under the ranch, where he sleeps, relaxes, and keeps his few belongings and memorabilia. "It's where Rambo feels, at least partly, like he's still dug in, like in a trench," says Grunberg. "It's where Rambo can release his demons. He considers the ranch above the tunnels, which houses Maria and Gabriela, representative of all that is good. The tunnels are his private hell."

Production designer Franco Carbone adds, "Rambo doesn't do anything by half, and the tunnels and bunker had to be the ultimate man cave. It's such an extreme idea that underneath this serene landscape and rolling hills is a maze of underground tunnel systems."

The tunnels are among the lingering aftershocks from his time in combat and his more recent missions. Stallone says they serve as a kind of "therapy indicated for momentary lapses of war that Rambo experiences. They make sense only to him, but at the end of the film they do serve a purpose."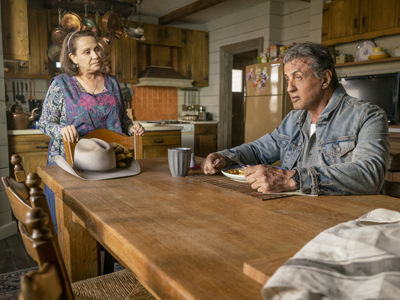 Last Blood

Where does a warrior make his last stand? "Rambo is trying to find an end for his journey," notes Stallone. "He realizes his job is protect his family; it's the only thing he's good at. But Rambo knows if he's pushed, he's going to revert back to his true self, even if that's the last thing he wants. He knows that if what he cares most about is taken away, then he is going to bring retribution, suffering, and death to those responsible."

The purpose to which Stallone alludes is that of turning his tunnels into a kind of subterranean killing field, where he retaliates against those who would bring death to his family. It's an epic, vengeance-fueled showdown that is fastpaced, brutal, and intricate. "Rambo uses his survival, stealth and weaponry skills, and his knowledge of the terrain to create these brilliantly engineered traps and weapons, lure his prey to his domain – the tunnels -- and hunt them down one at a time," notes Grunberg. "But here the stakes are even higher than they were for him during warfare, because they're grounded in personal loss, grieving and revenge."

Stallone, Grunberg and second unit director Vern Nobles, who's worked with Stallone for over 25 years, designed the climactic set piece as an amped-up and visceral return to the kind of survival skills we saw Rambo employ in First Blood. The sequence is marked by a mix of spectacle, rapid-fire action, and savage and merciless executions. "There are many kills, each designed with a beginning, middle and an end," Grunberg explains. "We see Rambo prepping each deadly trap, which you can trace back to when you see the kills; you have anticipated and envisioned what Rambo is going to do with each trap. We hope it's an exciting and breathless experience for the audience. They go by quickly because they've already been set up. It should be very gratifying to watch."

"You don't see Rambo with two rocket launchers in each hand, blowing helicopters out of the sky, like he's done in some of the previous films," says producer Les Weldon. "This is the Rambo we met in First Blood, who uses his skills and environment to hunt and trap his prey. There is still plenty of action, gunplay, and vengeance, but it's all more grounded in reality. This is a Rambo that is going back to his roots.

Bringing the final chapter in the saga of an iconic hero and his journey to moviegoers around the world was an unforgettable experience for the cast and filmmakers. "This film closes a circle for the character and series," Grunberg sums up. "We really wanted to honor Rambo and all the films by creating a slightly different kind of action movie and story that combines everything audiences love about the character, while putting him in a new environment, and against an enemy unlike any he's battled. And for those new to the films, we hope they'll go back and experience what led Rambo to this last war."

The artist who embodies this legendary figure promises that this closing chapter of an over-30 year cinematic ride will give audiences a jolt unlike any they've experienced with the franchise before. "Rambo: Last Blood will tap into something that never changes: the heart," says Sylvester Stallone. "At the same time, the story builds and builds to a finale that is seismic, volcanic – and very satisfying."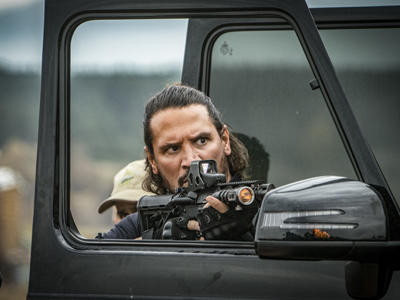 Production

Internal use only Rambo: Last Blood was filmed in Bulgaria and Tenerife, Canary Islands. Production was based at Nu Boyana Studios, in Sofia, Bulgaria, which served as the production offices, as well as home to the art, costume, VFX and SFX departments. Sets that were built on the stages at Boyana included Rambo's network of underground tunnels and bunker.

Production also utilized the studios' new underwater tank for the scenes in which Rambo's mountain trail is submerged during a vicious storm, and he comes to the rescue of some stranded hikers.

Production filmed inside Vranya King's Palace, the former home of the royal family of Bulgaria, to capture scenes inside the seedy brothel where Rambo discovers Gabriela is being held captive.

Scenes set at Rambo's Arizona ranch were captured at a working horse ranch in the Vitosha National Park on the Balkan Peninsula. The weathered ranch home was built from scratch on location. "The house and barn look like they have been there forever," says Monreal. "It is important to feel your surroundings are believable because it brings so much more life into everything you say and do. They are the foundation of the scene and the attention to detail has been incredible. My greatest pleasure has been working on the ranch."

All the exterior scenes set in Mexico were filmed in Tenerife, in the Canary Islands. Notes Carbone: "I thought it was going to be a challenge to dress and create Mexico in Tenerife. But when I walked into Santa Cruz and saw the favelas that are perched on the hillside, it was perfect: the colors, textures, and Latin/Spanish culture, it's all there. Weldon adds, "Tenerife is amazing in terms of the variety of landscapes and backdrops. You can be on the beach in the morning and then drive up the mountain through the greenest pine forest you have ever seen; drive a little further and you are in Arizona-like desert, rocky and red. You go further still and it's like you are on the surface of the moon. It is an incredible place to shoot a movie."

Santa Cruz's Barrio Nuevo neighborhood doubled for the Mexican Favela streets where Rambo experiences the wrath of the Martinez brothers. It stands out for being one of the capital's few neighborhoods built on a steep slope.


Rambo: Last Blood
Release Date: September 19th, 2019