Supergirly Interview
Supergirly (aka Lulu McClatchy), has decided that pop music has it coming and she's going to give it a good lashing.

Combining amazing vocals, wicked humour, clever writing and leaving no artist out, she takes the mickey out of music in a way that leaves you not only laughing from start to finish, but nodding in agreement and wondering why no one thought of this before.

Joined by Green Room Award-nominated actor and singer Lyall Brooks adding some extra spice to the show, SuperGirly will have you screaming, laughing and wincing all at the same time.

Some of her victims include Miley Cyrus, Katy Perry, Lady Gaga, Lorde and Britney Spears.

SuperGirly has:
Starred in her own BBC sitcom
Supported Elton John's Australian tour and performed at his private parties in the UK
Performed sold out shows at Edinburgh and the West End
Been invited to tour the US and Canada (22-date tour)
Entertained British troops in Cyprus and
Appeared at Sydney's State Theatre and Melbourne's Palms at Crown

Supergirly
Season: Tuesday 27th of May - Sunday 8th of June
Times: Tue-Fri 8pm, Sat 4pm & 8pm, Sun 4pm
Bookings: 8290 7000 or www.chapeloffchapel.com.au
Tickets: Preview $25, Full $39, Conc $30
Venue: Loft Theatre, Chapel Off Chapel: 12 Little Chapel St, Prahran



Interview with Supergirly aka Lulu McClatchy
Lulu McClatchy is an actress, writer, singer and comedian. Known around the globe for her larger than life alter ego -SuperGirly', Lulu considers this character the one that gave her the big break on to the international stage. Lulu first started making her mark in the UK by writing and performing her SuperGirly live show taking the Edinburgh Festival by storm before embarking on a string of UK tours including a stint in the West End where she sold out night after night.

She was invited to perform at the Just for Laughs festival Gala in Montreal in July 2001 alongside Megan Mullally (-Karen' from Will and Grace). Lulu was also personally requested to support Sir Elton John on the Australian leg of his 2002 World Tour.

After a string of TV shows in the UK, including her own BBC sitcom, Lulu decided to return to Australia to try and conquer her home turf. She landed a memorable role as the wrestling love interest of Toadie, (Genevieve -Eva' Doyle on Neighbours). Then went on to guest star in numerous shows including Blue Heelers and Spicks and Specks. She broke into the international film industry when she played the light-hearted role of -Bonnie' in Fox studios' Aquamarine. and then went on to co-star in the Australian ABC TV movie Valentine's Day, playing the footy loving, drum playing -Barassi'. Her most memorable role to date is playing the politically incorrect -Cassandra Downie' in the SBS comedy musical Bogan Pride, a role she considers one of her all-time favourites.

Featuring new material written by Lulu, SuperGirly: Return of the Pop Princess marks SuperGirly's debut theatre season in Australia. The two-act, two-hour all-out assault on the world of pop music is guaranteed to do what she does best - keep people laughing.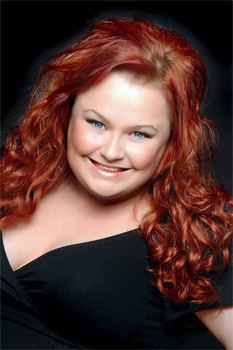 Question: Why should we all come to see Supergirly?

Lulu McClatchy: It's a hilarious, all singing all dancing look at the world of pop music, if you love pop you will love it and if you hate it, you will love it even more. And if you don't come you will be hearing about it from your friends and kicking yourself that you missed out.


Question: What should audiences expect from Supergirly?

Lulu McClatchy: It's rude, but funny, crude and silly, it's glitter and glamour and extremely entertaining, you will squirm, laugh and nod in agreement over some of the choices she makes, then be surprised at some of the other things that she dates to say, she pushes the boundaries!


Question: Describe Supergirly in five words:

Lulu McClatchy: Glamorous, cheeky, immature, raunchy, naughty.


Question: Can you talk about the preparation for a show such as, Supergirly?

Lulu McClatchy: It's been a lot of discussion of what songs to keep and what to cut, loads of writing and re writing, a lot of glitter and gluing and many laughs in rehearsals. Lyall Brooks is co directing so we are taking this show in a different direction to usual, but it's a lovely new take on a show that has been received so well all over the world. It's exciting to be home and doing a new version and have a partner in parody crime with Lyall in the show now is lovely too.


Question: Do you have any pre-show rituals?

Lulu McClatchy: I don't have anything in particular, but I never feel completely in character till I have my shoes on, it's all about the shoes.


Question: Can you tell us why you've returned home to make Aussies laugh and laugh and laugh?

Lulu McClatchy: Australians like to laugh, we love good comedy and there's not enough on Aussie TV anymore, and female musical comics are hard to find so I think the timings right. And pop music has an endless supply of victims! And, why not?


Question: Have you ever performed a celebrity's song for them that they didn't like?

Lulu McClatchy: Only Heather Small from M People, she wasn't impressed at my impersonation of her Kermit the Frog sounding voice. I just took the song out of the set. It's a joke, if they aren't happy I have plenty of other people to do, most of them love it and get the joke, I'm there to entertain and make people laugh, not to offend.


Question: Can you tell us about the artists which your adding to your act?

Lulu McClatchy: Lorde, One Direction, Adam Levine, Miley Cyrus, and a gorgeous sexy sidekick in Bradley Cooper aka Lyall Brooks.


Question: Are any artists off limits?

Lulu McClatchy: I only ever leave out ones that I don't like, because I couldn't stand singing them every night, but there's no one off limits.


Question: What are the three things audiences need to bring to your show?

Lulu McClatchy: A sense of humour, a huge group of friends, and a drink, I'm even funnier when you're pissed.


Interview by Brooke Hunter