A Michael Winterbottom Film
Cast: Steve Coogan, Asa Butterfield, Sophie Cookson, Isla Fisher
Director: Michael Winterbottom
Genre: Comedy, Drama
Running Time: 104 minutes

Synopsis: Greed tells the story of self-made British billionaire Sir Richard McCreadie (Steve Coogan), whose retail empire is in crisis. For 30 years he has ruled the world of retail fashion – bringing the high street to the catwalk and the catwalk to the high street – but after a damaging public inquiry, his image is tarnished. To save his reputation, he decides to bounce back with a highly publicised and extravagant party celebrating his 60th birthday on the Greek island of Mykonos. A satire on the grotesque inequality of wealth in the fashion industry, the film sees McCreadie's rise and fall through the eyes of his biographer, Nick (David Mitchell).

Greed
Release Date: April 23rd, 2020


About The Production
Who Is Sir Richard McCreadie?

Retail fashion is a huge global industry, worth an estimated $2.4 trillion a year, and it would be the world's seventh largest economy if it were ranked alongside individual countries' GDP. In the UK alone, it is worth around £26bn annually.

It is an industry that has its characters.

In Sweden there is Stefan Persson, the owner of H&M. He is the richest of Sweden's 12 billionaires and the 17th wealthiest man in the world.

In Spain there is Amancio Ortega, the owner of Zara. He is the second wealthiest man in Europe and the sixth wealthiest man in the world.

In the UK, their equivalent is…

Well…

It used to be Sir Richard McCreadie, the owner of Monda and M&J. A billionaire and a socialite, he was renowned for bringing the catwalk to the high street and the high street to the catwalk.

They called him the acceptable face of capitalism.

Until the cracks in his empire started to show.

"It's the Great Gatsby meets Gladiator meets The Godfather. And other films beginning with G."

The Origins Of Greed

For Michael Winterbottom, the inspiration for Greed came from a chance conversation the director had while he was trying to make an entirely different kind of movie. He was speaking, in the summer of 2016, to Peter Oborne, a British journalist and political commentator whose views on the Middle East Winterbottom was keen to hear. Unexpectedly, however, talk was briefly diverted to the subject of Philip Green, once the billionaire owner of the Arcadia Group – owners of Top Shop, Miss Selfridge, Dorothy Perkins and many more – who had been called before a Parliamentary Select Committee about the collapse of one of its biggest brands: the British high street fixture BHS.

"Peter mentioned that Green was quite a colourful character," Winterbottom recalls. "He would often call Peter up in the middle of the night, haranguing him about what he perceived as various inaccuracies in his articles. We chatted about him for a few minutes, but we were actually supposed to be talking about Syria."

Although it was certainly off-topic, the concept of a making a film about a largerthan-life businessman like that started to grow in the director's mind. Over time, he came up with the character of Richard "Greedy" McCreadie, a self-made man whose reputation takes a dramatic tumble just as he prepares to celebrate his 60th birthday with an highly publicised toga party in Greece.

"It just struck me as a rich and quite simple way of looking at what is quite a complex subject," Winterbottom says, "because you're seeing it through the eyes of a billionaire who's very hands on and who has built his business through the '80s, '90s and into the '00s. In a way, Richard McCreadie represents that kind of era: how the markets work, how the world has changed, how capitalism has changed, how globalization has changed the world, and so on. McCreadie, to me, was someone who could bring together quite large, different strands of how the world has changed in the last 30 years – he's a man of his time. And one of the attractions was that you could draw together various different strands – whether it's women workers in Sri Lanka, or dodgy business deals, or leveraged takeovers on the British high street – from the point of view of one fictional character."

Winterbottom is quick to stress that, though there are similarities between Richard McCreadie and Philip Green, Greed should not be seen as a thinly veiled attack on one specific individual.

"In general," he says, "the subject of the film is inequality – the way in which free market fundamentalism has worked over the last 30 years. We've done films before in the area, so it's not as though we were thinking of this as a new area."

What is slightly unusual, though, is that, despite the seriousness of the subject matter, Winterbottom uses humour to get his message across – but he is reluctant to call the film a comedy. "I'm not sure it is a comedy," he muses. "Comedy is always a tricky term. Hopefully it's entertaining, and hopefully there are funny bits in it. But I have to say, when we were trying to persuade people to give us money for the film and we had to give them an idea of the film, the references we gave them were films like The Big Short, which has comedy actors in it but is not a comedy at all, and other films about business – you could say it's like a jokey version of Citizen Kane, looking back on someone's career, or The Social Network. All our reference points were about how to deal with complex business issues through films that take a certain character as a central point. There was never a reference to comedy films we thought it was going to be like."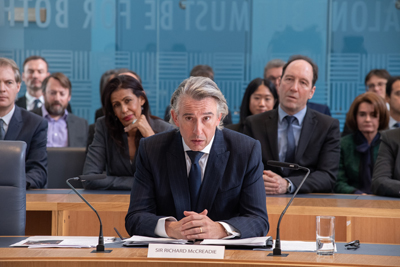 Finding The Character Of Richard "Greedy" McCreadie

Surprisingly, Winterbottom did not immediately have his frequent collaborator Steve Coogan in mind for the role, which was initially conceived to be an entirely unscripted project. "I'd heard about it," Coogan remembers, "and it sounded like an interesting idea. I said to Michael, 'Look, I know how to do this.' I mean, I'd made six films with him by then, so we knew how to work together."

Winterbottom didn't need much convincing. "Richard McCreadie has his flaws," he says, "but he also has some good qualities as well, and I felt Steve would enjoy playing that character. He also liked the underlying message of the film, which is a satire on the way that inequality has grown and grown over the last 30 years, in a way that McCreadie has definitely benefitted from. We really wanted to frame the film as being about Richard McCreadie's career, and the ways in which he is a man of his times – from his dodgy, cheap beginnings in the '80s with the whole rise of free-market Thatcherism and globalisation, without any great skills – just a determination to get rich. We wanted to engage with that career right from the very moment his empire is starting to crumble."

Coogan was both inspired and challenged by the chance to play a complex character like Richard McCreadie. "When you're playing someone who ostensibly seems quite odious," he says, "you have to mitigate that, because no one wants to watch a film about somebody who's just horrible. So what was good about the script – and not just the script, because we were allowed us a certain amount of improvisation, which Michael likes to encourage – is that, you make the character funny, then that sugars the pill somewhat. So the audience is entertained by him while being repelled by him at the same time."

The first thing he did was to have a set of dentures made, which were superwhite – in stark contrast to the character's tangerine suntan. "At first I thought it might be too stupid, or too comical," he says, "because the comedy has to be grounded in reality – if you make it too cartoonish, or too caricatured, then it starts to lose its teeth, if you'll forgive the pun. We wanted to make sure the film had both physical and metaphorical teeth, so I had these overly white teeth made, which is a predilection of the super rich – they think that they look great with a permanent tan and ridiculously white teeth. They think – because they're surrounded by yes men – it makes them look really cool. But it just makes them look like a dick, and that's funny. So you use physical things like that."

As Coogan puts it, the actor frequently starts from the outside and works his way in. "When I assemble a character," he says, "I use the external things to try and find a way into the character, because the physical stuff can help you worm your way inside the character's psychology. I like to latch onto physical aspects, such as the way the character dresses. So we made sure McCreadie wore well-tailored clothes, but they weren't too cool, just a bit unselfconsciously nouveau riche. Then we developed the way he walks – there's a sort of swagger to the way he walks – and then we worked on his accent. There's a certain Estuary English quality that he has, but he's not too much of a barrow boy. He's more of a public schoolboy who's tried to rough himself up a bit because it makes him feel a bit Jack The Lad. He likes to feel a bit street smart. And he is quite street smart – he's a wheeler-dealer. So all those physical stuff helps. You throw it all into the mix, and hopefully you come up with something that feels plausible and interesting."

Needless to say, Richard McCreadie is also a very funny man, and he wields his sharp tongue like a razor. "He certainly has a certain amount of wit," Coogan agrees. "I mean, someone like, for example, Philip Green does have a certain amount of wit, in his own bombastic way. You could say, if you're being kind, that he has a certain kind of charisma that allows him a certain licence, for a certain period, to behave in a way that most people would consider unacceptable. Because there's certainly an arrogance there, which was exposed at the Select Committee meetings. But it's not a film about Philip Green – we're using the likes of Philip Green to raise the subject of this kind of exploitative slave labour that makes people rich. People involved in this world, they sleep like babies. It doesn't bother them. Richard McCreadie is like that – the only kind of success he knows is material success. I don't think there's a spiritual bone in his body."

Casting the net

As preparations get underway for Richard McCreadie's party, Greed tells us the backstory of the billionaire entrepreneur, and does so through the character of Nick (David Mitchell), a journalist who is writing McCreadie's biography. Says Winterbottom, "I think Nick is a kind of everyman, and he represents 'us', whether that's 'us' in the audience or even 'us' as in the people who are actually making the film. He's someone who, I hope, is sympathetic. In terms of David himself, I really love David's comedy shows and I love his personality – his journalism in The Observer is great – and I felt he would be right for the part."

For Mitchell, the offer came out of the blue. "I'd only met Michael once," he recalls. "He'd said he'd like to meet me for a cup of tea about a year or so before, so I went to his office and we had a general chat about things. He said he'd like to work with me, and I said, 'Well, that would be wonderful.' And then – unusually for such meetings – a year later he said, 'How about being in this film? You'd be playing a writer who's sort of whoring himself around and has to write the adulatory biography of a terrible man?'" He laughs. "I was delighted. I thought the subject matter was great, the script was really funny and surprising and interesting, and I'm a big fan of Steve Coogan's – and of Michael's, of course – and I thought, 'Why not?' I haven't been in many films, and, in general, the way our business works is that you get asked to do the sort of thing you've done before, so it's always lovely to get asked to do something different. So I jumped at it."

"Nick is someone who isn't morally strong," says Winterbottom. "He's not the good guy taking down the bad guy, he's just trying to write the story of Richard McCreadie, and he's in an ambiguous position. He's on McCreadie's side, and he's being paid by him, but at the same time he doesn't always approve of his character or his business methods. So he's in the same position as the audience, and he sort of draws us through the story."

During filming, Mitchell says that, he wasn't aware of being the audience's eyes and ears, but he sees it now in retrospect. "I don't think Michael ever said that to me, or if he did I must have forgotten," he says, "but it's flattering to hear. I suppose we do see a lot of the story through Nick's eyes, and I think it's clever that he's written not as a nasty man, but as someone who's as morally ambiguous as we all are. We can sit in judgement on this economic system, but we also have to participate in it, and Nick taking the money to write the book is an example of that. You can see why he does it and you don't dislike him for doing it, but he dislikes himself for doing it. So I think that's a good, morally ambiguous way in, rather than seeing the film through the eyes of a virtue-signalling, perfect person."

Coogan was impressed by Mitchell's performance. "David is fantastic," his co-star enthuses. "He plays a kind of compromised conscience – he's a person who is really quite ethical but who has his morality compromised and feels bad about it. He represents a certain kind of complicity – and by that I mean that his character is the person who should know better."

The casting of Shirley Henderson as McCreadie's mother Margaret was also quite unusual, as Winterbottom agrees. "Shirley is certainly not obvious casting to play McCreadie's mother," he says. "I've worked with Shirley before where's she played Steve's wife – but here she plays the mother of the younger Richard as well as the older Richard, so she had a 40-year age span to straddle. I love working with her, and a lot of that character is really just Shirley coming in and inventing stuff, but we did a lot of reading around the careers of successful men, especially successful men in the retail fashion business, and it seems that, often, a strong mother was a factor that connected them. I wanted that idea of Margaret as a tougher, matriarchal version of Richard, someone who is all family, about getting on, about making money. Richard is made in her image, in a way."

For the part of Samantha, McCreadie's ex-wife, Winterbottom went to Isla Fisher, a Scottish-Australian actress known for dramatic roles and comedies alike. "I'd met her in LA," he says, "and I came away thinking that it would be great fun to work with her. She has the right sort of energy and humour, and I thought she and Steve would work well together – I could imagine them having been together, having something that connects them, but at the same time you could imagine them having fierce arguments as well. Again, I wanted her to be as strong as possible. Like the mother, I wanted Samantha, the ex-wife, also to be strong – at least as strong as, if not stronger than, the Richard character."

"I've loved Michael's work since Welcome To Sarajevo," says Fisher. "He emailed me about the role, then he sent me the script and he explained that, even though it was quite a small role, he felt Samantha was integral to the story." She said yes immediately. "I felt it was really important to be part of a story that satirises a broken system and the way it can be manipulated for private greed. Satire helps us to understand these complex systems. And it was a wonderful opportunity to work with Steve Coogan, who I've been a fan of since Alan Partridge."

Like Winterbottom, Fisher saw this as the story of two equals. "Samantha and Richard are divorced," she says, "but we're one of those couples that probably should have stayed married. We have a great relationship." Partly because they are cut from the same cloth, so to speak. "[Like Richard] Samantha is very blasé about her wealth," she says. "She's the kind of person who's proud of being greedy, who sees nothing wrong with being able to exploit a system and enjoys very much the spoils of luxury. She's essentially a deeply unlikable character."

For this reason, it was important to Fisher that Samantha should hold her own in Richard's world – which likely explains their attraction in the first place. "I did a little bit of research," she says, "and it seemed to me that not all wives of billionaires live in the shadow of their husband's success – some of them have thriving careers of their own and bring in a hefty fortune themselves. So I decided that, even though she's the kind of girl who likes to sit on a beach on a private island, Samantha's also someone who's very bright, who enjoys the sport of making money, who's interested in numbers and being rich. So that made her, to me, a much more interesting character than just being the trophy wife."

Physically, Fisher didn't have to try too hard to find Samantha's look. "There's a great TV show in Britain called Billionaire Wives," she says. "I just tried to give Samantha as much of a plastic look as possible. I wanted to make it look as though she's had plastic surgery, even though I obviously haven't. So I drew over my lips to make them look like they'd been injected with something, and then I tried to slim my nose, so that it would look like I'd had a nose job. I also wore a hairpiece, because I figured that she's somebody who spends a lot of time in a salon, continually polishing her look – because she's more interested in the exterior and how she appears than she is with what's going on inside."

Coogan is full of praise for Fisher. "I loved working with Isla," he says. "She's great company, she's funny and she's provocative – in the very best way. She's really energetic, she's great to work with, and she kept me on my toes. It's very interesting, because it's not like she's the long-suffering ex-wife. She loves Richard, even though they've broken up, and he loves her. That's a very human quality. The last tsar of Russia and the tsarina loved each other intensely, but they were profoundly flawed characters and, whether they loved each other or not, they still lacked a love of humanity. I think the same thing is true about Richard McCreadie and his wife – they lack empathy with ordinary people. But Samantha is a very believable, real character – and actually, on a personal level, really quite likeable. That's one thing I've noticed when I've interacted with super-rich people – they can be great fun. But just because someone's fun, it doesn't mean they're not nefarious or even wicked."

He pauses. "And I don't mean 'wicked' as in 'wickedly cool', I mean literally wicked." Fisher, after being a fan of Alan Partridge for many years, felt that Coogan more than lived up to her expectations. "I really enjoyed working with Steve," she says. "He's a really strong actor with really great instincts. Sometimes you'll be in a scene with another actor and there'll be this slight distance, like you're observing each other's performances. But I never felt like that with Steve. He's very good at keeping you relaxed. I mean, sometimes, at the start of the day, Michael would give me a page of dialogue that he'd just written, and I was so nervous that I wouldn't be able to remember it. But Steve was great. He'd Say, 'No, you've got this.' He's very supportive – and, obviously, very funny."

Presenting a more human side to McCreadie's empire is Amanda, played by Dinita Gohil. "Amanda is part of Richard McCreadie's team," explains Gohil. "She's basically his PA, his right-hand woman, and she's involved in the party planning. She used to work for McCreadie back in one of his shops, so she started off in retail and has found herself working in the hospitality side of things for this big party that he's having. Amanda is really hard-working, and, initially, she seems quite unassuming, but she surprises us, because, actually there's a lot more that that's gone on in her life than we initially realised."

This involves the revelation that Amanda has family involved in the overseas rag trade. "I did research into the sweatshop trade and industry in Sri Lanka and Bangladesh," she recalls. "Because as we learn more about my character's family, we find out that Amanda's mother used to work in a sweatshop in Bangladesh, and that there was a fire there – much like, for example, the Rana Plaza fire, which was a particularly devastating fire that happened in Bangladesh in 2013, at a garment factory there. And so I looked into that, and I watched various documentaries about the more sinister side of the retail industry in these 'dark factories', as they're called. Which not only exist in developing countries but also exist in places in England, like Leicester, now."

Winterbottom praises Gohil for pulling off what he considers possible the most difficult role in the film. "One aspect of this film that was always going to be technically challenging was how to somehow bring all these different strands together," he notes. "We wanted to look at Richard's early school days, then his early business career, then how he amassed a fortune and then how he avoided paying tax on that fortune, and how he managed to buy huge businesses when he didn't have that much cash himself. The first mechanism to hold it together was originally the Select Committee investigation and the aftermath of that – holding a big party to salvage his reputation. We thought of the party as being the present tense, and from there we could go backwards and forwards to look at all these different aspects of McCreadie's career."

"But then," he continues, "we also needed a character that would draw these strands together. We thought, 'OK, how do we make a connection between the women who are making clothes for McCreadie's business empire in Sri Lanka, who are getting paid $4 a day, and the lavish party that McCreadie, who's made his billions from those clothes, is throwing in Mykonos?' So the main character that does that is Amanda, because her mother was a worker in Sri Lanka and her uncle works in the garment trade in Leicester. She used to work for McCreadie's retail empire, and now she works for the company that's putting on the party. She crosses all the different strands of the film, and Dinita does it really well."

Unifying these strands was David Mitchell as Nick, who ties them together as Richard McCreadie's official biographer. "I had a few scenes with Steve, quite a few with Dinita, one with Shirley, and one with Isla," he recalls. "And, because of the nature of my role, I had quite a few one-on-one 'listening' scenes with most of the other major characters, and in very different ways they were all brilliant. I mean, Steve's transformative power as a comic actor is to the fore, Dinita is very real and centred, and Isla is one of the most fun and charismatic people to do a scene with that I've ever worked with. So they were all great in different ways, but they were held together in the same style by Michael's watchful eye."


The Shoot

For Steve Coogan, after working on so many previous projects with Michael Winterbottom, Greed was a case of business as usual. For the newcomers, however, it was something of a baptism of fire. "It was certainly a very unusual experience," says Isla Fisher. "Michael told me that he was going to allow for a lot of improvisation, and that the set would be run in a pretty loose way – like, there would be cameras filming when you weren't really necessarily aware that it was going to be your close-up – and it was going to be a little more avant-garde than perhaps I was used to. He said he was going to move around continuously, and that the film might not quite follow the storyline as it was written in the script. For me, it felt like joining a punk rock band. I thought it would be fun."

The first scenes to be shot were in Mykonos, Greece, where Richard McCreadie is building a wooden Roman amphitheatre for the amusement of his guests, who are flying in from all over the world. "We were there for a month, or something like that," recalls Coogan, "and we shot all the party scenes first."

According to Coogan, McCreadie's party was always intended to be Romanthemed. "It's actually quite similar to the kind of parties that people like Philip Green have always thrown," he explains. "These ostentatious displays of wealth. In fact, in a way, you might say that someone like Philip Green is being more honest than other people who try to present themselves as a more touchy-feely version of capitalism – the Richard Branson, approach to capitalism. Having a woolly jumper and a beard makes him seem very friendly, but, really, it's the same thing, just different clothes. So the decadence of the Roman Empire seemed to be a good metaphor for the decadence of the modern age. And that parallel is drawn – unwittingly – by the character of Richard McCreadie."

The party scene was David Mitchell's introduction to Winterbottom's shooting environment. "Mykonos is a strange place," he muses. "We were there at the end of the season, so it might look sunny, but in fact it's really windy and a little bit chilly. It's a very barren island, really. But at the same time it's very cool and quite pricey, so it was an odd juxtaposition. Stephen Fry was on the same flight as me, which in itself made things a bit surreal. I love Stephen, but when someone incredibly famous like that is on your plane, it's a bit like a dream, you know? I mean like a literal dream after a heavy meal where people off the telly keep turning up in your actual experiences. Him and Fatboy Slim were on the same flight as me, and we were taken in a little minibus to this very cool hotel complex. The next day we were shooting an enormous party, and we did that for two days. So it was in at the deep end – disorientating, but fun."

As the party draws nearer, McCreadie and his son trade quotes from the 2000 Ridley Scott film Gladiator, about a Roman general who wreaks his revenge on the corrupt emperor who sold him into slavery. "I think that was my fault," laughs Winterbottom. "I've watched Gladiator with my son many, many times. Originally it was just this grandiose thing a billionaire would want to do, but once we'd got that I thought it would be quite a nice thing for McCreadie to watch with his son – it's something that should bond them together but doesn't. Part of the point of having David Mitchell playing the role of Nick, the biographer, was so that he could bring some other, more obviously classical references in – we have references to Oedipus and so on – and there are lots of Greek tragedies that tell of a rise and fall, which is obviously the theme of our story."

The Gladiator reference resonated with Coogan. "It's a very good metaphor," he notes, "because it's celebrating the idea of someone who can only measure success in a very macho, aggressive, testosterone-fuelled way. It's a very Donald Trump-like rationale, really – it's a very unambiguous, unsophisticated, but very popular way of thinking about success."

This also explains the reasoning for McCreadie hosting what he thinks is the most extravagant party of the season. Explains Winterbottom, "One theme of the film is the gap between the lives of the women making clothes for McCreadie's brands and the lifestyle that can be bought by the billions of profits from their labour. So it had to be a lavish party, and we felt that a Roman-themed party, with McCreadie cast as a Roman emperor, would be something that would appeal to him, and that building an amphitheatre felt like something he would do. It's fair to say that it was modelled on real parties that billionaires have thrown, and, to be honest, ours was a rather more modest affair. Mainly because they spend more on one night for a party than we spent on the whole film."

Coogan, a veteran of many Winterbottom productions, confirms that Greed was a strictly no-frills production. "There's always a great camaraderie on Michael's films," he says. "He always manages to conjure that up. Sometimes it's a bit chaotic, but it's a controlled chaos, I would say. He shoots quickly, works very fast, but he always ends the shoot at a civilised hour. That's a way of working I really like. Lots of other people like it too, because you're able to get stuck into the material. There's very little downtime. There are no trailers, none of the creature comforts that you traditionally get on a movie set. He likes things to feel real, and therefore often there's nowhere safe to stand, because the camera might point in 360 degrees of direction. Sometimes if there's a big, wide crowd scene, you might not even be sure where the camera is, but you get into it. It's quite immersive, I suppose, is how you describe Michael's style of filmmaking."

For first-timer Gohil, it was a fascinating introduction into the director's world. "It was an incredibly unique experience," she remembers, and a really rewarding one for me, as an actor. It's not the conventional, 'OK, we're doing a two-shot now, and then we're doing a close-up.' Obviously, he does have those shots as well. But, equally, you're constantly being filmed in the background of scenes, so you continue to improvise and keep things alive, which is really fun for an actor and also really freeing. He'll allow scenes to just roll on, and the actors get to improvise. But how much of that actually gets into the film is another matter…"

Gohil also found out the depths of Winterbottom's insistence on realism. "My character is on the organisational side of things," she says, "so I had a headset, which was connected to a similar headset worn by Sarah Solemani, who's playing my boss [Melanie], and we were actually able to talk to each other through these headsets. Now, this party was full of extras, and lots of people wandering around, so we were actually having to manage it, like you really would manage a party: getting people to sit down in the right places, making sure food was coming out. So it felt really authentic. It was really fun. Quite chaotic as well, I suppose, but I guess probably quite true to life, really."

"It was very much like you were at a party," notes Mitchell, "and somewhere there was a camera. Initially the wine in the glasses was real, which could have got nasty, but that was only the case for about an hour. From my point of view, it felt quite chaotic. I only had the odd bit of dialogue – I mainly just had to be there, and that was pretty much true of everyone. So I'd be chatting to Stephen Fry or some other member of the cast, and every so often I'd get a sense that the camera was on me, and I'd try not to look self-conscious. But it wasn't hard – you could actually feel the atmosphere that you see in the film, that sort of opulence and amorality. It felt very disconnected from reality, which I think is the perfect juxtaposition to the very real scenes that you see in the factories in Sri Lanka."

Fisher says she was able to get up to speed very quickly. "Your microphone stays on the whole time," she says, "and you learn very early on just to watch Michael, wherever he's going. He's usually got a headset on, and he's carrying a handsfree monitor so that he can see what's being shot, and you basically just watch him, because sometimes it's hard to see where the cameras are. If you miss your cue, he'll give you a look, and then you'll know to either say your line or try a new line." She laughs. "There was a lot of telepathy, I would say."

For both Mitchell and Fisher, Winterbottom's low-key approach was refreshing. Says Mitchell, "We'd get a decent take of what was in the script, then we'd talk afterwards and re-express it in different ways, which meant we had the time and space to improvise around the basic story structure, to be funny and add jokes, some of which were usable and many of which were just funny at the time – or sometimes not even then, in some cases."

It helped, of course, that Mitchell was taking his cue from the other performers. "Mostly I'm just watching and listening," he says, "so occasionally I'd chip in with something shy or lame. That's my character's way – he feels a little bit out of it and he tries to be witty, but he's also a bit of a nerd. So that's what he contributes vocally, but mainly he's watching and absorbing and becoming troubled by it, because throughout the film he sees it all. So my acting challenge was to have a good reactive face without overdoing it – but also without just looking vacant."

Likewise, Fisher enjoyed that little bit of extra time and space. "What Michael does really well," she says, "is he creates a feeling of honesty and intimacy – and he succeeds in creating that mood by keeping things so loose in the way he shoots and allowing you to step away from the script. It really feels like it's not really simulated at times, which is interesting to experience. Because if you have a very controlling director, or a director that tries to over-direct you, it can feel like you're just trying to please them – they're letting you know what's working and what's not. But the less instructional your director is, sometimes the easier it is for you to take responsibility for your character, to really inhabit the emotional landscape of it and actually bring forth something creative and unique."

"Michael does a great job," she continues, "of stripping away the kind of ego that can sometimes surround a film shoot – when you have your own car, and your own hair and makeup people, you can get sort of sequestered away from the other artists and find yourself in a bubble. But we were all getting dressed in front of each, or getting hair and makeup done together, in the same small room. It was a nice feeling – like a kind of acting camp, really. An improv acting camp."

For Mitchell, this is exactly why the party scenes work. "There were definitely times when I thought, 'I think I was in shot then,' and I certainly wasn't doing anything – consciously – appropriate. But that party does look real, and if we'd all been told, 'OK, now look like you're at a party,' I don't think that would have improved things. So what can I say? The system worked. Michael did it in two days, and it looks great. It's the sort of thing that a less astute filmmaker, and/or one with a less limited budget, could have easily spent three weeks doing."

The Fame Game

As the guests start filing in for the festivities, we see that McCreadie is suddenly concerned by the arrival of some Syrian refugees in the coastline where his Roman amphitheatre is being built. In fact, McCreadie is not concerned at all by their plight. Instead, he worries that the great and good will have their evening spoiled by the temporary camp that's been set up next door.

McCreadie's frantic obsession with pandering to his celebrity guests offered a rich seam of satire for Winterbottom. "One of the themes of the film is the way business billionaires like McCreadie use celebrities to try to make themselves glamorous," he says, "and part of the narrative of the film is that he is trying to get these celebrities, who've always come to his parties in the past, to come to his latest party. Because, having had his businesses investigated, and, having been criticised in the press, he's trying to restore his reputation, so he thinks that getting all these celebrities come along will restore his image and his brand. Which means part of the narrative is: is that strategy going to work? And will it help him reinvent himself as king of the high street?"

Winterbottom sees this relationship as symbiotic. "One aspect of the world of fashion that McCreadie embodies is the way it uses celebrity and fame to make their world seem glamorous – hence the use of celebrities to endorse lines of fashion in their shops. People can buy a £10 dress and somehow feel connected to Kate Moss or Beyoncé. It's a way of making your business grow. And equally connected to that is the fact that rich people like to be seen with glamorous people, so the party is really a kind of marketing exercise, in the hope that McCreadie's brand will become successful again, which is a way a lot of big businesses work these days. Let's face it, celebrities, by their very nature, have plenty of money, but they're quite happy to get paid to add a little glamour to clothes being made by people with very little money. They'll still fly off to a free party on someone's yacht, even though they've got $50m in the bank."

This is hinted at in the film, where Pixie Lott generously performs as herself at a (relatively) star-studded party. "We got a few people in to make cameos," says Winterbottom. "We had people like Fatboy Slim, Colin Firth, Keira Knightley, Chris Martin and Stephen Fry. But, strangely, famous celebrities, on the whole, would rather go to a billionaire's party than a low-budget British film set." He laughs. "The people we have in the film understood that our film is not a very positive image of someone like Richard McCreadie – they're people who are happy to make fun of themselves and don't mind sending themselves up."

Aside from the bona fide celebrities, there is also a joke about the use of star lookalikes to pad out the A-list guest quota. "The party on Mykonos was very surreal," says Isla Fisher. "It was surreal anyway to be doing a night shoot with a bunch of people wearing togas, in the sand. But it was also surreal because as well as the actors we had these amazingly fun guest cameos – people like Stephen Fry, Fatboy Slim and Pixie Lott – and we were all very excited by that. But interspersed between them were these doubles, so you'd be at craft services, getting a cup of tea at 3am, and you'd think, 'Oh, there's Kylie Minogue.' And because you'd just seen Pixie Lott and Fatboy Slim, it seemed totally possible."

To Coogan, the use of celebrities as mascots has become something of a human shield for the super-wealthy. "Celebrities," he says, "help put an acceptable face on things that would otherwise be unacceptable. Lots of people like celebrities, and so if you attach a celebrity to something, it makes it much more palatable, doesn't it? It's all about what they call – a word I hate – the 'optics' of the operation, and we were trying to expose the guts of that. For example, we have Fatboy Slim playing the DJ that McCreadie has hired for his party, and Stephen Fry plays himself, as a celebrity hired by him. The irony is, of course, that they played themselves as if they were prostituting themselves for a rich person. But the reality is, they were doing it for a pittance, because they like Michael. Which is very noble of them, to send themselves up in that way."

Will everyone necessarily see those layers of irony? "Well, some people will and some people won't," says Coogan, "but that doesn't really bother Michael. He makes loads of films and loads of people don't get them. But I love working with him, and I love the films he makes. He tends to make films that are always different, and they always have a point to make, of some sort. Not many people make films like that these days – film that have a strong voice and are not ambiguous. There's a definite point of view, and it's provocative. Some people will love it, some people will hate it, and, hopefully, a few people will be provoked into thinking about stuff that they ordinarily wouldn't think about."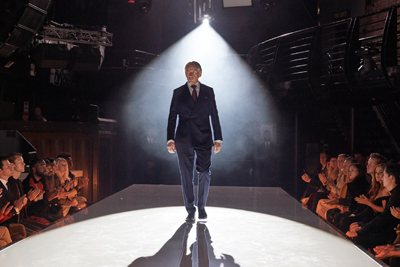 The Sweatshops Of Sri Lanka

Not long after the shoot in Mykonos, Winterbottom, Coogan, Mitchell and Jamie Blackley – who plays the young Richard McCreadie, flew to Sri Lanka. "I was in Sri Lanka for one day," says Mitchell, "and we shot in the place – well, a sort of slum, really – where the workers in the garment factory lived, which was exactly what it looks like in the film. It might look picturesque to western eyes, but it's a pretty grim place to live – there's no plumbing and very little space. And we shot in the factories too, which were fine, actually. That was a surprise. They didn't feel Dickensian, but the living conditions really did. And obviously that's all about the rate of pay, which is dictated by market forces unrestrained by governments. Sri Lanka is one of the best places in the context of that – you get a lot more for doing the same work there than you would get in Bangladesh, for example. But it's still not the way we in the west expect people to be treated."

Sri Lanka is also where the two McCreadies first swapped notes. "We hung out a bit, to make a connection," says Coogan, "but we'd already shot a lot of my stuff first, so he watched me rather than the other way around. We knew it could be problematic – it's always a risk to change actors when you're doing intergenerational flashbacks of someone when he was a younger man – so that was important. But the template was established, and Jamie followed it very well."

The hard bargaining that both McCreadies do in Sri Lanka was based very closely on the kind of deals that happen there. "We didn't want to be accused of exaggerating," says Coogan. "There's a certain amount of conjecture and invention," he concedes, "but the invention is along the lines of what's real. We shot in real garment factories. We showed the real places where these people live, just like the scenes with refugees [in Mykonos] – those are real Syrian refugees. We tried to be as truthful as possible. The film is a polemic piece. Although there are comic moments in it, it's not a comedy. Michael is quite keen for it not to be framed as a comedy, because it's misleading to do that."

Again, the team were keen to maintain a sense of authenticity. "We were trying to keep it rooted in a sort of reality," says Coogan. "We used actors who work in these kinds of factory to play themselves. They were really cooperative, they were happy to play along, and they were happy for us to share where they lived. They were completely at ease with being themselves. Michael didn't have to give them much direction at all, they just played themselves."

Adds Mitchell: "The people in the scene with me there were actors for the day, if you like, but their lives were the same lives as the characters they were playing. They were very excited to be doing something different, and I think they enjoyed it. They were nice days for them, in that regard. We provided a bit of novelty."

The scenes in Sri Lanka make a stark contrast with the hedonistic sunshine lifestyle that Richard McCreadie leads. "They do," Coogan agrees, "and I like those kinds of contrasts within the film. One day we were shooting on a superyacht that cost us £75,000 a day to rent and then the next day we were shooting in a garment factory, where people are paid $4 a day to work. That's how much they're literally paid, and that's in a licensed garment factory – that's not in an off-the-grid sweatshop. That's one of the decent ones. You don't often get those kinds of scenes in the same film, I don't think. Which is part of the strength of the movie, I think – that we show that. People don't like to think about that stuff."

In these scenes, the accent on reality was just as important to Coogan as it was to his director. "Showing that reality and having that authenticity," he says, "stops people saying, 'Oh, it's not like that,' or, 'They exaggerated that.' We can say, 'No, we were there, and this is what it's like.' What we want to do is have people talk about this stuff. I mean, people are aware of it, that's undeniable. But the people who make money from cheap clothing and the consumers who buy it don't want to think about where it comes from. What we want to do is make people think about it. We're saying, 'OK, if you're happy to buy that stuff and you know that people were screwed into the ground to get those prices down to nothing, go ahead. But, don't pretend it doesn't happen."

This, for Winterbottom, is perhaps the meat of the film. "It's not a documentary," he says. "We're not trying to expose something you don't already know, we're just showing you how the world works. Richard McCreadie isn't necessarily the bad guy, he's just a larger-than-life example of what everyone does, which is making clothes as cheaply as possible and selling them for as much as possible, and one way to do that is to make the clothes in Cambodia or Bangladesh, But we chose Sri Lanka because it's one of the best countries, in terms of manufacturing – I didn't want to show the worst conditions. Sri Lanka is at the top end of largevolume clothes manufacture for the west, and all the managers there told us that they were being constantly undercut by countries willing to be paid less. So the factory owners aren't the bad guys either – it's the system."

And the system isn't likely to change any time soon.

"Prices are constantly driven down," says Winterbottom, "and the only way to change that is to make rules and regulations that make a fairer system. People are just trying to get by, trying to survive, and het they're seeing the profits from their labour being siphoned off into billionaires' bank accounts, where it gets parked in offshore tax havens while they have their lavish parties. Even people in the fashion industry would like the system to change, but, for now, they all work within the system. And they have to – because that's how the system works."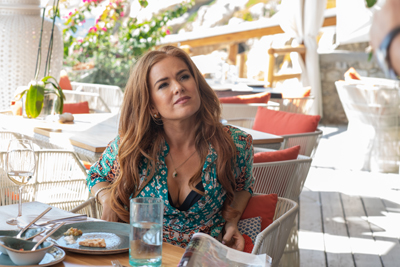 The End Of An Era?

Although Greed begins with a somewhat light, irreverent tone, Winterbottom's film takes a darker turn in the final third, when Richard McCreadie suddenly starts to become accountable to the people around him. "I like that," says Coogan. "There's a morality tale aspect to it, in a way that hasn't happened – well, so far – in reality. It's wish fulfilment: you reap what you sow, what goes around comes around – call it what you like."

"What happens in this film is dark and surprising," says David Mitchell, "which is all the more important when the primary aim is to be satirical and say something about the world we live in. It's surprising, it's shocking, it's nasty, but you don't see it coming and you didn't know it was going to happen before it happened."

Nevertheless, Coogan says he doesn't necessarily believe in karma. "Some people don't reap what they sow," he says. "That's the important thing about injustice in the world: some people behave terribly, and appallingly, and they get away with it because they've got good PR. The thing is, success breeds success. It doesn't matter how much of a bastard you are, if you've got lots of money you can make it seem like you're not a bastard, even though you are. You can control how the argument is framed, and everything that goes to make you seem great and have great branding. PR helps accentuate all the positive stuff you do, and turn the volume down on all the terrible stuff you do. There are a lot of people like that out there. People who are quite visible, but who manage their own image very well, because they have good PR. They have a support network of people around them who can present them in exactly the way they want to be presented."

But, to its makers, Greed isn't just a film about the exploitation of Third World labour – there are just as many victims of this ruthless brand of capitalism to be found working on the high streets of major cities, especially in the UK. "Yes," says Coogan, "there are all those zero-hours contracts to think about. But I feel that there are so many other issues, even beyond the whole Brexit thing, that are obfuscating more important things that need to be talked about. There are lots of issues being discussed, quite rightly. But the biggest issue confronting society is the one that is least talked about, and that is the disparity between the rich and the poor. It's the elephant in the room. When the super-rich get together and discuss how they can solve the ills of the world, they present themselves as wanting to help mankind. But in actual fact they are partly responsible for the very injustices that they are claiming to want to help resolve. But one of the things that all these people never want to talk about, the last taboo, is taxation."

"No one wants to talk about that," he continues. "Everyone will throw a few sovereigns at a worthy cause, for…" he grimaces "… the 'optics'. But no one will really make a commitment. These people squirrel away vast, vast reserves in offshore tax havens, and then they throw a few coins at those they regard as being needy. Everyone thinks they're really generous people, but it's a smokescreen. This film, I think, exposes that. Corporations do it. Big petrol chemical companies will build a couple of schools in some African country and then say, 'Look how nice we are, look how kind we are,' then maybe throw a few coins at some environmental thing. But it's all bullshit."

"This story is so important," says Isla Fisher. "It's about the human cost of fashion, and we need to make more informed choices when we buy our next pair of shoes. As a woman, I feel that we have a lot to worry about. We have to worry about where our little black dress came from, so I feel that we should just make it easy for women by getting the ethics right at the source. You don't want your shopping sprees to be moral decisions, and they shouldn't have to be. You should be able to go shopping while knowing about the conditions that the people who made your garment are working under, how much they're being paid, and how ethical the clothes are themselves. I really feel that it is an important story to tell. And there does seem to be a kind of movement these days towards seeing being wealthy as something to be celebrated – as if being on the Forbes Rich List is a virtue in and of itself, despite how you got there."

Dinita Gohil sees some of those same themes. "It's a film with a strong political undercurrent," she says. "Like a lot of Michael's work, it uses comedy as a vehicle, this time to expose the dark side of the retail industry in an incredibly clever way. What's brilliant about the film is it works on so many levels. It definitely is something that people will enjoy and find really funny. But hopefully also it will expose this darker side of the retail industry – and hopefully that will trigger a conversation amongst people and get people talking."

But how will that conversation change things? "This is dangerous territory for me, as a comedian," says Mitchell. "I'm not an activist. But I do think that people understanding more fully the nature of the economic system they're in can only be a good thing. Our governments in the west have become increasingly poor at making corporate power act in society's interests, and we have been sold a line by too many governments that regulating them is impossible, that corporate power is greater than governmental power. And that's horseshit. You only have to look at the credit crunch. The corporate power was totally enfeebled by an economic accident, and it took governmental power to save them."

"Governments have a nature of power that corporations don't," he adds, "and if those governments are acting democratically, they should be able to control the corporations and make them behave socially responsibly. They have that power, but only if we, as citizens, are more vigilant in who we vote for and why. It's not going to be a quick fix or an easy change, but the more people are informed about what corporations do, and that they're not all about the charities that they give to or any of that bullshit – what they're doing is avoiding tax and paying a pittance to people in slum conditions – then maybe the political messages that say, 'We would like to change that,' will gain more traction."

For Michael Winterbottom, those messages can be very far-reaching. "It's a way of looking at a lot of things that have shaped the last 30 years in a way that I think is wrong," he says. "Thatcherism, free-market capitalism and the whole '80s Wall Street ethos of 'Greed is good' – I think we're still living in the shadow of that era. We'll all happily go along to the shops and buy a £10 T-shirt or a £5 Tshirt knowing perfectly well that the people making those shirts – whether it's in Sri Lanka, or Vietnam, or Cambodia – aren't being paid very much, but we just see that as being one of the benefits of the free market. I think we've come to the stage, after 30 years of that kind of capitalism, where there are more and more people who would like to see a fairer world, a greener world. We throw away a huge amount of clothes because we can buy them again so cheaply. That era is coming to an end, I think, and this film is definitely looking back at the end of an era. But is it the fall of the whole empire?

Or just Richard McCreadie's empire?" And for Coogan, the film is a chance to ask some important questions. "There can be a public debate about whatever we want," he says. "About waste, and about whether the fashion industry is going to address these issues. The fashion industry does a lot for AIDS charities and all the rest of it. But if you ask them how much they exploit people in the developing world, they'll suddenly go all tongue-tied, because that's their Achilles heel. I'm hoping this film will open up a discussion about how we want to live our lives, and how much we need to consume. There have been certain successes in that area. I mean, we all know plastic bags are bad now, and that plastic straws are bad. Well, let's broaden out that discussion and talk about the voracious consumption in the clothing industry. We talk about waste, which is a good thing, environmentally, but we don't talk about exploitation. And even if we do, it's marginalised. Rich people are happy to talk about how green they are, but they're not happy to talk about how much they pay their most poorly paid employees."

It's perhaps fitting, then, that Richard McCreadie's fate turns out to be in the hands of someone who has had enough of that status quo and reacts to him on a visceral level, bringing the film to its surprising but poetic end. "What that character does is a revolutionary act," says Coogan. "The idea is that we don't have to accept conventional ways of thinking – perhaps we need to be more radical about how we address these things. The media always says, 'Being radical? Oh no, that's for lunatics. What we have to do is carry on as we are and just change things a tiny little bit, and then everything will be fine.' What our film says is, 'No, that's not good enough. You have to unleash the lions.'"

Greed
Release Date: April 23rd, 2020