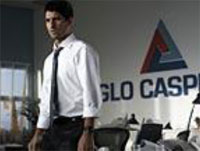 SPOOKS New Series Monday, 06 April 2009 - 09:35PM

The award-winning edge-of-your-seat spy drama Spooks is back with another white-knuckle ride through the perilous world of deadly terrorists, international cover-ups and treacherous double-agents. And there is a sleek, interactive online game at http://abc.net.au/spooks that extends the television experience.

Over the course of 10 hour-long episodes, Harry, Ros, Adam and the team are immersed in their most intricate operation to date as the complex relationship between the UK, Iran and the US is put under the spotlight.

Rupert Penry-Jones, Hermione Norris and Peter Firth return as officers Adam, Ros and Harry of Section D, MI5. Raza Jaffrey, Miranda Raison and Hugh Simon also reprise their roles as Zaf, Jo and Malcolm, and welcome new arrival Connie played by Gemma Jones. In the drama, Iran's covert scheme to become a nuclear power leads to growing mistrust among the British, American and Iranian governments, who all nurse their own agendas.

The opening episode sees Zaf, undercover in Tehran, attempt to place a bomb on a civilian train in an effort to flush out a key Iranian spy. Meanwhile, the electric atmosphere between Adam and Ros comes to a head, but things are complicated further by Adam's dangerous ongoing affair with a key asset inside the Iranian embassy. Ros, whose loyalty has come under scrutiny in the past, once again finds herself questioning her ability to carry out the demands of a government she does not necessarily support.

Harry gains a new friend on the Grid when he recruits old MI5 colleague Connie (Gemma Jones) as desk officer - clever and with plenty of old school tricks up her sleeve, she might just be able to fill the void left by Ruth's departure. Guest appearances include Matthew Marsh (The Commander) as CIA Agent Bob Hogan and Robert Glenister (Hustle), who resumes his role as Home Secretary.

Series 6 also sees the return of Anna Chancellor (Suburban Shootout, Tipping The Velvet) as Juliet Shaw, former National Security Co-ordinator.

For the first time ever, Spooks explores one theme throughout the series, and one which is an ongoing concern in today's world affairs agenda.