Sosina Wogayehu Burlesque Hour Interview
Finucane & Smith's The Burlesque Hour
This winter, the global smash hit, legendary burlesque-eats-its young salon that has set critics raving and 60,000 audience members around the world in raptures, the salon Melbourne 'can't get enough of' comes home at last, with a 9 week love letter to its home town; The Burlesque Hour Loves Melbourne. Melbourne icons unzipped, unveiled and unleashed!
Moira Finucane
: the woman who the French call 'exquisitely sumptuously demented' and who has redefined cabaret internationally - and the legendary house of Finucane & Smith have dipped into the cultural crucible that is Melbourne, and from the underground to the airborne, promise a red hot winter that is a must see for anyone who has carried an umbrella to work on a sunny day, and used it.
With
Pamela Rabe
in an erotic front of curtain monologue;
Rhonda Burchmore
the leggiest dame in showbiz, sizzling up the catwalk;
Deborah Conway
eternally wild at heart singing Goldfinger in sequins amongst other unforgettable hits; Meow Meow international passport to singing pleasure, she purrs, she roars; infamous choreographer Phillip Adams Balletlab's custom made Blue Ballet; Constantina Bush and The Bushettes born out of Katherine, major in Melbourne, from land rights to lamè with the deadliest moves in showbiz; Die Roten Punkte direct from Berlin creating rock love with Melbourne with their ode to Sydney 'Second Best Friend'. There's a different guest star every week.
Add to this the Burlesque Hour Divas Ethiopian Circus Queen
Sosina Wogayehu
, Ethiopian gymnastics champion at 9 and 11, star of Circus Oz, feted by the Queen of the Netherlands & Princess of Sweden; elegant iconoclast Maude Davey, whose outrageous turns won her the Best Actress Berlin Film Festival, direct from filming Christos Tsiolkas' The Slap; and Backroom Parisian Dance Stars Holly Durant direct from Paris where she makes dance films with the famed Prisca Lobjoy and Harriet Ritchie whose electrifying technique keeps her passport in tatters.
With so many new artistes and new acts, Burlesque Hour comes home with the hair flying, the whips cracking, the jewels dripping, the wild dancing, the legs kicking, the eyes popping and a whole lot of hot hot hot! Since its Melbourne premiere seven years ago, The Burlesque Hour has both defined and constantly redefined the genre, creating a global reputation for razorsharp uber-contemporaray Variety, wild physical performance and literary flights of fancy, mixing myriad artforms from German Kaberett to jazz ballet, showgirl to Shostakovitch, gothic melodrama to krump. Constantly evolving under the artistic direction of Finucane & Smith, The Burlesque Hour has won 7 theatre awards, and has toured Japan, Hungary, Italy, UK, Slovenia, Croatia, New Zealand and Sweden.
In the last year Burlesque Hour artistes have been airmailed all over; from Obadai Island in the Danube Rver where Finucane was hailed by 7500 Hungarians as The Red Hot Mama, and Finucane's infamous Quee of Hearts was awarded Image of the Year by Fotograficzny; to the Valentine's Day Tour that became the highest grossing work ever of Canberra's Street Theatre; to Brisbane where Burlesque Hour played to over 2,000 people in just 3 nights in a Christmas show like no other; next stop Rio de Janiero, and the garden parties of London's summer!
Burlesque Hour Loves Melbourne
Dates: 17 June - 14 August 2011 (Thurs -Sun)
Venue: Fortyfivedownstairs: 45 Flinders Lane, Melbourne
Tickets: $45/$55
Bookings: 03 9662 9966 or
www.fortyfivedownstairs.com.au
Interview with Sosina Wogayehu
Question:
What is Burlesque Hour?
Sosina Wogayehu
: Burlesque Hour is an all female show; it's a bit sassy and a bit sexy. It mostly circus based tricks mixed with Burlesque dancing. The audience walks in and experiences the atmosphere of a Paris nightclub, with red lights, the setting as well as getting to see amazing women performing their stuff.
Question:
What role do you play in Burlesque Hour?
Sosina Wogayehu
: I play more of a circus type role. I do a bouncing ball-juggling act. I also do this amazing whip-cracking act!
Question:
How is Burlesque Hour different to any of the acting you have done before?
Sosina Wogayehu
: Well I normally do more family type Circus shows and this is more of an adult's show.
Question:
What is it like getting up in front of an audience nearly every night?
Sosina Wogayehu
: It's beautiful! The venue and people want to be there to see you perform! Every night is exciting and you know that the audience will leave with everything that they want. There may be a lot of burlesque in Melbourne, but this is real burlesque! Burlesque you would pay for!
Question:
Do you think that after the release of the movie, Burlesque isn't seen as so risqué now?
Sosina Wogayehu
: Burlesque is so big now; it is great that the women can go out and go to burlesque classes and feel great about themselves! I am always hearing that they leave feeling great, and it's like a revolution for women!
Question:
What preparation went into Burlesque Hour?
Sosina Wogayehu
: I personally like to get to the venue two hours early and I just relax for a little bit. Then I will go and do a bit of training for my tricks. So I will go and do half an hour of ball training, and whip cracking training and make sure that all the whips are in perfect condition. I stretch a lot, and really make sure that I'm am warmed up and ready to go. Before the show, all of us girls get together and say what we plan on getting out of that nights show. So it's a really relaxed environment.
Question:
How has your previous career in gymnastics helped with this performance?
Sosina Wogayehu
: I guess I have moved a lot since gymnastics. I have moved from gymnastics to circus and now onto burlesque. But every move I perform has to start out with the basic, so I guess it has helped me a lot in that sense.
Question:
You were a gymnastic champion at ages 9 and 11. How did you fit training into school and having a social life?
Sosina Wogayehu
: Gymnastics in Ethiopia is very different to here in Australia. We would only train after school or on the weekends, and there wasn't as much pressure placed on us.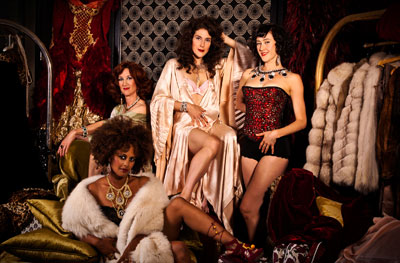 Question:
Can you talk about the leadership workshops you run?
Sosina Wogayehu
: I am invited to schools and I talk about my life or do a little bit of performance. It's really just about encouraging young people and I do a lot of work in the outback and with indigenous people.
Question:
What is the one message you live by?
Sosina Wogayehu
: "Live your Dream!"
Interview by Morgan Sutherland and Brooke Hunter.