Convenient, Take Anywhere Soap Sheets
NEW Soap2GO - Sheets Ahead When It Comes To Convenient, Compact &Travel-Friendly Personal Care On-The-Go!
Have you ever gone to wash your hands in a public restroom only to discover there's no soap? Or opened your suitcase to find your shampoo has leaked from your lingerie to your leather shoes? How about having to lug a bulky bar of soap or body wash to the gym or when camping?
Soap2GO, a NEW paper soap range of personal care products, is the perfect solution for on-the-go cleansing - anywhere, anytime. Soap2GO is also sheets ahead for the smart traveller who wants to travel light and flyright - just slip them into your carry-on luggage - no more messy surprises due to leaky containers and moreroom in your bag for the duty free too!
Compact, convenient and easy-to-use, just add water to these pleasantly fragranced, wafer-thin soap sheetsand watch them instantly transform into a sudsy lather! No mess, no fuss and no waste - each sheet deliversthe perfect amount of product required to do the job and are also biodegradable and safe for the environment.Available in 5 personal care options - Anti-Bacterial Hand Wash, Body Wash (apple and rainforestfragrances), Shampoo and Conditioner - Soap2GO comes in a virtually weightless and compact flip-topcase of 30 single-use sheets that are portable enough to pop in your desk, purse, car, gym bag, back pack orpocket for handy and convenient everyday use!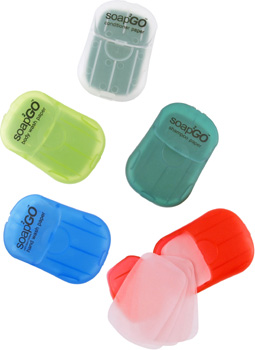 Soap2GO will undoubtedly prove a big hit with Mums on-the-go too. Little ones can be spruced up quicklyand conveniently when out-and-about.
o Soap2GO Anti-Bacterial Hand Soap - comeswith a refreshing Ocean Scent fragrance thatdelivers hygienic protection in a non-dryingformulation that is gentle-to-the-skin.
o Soap2GO Body Wash - available in twoinvigorating fragrance options of Fresh Rainforestand Luscious Apple. Perfect for taking to thegym, camping or that unexpected stay over and willrevive, cleanse and freshen up even the weariesttraveller.
o Soap2GO Shampoo - forget lugging around bulkybottles, one sheet of this foaming Fresh Scentfragrance formulation delivers the perfect amountof product required to thoroughly cleanse hair. Caneven be used in sea water!
o Soap2Go Conditioner - the perfect companionproduct to Soap2GO Shampoo, this moisturisingFresh Scent fragrance formulation can also beused in sea water!
I love this idea, it's perfect for travel & lifes little emergancies. Keep on in your car, your handbag, and you are ready for anything. Great for mums on the go!
Soap2GO (RRP$2.99 per product) is available NOW at Priceline & Priceline Pharmacy outlets nationally.For stockist information, please call 02 9979 3811 or visit Soap2GO at
www.ultimatum.com.au
.