Get the Midas touch this summer with
Fake Bake GOLD
Self-Tan with Anti-Oxidants
Available as a salon exclusive retail range & professional treatment
Want to know what the secret of the stars is for perfectly bronzed skin? Fake Bake GOLD Self-Tan with Anti-Oxidants. The ultimate in luxury self-tanning, the Fake Bake GOLD range contains the highest quality and naturally derived ingredients which pamper your skin, leaving it beautifully tanned and conditioned. The Fake Bake GOLD Self-Tanning Lotion contains higher levels of DHA and two of the most powerful anti-oxidants, Pomegranate and Stable Green Tea plus Vitamins A and E to help promote healthy skin. Why are anti-oxidants so important? Because they aid in protecting skin cells against collagen-degrading enzymes so skin looks less wrinkled. Anti-oxidants also improve skin elasticity and help reduce the look of age spots and wrinkles.
For the best self-tan results, prepare and maintain your skin with the easy to use Fake Bake GOLD Tri Pack, ($99.95). Your ultimate fake tan is three-easy-steps away.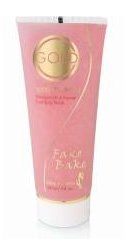 STEP 1 Exfoliate

Exfoliate your skin with Fake Bake GOLD Anti-Oxidant Pomegranate & Passion Fruit Body Polish ($26.95), a luxurious exfoliator which nourishes and protects the skin. High concentrations of premium botanicals refresh your skin while small particles of Loofah 'polish' the skin, giving you an all round body treatment.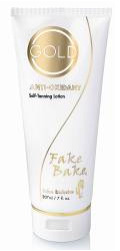 Step 2 Self-Tan

Using the gloves provided, apply small amounts of Fake Bake GOLD Anti-Oxidant Self Tanning Lotion ($49.95) to clean exfoliated skin in a circular motion. Lightly glaze over hands and feet ensuring you bend your elbows and knees when applying. Wait one week before reapplying.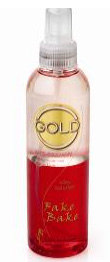 Step 3 Spritz

Complete the Fake Bake GOLD tanning experience with the Fake Bake GOLD Anti-Oxidant Pomegranate and Passion Fruit Silky Solution Smoothie Oil ($29.95) a luxurious two layered moisturiser which hydrates, nourishes and protects the skin. High concentrations of essential oils absorb further into the skin to lock in the tan for longer lasting colour.
The Fake Bake GOLD products are available now from beauty salons nationally or online at
www.fakebake.net.au
For stockists details please call 1300 787 587