Skin Doctors Cosmeceuticals
Photo Age Reverse and SD White
Photo Age Reverse: $72.95
SD White: $54.95
Over exposure to the harsh Australian sun can cause extensive premature sun damage with the appearance of fine lines, wrinkles and hyper pigmentation problems at an early age.
This premature ageing caused by sun exposure is called 'photo-ageing'. Through recent breakthroughs in skincare science and an understanding of photo-ageing, there are steps you can take to help maintain your skin's youthful appearance.
Skin Doctors™ has developed a comprehensive sun damage reversal regime to help address the effects and causes of photo-ageing. This simple 3-step routine can help to treat, reverse and prevent the photo-ageing effect on your skin.
Step 1: Treat
SD White™ helps treat pigmentation (age sports) caused by exposure to the sun. By helping reduce hyper pigmentation, you can restore and maintain evenly distributed skin tone.
Step 2: Reverse
Photo Age Reverse™ can help reduce the visible signs of premature ageing including wrinkles, spots and imperfections, while at the same time protecting the skin from free radical damage.
Step 3: Prevent
Supermoist™ SPF 30+ Accelerator is a light-weight moisturiser formulated with SPF 30+ for daily use to help prevent sun induced wrinkles and photo-ageing.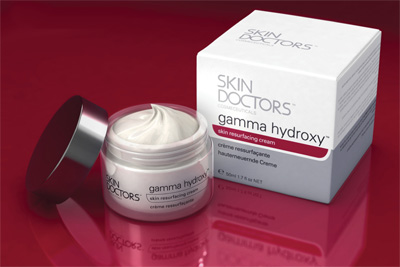 Gamma Hydroxy
Wake Up To A New You Every Day!
You can wake up to fresh new skin every day using Skin Doctors™ Gamma Hydroxy™, a gentle resurfacing cream for everyday use.
It helps shed tired surface skin to reveal the fresh glowing skin that lies beneath!
Gamma Hydroxy™ is not a typical exfoliate as it combines no harsh beads that scratch the skin's surface. It is a smooth cream combining AHAs and BHAs powerful enough to exfoliate and renew the skin, but gentle enough to use everyday.
Gamma Hydroxy™ Resurfacing cream goes beyond exfoliation helping to:
Stimulate collagen production
Reduce the appearance of pigmentation, acne scarring and fine lines
Improve skin texture and reduce pore size.
In a recent consumer trial: 96% of users said that their skin tone appeared more even after just 14 days.
Gamma Hydroxy: $72.95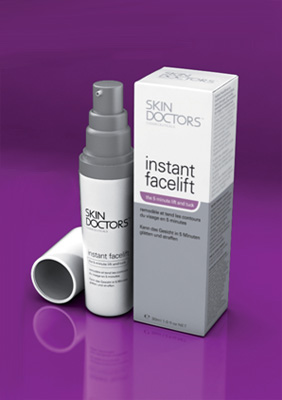 Instant Facelift
Fabulous in 5 minutes!
A facelift without surgery? Sounds too good to be true?
Introducing Skin Doctors™ Instant Facelift. A unique formulation containing a triple action ingredient combination to lift, firm and smooth your skin within minutes!
Use everyday for radiant results and just imagine always looking younger than your friends.
Don't just take our word for it. 96% of trial lists in the clinical study experienced an immediate skin tightening effect.
For results in minutes that last for hours, use Instant Facelift every day in combination with Relaxaderm Advance.
Instant Facelift: $49.95
Available at leading pharmacies and retailers.
Stockists: Skin Doctor (02) 9997 1466 or
www.skindoctors.com.au
.