HandShield
HandShield Household
Hand Shield has been dermatologically tested and has proven its ability in protecting the skin from harsh elements. With moisturising and barrier protection, Hand Shield nourishes and safeguards the skin for four hours or more, even after repeated washings with cold water and soap.
Hand Shield is designed to use as a secondary form of skin protection for individuals who may be occupationally or domestically exposed to substances such as chemicals, detergents, cleaning agents, disinfectants and water. Hand Shield is not a substitution for other forms of personal protective equipment or attire recommended under the Occupational Health & Safety Administration requirements.
Traditional hand creams and hand sanitisers wash off with every hand washing and must be reapplied repeatedly. Not only are large quantities of lotion used, they have no persistent protective qualities.
Hand Shield will protect against tar, paint, resins, powders, grease, oils, odours, harsh soaps, caustic grime, adhesives and ink. With its antiseptic properties, Hand Shield can help prevent the spread of infection such as E. coli, salmonella and also offers temporary protection against most acids, alkalis and solvents etc.
Ingredients: Water, Carbomer, Xanthan Gum, Propylene Glycol, Disodium EDTA, Stearic acid, Isopropyl Palmitate, Ricinus Communis Seed Oil, Dimethicone, Sodium Hydroxide, Mineral oil, Phenoxyethanol & Caprylyl Glycol & chlorphenesin, Triclosan, Aloe barbadensis (Aloe Vera), Simmondsia chinensis (JoJoba Oil).
Directions: Clean and dry skin/hands. Apply approximately 2 - 3ml and rub into the skin thoroughly. Allow 2-3 minutes to allow skin to absorb.
Cautions: External use only. After contact with dangerous chemicals, wash hands well.
Key Benefits:
Non Greasy: Absorbs quickly without leaving a greasy feeling. Does not impede mobility or sense of touch. No oil transfer to contact surfaces.
Waterproof: Lasts for four hours or more, even with repeated washings.
Acid & Alkali resistant: Offers protection from chemicals and detergents, as well as paint, grease and caustic acids.
Hypoallergenic & Lanolin free: Ingredients in Hand Shield are non allergenic and none irritating to human skin, leaving it smooth and protected.
Skin moisturising: Hand Shield contains Aloe Vera gel and Jojoba oil to penetrate and moisturize the skin, leaving it smooth and protected.
Odours wash away: Provides a barrier to eliminate odours on the skin.
With gloves: Hand Shield is compatible with latex, nitrile, neoprene, SBS, EBS and other synthetic glove chemistries.
Independent tests: Proven safety and effectiveness. Non-toxic, non irritating. Safe for use on all skin types.
Bonds with the skin: Hand Shield bonds with the skin, providing an invisible layer to help reduce irritant skin reactions under gloves and under-glove perspiration.
Cost effective: Hand Shield is effective for up to four hours regardless of the number of hand washes, eliminating frequent reapplications and therefore saving costs.
Adjusted pH: Compliments the skin's natural resistance and healing ability. Helps to maintain surface acidity of the skin.
"I have spent most of my adult life trying to find a product to make my hands and nails look a bit more 'lady like'- now I would never be without a tube of HandShield, it is AMAZING" - Kal Newcomb.
HandShield Household 25mL TubeHandShield Household 150mL TubeHandShield Household 500mL PumpBottleHandShield Antibacterial 100mL Tube
- $12.95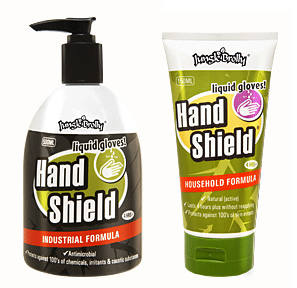 HandShield Industrial Formula


Utilising the same base as Household Formula, Household Industrial Formula possesses several key ingredients as well as stronger antimicrobial ingredients, all specifically designed to protect hands exposed to harsh and more abrasive elements that are usually found in the work place. Often these chemicals and caustic substances have the tendency to rapidly deplete the skins natural protective characteristics.
Industrial formula will also continue to moisturise and shield the skin for four hours or more, and will even protect cuts and sores, allowing the skin to heal naturally while continuing to protect from the constant bombardment of harmful chemicals.
We advise that two to three continuous applications per day for several weeks can restore cracked and damaged skin. With continuous application afterwards, hands and skin will appear rejuvenated and completely restored.
RRP: $34.95
Hand Shield Lipquid Gloves are available thorugh most good pharmacies and health food stores or online at
www.junglebrolly.com.au