Winner: Palme d'Or 2018 Cannes Film Festival
Cast: Kirin Kiki, Lily Franky, Sôsuke Ikematsu
Director: Kore-Eda Hirokazu
Genre: Crime , Drama
Running Time: 121 minutes

Synopsis: Conflicting emotions and family ties lie at the heart of an exquisite drama by Hirokazu Kore-eda (Nobody Knows).

Osamu is the head of an impoverished family of thieves and fraudsters. Three generations are cramped into a dilapidated house stuck between anonymous apartment blocks. His wife, Naboyo, works in a laundry and steals whatever she can from clothes' pockets. Young son Shota accompanies dad on shoplifting expeditions. Teenage daughter Aki works behind a mirror in a sleazy peep-show joint. Grandma is addicted to pachinko gambling machies.

Then there's Yuri. She's a neglected and frightened 4-year-old girl rescued from the street and informally adopted by the family. Everyone's happy, especially Yuri, but she's still a missing person and someone else's daughter. When authorities eventually come calling Yuri's given a disguise and a new name, but this is far from the end of the matter. Kore-eda's masterful film highlights sharp social and economic divisions in contemporary Japan while asking the question of what makes a family.

Shoplifters
Release Date: November 15th, 2018


Interview with Kore-Eda Hirokazu, Director
Question: You decided to make this film after learning about incidents of families illegally receiving the pensions of parents who had already died years ago. Was your intention to depict a family from a different angle compared to your previous films?

Kore-Eda Hirokazu: The first thing that came to my mind was the tagline: "Only the crimes tied us together". In Japan, crimes like pension frauds and parents making their children shoplift are criticized severely. Of course, these criminals should be criticized but I am wondering why people get so angry over such minor infractions even though there are many lawbreakers out there committing far more serious crimes without condemnation. Especially after the 2011 earthquakes, I didn't feel comfortable with people saying repeatedly that a family bond is important. So I wanted to explore it by depicting a family linked by crime.


Question: The theme of this bond is central and other elements are added to it. Can you comment on this?

Kore-Eda Hirokazu: I started to think about which elements were unfolded and would be examined deeply after the casting was settled. As a result, this film is packed with the various elements I have been thinking about and exploring these last 10 years. It is the story of what family means, a story about a man trying to be a father, and furthermore, a coming-of-age story of a boy.


Question: The impoverished family in the film reminds us of Nobody Knows. What can you say about the similarity between that film and Shoplifters?

Kore-Eda Hirokazu: Shoplifters might be similar to Nobody Knows in the sense that this film also explores closely the sort of "punished" families we regularly see in news reports. It wasn't my intention simply to describe a poor family, or the lower levels of the social strata. I rather think that the family in the film ended up gathering in that house not to collapse there. I wanted to shine a light on such a family from a different angle.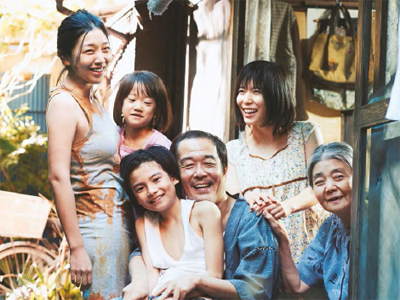 Question: The later scenes showing the family being split up are heartbreaking. We haven't seen such anger at social injustice shown so nakedly in your recent films. Can you comment on that?

Kore-Eda Hirokazu: It's true, maybe not since Nobody Knows. The core emotion when I was making this film might have been "anger". Since Still Walking, I have dug desperately deeper and more narrowly into the motif of personal things and after finishing After The Storm, I put the end to this approach of not broadening my vision to society, of minimizing as much as possible. It could be said that I have gone back to where I started.


Question: Can you tell us why you decided to work with Kondo Ryuto (DP) and composer Hosono Haruomi?

Kore-Eda Hirokazu: I have always wanted to work with Mr. Kondo as I think he is one of the finest cinematographers currently working in the Japanese movie industry. He has very much a "director's" point of view, with a deep interpretation of story and character. So it was a good balance that allowed me to focus on directing the actors without having to worry about the cinematography. Before the shoot, I was thinking of this film was kind of a fable and sought ways to find and build poetry within reality. Even if the film was realistic, I wanted to describe the poetry of human beings and both the cinematography and music came close to my vision. As for the music, I have been a fan of Mr. Hosono's film scores in his previous works so I have always looked for an opportunity to work with him. In this film, his music captures the fantasy side of the story.


Shoplifters
Release Date: November 15th, 2018