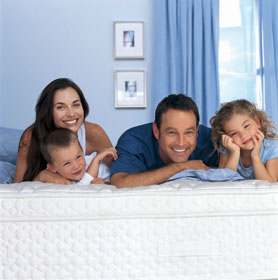 Serta®, who has been putting Australians to sleep for the past twenty-nine years, is launching a new campaign featuring the Serta® Counting Sheep to help more people understand the importance and benefits of a great night's sleep.
While most people might attribute a restless night's sleep to stress and resort to counting sheep to get a little shut-eye, in actual fact a number of key components play a role in good sleep - particularly what you choose to sleep on.
When you're uncomfortable in bed, it takes longer to fall asleep and remain asleep. If you do fall asleep and you're uncomfortable, you are likely to wake up more often and stay awake. A comfortable mattress is a key part of a good night's sleep.
Recent research into sleep habits reveals that:
Fatigue is involved in 1 out of 6 fatal road accidents (NRMA)
Seventeen hours of sustained wakefulness leads to a decrease in performance equivalent to blood alcohol-levels of .05%
The less sleep a person gets, the greater likelihood of weight gain (University of Wisconsin-Madison, Stanford University & University of Chicago)
On average, Australian men get 7 hours, 59 minutes of shut-eye, while women average 8 hours, 3 minutes. Some studies suggest that women need more sleep than men, and not getting this could be linked to women having increased susceptibility in experiencing depression(The above facts are courtesy of the National Sleep Research Project)
From ages 20 to 60 years you are likely to spend more than 15 full years in bed. In a 50 year span, you can be expected to fall asleep almost twenty thousand separate times
26 in every 100 people report sleeping problems (University of Newcastle)

Serta® has created a checklist to help keep the Counting Sheep at bay. They include:

Check the age of your mattress. The average mattress has a lifespan of 8 to 10 years. Keeping your mattress for longer than this can affect the quality of your sleep. If yours is getting a little old and tired, invest the time to find a mattress specifically suited to your body shape and sleep needs
Ensure your bedroom is adequately ventilated. In warmer months especially people report interrupted sleep. A bed with a wool-blend pillow top can help keep you cooler during summer months and warmer in winter
There have been significant advances in bedding technology in recent years. The Serta Perfect Sleeper range offers four different mattresses, specially designed to suit individual needs. Technological advances such as pillow tops, zoned posture support and innovative foam-encased design to minimise mattress movement, can be particularly beneficial if your partner is heavier than you are or if your require additional support and comfort
Ensure that you use your bed for sleep and limit the time you spend in bed when not sleeping. Also keep your bedroom is as dark as possible when you go to bed. If you can't sleep get out of bed and engage in a boring activity - it might just send you back to sleep
The weekend sleep-in isn't always the best way to help sleeping difficulty. Going to bed and awaking at a regular time helps the body establish a sleeping pattern

The Serta Perfect Sleeper range is exclusive to Myer and Megamart. For more information visit www.serta.com.au