A Tradition Turns Lethal
Cast: Adam Brody, Andie MacDowell, Henry Czerny, Samara Weaving, Mark O'Brien
Director: Matt Bettinelli-Olpin, Tyler Gillett
Genre: Horror, Mystery
Rated: MA
Running Time: 95 minutes

Synopsis: Ready Or Not follows a young bride (Samara Weaving) as she joins her new husband's (Mark O'Brien) rich, eccentric family (Adam Brody, Henry Czerny, Andie MacDowell) in a time-honored tradition that turns into a lethal game with everyone fighting for their survival.

Ready Or Not
Release Date: October 24th, 2019


About The Production
GRACE
You said your family was fucked up.
You didn't say psycho killers…

In Ready Or Not, the stakes are high as a newlywed literally fights for her life, trying to survive her in-laws in a deadly game of hide and seek on her wedding night. Samara Weaving (Three Billboards Outside Ebbing, Missouri, The Babysitter) plays Grace, a spirited young woman from modest beginnings who has been wooed by wealthy Alex Le Domas (Mark O'Brien, "City on a Hill"). Their 18-month courtship is culminating in a marriage ceremony at his family estate, where the mansion is imposing and so is the Le Domas clan, headed by Alex's parents Tony and Becky (Henry Czerny, "Sharp Objects" and Andie MacDowell, Four Weddings And A Funeral).

With a fortune built on board games, this eccentric family is bound by time-honored traditions. "The rich really are different," Alex's brother Daniel (Adam Brody, SHAZAM!) cautions Grace before she heads down the aisle.

The wedding goes off without a hitch, but the carefully planned celebration has a detour mapped out for the bride. Grace " still in her wedding dress " unsuspectingly joins her new husband and in-laws for a midnight gathering to play what they describe as a traditional family game. As a new member of the family, she must draw a card from a deck to determine which game they will all play " as danger lingers in the air, Grace unsuspectingly chooses the rare "Hide and Seek" card. With only a few moments head start, Grace is to leave Alex behind and stay hidden and quiet somewhere on the premises. The others fan out to find her before sunrise…

Soon Grace makes the terrifying discovery that she is being hunted in lethal blood sport. Pushed to her limits physically and emotionally, Grace becomes hellbent on not only staying alive, but attempts to change the game forever by fighting back in any way she can.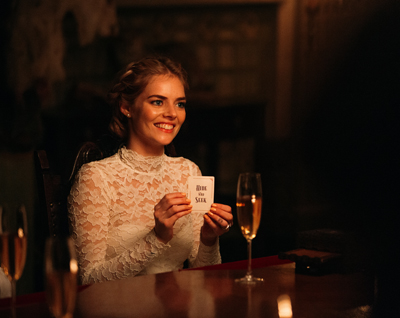 Ready Or Not
A Killer Game of Hide and Seek

The filmmaking trio collectively known as Radio Silence (Southbound, Devil's Due V/H/S), comprised of directors Matt Bettinelli-Olpin and Tyler Gillet, and executive producer Chad Villella, are known for their unique blending of comedy, adventure, and horror, with an eye for original screenplays that are comparably distinctive. For Ready Or Not, co-director Gillett talks about the idea of taking a conventional story to the extreme: "We loved the idea that you could take something that's as familiar and relatable as marrying into a family and give it a genre bend in a playful way – but also in a dangerous and extreme way."

The film's premise comes from the scriptwriting team Guy Busick and R. Christopher Murphy, who have been friends and writing partners for decades. Says Gillett, "It was refreshing to read a totally original idea." Adds Villella, "It really stood out to us."

The screenwriters appreciated films like the classic Rosemary's Baby, in which Mia Farrow memorably starred as the rattled yet tenacious Rosemary. Busick recalls, "The stakes are deadly in Rosemary's Baby, and it's very character-driven. The movie is terrifying but there's also a hint of mischief in it and a hint of the absurd." He and Murphy reveled in the idea of a female-driven thriller " both contemporary and timeless " that would place a young woman into next-level conflict with her new in-laws, a nocturnal fight for survival.

The audience's entry into the family's bizarre backroom rituals comes through the story's fish out of water heroine, Grace, whose unfortunate destiny is to play the family "game" to determine her fate. Musing on the tantalizing nature of the game, executive producer Tara Farney says, "You pick the card and that is your fate, but the card also picks you. There's a little underlying message that the devil is seeking out people who are pure of heart, and Grace is just that. He can't wait to get rid of her." But the devil didn't count on Grace fighting back. Ready with a confident first draft, the screenwriters took the script to friend James Vanderbilt (Murder Mystery, Zodiac). An accomplished writer and director, Vanderbilt committed his production company Mythology Entertainment to the project and then partnered with producer Tripp Vinson (Murder Mystery, San Andreas) and his Vinson Films production company. Development on the script continued quickly, with Vinson recognising the story's appeal in the rich lineage of horror movies including The Most Dangerous Game, Cabin In The Woods and You're Next – where human beings are hunted for sport.

"Ready Or Not is a little bit outside the box," says Vinson. "I knew we were not going to get the big budget of a comic book movie. But that allowed us to take creative risks."

When the call went out for directors, Radio Silence answered. Vinson admits, "I was a little apprehensive when I heard that three people were going to be coming in and talking to us about Ready Or Not." But since the filmmaking collective " consisting of directors Matt Bettinelli-Olpin and Tyler Gillett, and executive producer Chad Villella " had begun working together in 2009, their reputation had grown by way of their short films and feature work.

Gillett explains, "It's like being in a band. The three of us have all worked together to create a very specific sound. We know how everyone has tuned instruments, and we're all good at different things."

Bettinelli-Olpin adds, "There were great character elements, and that excited us. The journey that Grace goes on pulls you in." The screenwriters were thrilled with the director team choice. Busick notes, "We knew that Matt, Tyler and Chad would not only do the script justice but also elevate it with their particular style " fitting perfectly with our vision for the story." Murphy adds, "From the moment they showed us concept art of what they were going for it was, 'You get it.' There was never any doubt." Executive producer Tara Farney adds, "They understood the tone of this movie completely and know how to balance the irony and comedy with horror."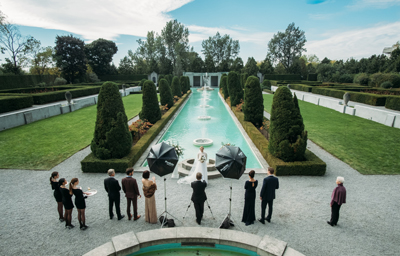 "Crafting a good scare is actually similar to crafting a good joke. You set it up and there is a punchline," said Gillett.

The actors on set appreciated the team's "go for it" approach to their work on the film. "They would come prepared, but they all worked with us very constructively on set. As directors, Tyler Gillett is a craftsman with the camera and Matt Bettinelli-Olpin will talk to the actors first, but they switch off; it's kind of symbiotic," adds cast member Mark O'Brien.

Gillett sums it up, "The three of us " Matt, Chad, and myself " wouldn't be doing this if we weren't friends and we didn't love working together. This wouldn't be as much fun if it was just one person!"

Production Design: The Family Funhouse

Grounding this fantastical story of a devil-worshipping family could only be done with perfectly ominous and creepy locations. Producer Tripp Vinson comments on the early decision to use practical locations and physical effects to cement an authenticity to the film, "There's a creative advantage to shooting in practical locations." By not relying on typical visual effects, he adds, "A lot of what you'll see in the movie was done practically, which was fun to kind of roll up your sleeves and get your hands dirty, literally, on this movie."

The requirements of the action-packed and highly physicalized script necessitated that not one, but three locations be pressed into service to embody the Le Domas estate. Oshawa, Ontario's Parkwood Estates is one of Canada's last remaining grand estates and was once the private residence of General Motors of Canada founder R.S. McLaughlin. Cast and crew used Parkwood's surrounding lands for the wedding ceremony sequences, and a number of its 55 rooms were given over for filming Ready Or Not interior scenes.

Also in Oshawa, the production utilized the local YWCA to film all of the family's dining room scenes. Two weeks after cameras rolled at Parkwood in October 2018, the production decamped to Toronto and its historic Casa Loma; the only full-sized castle within range of North America, it was built in 1911 at a cost of some $3.5 million and remains a top destination for visitors to the city. Casa Loma afforded the Ready Or Not troupe winding and ornate interiors for deadly pursuits; and the family's board games ethos can be seen as further manifesting in the form of the CLUE-style trappings.

Filming in the two houses offered a key creative advantage: the camera would be able to move around and follow characters " fast! " through hallways and into rooms. So even though you don't have the comfort and the control of being on a soundstage, there's a lot of creativity that results.

Adding to the advantages of filming practically was the authentic creativity oozing from the production design team. Producer Tripp Vinson was impressed by production designer Andrew Stern's commitment to the look and feel of the family's classic board games, and the sinister backstory of the Le Domas dynasty which was the extra touch the film needed, "He met with Radio Silence, he got started immediately on images and artwork. We all responded to the direction he was headed in of the classic games feel dating back to carnivals, with a sense of history."

When first walking into these locations co-screenwriter Guy Busick felt like he was actually stepping into his movie, the very one that he and R. Christopher Murphy had scripted. He offers, "Being on the sets was surreal. Everyone seemed to have been on the same wavelength. It was like walking through your own dream," marvels Murphy.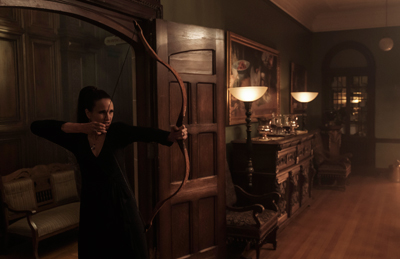 "You won't know what's around the corner, and I mean that figuratively and literally," exclaimed cast member Mark O'Brien.

Actor Kristian Bruun adds, "There are secret passageways. The rumor is that there's a ghost. It's beyond opulent!"

The filmmakers also opted for practical physical props and stunts to go with the practical locations in the film. This too had been a mandate early on in the pre-production phase so that the cast could get more into character. Producer Tripp Vinson states, "I credit Radio Silence for making that choice and seeing it through. It can be frustrating waiting around to get practical effects just right, but once you do it's worth it."

While this proved especially challenging given the trying stunts and graphically detailed demises, cast and crew weathered rigged exploding blood bags with aplomb while hitting their respective marks. Vinson adds, "One of the really fun things we did on this movie was blow a bunch of people up. And, we did it practically. We had many, many body bags and blood bags that exploded on set."

O'Brien feels that keeping the physical element of props and stunts "raises the stakes a bit more, when you actually have the blood there. It puts you more into the world you're playing." Director Bettinelli-Olpin agreed and added, "This movie is such a mix of gags, and great character stuff – and for us, that's what makes the movie so exciting."

Actress Nicky Guadagni reveals, "I'd never held a battle-axe before. It felt great running around the house with it. There was a light version made of rubber, and a much heavier version made out of metal."

Cast member Elyse Levesque reports, "My character Charity's weapon of choice is a spear gun. It was awesome running around with it, though I wouldn't know if I was using it right; to me, it doesn't seem like the most efficient weapon."

Weaving notes that "the weapon of choice for Grace in this scenario is, whatever she can get her hands on" " yielding some nasty and funny surprises. Day after day " or, night after night " on the demanding four-week shoot, everyone making Ready Or Not noticed how Weaving would always have a smile at the ready. "Horror films are really so much fun to do. I cover my eyes during scary movies, but here I knew what was going to happen [in my scenes] so it was sometimes hard to keep a straight face. Also, the 'blood' tastes like caramel; it's delicious as well as terrifying!" Producer Tripp Vinson sheepishly adds, "I don't know that we could throw more blood and guts on her."

Even though shooting on set might not be as scary as what ends up on screen, codirector Gillett hails the team behind the scenes that pulls everything together for the perfect fright, "Nothing is really scary when you're shooting it. You have to trust that in the edit and when all of these performances come together, and you've got great music and great sound design, that's when something goes from fun on set to something that's truly thrilling or terrifying for an audience."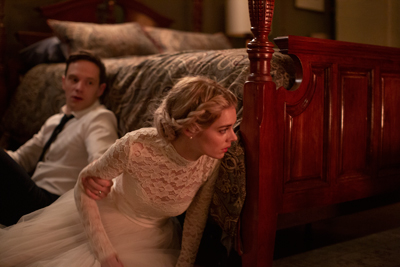 With each gory scene the filmmakers were keen on startling the audience " whether with shrieks or giggles " but no one had more fun with character deaths than the cast themselves. Executive producer Tara Farney remembers, "Every character has a very fun death. So I think our cast had a lot of fun with that." She continues, "In the days we shot those scenes, everyone's getting bloody and there's blood everywhere. It's absolutely disgusting, but our actors were crowding around video village and they wanted playback to see themselves die. Everyone was having a lot of fun with it."

"All the deaths are devilishly put together," states Bruun. "Pun intended." Murphy remarks, "The kills encapsulate the tone of Ready Or Not. They're brutal and violent " yet at the same time you can't help but giggle a little bit."

Grace's Costume: Saying Yes to the Dress

Samara Weaving was not only in close creative collaboration with her fellow actors and directors but also with another iconic character: her wedding dress.

More than any other costume in the film, Grace's wedding dress externalizes and expresses all that she fights through on this night of fright.

Co-director Matt Bettinelli-Olpin says, "The dress represents the course of the movie as a whole; we'd always discussed how Ready Or Not starts grand and classical before it degrades and degrades. The camera moves get quicker and the music gets crazier. The dress is gorgeous at the start, but by the end…"

In watching the dress devolve and break down with Grace in Ready Or Not, audiences will see the garment mimic other memorable " and malleable " costumes for genre movie heroines such as Carrie White's (Sissy Spacek) prom dress in CARRIE; Tree Gelbman's 14 (Jessica Rothe) long-sleeved T-shirt in Happy Death Day; and The Bride/Beatrix Kiddo's (Uma Thurman) track suit and violently disrupted wedding dress in Kill Bill.

"It had to be just right from the start. When you see Grace for the first time, you see the dress " and in it she ends up going to extremes," co-director Tyler Gillett adds.

Weaving's onscreen groom, actor Mark O'Brien, remembers "thinking when I first read the script how the role of Grace was going to be so physical for whomever is playing her, and melding with the costume " cut, ripped, blood-spattered, but tough and overcoming in a bride's dress the whole time."

Producer Tripp Vinson reports, "In the movie, there are 15-17 different looks all with the same dress in various stages of disrepair for Grace. The script was gone through with Avery scene by scene and notations were made about what and where the alterations would be."

Since Grace is, as she readily admits, a woman from humble beginnings marrying into a wealthy family, Plewes reveals that "we decided that she would have grown up idolizing someone like Kate Middleton, and now dresses as who she thinks the family would want to see. I specifically picked a very basic lace."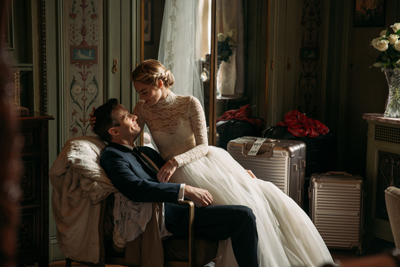 The Ready Or Not color palette, as overseen by cinematographer Brett Jutkiewicz, was also a consideration; Plewes notes that "we went with a warm cream color, almost yellow. Based on the way Brett would be shooting, I knew that the dress needed to have a rich undertone and not be the classic off-white 'movie white.'"

Plewes prepared "hundreds of bridal images" and sat with Weaving and the directors to finalize the look. She remembers, "We collectively settled on something modest and coveredup; from there I began sketching and we then landed on the look you see in Ready Or Not. She adds that since "Radio Silence and I decided that the dress would be a road map of what transpires with Grace, we realised the more we gave ourselves to work with the more could be played with over the course of the shoot. By creating something that had a lot of coverage, texture, and length there could be different stages; each instance where anything happened to it was numbered by us.

Plewes remarks, "I chose to use the different textures of satin, and tulle because they each would absorb blood differently, and also tear in different ways " creating even more variation in texture. Tyler, from Radio Silence, liked the idea of lace because it would photograph nicely and pick up blood beautifully." Plewes engineered how the wear-and-tear " literally " would progress. She reveals, "A complete dress would have proved too expensive, which is why I built the dress in five parts. It's built in such a way that it could be taken apart, including by Grace herself in some scenes that we pre-rigged. This way I could maximize multiples for our stains and tears. So the corset, skirt, skirt lining, sash, and lace top were all made separately, built by my tailor."

The lone accessory, at least at first, is the yellow Converse Chuck Taylor sneaker shoes that Plewes wanted Grace to be wearing "sort of as a reference to her past life, and to show how down-to-earth and casual she is. It is also the color of optimism, which Grace must keep within her, and it is a color that would track during Brett's night shooting.

"What I hadn't realized was that those had been discontinued. So we bought light grey Converse Chuck Taylors and had them custom-painted for Ready Or Not; I mixed the color myself because I was so hellbent on it."

As the night darkens and Grace is plunged into kill-or-be-killed violence, the dress itself takes on darker hues. Plewes reminds that "she's got the same thing on, but it's gotten tattered and bloody" and so has the corset she wears underneath."

Weaving praises Plewes and her team for their "amazing work. She adds, "Every day seemed to bring me a different dress with different layers of goo on it." Choosing her words carefully, Weaving dubs the wardrobe unit "bloody geniuses!"

When asked for trade secrets of keeping costuming clean and intact, Plewes says, "You can use mop oil, shaving cream, your own saliva; that's the magic trifecta." But she cautions that when making a genre movie, "Don't send things to dry cleaners. It never goes over well; they will get freaked out, no matter how well you know them."

Ready Or Not
Release Date: October 24th, 2019