The Illusionists: Direct From Broadway
The world masters of magic are returning to Sydney with their spectacular production, The Illusionists: Direct From Broadway, materialising in the Sydney Opera House Concert Hall for a strictly limited season from 19 to 29 December 2018.

The Illusionists has shattered box office records across the globe with over 85,000 Sydney Opera House audiences alone having witnessed the mind-blowing techniques and talent of The Illusionists (2012), The Illusionists 2.0 (2014) and The Illusionists 1903 (2015). This year, The Illusionists: Direct From Broadway will continue to redefine magic and challenge audience expectations with large-scale stunts, levitation, mindreading, disappearance and daredevilry. This non-stop show is thrilling and sophisticated magic at its best, led by eight of the world's most talented magicians and artists:

The Trickster, aka Jeff Hobson, whose unique brand of comedy magic leaves audiences laughing long after the curtain goes down;
The Mentalist, aka Chris Cox, a multi-award-winning mind-manipulator whose mischievous sense of magic and wonder has been seen by over 300,000 people internationally;
Brisbane-born Robyn Sharpe, aka The Warrior; an ex-gymnast whose thrilling crossbow act has been described as "one of the most dynamic and dazzling danger displays in the world";
The Inventor, aka Kevin James, a prolific innovator and consultant of magic who has contributed to many famous tricks including illusions by Penn & Teller, Mark Wilson and David Copperfield;
The Showman, aka Mark Kalin, has been one of the most influential magicians of the last decade, bringing his distinctive, amazing large scale illusions to stages across the world;
The Conjuress, aka Jinger Leigh, is a modern sorceress with a unique blend of elegance and theatricality, which has redefined the role of the magician;
Korean-born An Ha Lim, aka The Manipulator, whose slight-of-hand routine is widely regarded as one of the most masterful performances in the world; and
The Daredevil, aka British escape artist Jonathan Goodwin. He has been hanged, buried alive, dangled by his toes from helicopters, burned at the stake, and even attacked by sharks to name just a few of his terrifying stunts.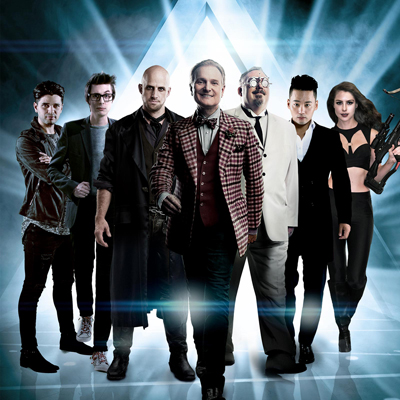 Sydney Opera House Head of Contemporary Performance, Olivia Ansell, says: "25 countries and six years after the world premiere of The Illusionists at Sydney Opera House in 2012, I'm delighted to welcome back this undeniably slick production, celebrating seven skilful masters of illusion. From Robyn Sharpe's impressive crossbow display to An Ha Lim's mind-boggling sleight-of-hand and Jonathan Goodwin's shocking daredevilry, The Illusionists: Direct from Broadway will be an exhilarating feast of world-class tricks and illusions."

Simon Painter, Creative Producer, The Works Entertainment, says: "Bringing The Illusionists back for its fourth season at Sydney Opera House and to where this show first began, is a huge honour. The Illusionists now tours around the World 365 days a year across the United States, South America, South Africa, the Middle East and Europe, dazzling audiences of all ages. Our new show Direct From Broadway, is a fantastic opportunity for Sydney audiences, families and visitors this Summer to enjoy the very best magic and illusion acts from around the world."

Combining the showmanship of the Harry Houdini era with contemporary stunts, visual effects and cutting-edge technology, The Illusionists: Direct From Broadway is an unmissable summer experience for the whole family.

The Illusionists: Direct From Broadway
19-29 December 2018
3pm & 7pm every day, except 1pm only on 24/12, no show on Christmas Day
Concert Hall, Sydney Opera House
Adults from $59, children from $39
Available from: sydneyoperahouse.com or 9250 7777
Interview with Robyn Sharpe
Question: Can you tell us about your role in The Illusionists: Direct From Broadway?

Robyn Sharpe: I am The Warrior in The Illusionists, a title I am very proud of. Part of that is because it is not the first thing that comes to mind when you think of a female illusionist. My act is classed as a Danger Act because it involves real danger and real weapons. I essentially use a crossbow to shoot at objects held by my very brave assistant.


Question: What is involved in your part as The Warrior?

Robyn Sharpe: Because of the nature of the act and the things that I do it require constant training to keep up my skills. In a lot of magic, the consequences of failure mean the trick simply doesn't happen or the trick is revealed. In my act there is very real jeopardy which requires me to constantly stay on top of what I am doing including training.


Question: Where did the idea for the character of The Warrior come from?

Robyn Sharpe: When I decided to become an illusionist I knew I wanted to do a danger act and focus on something that blurred the line between reality and illusion. I wanted something that was strong, gender neutral, and gave the audience an idea of the type of act I do and I think this persona is very fitting because it conjures up words like courage, patience, and discipline which my act requires.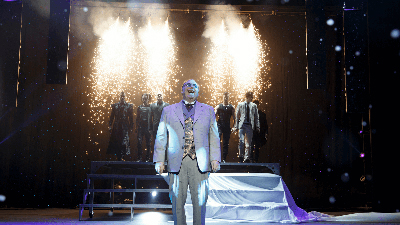 Question: What originally inspired your passion for magic?

Robyn Sharpe: I think what initially drew me to it was the skill and dedication involved. As a gymnast you have to practice a skill over and over again day in and day out before it is ready to be put into a routine. It's the same with magic, a magician will train a sleight of hand technique or a trick for years before it is ready to be performed in front of an audience.


Question: Can you share your earliest memories of magic?

Robyn Sharpe: My earliest memory of magic was going to see an Illusion show with my sister and parents at the Cairns Casino when I was about 13 or 14. I am what you would call a "late bloomer" to magic.


Question: How does it feel to be the only Australian member of The Illusionists?

Robyn Sharpe: It is a real honour and privilege. I actually saw the very first The Illusionists in Sydney when it opened in 2012 and I vividly remember being in awe of that entire cast. I could never have imagined all those years ago when I started in magic that this is where I would be now; working alongside illusionists that have shaped the industry and invented illusions that magicians perform worldwide.


Question: When did you make the decision to move from being a lawyer to magician?

Robyn Sharpe: I was working in magic for many years and all throughout my years studying so I never thought that I had to be one or the other; and I still don't. I did however know that I wanted to pursue magic full time just after I had finished my degree. I kept that a secret from my parents though! Even though I knew that was what I wanted to do it was extremely important to me to be admitted as a lawyer first. So that is what I did. I still worked in magic and performed, but I finished my studies and certification before making magic full time. Education is really important and I wanted to ensure I had options. Not in case I failed or 'didn't make it', but because things change, priorities change, and I feel that it is important to be skilled in as many areas as possible.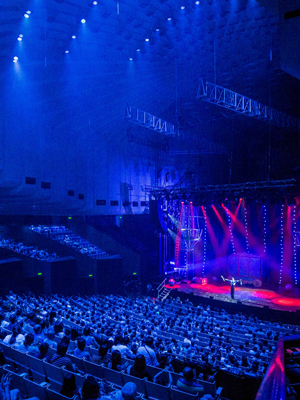 Question: Can you talk us through the preparation for The Illusionists: Direct From Broadway?

Robyn Sharpe: Aside from constantly ensuring my props are precision tuned and operating properly and safely, I have to maintain my training because as with anything, skills can degrade with time. If you don't practice you lose that skill. With an act like mine, this can be very dangerous to my assistant. It has been a lot easier to prepare now that I live in Los Angeles. Australia is very strict with weapons, which I love, but it makes practicing an act like mine very challenging.


Question: Do you have any pre-show rituals?

Robyn Sharpe: I wouldn't say I have any pre-show rituals per se, but there are definitely a few things I do before every show to ensure the safety of myself, my assistant, and all of the cast and crew. I test my crossbow before every show, and I constantly check all of my equipment right up to the point just before I walk on stage. In terms of mentally preparing, I just try not to talk to anyone for the whole act that is on before me. I like to be focused and only thinking about what I am about to do.


Question: What can we expect from the The Illusionists: Direct From Broadway show?

Robyn Sharpe: The audience can expect so many things; I get excited just thinking about it! Whether you are someone who loves magic or not, whether you are someone who wants to know how an illusion is done or not and whether you are four years old or 104 years old, I promise you will be amazed. Your ribs will ache from laughing, you will cringe, and you will feel like a kid again.


Question: What's next, for you?

Robyn Sharpe: I am always looking for a new challenge which includes creating new material in anticipation of my career growing with my skill set.

Interview by Brooke Hunter